February 9, 2022 - 8:36am
Biryani spiced sourdough and other bakes
Here's another spiced loaf! On days when I feel like having a lil bit of rice, I usually make jeera, chicken or a simple biryani. Since I've already made a jeera (+cheese) loaf recently, I figured why not try making a bread version of biryani just to dip or drench the bread in some curry. :)
Biryani spiced sourdough with turmeric swirls
Dough
225-230g water
185g all purpose flour
70g atta flour
50g Kamut flour
5g vital wheat gluten
1/4 tsp garam masala
1/4 tsp ground cardamom
10g sugar
80g starter (100% hydration)
6g salt
5g onion oil (from caramelized onions)
50g caramelized onions

Caramelized onions
4-5 small to medium onions, thinly sliced
1/4 cup olive oil
a pinch of salt
1 bay leaf
3 cloves
- toss onions in salt. Cook over medium low heat with oil until onions begin to turn brown on the edges. Add bay leaf, cloves and cook until onions are golden brown. Strain onions and oil, allow to cool. Discard bay leaf / cloves.

The dough is split to about 60-40%. And *turmeric is added to the smaller portion. It's easier to just add turmeric to the whole dough and mixing just partially so a marbling effect can be produced during stretch and folds or coil folds.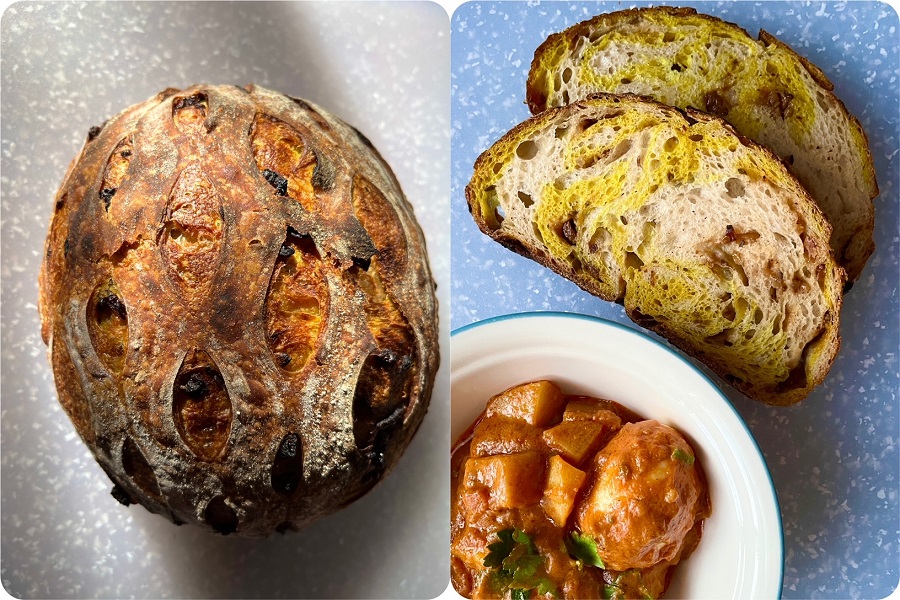 Autolyse 1 hour
Dough temp after mixing: 24.5°C
Bulk fermentation 5 hours at 21-23°C; stretch & folds x 3, Caramelized onions were laminated in, followed by coil folds x 2.
Preshape, overnight cold retard
Score and baked at 230°C for 25 minutes with DO lid on, then 20 minutes without lid.

The baked loaf was then left to cool for about 3 hours before slicing (I read somewhere it's ideal to slice when the loaf is 32–43°C?).

*be sure to use oiled hands for this step, and have vinegar and baking soda nearby to clean any turmeric stains.



The next loaf is the black goji berry loaf. It's just a lil twist from a citrus loaf where the juice is now replaced by goji berry tea.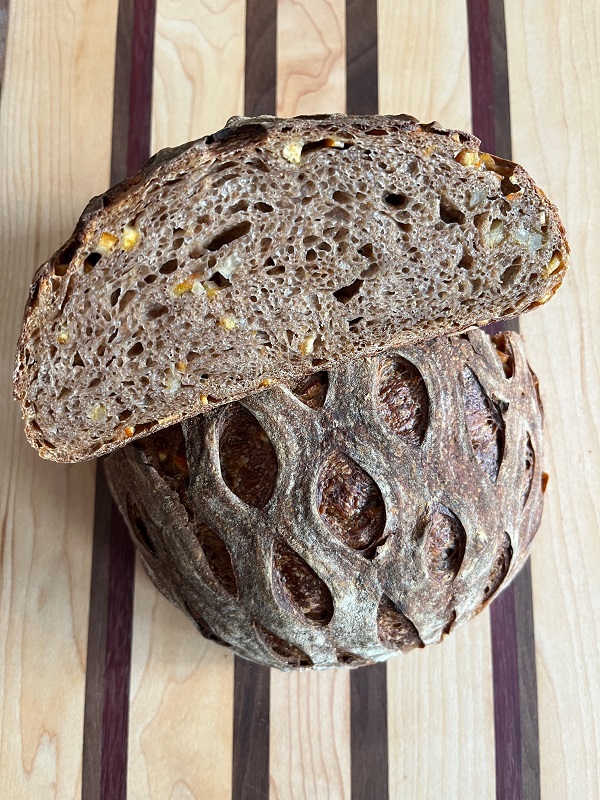 Black goji berry sourdough with candied citrus peels
220g goji berry tea
218g all purpose flour
80g Kamut flour
15g sugar
5g orange zest
74g starter (100% hydration)
6g salt
6g coconut oil
50g candied citrus peels, chopped


The bakes below were lil snacks for the lunar new year.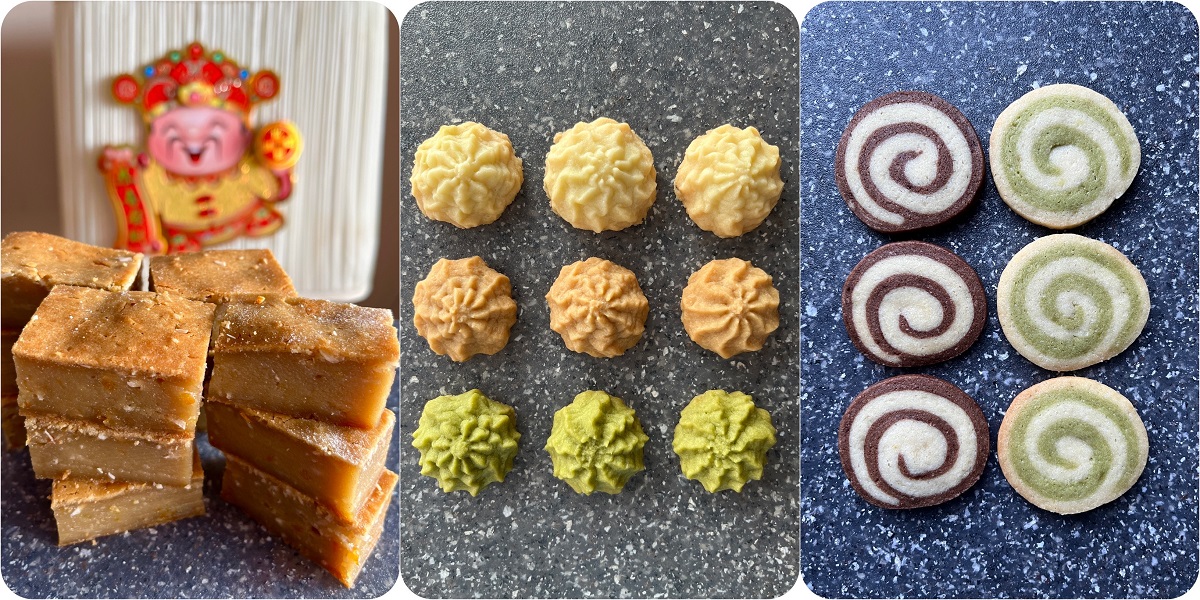 Nian gao (mochi cake) with coconut and candied citrus peels - I had to include more of those candied peels since I prepared so many!

Makes one 1/8 sheet pan
Dry ingredients
180g glutinous rice flour (Mochiko)
45g tapioca flour
1/4 tsp baking powder
1/4 tsp baking soda
100g sugar
1/8 tsp salt

Wet ingredients
2 large eggs
350g coconut milk
20g dark molasses
20g coconut oil, extra for brushing

Add-in
50g candied citrus peels, chopped
60g unsweetened desiccated coconut


Preheat the oven to 180°C. Grease a 1/8 sheet pan with coconut oil and line with parchment paper.

Melt coconut oil in a small pan and let it cool slightly. In a measuring jug, lightly whisk eggs, molasses and coconut milk. Whisk in coconut oil.

Whisk all the dry ingredients in a large mixing bowl. Make a well in the centre and pour in the wet ingredients. Mix the ingredients together with a spatula or whisk until a smooth, runny batter forms. Strain this batter to remove any lumps.

Stir in desiccated coconut and candied citrus peels.

Pour the batter into the prepared pan and gently tap the pan on the counter to remove large air bubbles.

Place the pan on a larger baking or cookie sheet and bake in the preheated oven on the middle rack for 20 minutes. Remove the pan from the oven and gently, brush the top of the cake with coconut oil.

Return the cake to the oven and continue baking for 15 to 25 minutes until the middle of the cake has set and the edges are golden brown. A toothpick inserted into the middle of the cake should come out clean.

Remove from the oven and let the cake cool for at least 30 minutes before transferring it to a cooling rack. Let the cake cool completely before slicing. Like the cassava cake, this cake should be kept at room temperature for its chewy texture. It should be refrigerated after 2-3 days, but this makes the cake less chewy and slightly dry.


Butter cookies (plain, coffee, matcha) - I lack piping skills so it was hard to make these into uniform shapes. Fun to make, even more fun to eat! :D

Makes about 40 to 50 3cm cookies
120g unsalted butter, room temp
1g salt
45g icing sugar
1/4 tsp vanilla extract
45g cornstarch, sifted
95g all purpose flour, sifted
Optional: 1-2 tsp milk, or liquid add-ins

Add-ins:
Coffee version: 1 tsp instant coffee/espresso powder and 1/4 tsp cocoa powder bloomed in 1 tsp boiling water or, 1 tsp espresso + 1/4 tsp cocoa powder

Matcha version: 3g sifted matcha powder + 1 tsp hot water

Whip butter with salt and sugar for 8 to 10 minutes until fluffy. Mix/fold in vanilla and cornstarch. Gradually, fold in flour in 2 additions. Fold in add-ins and transfer the dough into a piping bag.

Pipe cookie dough onto parchment lined cookie sheets, each cookie about 2-3cm circles. Bake at 150°C until the edges are lightly brown, about 20-30 minutes, depending on the size of the cookies (mine took about 25 minutes)


Pinwheel cookies - a variation of the butter cookies, easier to make of course, just roll, freeze, slice and bake!

Plain dough
220g unsalted butter
150g sugar
1 large egg
1 tsp vanilla extract
350g all purpose flour, sifted
10g cornstarch
1/2 tsp baking powder
1/2 tsp salt

Chocolate add-in
20g dark chocolate, chopped
1/2 tsp cocoa powder
1/4 espresso powder
1 tsp heavy cream or milk

Matcha add-in
1/2 tsp matcha powder, sifted
1 tsp heavy cream or milk


Prepare the plain dough like any cookie dough. Divide the plain dough to 4. Use a portion to mix with the chocolate mixture and another with the matcha mixture.

Wrap and flatten each portion into discs, chill for about 30 minutes. Then, the portions between two layers of parchment before rolling them out into nearly the same size (approx 12" x 6"). Stack the dough rectangles on top of each other and then roll the layers starting from the longer edge into a long, tight spiral. Wrap the dough tightly and chill for about 1 hour (or freeze up to 3 months!)

Preheat the oven to 180°C. Slice the cookie dough into 1/2" thick slices, rolling the dough log during the cut to maintain the rounded shape. Should the dough soften too much after slicing, chill the sliced cookie for about 15 minutes before baking.

Bake for 10-13 minutes, until each cookie is slightly puffy and the edges are just starting to brown. Cool the cookies completely before storing in airtight containers.

That's it for now, enjoy! :)

- Christi