January 28, 2022 - 12:22am
Caroline trio loaf with sprouted spelt
I had all of the best intentions of sticking to the recipe on this one but diverged. Caroline's "39% WW triple levain w/ Holy Trinity add ins Pullman Loaf" intrigued me and I had every intention to make one exactly the same, but then I thought.... well I've got some spelt sprouts growing, why don't I use those instead of the wholewheat? And when it came time to adding the ingredients I realized we'd run out of honey! And my homemade buttermilk, while lovely didn't have a sour taste, it was more like a yoghurt.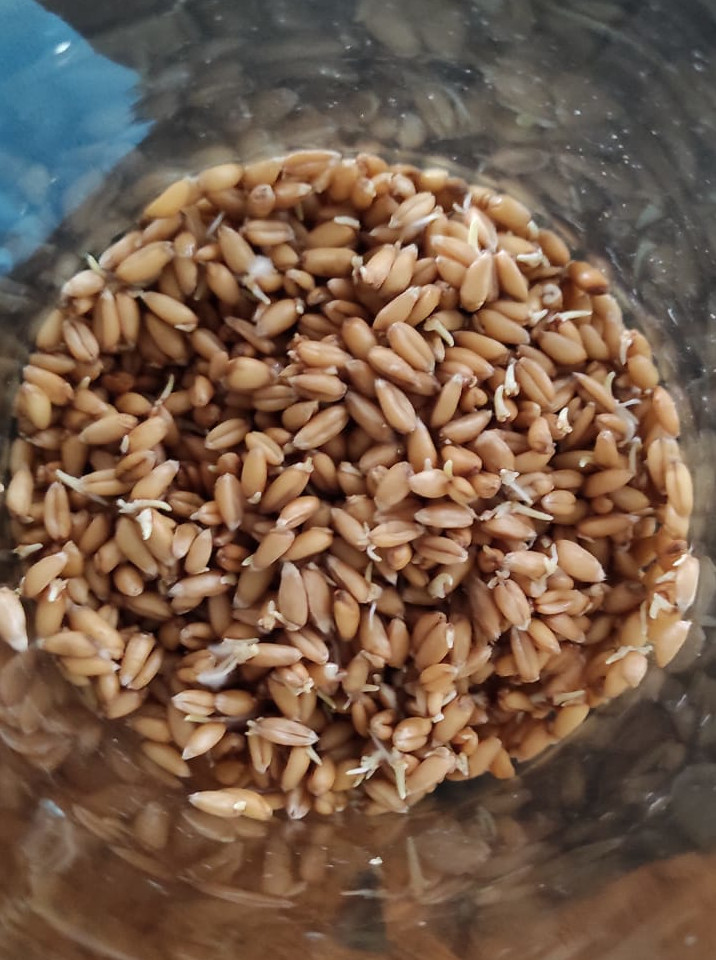 2 day old spelt sprouts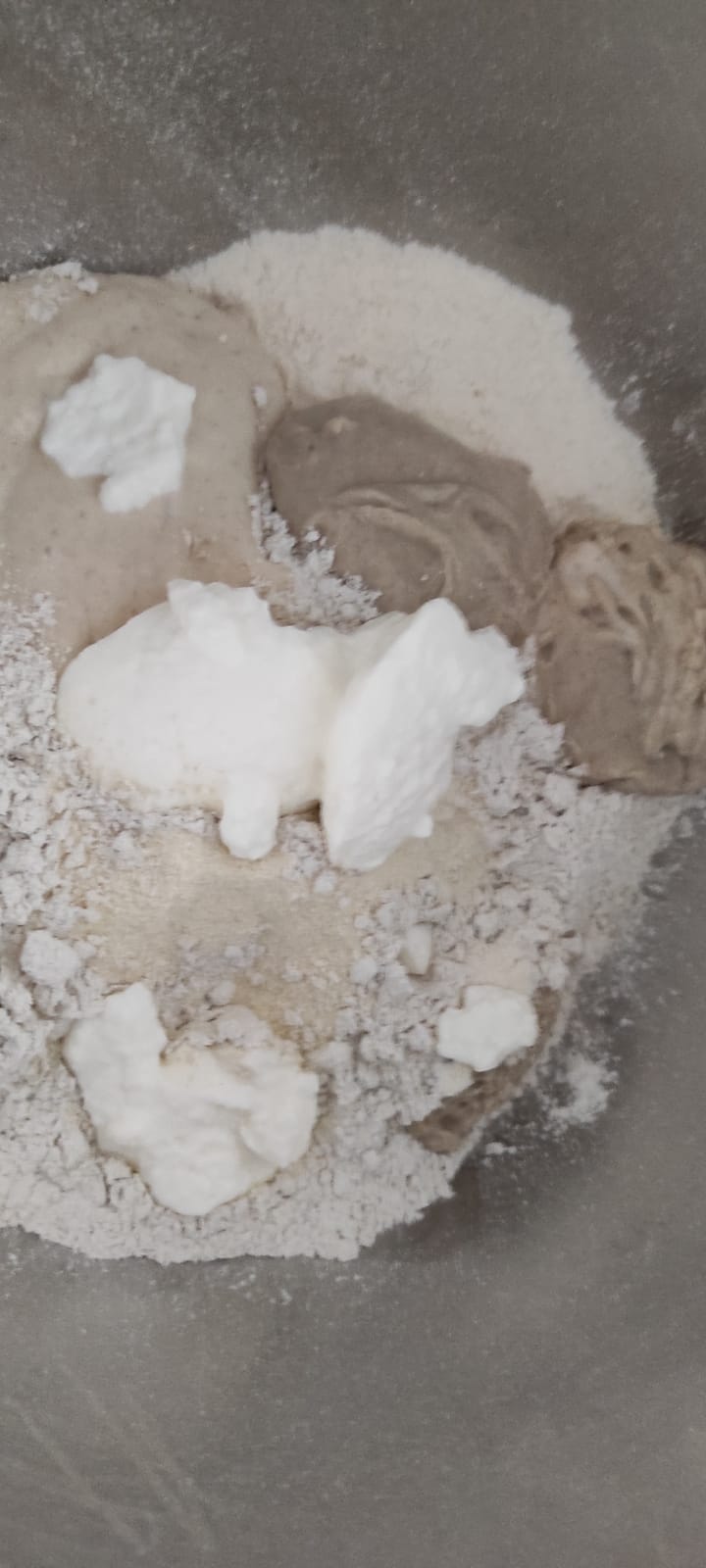 The home made buttermilk curds used had the texture and taste of yoghurt rather than the sour buttermilk taste.
So technique: the starter used was my desem starter, revived from being semi-desiccated. I used that to make two levains - white bread flour and rye. Only had 125g of spelt sprout pulp which was added to the initial mix together with 200g of bread flour (instead of the 335g Rouge de Bordeaux fresh milled). And when it came to adding bread flour later 415g of bread flour was used (instead of the 335g of T65). I've got confidence now that sprouted wheat works well in bread, but still am working on how to translate a mass of pulped sprouts into an equivalent mass of wholewheat flour when it comes to calculations. Since we were just out of honey I used 20g of golden syrup to make up for the lack of simple sugars that the 42g of honey would have given. Played it safe though as didn't know if this was a good idea, so only 20g. With hindsight, I should probably have used treacle. The dough went straight from the mixer to the loaf pan, it didn't go into a bowl first, all of the bulking happened in the pan.

Bake time was 55 minutes at 190°C (374°F) followed by an additional 5 minutes out of pan. I did cover it with foil towards the end so that the top wouldn't get too dark.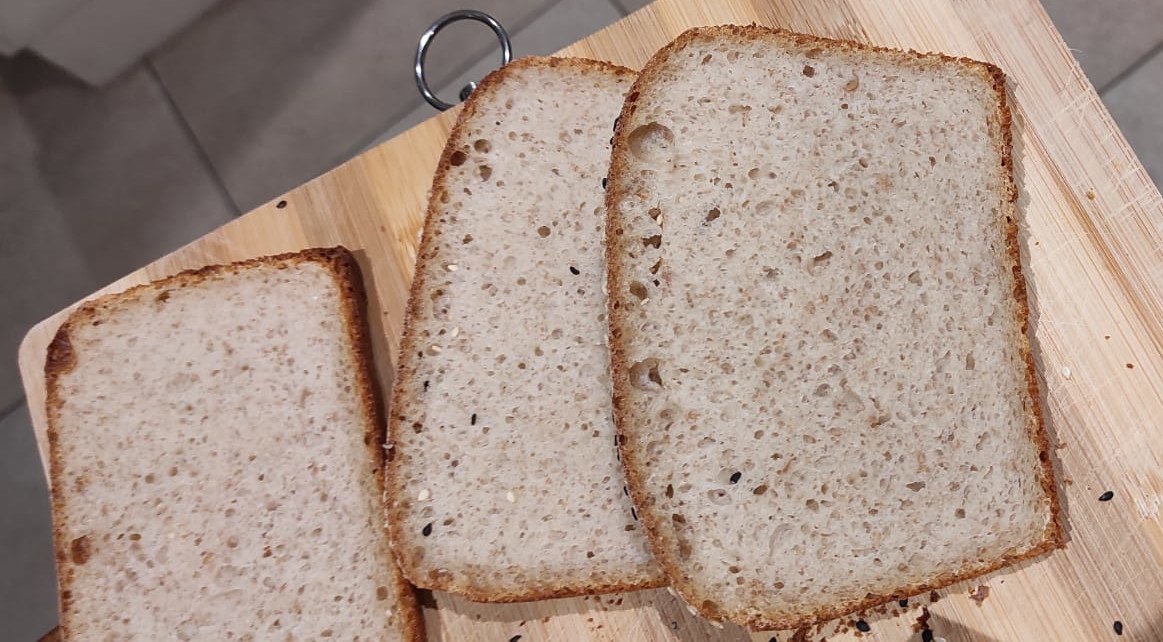 This was a very nice bread. It was lovely fresh and really nice warm with spreads. Got a bit more sour tasting after a few days. It didn't have much of a wholewheat or spelt taste. I did notice the semolina crunch when I toasted slices of it. All in all, a very easy way to make lots of tasty bread especially if you're the kind who freezes slices. The recipe did remind me a little bit of Maurizio's sandwich bread with tangzhong which has olive oil and honey in it.

-Jon