November 30, 2021 - 3:47pm
SD with candied citrus peels & walnut, somun/lepinja and other bakes
It's the last day of November. How time flies! :D I've been meaning to update my lil space here with my recent bakes but I never got to touch my laptop while I'm managing books (so many!), household stuff, (very late) knits, and some spinning and yoga. But, there are some bakes, of course.

Ah, a citrus-y sourdough loaf! I made a second batch of candied citrus peels as a bunch of them were included in the dark fruit cake that is now getting sloshed in the fridge - hopefully it turns out edible for Christmas.

Made two of these loaves, first one without walnuts and I haven't got a clue why I bothered making it the hard way - with a separate dough made a very light blue. The second version of this citrus loaf has more candied peels and walnuts, a much easier and nuttier loaf:

Sourdough loaf with candied citrus peels & walnut
60g starter (100% hydration)
100g water
100g orange juice
15g honey
75g spelt flour
225g all purpose / bread flour (75%)
6g salt
5g coconut oil

Add-ins
30g mixed citrus peels, chopped
20g toasted walnuts, chopped

Total bulk ferment: 5.5 hours at 23 - 24°C.
Final proof: 1 hour at 23-24°C, cold retard 5 to 16 hours at 4°C.
Bake at 230°C Dutch oven lid on 20 minutes. Lid off, with baking sheet below DO, 20 minutes.

(I think at this bake temperature with the DO, my loaves are getting really dark bottoms, I should place something beneath it next time)

Tedious loaf below, the plain one above looked and tasted better with walnuts and more peels!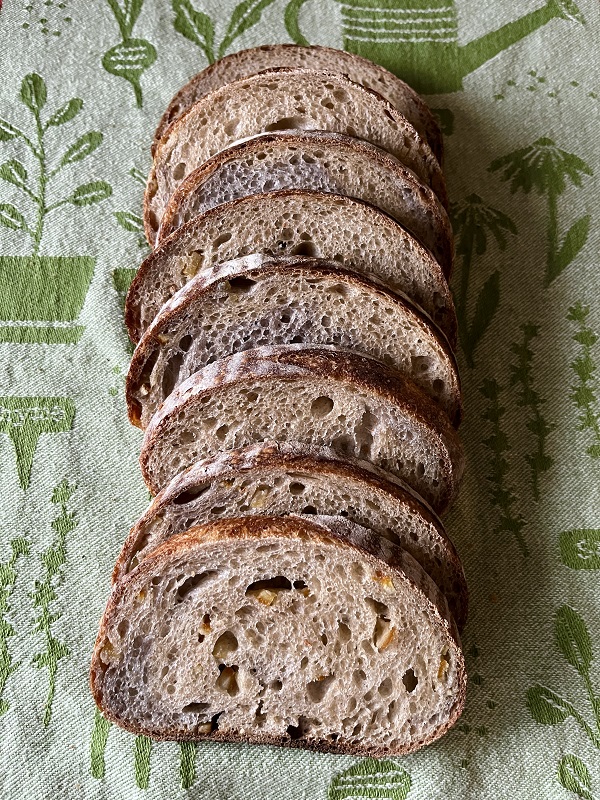 Here's the tedious loaf again, looked on by Prune the starter on the left.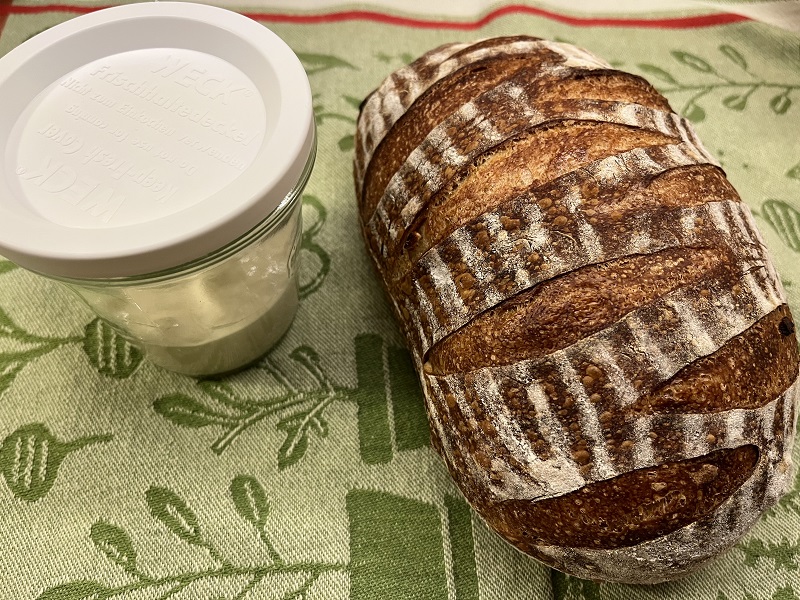 Next make/bake: cevapi together with somun and ajvar. I made these just because they sound so fun. Of course, I had to make sure the flatbread turned out right before the cevapi and the ajvar (seeing how I made fat buns instead of Barbari bread before). After the second batch of these flat breads, I was happy to make the rest. Oh, these made a lovely meal!

For somun, I like them plain or with a little bit of cumin/jeera seeds.

Adapted from: https://www.chasingthedonkey.com/balkan-bread-how-to-make-somun-bread-for-cevapi/ and I let the dough proof twice before shaping.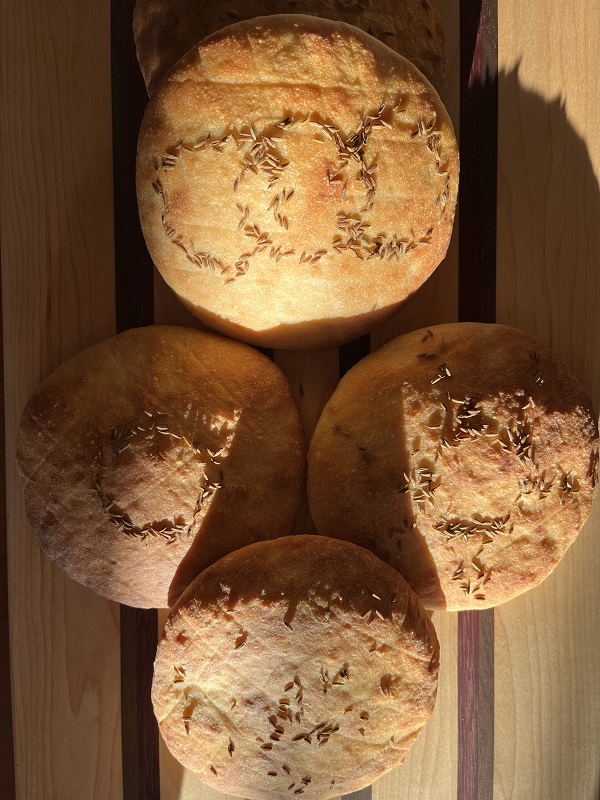 Somun
with yogurt and sourdough starter - makes 4

Starter
120g plain Greek yogurt
100g all purpose flour
20g sourdough starter
5g sugar

Dough
All of the starter
65g all purpose flour
75g atta / whole wheat flour
1g instant yeast
5g salt
5g sugar
75g water
5g ghee or olive oil
Ghee or olive oil to grease shaped dough

Somun
without starter - makes 5

Dough
120g plain Greek yogurt
10g sugar
150g water
280g all purpose flour
70g atta / whole wheat flour
2g instant yeast
7g salt
5g ghee or olive oil

Optional topping: cumin, caraway, sesame seeds

Prepare the dough as you would any bread, adding oil and salt last. For the first proof, let the dough rise for 60 minutes at 25-28°C (I used the oven)

Then, transfer the dough to a lightly wet counter. Stretch and fold the dough on all sides and then form a boule. Return the dough to its proofing bowl, let it rise again for 60 minutes at 25-28°C.

Transfer the dough to a floured counter and gently divide the dough into 3 to 5 equal pieces (or 2 for larger breads), then gently stretch and fold each piece of dough into a boule.

Grease hands with ghee or oil, then gently grease each shaped dough ball before transferring it to a lightly floured parchment paper. Repeat with the rest of the dough, leaving 3-4 inches between each dough ball.

Cover the dough balls with two layers of damp tea towels for about 45 minutes at room temperature.

Preheat the oven to 250°C about 30 minutes into the second rise.

Flatten each dough ball gently with wet fingertips into a disc, without deflating the middle of the dough too much, keeping the thickness to about 1cm or 0.5inch.

Optional: Make a criss-cross patterns over the top of the dough with the wet blunt edge of a knife or lightly floured silicon dough scraper. Cover with and let the shaped dough rest for 10 minutes.  

Spritz the tops of the dough once or twice with water, sprinkle cumin, caraway or sesame seeds over the top (if using).

Place the dough in the oven, reduce the oven temperature to 230°C and bake for 8 minutes. Then, lower the heat to 200°C and continue baking for another 5 to 10 minutes.

As a shortcut, I've also baked these at 230°C for 13 to 18 minutes.

The bread will puff up, turn a golden brown with dark brown spots and the internal temperature should reach between 96 - 99°C.

Remove from the oven, and then transfer the loaves onto a cooling rack, cover with a tea towel and let the loaves cool (this softens the crust).  

For crusty loaves, return the loaves to the middle rack of the oven as the oven cools down, leaving the oven door slightly ajar.

I'll also include how I made cevapi and ajvar here as a reference. There are many ways to make these and I'm pretty sure the next batch I make will have other spices in the cevapi. For this batch, I tried to stick with a simpler recipe.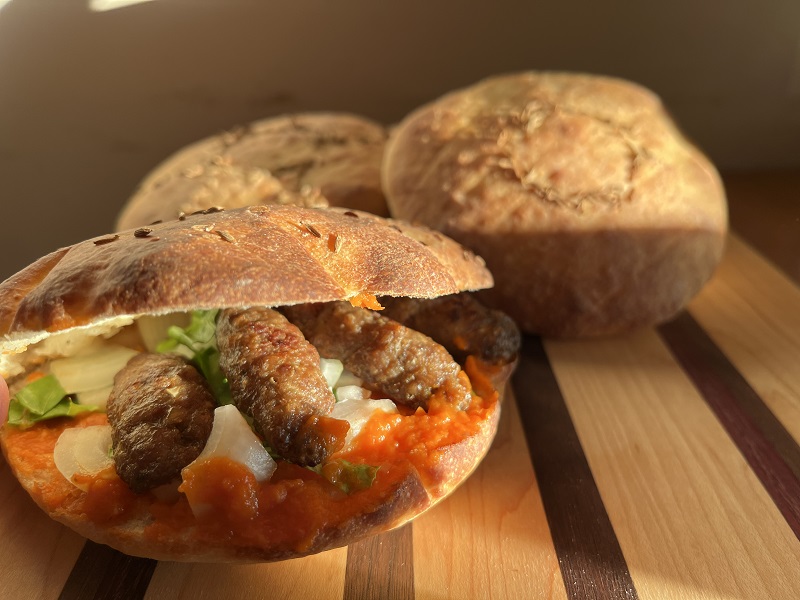 Cevapi, (or ćevapi or ćevapčići)
Makes about 28-30 little sausages

Adapted https://www.curiouscuisiniere.com/cevapi/
https://www.cooklikeczechs.com/cevapcici-sausages/

50g bread crumbs (from my leftover whole wheat sd)
1 large egg
2 tbsp milk
250g minced pork
250g minced beef
6 cloves garlic, finely chopped
1/2 onion, finely chopped
1 tbsp olive oil
3 - 5g salt*
1/4 tsp paprika
1/8 tsp ground cumin
1/2 tsp baking soda
1/4 tsp ground black pepper
1/2 cup chopped raw onions, to serve

In a large mixing bowl, mix bread crumbs with egg and milk. Cover and let the breadcrumbs hydrate for about 15 to 30 minutes.
Stir fry onion and garlic with olive oil until lightly golden. Remove from heat and allow to cool before adding to the breadcrumbs.
To the breadcrumbs, add the rest of the ingredients, starting with 3g salt. Mix by hand or with a large spatula until evenly combined. Cover and let this chill for about 30 minutes.
*Taste test: remove about 1/2 tbsp of the mixture, gently flatten into a small patty and cook over medium heat on a frying pan until cooked through. Taste test the cooked patty. Season the rest of the mixture with additional salt, pepper or spices, if needed.
Cover and chill the mixture for at least 2 hours to overnight.
Shape into sausages about 6 to 7.5cm (about 2.5 to 3 inch) in length 1.5cm (about 1/2 inch) thick, either by hand or through a disposable piping bag. I used a piping bag at first, but found out after 20 sausages that it's actually easier by hand.
Place the shaped sausages in the fridge or freezer until ready for cooking (I baked these, there are recipes for grilling these)
Preheat the oven to 200°C. Brush oil or melted butter on the grill insert of a baking sheet. Place the sausages about 5cm / 2inches apart on the grill.
Bake for 10-15 minutes, or until they are cooked through and lightly browned on the outside, or until the internal temperature is at least 77°C (170°F)
Remove from the oven and allow to cool slightly before serving.

Ajvar
2 red bell peppers
1 medium eggplant
3 to 5 garlic cloves, roughly chopped
Virgin olive oil
1 tbsp garlic oil (or more)
1 tsp rice wine vinegar
salt, to taste
ground black pepper, to taste
paprika, to taste

Prepare the garlic oil first; this is the same method used while preparing garlic and garlic oil for garlic fried rice. :)
Add enough olive oil in a small saucepan to cover the chopped garlic. Fry over medium low heat while stirring continuously so the garlic pieces brown evenly.
When the garlic becomes lightly golden, remove the saucepan from heat. Let the garlic continue to cook in the hot oil until golden brown.  Pour the garlic through a wire mesh strainer. Set both the garlic (now crispy) and strained garlic oil cool until ready to use.

Preheat your oven to 230°C (450°F).
Line a quarter baking sheet with baking/parchment paper.
Cut the eggplant into large pieces and red peppers in halves. Arrange these on the baking sheet.
Bake for 45 to 50 minutes ensuring that the peppers and eggplant pieces have softened completely and their skins slightly charred.
Transfer the eggplant and pepper pieces into a large bowl. Cover the bowl with clingfilm, prick a few holes with a needle or fork and set aside for 30 minutes.
Once cooled, remove and discard the skin from the eggplant. Peel the peppers, discard the core and seeds.
Transfer the remaining pepper and eggplant into a food processor

Add the half of the fried garlic, 1 tbsp garlic oil and rice vinegar to the food processor.
Pulse the contents of the food processor until smooth. Taste test and add more fried garlic and oil, if desired.
Then, transfer the mixture to a medium saucepan.
Over a medium-low heat, simmer the sauce for around 30 to 45 minutes, while stirring continuously. The sauce should thicken slightly as it simmers.
Season with salt, ground black pepper, paprika and more garlic oil (if desired).
Remove from the heat and allow to cool before serving.
To serve, drizzle or spread ajvar in a halved somun, add a few cevapi go with chopped raw onions and more ajvar, stuffed into a somun. I added chopped lettuce to the mix on one occasion and a bit of kimchi with the ajvar on another. :D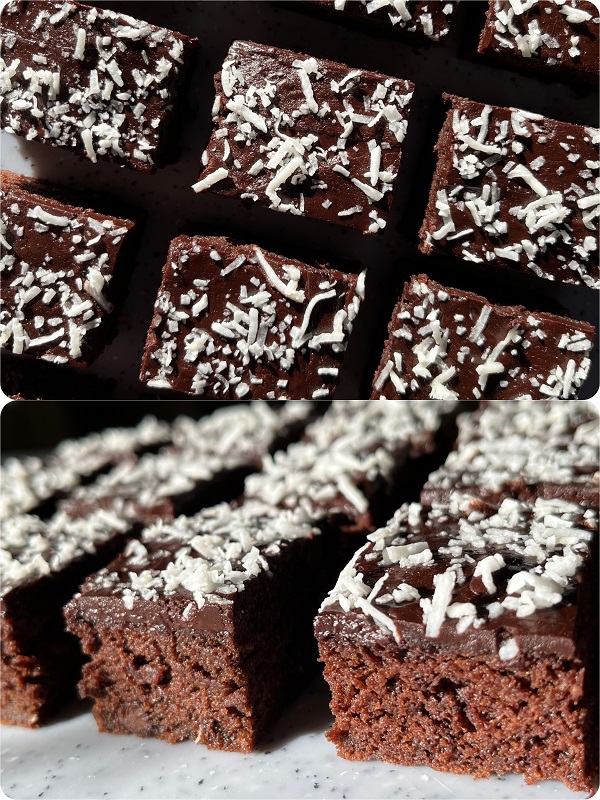 The next bake is something I make only once or twice a year, probably because it disappears faster than the process of making it. This bakes in a 1/8 sheet pan, just enough for 2 - 3 people. This batch was topped with coconut and coconut oil was used in the batter.

Mini chocolate sheet cake

Cake
90g all purpose flour
20g unsweetened cocoa powder
1/2 tsp baking soda
1/4 tsp baking powder
25g dark chocolate, chopped
50g brown sugar
1/4 tsp salt
1 large egg
90g buttermilk or plain yogurt
40g unsalted butter, melted
30g coconut oil, melted
1/2 tsp vanilla extract
90g strong brewed coffee, hot

Chocolate Glaze
30g unsalted butter
10g cocoa powder
40g semisweet/dark chocolate, chopped
2 tbsp milk, more if required
1/4 tsp vanilla extract
25g powdered sugar (optional)
A pinch of salt
Optional: 2 tsp coffee liqueur or rum, 1/4 tsp instant coffee, 2-3 tbsp chocolate chips or toasted walnuts/pecans, shredded coconut


Preheat the oven to 180°C. Grease and line a 1/8 sheet pan. Set aside.
Dry ingredients: in a large mixing bowl, sift together all purpose flour, cocoa powder, baking soda, baking powder and whisk in chopped dark chocolate, sugar and salt. Set aside.
Wet ingredients: in a medium bowl or measuring jug, whisk together egg, buttermilk/yogurt, melted butter, coconut oil and vanilla extract.
Add the wet ingredients to the dry ingredients and mix until just combined with a spatula. A few streaks of flour is fine at this time.
Add in the hot coffee and whisk the batter until smooth. The batter will be thin.
Pour into the prepared pan and bake for 13 - 18 minutes or until a toothpick inserted into the center comes out with just a few crumbs.

While the cake is baking, prepare the chocolate glaze.
In a small saucepan, melt the butter over medium-low heat. Stir in the chopped chocolate, cocoa powder, milk until the mixture is well-combined, smooth and pourable. Adjust with 1/2 to 1 tbsp of milk, if necessary - the glaze will set as it cools.
Remove the pan from heat and whisk in vanilla extract, powdered sugar (if using) and optional toppings.

Immediately when the cake is removed from the oven, prick holes all over the top of the cake with a tooth pick. Then, pour the glaze all over. Use an off-set spatula to spread the frosting to the edges of the pan.
Let the cake cool for at least 30 minutes before serving or let it set completely for 1-2 hours in the fridge.

Use a plastic disposable knife or a warm knife (run a sharp knife under hot water and dry it) to cut the cake for clean cut edges.

Other bakes include these two snack cakes:

(do not open the oven to spy on the cake, like I did! My cake slices had waists!)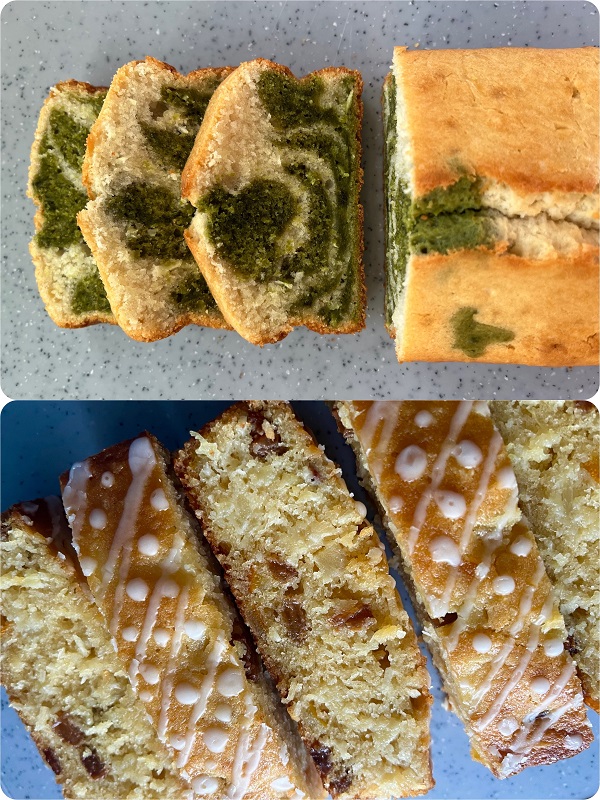 Coconut & matcha swirl yogurt cake

Cake
180g all purpose flour
20g cornstarch
1/4 1/2 tsp baking powder try 1/4
1/2 tsp baking soda
1/4 tsp sea salt
100g sugar
60g unsalted butter, cubed, soft
60g coconut oil, soft or melted
1 large egg
80g Greek yogurt
100g coconut milk/buttermilk
1/2 tsp vanilla extract
20g unsweetened desiccated coconut

Matcha batter
10g coconut milk/buttermilk/soured milk
2g matcha powder

Preheat the oven to 180°C (160°C for glass). Grease and line a loaf pan.
Egg mixture: in a medium measuring jug, whisk together the egg, yogurt, buttermilk/soured milk and vanilla extract. Set aside.
In a large mixing bowl, sift together all purpose flour, cornstarch, baking soda and baking powder. Whisk in salt and sugar. Add soft or melted butter, melted coconut oil to the dry ingredients and mix on low for 30 seconds.
Add roughly 1/4 of the egg mixture and mix on medium low to medium speed until the batter is pale and fluffy, about 1 minute. Stop the mixer once or twice to scrape down the sides of the bowl and to turn the batter from the bottom with a spatula.
Next, add half of the remaining egg mixture with desiccated coconut (if using) and mix on low speed until just combined, about 20 seconds. Then, add the last of the egg mixture and again, mix on low for 20 seconds. Remove the bowl from the mixer and fold in from all sides with a spatula until the batter is smooth.

For matcha swirl batter:
Transfer 1/3 or 1/2 of the mixed batter to a separate bowl.
Mix coconut milk (or the subs) with matcha powder in a small bowl until a paste forms. Mix about a tablespoon of batter with the paste. Then, add this to the batter and mix until it achieves a uniform green color.

Mixing plain and matcha batters, a few ways:
- Alternate adding dollops of each batter into the pan. Run the back of a knife or skewer through the batters.
- Add the plain and matcha batter alternately from the same spot to create zebra effect.
- Pour matcha batter into the plain batter and swirl the bowl around before pouring the mixed batter into the prepared pan

Carefully tap pan on folded tea towels twice to release any large air bubbles.

Bake at 180°C for 45-50 minutes (for metal loaf pan, 180°C), 45 to 50 minutes (for glass pan 160°C), until a toothpick inserted comes out clean, or with the slightest crumbs clinging to it.
1/8 sheet pan: 180°C 16 to 20 minutes.

Remove the loaf pan from the oven and let the cake cool in the pan for about 5 minutes. Then, lift the cake from the loaf pan with the parchment overhang to a cooling rack.


Light fruit cake

Cake
90g all purpose flour
10g cornstarch
1/2 tsp baking powder
1/4 tsp baking soda
1/4 tsp salt
50g sugar (60g too sweet)
50g unsalted butter, melted
30g coconut oil, melted
1 large egg
10g molasses
50g plain yogurt
1/4 tsp vanilla/lemon extract

Mixed fruits
50g pineapple juice
100g pineapple, chopped
30g raisins
30g candied mixed peels, chopped
30g unsweetened desiccated coconut
Optional: a pinch of cinnamon, allspice, nutmeg

Syrup (optional)
12g sugar
20g pineapple juice

Icing sugar glaze
5g pineapple juice, strained
20 - 25 g icing sugar
1g unsalted butter, melted

Mix and soak the fruits in pineapple juice for at least 4 hours to overnight in the fridge.
Be sure to let all ingredients reach room temperature before preparing the batter.
Preheat the oven to 180°C. Grease and line a 1/8 sheet pan or 9x6" casserole, leaving overhang of parchment on the sides of the pan for easy cake removal later.
Flour mixture: In a large mixing bowl, whisk together all purpose flour, cornstarch, baking powder, baking soda, salt and sugar.
Yogurt mixture: In a small measuring jug, whisk egg, molasses, yogurt and vanilla/lemon extract together.
Fold in melted butter and coconut oil into the flour mixture, for about 20 seconds.
Add yogurt mixture with about 1/2 of the fruit mixture to the batter. Fold into the batter for about 15 seconds.
Add the rest of the soaked fruits including any soaking liquid. Fold in until there are no more flour steaks visible and the batter is smooth.
Pour the batter into the prepared loaf pan. Bake the cake for 30 to 35 minutes until a skewer comes out clean (begin testing at 28 minutes). Tent the cake with foil if browning too quickly).
Optional syrup: While the cake bakes, heat pineapple juice with sugar the microwave or over the stove on low until all the sugar dissolves.
Remove the cake from the oven and gently prick holes all over the cake with a tooth pick. Spoon or brush syrup all over over the cake.  
Leave to cool in the pan for 20 minutes before lifting it out from the pan (with the parchment paper overhang) and let it cool completely on a wire rack.
Optional glaze: Add pineapple juice and melted butter to 20g icing sugar. Gently mix until evenly combined. For a slightly thicker (and whiter) glaze, add the remaining 5g icing sugar and mix until evenly combined. Transfer glaze into a small ziplock bag. Cut a small tip in one corner and drizzle the glaze over the cooled cake. Let the drizzle set for about 30 minutes before slicing the cake. 


Almost did another 4-recipe post, didn't I? tee-hee

- Christi