October 12, 2021 - 8:08am
Swirly SD rye and Kamut loaf, mini espresso cinnamon buns, kimmicher, tiramisu roll cake

My starters are usually fed a variety of flours depending on what I fancy. During rye+ap week, I made these orange-y loaves with the last of the flours I had.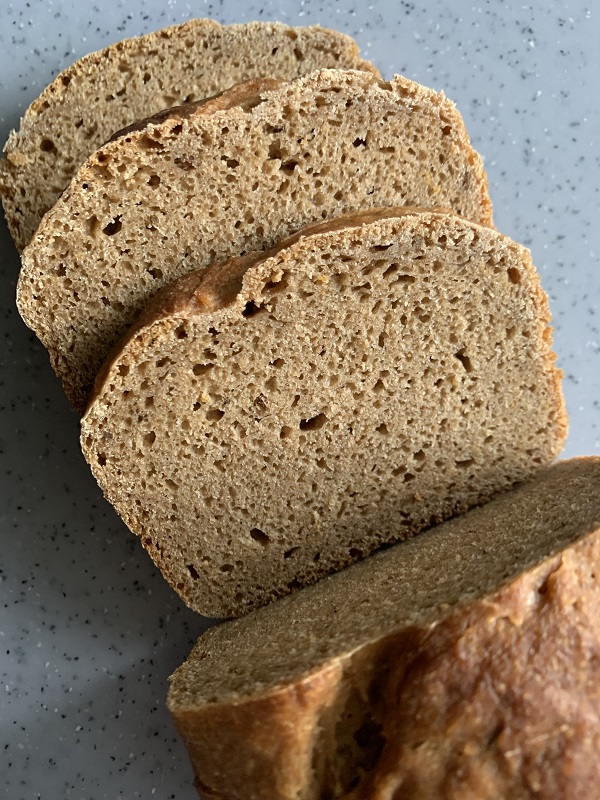 I prefer the swirly loaf more than just a plain one with more rye, probably because it's more fun to make, easier to handle, tastier and prettier. The other one had more rye (50-60% I believe) and was a bit more dense. We used these as sandwiches and for dipping in tikka masala gravy and soups.

Swirly rye and Kamut loaf
Tangzhong
20g all purpose flour
100g milk

Dough
All of the Tangzhong
270g starter (50% hydration rye+ap)
85g milk
1 large egg*
20g sugar
3g orange zest (or more!)
90g rye flour
68g Kamut
87g all purpose flour
5g vital wheat gluten
8g salt
10g light olive oil
30g unsalted butter

Mocha dough
To 40% of the dough: Make a paste of 1g espresso powder, 5g cocoa powder and 1 tsp water. Add 2g caraway seeds into the paste. Mix into dough.

*wasn't quite sure why I added this. Just more milk would've been ok :D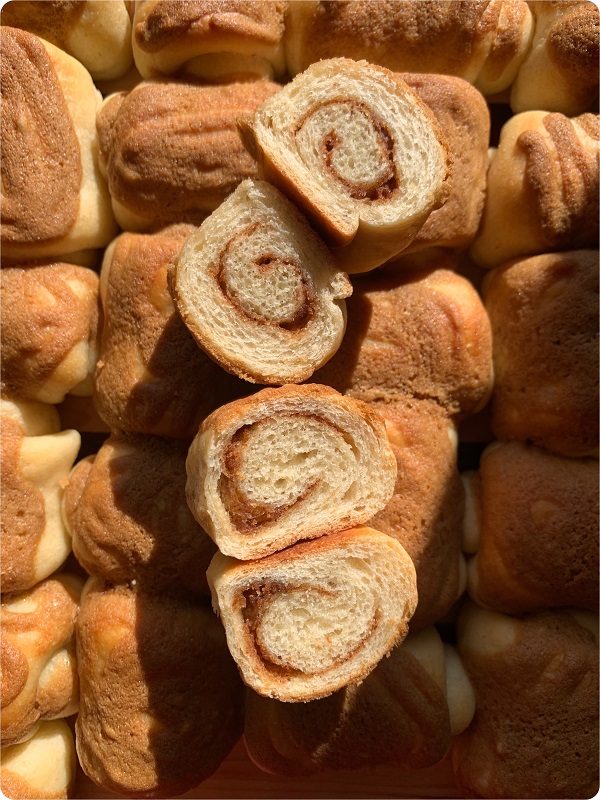 Last week, I made my espresso cinnamon buns into mini rolls with coffee cookie topping, no lamination. I should've used a simpler method to shape these bite-sized buns for a more uniformed appearance. Either way, they disappeared quick thanks to their tiny size.

Mini espresso cinnamon buns with coffee cookie topping
- 34 mini rolls

Tangzhong
20g all purpose flour
100g milk
Dough
All of the Tangzhong
95g soured milk
10g sugar
1 large egg
1/2 tsp vanilla extract
200g all purpose flour
120g Kamut flour
6g salt
5g instant yeast
40g unsalted butter
10g light olive oil

Filling
20g unsalted butter, melted
50g brown sugar
15g all purpose flour
1 tsp ground cinnamon
1/2 tsp espresso powder

Coffee cookie topping
- whip wet ingredients with sugar, then fold in dry ingredients

80g unsalted butter
1 large egg
60g sugar
3 tsp espresso powder dissolved in 2 tsp warm water
70g all purpose flour
10g cornstarch
1/4 tsp baking powder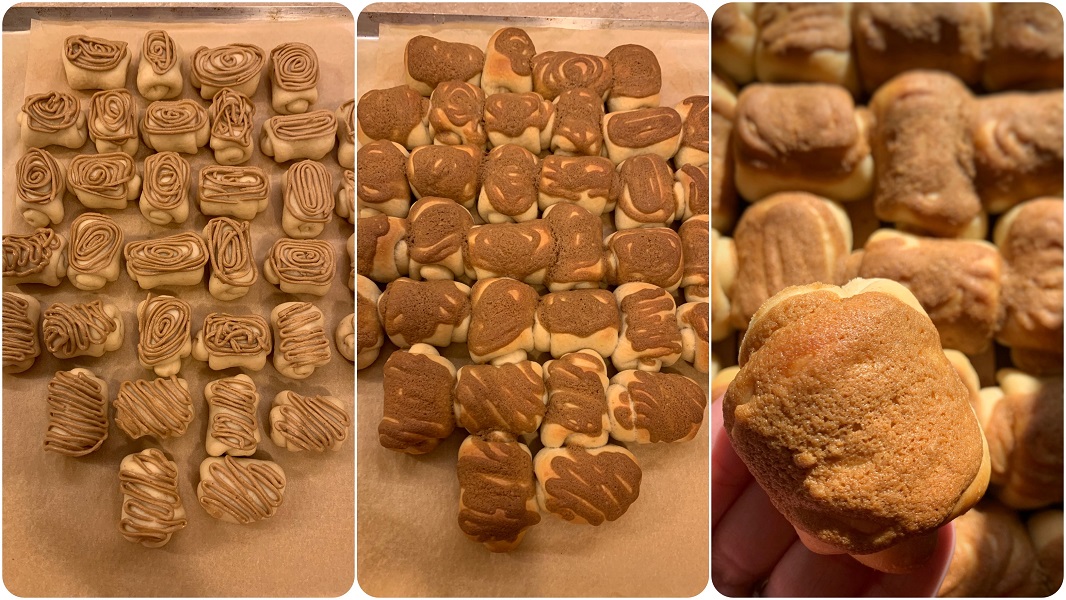 20-30g dough per bun: Roll out, fill, shape into rolls/buns. Pipe cookie topping over each roll/bun (a specific pattern would be enough, but I went overboard with the piping, it's a tasty topping after all!). Bake at 180°C for 15 minutes until edges are golden brown and the internal temperature is at least 88°C. Turn off the oven, leave the oven door slightly ajar and leave the buns to continue baking in the cooling oven for 5 to 10 minutes. Then, remove the buns from the oven and let them cool completely on a cooling rack.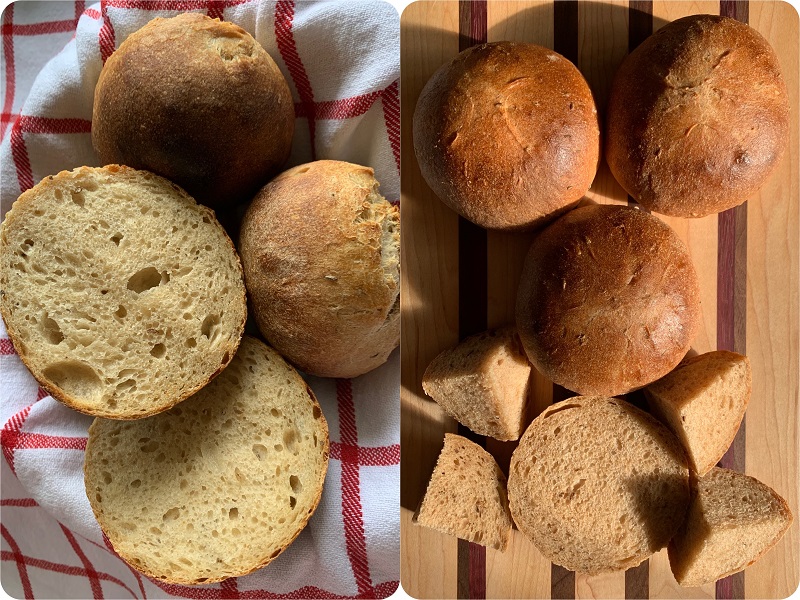 The next bake were kimmichers, idea from a post: https://www.thefreshloaf.com/node/68901/kimmicher and adapted from https://www.ploetzblog.de/2020/12/05/kimmicher/

Kimmicher with sourdough and instant yeast
The last of my rye flour went into the first batch of these tasty rolls. And I used 35°C water since it was 19-20°C in the mornings when I was preparing the doughs. Each were 25-26°C after mixing.

makes 4 x 150+g or 3x 200+g rolls
Version 1
240g sourdough starter (100% hydration 1:1: rye:atta)
100g all purpose flour
50g spelt flour
80g atta flour
115g water (35°C)
7g salt
1g instant yeast
15g light olive oil
5g caraway seeds

Version 2
240g sourdough starter (100% hydration 1:1 spelt:AP)
45g all purpose flour
115g spelt flour
70g atta flour
115g water (35°C)
7g salt
1g instant yeast
15g light olive oil
5g caraway seeds

230°C 20 minutes with steam, 5 to 10 minutes without. Each roll was sprayed with a thin mist of water right out of the oven and left to cool. The rolls took on a light matte shine once cooled.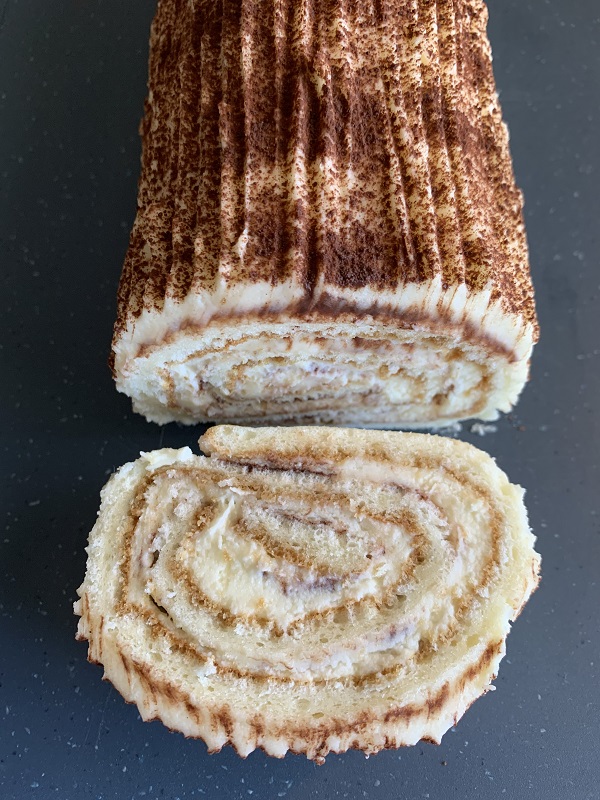 Since my tiramisu attempt in the last post, I decided make it again with lesser eggs, using pastry cream, whipping cream, mascarpone, sponge cake and coffee syrup. I'm not sure about the fats in this version (why on earth would I count...) but there's surely less eggs - 3 eggs in the sponge and one in the pastry cream :D On second thought, the pastry cream can be omitted for a lighter filling.

Tiramisu roll cake
Mascarpone cream
100g pastry cream (if skipping this, add 20g confectioner's sugar, or to taste)
100g whipping/heavy cream
150g mascarpone (I made a batch from 450g cream)
1 tbsp Frangelico

Vanilla sponge
- adapted from https://www.womanscribbles.net/vanilla-swiss-roll/
- half sheet pan, 180°C/350°F 9-12 minutes

20g sugar
80g buttermilk
30g light olive oil
1/2 tsp vanilla extract
70g all purpose flour
10g cornstarch
1 tsp baking powder
a pinch of salt
3 egg yolks
3 egg whites
40g sugar
1/2 tsp lemon juice

Easy pastry cream
- heat 2/3 the milk and sugar, then temper with remaining milk-egg-cornstarch and salt mixture.
- cook the mixture until 93°C/200°F and let it linger around this temperature for least 1 minute
- stir in vanilla and butter. Cool completely before use.

220g milk, divided
50g sugar
1 large egg
25g cornstarch
a pinch of salt
1/2 tsp vanilla extract
15g unsalted butter, room temperature

Coffee syrup
100g espresso
50g sugar
1 tbsp Kahlua

Once the sponge is baked, trip the edges for smooth sides - the trimmed edges were used in a mini tiramisu cake.
Dust it with sugar (confectioner's) and roll it up in parchment paper while hot.
Once cooled, brush the sponge cake with coffee syrup - 2 to 3 times. Spread cream and lightly dust with cocoa powder before rolling up the cake. Pipe cream over the rolled cake and draw designs on it or leave it smooth. Dust with cocoa powder before letting the cake chill for at least 4 hours before serving.