September 24, 2021 - 8:33pm
When I was a kid in the 80s my mom used to make whole wheat bread once a week. She would send my brother and me to school with sandwiches made with sprouts, garbanzo beans and fresh whole wheat bread. We used to stare at the kids with bologna and white bread sandwiches in envy. As an adult I'm grateful she taught me the value of healthy eating. I tried getting into bread baking a few times, but it wasn't until a few years ago that I started to have some success. I will always have a soft spot for whole wheat pan bread, and am happy to start having some success with this type of bread.
I named this bread after the Cascade mountains. The flour I use for this bread comes from Bluebird Grain Farms in Methow Valley in Northern Washington state. I really enjoy working with this flour. It feels different than other whole wheat flours that I've worked with. They do CSAs and I would encourage folks to give them a try. (I am not affiliated with this company, I'm just a big fan.)
For this bread I used a combination of red and white wheat.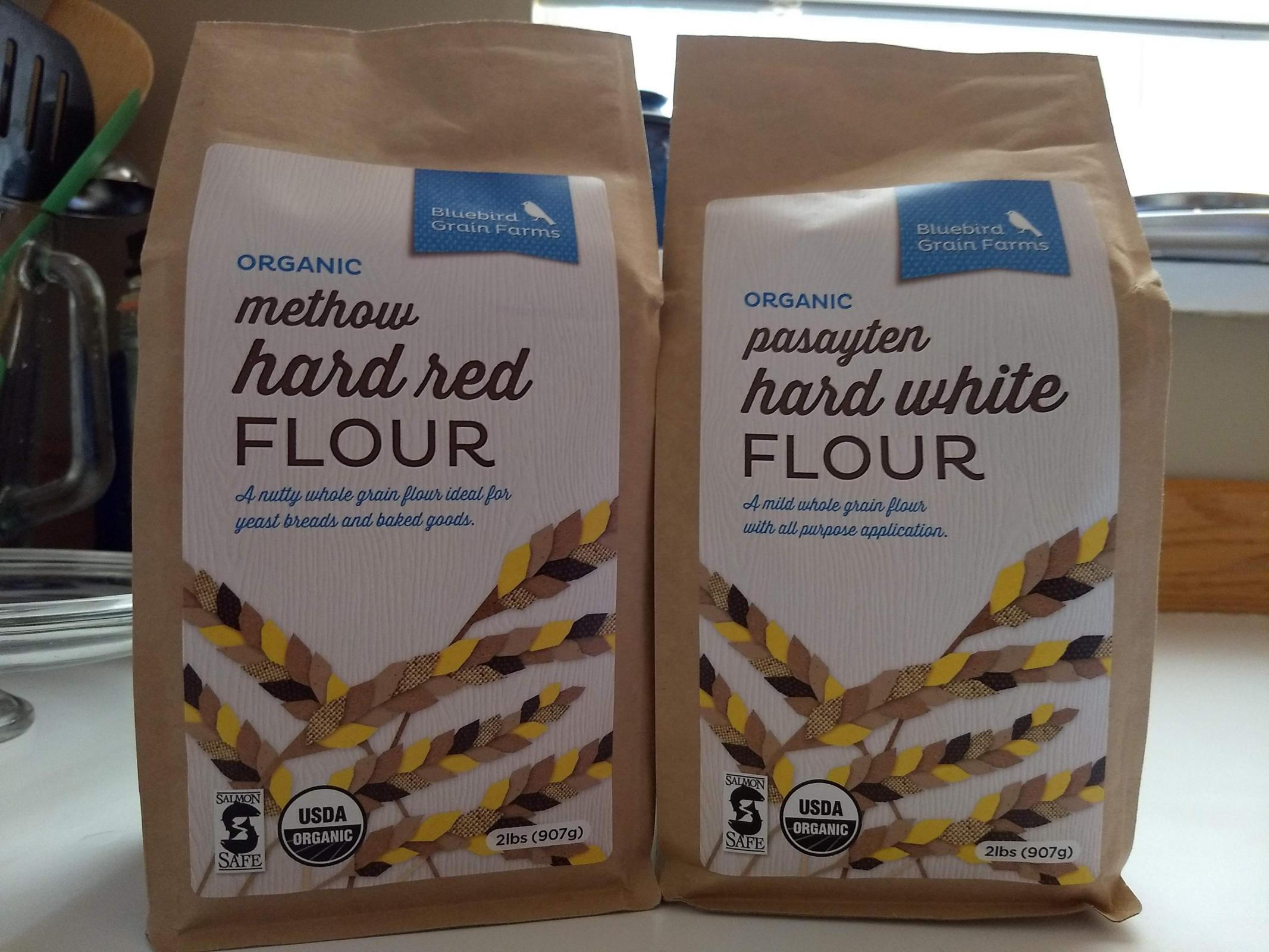 Levain:
30 g water
20 g Bluebird red whole wheat
10 g Bluebird white whole wheat
10 g starter
Dough:
482 g Bluebird red whole wheat
241 g Bluebird white whole wheat
602 g water
60 g levain
15 g salt
Process:
Built the levain at 8:00 am
Started the autolyse at 11:30 am
Added the levain and salt at 12:00 pm
FDT was 75 degrees Fahrenheit
Did four sets of stretch and folds in 30 minute intervals.
Proofed in the oven with the oven light on. Kept the dough at the opposite corner of the oven light so it wouldn't get too warm.
Ended bulk fermentation at 3:30
Gave the dough 15 minutes of bench rest
Shaped the dough and put it into a USA pan Pullman pan
Second proof lasted until 9:15. You have to be careful with this bread. It easily overproofs. The second proof was done in the oven with the door ajar and the light on. I used a thermometer gun to make sure it wasn't getting to warm. The surface temperature of the dough did not get above 78 degrees Fahrenheit.
Baked at 375 degrees Fahrenheit for 55 minutes. The temperature was about 190 degrees Fahrenheit.
This bread always has a wonderful flavor. That is one of my favorite things about pan bread. The fails still taste really good and make great toast and sandwiches. I try to make sure and pull it from the oven before the temperature gets to high. The crust and crumb seem to get tough and chewy if you let it get too far above 200 degrees Fahrenheit. When this bread is good, the crumb is nice and tender, and the crust has a nice subtle crunch when it comes out of the toaster. A slice of this bread tastes wonderful without being toasted and smothered with a generous slab of butter. (I love the tandsmor life!)