red fife desem (new starter)
Two desem bakes with home milled Red Fife (my previous attempt used a converted starter). 
This differs from my previous attempt in that it uses:
a home grown desem (from the same Red Fife wheat)
a lower percentage of PFF (10%)
higher hydration (79% and 81% (this would have been problematic with the previous starter))
retarded overnight final proof
shorter 1.5 to 2 hour soaker (based on comments in a TFL community whole grain bake about long autolyse)
ambient temperature of roughly 80F
The home grown desem effort was motivated by Mariana's comments.
The lower PFF was motivated by Debra's comments on inverse relationships between PFF and hydration levels as well as the lower PFF used by Jennifer Lapidus for her desem section in her book Southern Ground (former apprentice of Alan Scott), and mdw's success at low hydration with his converted starter (and most TFL bakers in general with whole grain sourdough baking (idaveindy, etc)).
I had assumed a high PFF and a hot final proof were requirements of desem baking, but above discussions make me think it is mostly the starter itself, as there is quite a lot of variation in the approached presented in LKBB, The Bread Builders, Bread, and Southern Ground (the latter using the popular cold final proof at higher hydration).  
Basic formula: https://fgbc.dk/1na0
I ground Red Fife berries (from breadtopia) 1 click back from ticking in a single stage and used a fairly short 1.5-2 hour soaker.  I used a warmish room temperature BF to roughly 60% for the first one and a slightly lower 50% in the second one after getting a flatter loaf than I like in the first attempt.  The final proof ran overnight in the fridge with a measured final temperature of close to 40F.  I baked covered for 35 minutes (Challenger pan) and uncovered for 5 minutes.  I left the oven dial at 400F (which gives me a temperature somewhere between 450F and 475F).
First one (81% hydration (slightly flat)):

Second one (79% hydration):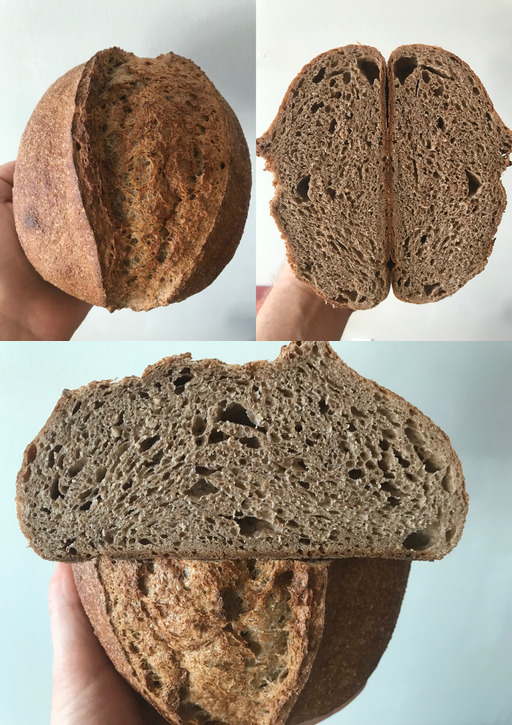 I'm quite happy with the result using the new starter and this approach.  Unfortunately, with hot temperatures arriving in NYC, I'm doing much less baking in the apartment now.