SD olive and cheese loaf, Queen Elizabeth cake and others
This week, I made an olive and cheese loaf, Queen Elizabeth cake (twice), and non-baked breads: steamed flower buns and horseshoe fritters (these are fried). 
For the loaf, I wanted a soft bread that stays soft until the last slice. I used pepper-stuffed olives - these gave specks of red together with the orange bits of old fort and marbled cheddar. I wasn't sure if my starter was strong enough for this bake since I used it passed its peak.


Starter
15g starter (100% hydration)
45g water
80g all purpose flour

Tangzhong
100g milk
20g all purpose flour

Dough
all of the starter
all of the TZ
260g all purpose flour 
40g whole wheat flour 
5g salt (reduce if using more filling)
160g milk
15g light olive oil 
60g pitted olives and sliced/chopped
60g grated cheese (100g would be better?)
Butter - to brush on loaf after the bake


After baking 4 carrot swirl loaves for people, I finally found time to learn how to make the Queen Elizabeth cake. The recipe I used as a reference is here: https://urbancottagelife.com/queen-elizabeth-cake/amp/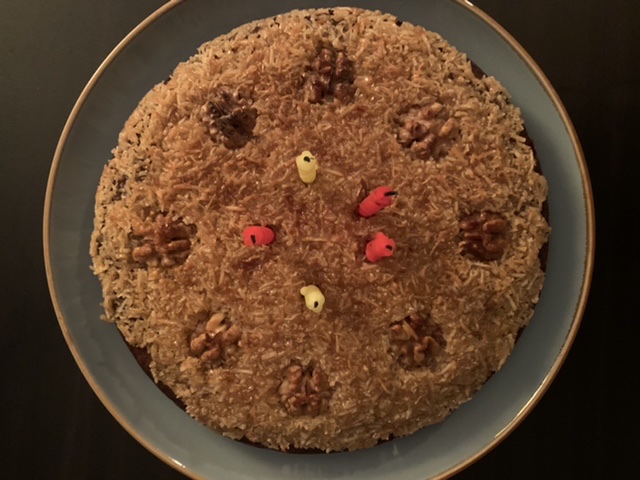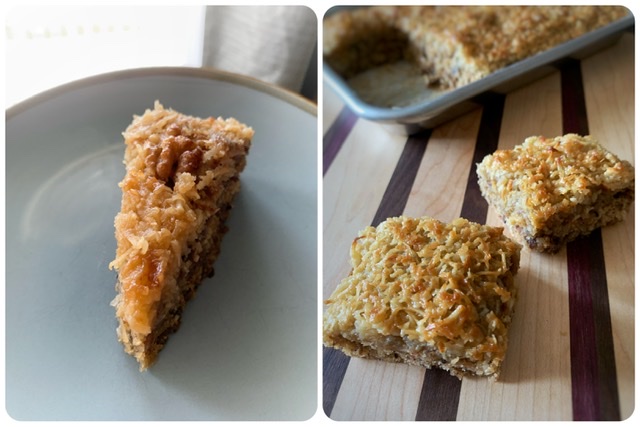 I was tempted to make a small cake but it was my husband's birthday so I made the recipe as is. Be warned, the original recipe has a ridiculous amount of sugar. So, after that cake is over and done, I decided to make it again as a mini sheet cake (mini as in a 1/8th sheet pan) and with a lazier, no mixer required way of mixing (I like easy mixings!)


Dates
60g dates, pitted and chopped
80g water
1/2 tsp baking soda


Cake
110g all-purpose flour, sifted
1/2 tsp baking powder
1/4 tsp baking soda 
1/4 tsp salt
pinch of nutmeg/allspice 
50g unsalted butter, soft
10g light olive oil
40g coconut/brown sugar
1 large egg, beaten
1 tsp vanilla extract 
40g heavy cream


Coconut Frosting 
50g brown sugar
40g butter
50g shredded unsweetened coconut
40g heavy cream 
Optional: 1/4 cup toasted walnuts, chopped 


Cook dates and water over medium heat until it begins to boil. Reduce to a simmer for 5-10 minutes. Remove from heat and add baking soda. Stir the dates and place the pot over low heat until the mixture boils again. Continue stirring and let the mixture boil for 5 minutes. Remove from heat.
Preheat oven to 180°C. Butter and line a 1/8th sheet pan with parchment paper. 
Whisk flour, baking powder, baking soda, salt and nutmeg in a bowl. Set aside.
In a medium bowl, mix butter, oil and sugar until the mixture is pale - 2-3 minutes. Then, mix in the egg and vanilla extract.
Then, alternate adding flour mixture and cream into the egg mixture. Fold in with each addition until just combined.

Fold in cooled dates and then transfer to prepare pan. 
Bake at 180°C 15 - 20 minutes or until a skewer inserted in the middle comes out clean. Remove from the oven and let it cool for 5 minutes. Meanwhile, turn on the broiler. 
While the cake is baking, prepare the coconut frosting. Melt butter with coconut, brown sugar and cream in a saucepan. Stir until sugar and butter are melted, then bring the mixture to a gentle boil for 3 minutes. 
Remove from the heat and stir in the nuts if using. 
Poke holes all over the warm cake and then spread the frosting all over the cake. Return the pan to the oven and broil the frosting for 2 minutes until the topping is golden brown. Be sure to watch the cake during the broil. Remove the cake and let it cool completely before slicing. This cake can also be cooled completely in the fridge. 
I let the frosting caramelize for a full 2 minutes leaving a light crunchy topping. 
The other two: steamed flower buns (hua juan) and horseshoe fritters (ma kiok) are two kinds snacks I enjoy back home.