Has anyone baked the little dough used for gauging fermentation? 🤣 This is my baby dough (sitting on a teaspoon) from today's sourdough cheese-stuffed fougasse (adapted from Maurizio's) - this lil one took 18 minutes to bake.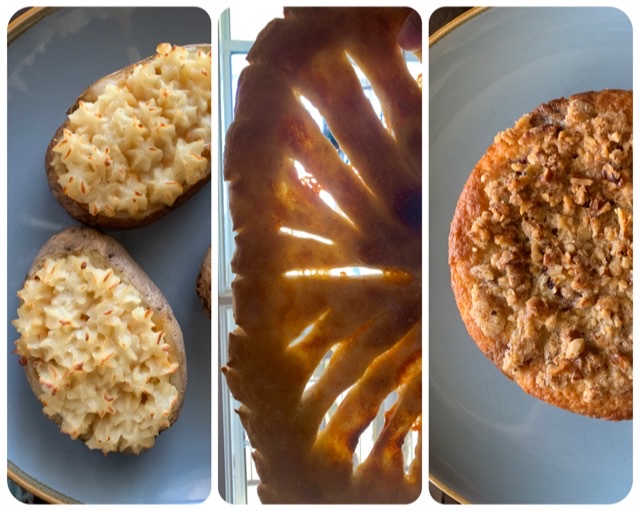 There were also baked potato skins with butter chicken filling and ..
.. my test bake: 6" lemon blueberry cake with walnut crumble. Usually whole berries are tossed in flour and folded into the batter but I wanted to see what happens when the batter is tinted with the fruit. This time the pigments changed slightly during the bake with blue most intense on the skins. As suggested by Benny, maybe I should use a lil bit of *ascorbic acid when working with such pigmented fruit. 
The lemon cake is tasty on its own without any other fruit inclusions. No syrup for this cake today since I've a crunchy walnut crumble on the top. 
6" lemon cake
130g all purpose flour 
5g cornflour
1/4 tsp salt
1/2 tsp baking soda
60g sugar
Zest from 1 lemon
30g unsalted butter
20g light olive oil
1 large egg
60g fresh lemon juice
60g milk
1/2 tsp lemon extract
Optional: mixed berries tossed in flour 
 Blueberry reduction (for swirls/batter)
150g blueberries 
40g sugar
1 tbsp water
2 tsp lemon juice
Zest of 1/2 lemon 
 Walnut sugar topping 
30g chopped walnut, untoasted
15g sugar
A pinch of ground cinnamon
A pinch of salt
15g unsalted butter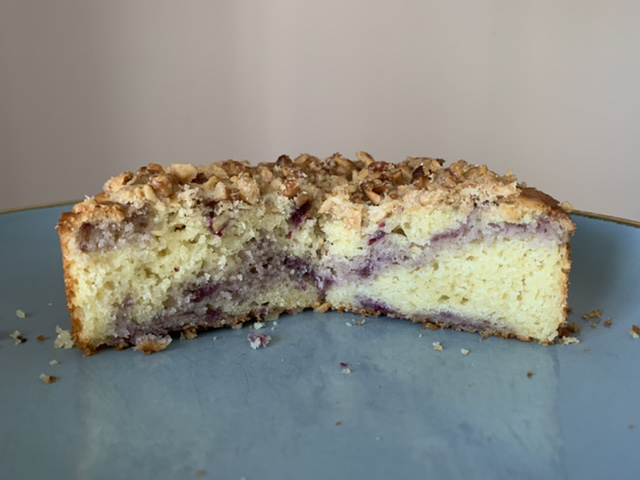 *For canning and dehydration of fruit/vegetables, it's suggested that the cut fruits/vegetables be soaked in a solution of ascorbic/citric acid for about 3-5 minutes to prevent discoloration/oxidation: 1500mg to 1 cup of water. I've to test this method followed by a 180-200°C bake. :)