First try using Emmer flour
This is just a simple 1:2:3 bread with 30% of the flour being organic stoneground Australian Emmer flour.
Levain:  Thursday afternoon first refresh.  20 g refrigerated starter + 20 g water + 20 g bread flour
Thursday evening before bed 50 g first build + 50 g water + 50 g flour. leave over night on bench, room temperature dropped to about 19°C.  
Friday about 9 am refrigerated as I had to go out.
Friday midday remove levain from fridge
12:15 pm autolyse 113 g Emmer flour + 262 g bread flour + 250 g water
 mix on speed 1 until all incorporated about 2 minutes. cover and leave
13:00 pm:  Add 125 g levain and mix 2 minutes on speed 1.  Added 6.75 g salt and mixed another 2 minutes. Very soft dough but not too sticky.  So whilst I sprayed oil in bulk fermentation container I gave it another minute on speed 1.  I didn't want to over mix, rather just enough and build the rest of strength with folds. 
13:15 pm Cover and rest 30 minutes
13:45 pm Coil folds.  This was repeated 3 more times with dough getting better each fold
I was heading out so at 17:05 pm I preshaped dough then at 17:20 pm final shape and into banneton and then the refrigerator.  A little concerned as I prefer to give the dough a little bench time before retarding.
This morning,preheated oven and DO to 240°C. Scored, then spritzed dough and popped it into the oven for 15 minutes with lid on then 16 minutes lid off.   Internal temperature 98°C (208° F).
So far looking good!  this dough was lovely to work with even though it was very soft.  I think hydration would be 71-72%.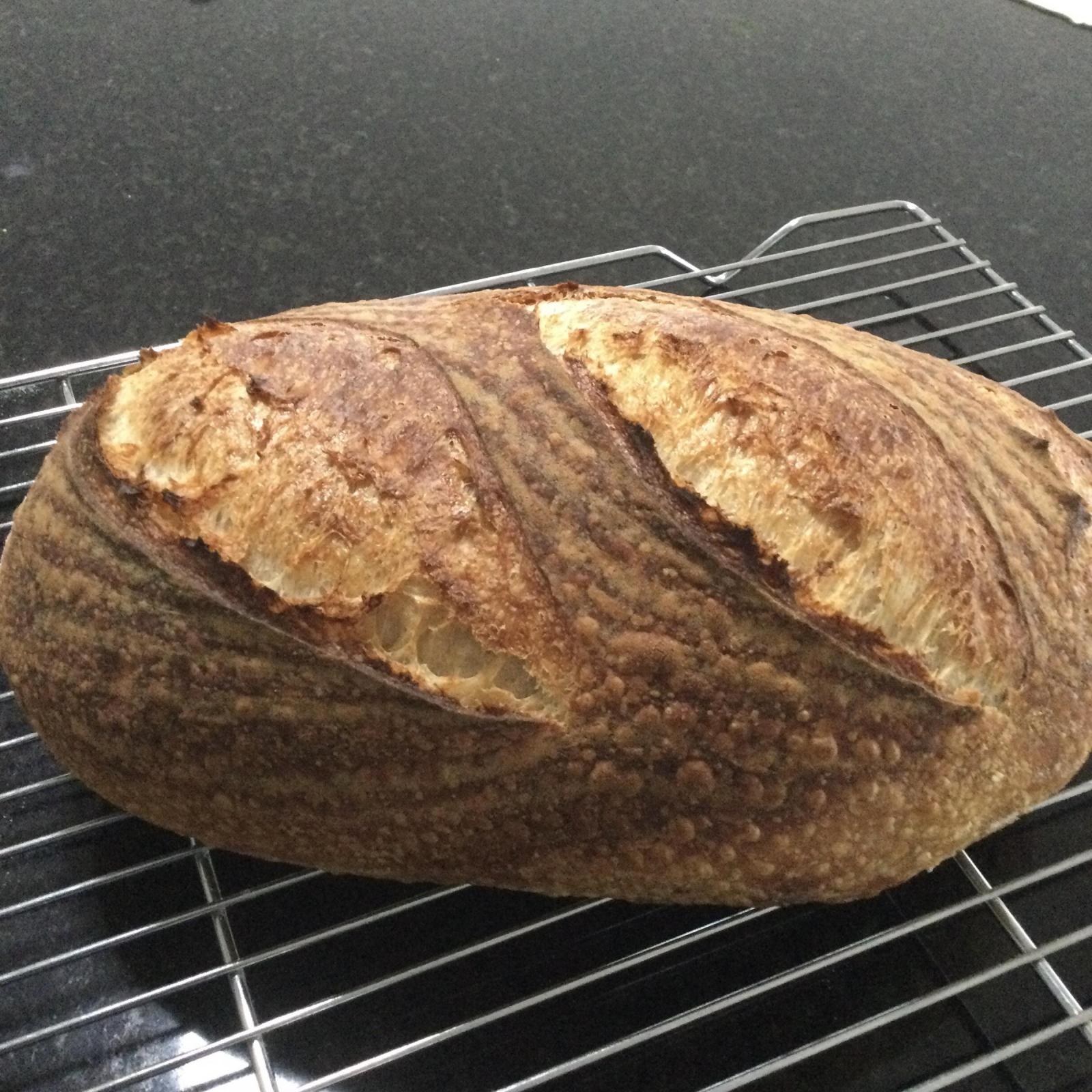 The big test is of course the crumb - will post later when cut.  will up the % of Emmer next time but doubt I will go to 100% because of cost and availability.
Leslie