Bassinage and salt insight
So, there was this thing that Don said the other day in a TFL blog post that really got me thinking. Think it was a quote from Jennifer Lathams about tweaks to the Tartine bakery method, and the thing that was said was "[...] longer includes the leaven in the autolyse and salt is not added until enough water has been incorporated to make a very extensible dough."
I think I've been doing bassinage wrong! I usually try it after the salt is already in the dough.
This weekend's loaf came out surprisingly well when I left the salt out until the end. After a one hour autolyse I incorporated levain with the machine mixer (only about 3 minutes, the last two minutes on speed 2 of the Kenwood), and the mixer bowl was staying clean after the mix and could feel the dough was already nice and taut and felt like it had some strength. Then by hand I spent ten minutes adding the additional bassinage water 10g at a time by means of what I would describe as 'circular' stretch and folds turning the bowl as I did it. And then, using the same method by hand another 3 minutes to incorporate the salt. And it worked so well. Sometimes you can tell the dough is going to bake well, and it stretched out beautifully when I laminated the olives in.
The loaf is a little darker than I wanted (probably from the 1% baker's malt) but the eating was great - sometimes the stars align and I get that great crust and soft crumb and this was one of those days! It does feel like the stars are aligning more frequently recently, but it might just be my mixer! Unless I've actually stumbled upon something that can be repeated with the mix by machine, bassinage by hand and add salt after method. Will only know next time I bake, but the old hands here are probably getting ready to tell me of even better ways to do the bassinage.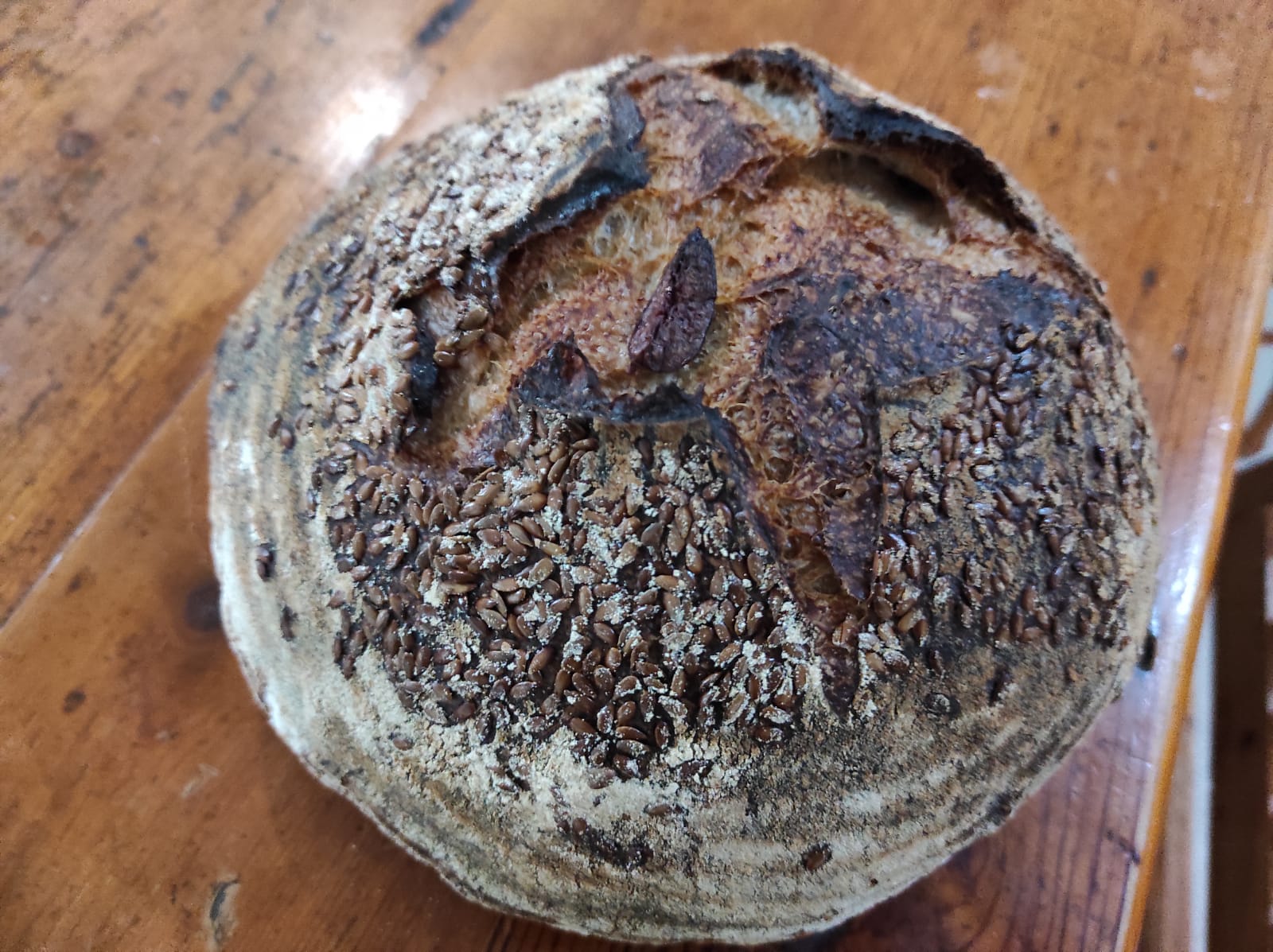 The scoring was a simple cross, I didn't want to jinx things and get a flat loaf as I did let the aliquot jar show an 80% increase (shaping at 50%) and was afraid it would flatten in the oven, but oven spring was good too.