December 31, 2020 - 7:58am
Sourdough Flatbread and Chicken Shawarma Plus Other Goodies
It's gonna be 2021 here in a few minutes and this is my mandatory yearend post. It has been a difficult time we have all been through. It changed our lives and left us in uncertainty but there is still that glimmer of hope. I wish all of us a better and blessed 2021.

Here is what I made today. 
I've come to terms with some spices this year. Before, at least with my own cooking, I really really hate the strong and pungent smell of some spices; especially cumin, I really abhor cumin! I can say it stinks! Really, it was just me not really knowing how to use and combine spices. When applied properly, it really elevates the taste of food. This year, I've tasted authentic Pakistani/Indian food and it was amazing. I want to taste it again but due to the lockdown, that restaurant closed. As usual, the only way for me to taste it is to make it. Later, I'll show you my first ventures in spices.

A really good shawarma is a childhood memory for me. But it turns out, the shawarma that I have loved as a kid is very far from the real deal in the Middle East, as told by a college friend who grew up in Saudi Arabia. (She was also the one who pointed me to the right direction for that authentic Pakistani/Indian restaurant) After some research, I found a good recipe online; and fortunately too, the city next to my town where I work is becoming more and more cosmopolitan, I found some "rare" spices (at least for me) in one of its large malls.
Shawarma here is always served with a flatbread more akin to a flour tortilla than the ones they use in the Middle East. As a personal twist, I made it with sourdough. It was a simple 70% hydration dough enriched with a little olive oil. I originally intended to make pitas but the bread did not puff up. I think It was too wet, almost impossible to roll thinly and evenly. As a result it did not have the correct texture; it was soft and chewy, just a bit stretchy, and with a custardy crumb. However, the flavor was so good, you could eat it plain.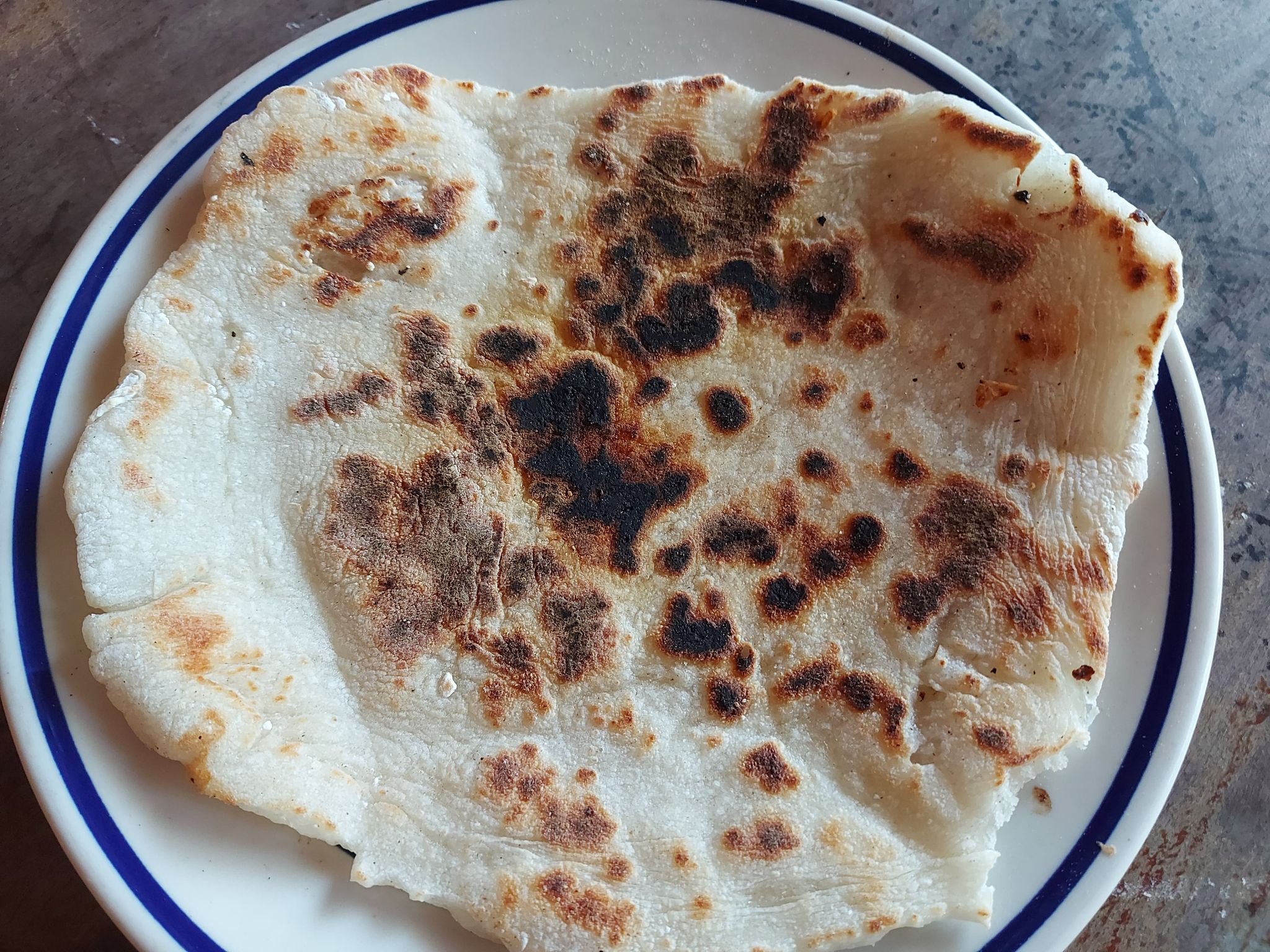 I can't believe the smell when the chicken was being cooked, even just on the pan, it was insane! I could just imagine how it would smell when grilled properly! Shawarma is served differently depending on the country and meat. As I do not have time to make pickles and fries or to others chips; I chose to go with red onions, tomatoes, and cucumber as accompaniments since it is what I grew up with. I also did not go with toum or garlic sauce since I do not have the equipment to make it. The sauce I used was still garlic-flavored but yogurt-based similar to tzatziki.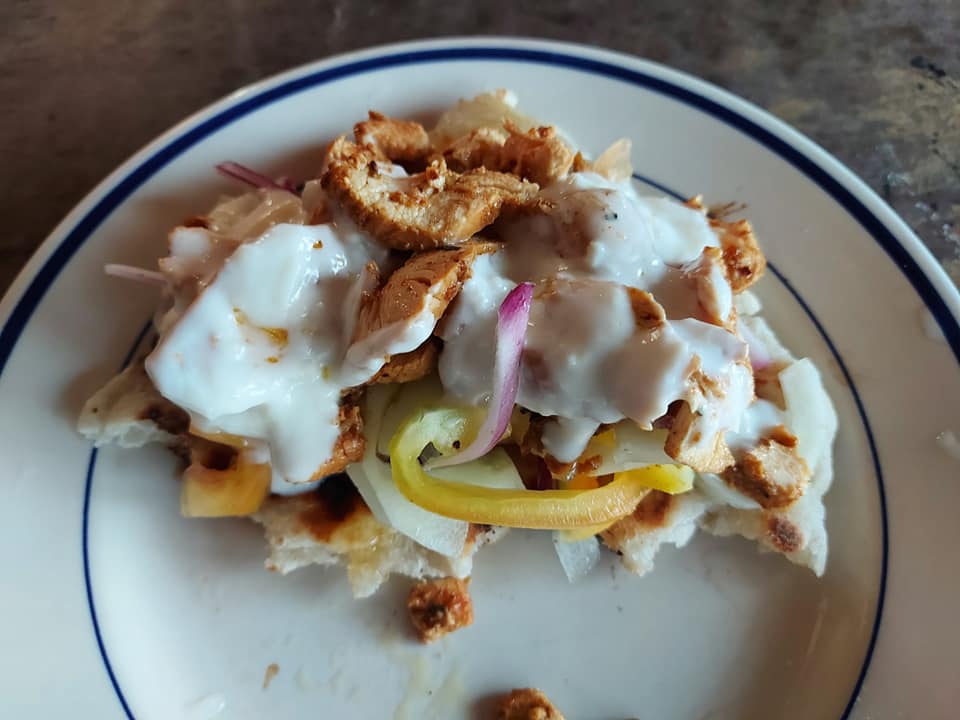 Since the bread was too thin to be sliced in half but too thick to be rolled it ended up as a deconstructed shawarma plate later.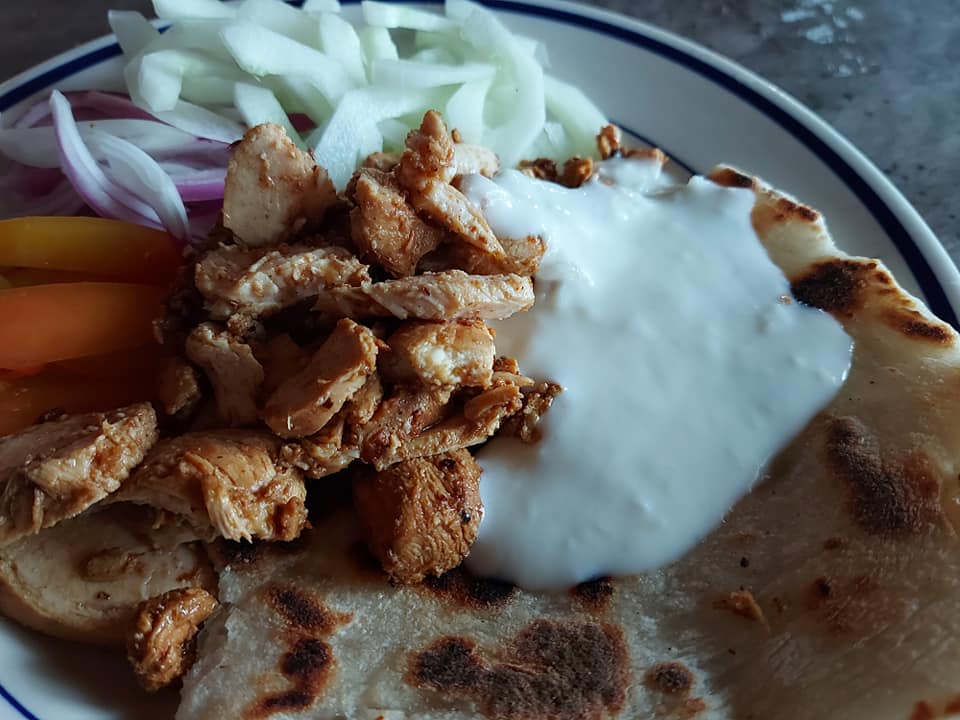 ---------------------------------------------------------------------------------------------------------------------------------------------------------
Though 2020 was not really good, it is the year in which I first ventured into South Asian Food on my own. It started when I first tasted a legit biryani recommended by my friend. I really liked the taste, then I got to taste their samosa, then many more. I met the owner and found out he is Pakistani. Wanting to know more about biryani and his one especially, I put my "language skills" if you can really call them skills to use. ;) I spoke to him a bit of Urdu (well Hindi is what I really studied a bit but they are just different registers of the Hindustani language) and we became friends immediately. I told him how I like his biryani and I told him the spices that I saw and then he proceeded to enumerate the spices he uses and their relative amounts. All of this in Urdu with just a little bit of English. Sometimes, even just the slight knowledge of various things is of great help. :)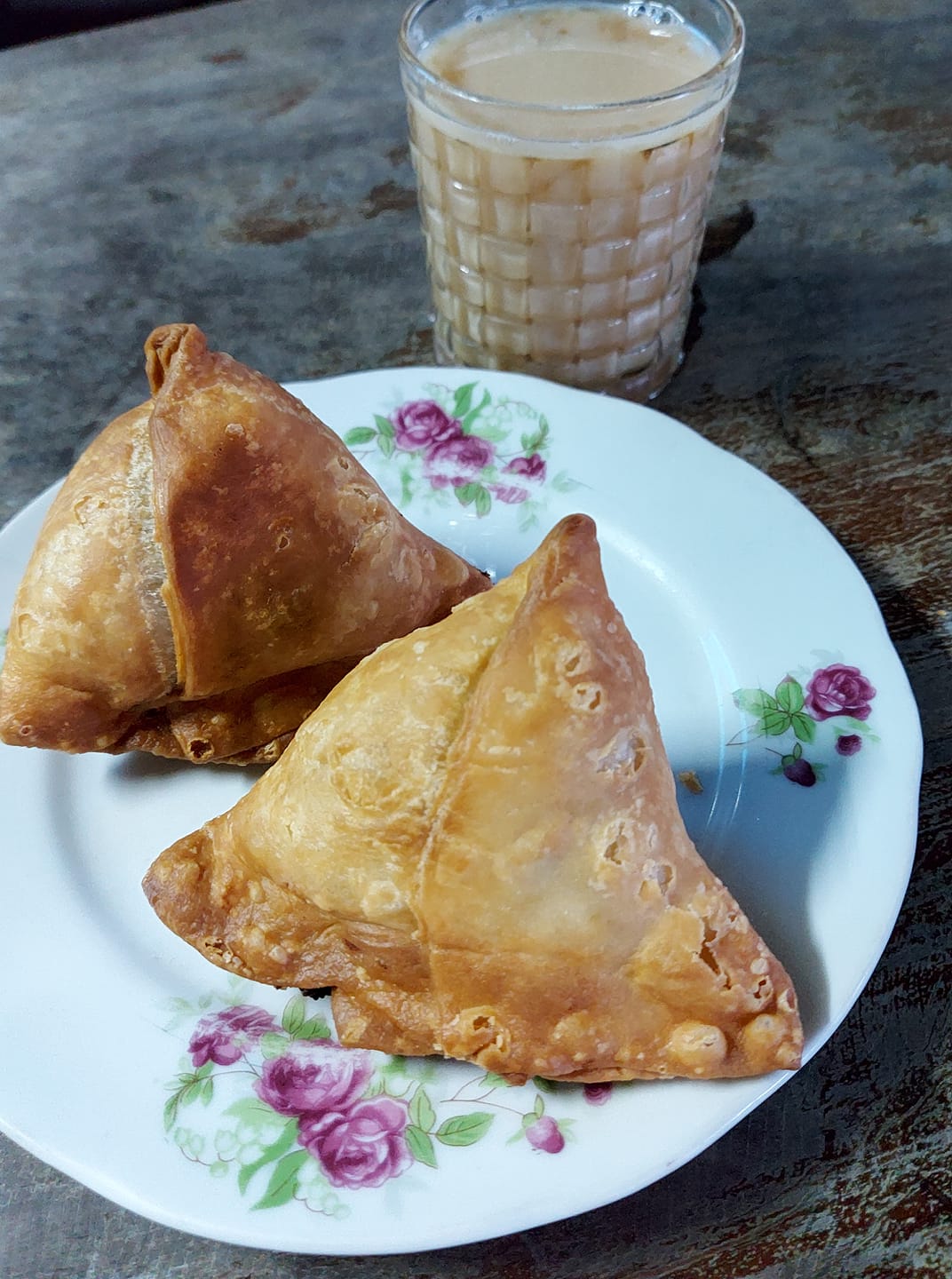 Punjabi aloo samosa - I reconstructed the taste from memory from his samosas, it was sour with a hint of garam masala. One recipe I found was too flaky, similar to pie crust and/or empanadas, it was not similar and I do not prefer it. One time the crust was perfect; crispy, slightly chewy and stretchy but the spices were not right, it had onion and garlic too. Found some coriander the other day and it was much closer, as I did not have amchur, I substituted lemon juice and it almost tasted the same. I upped the ginger and green chilies too. I served it with some lemon chai, if there is such a thing. I really wish I had some imli ki chatni that day!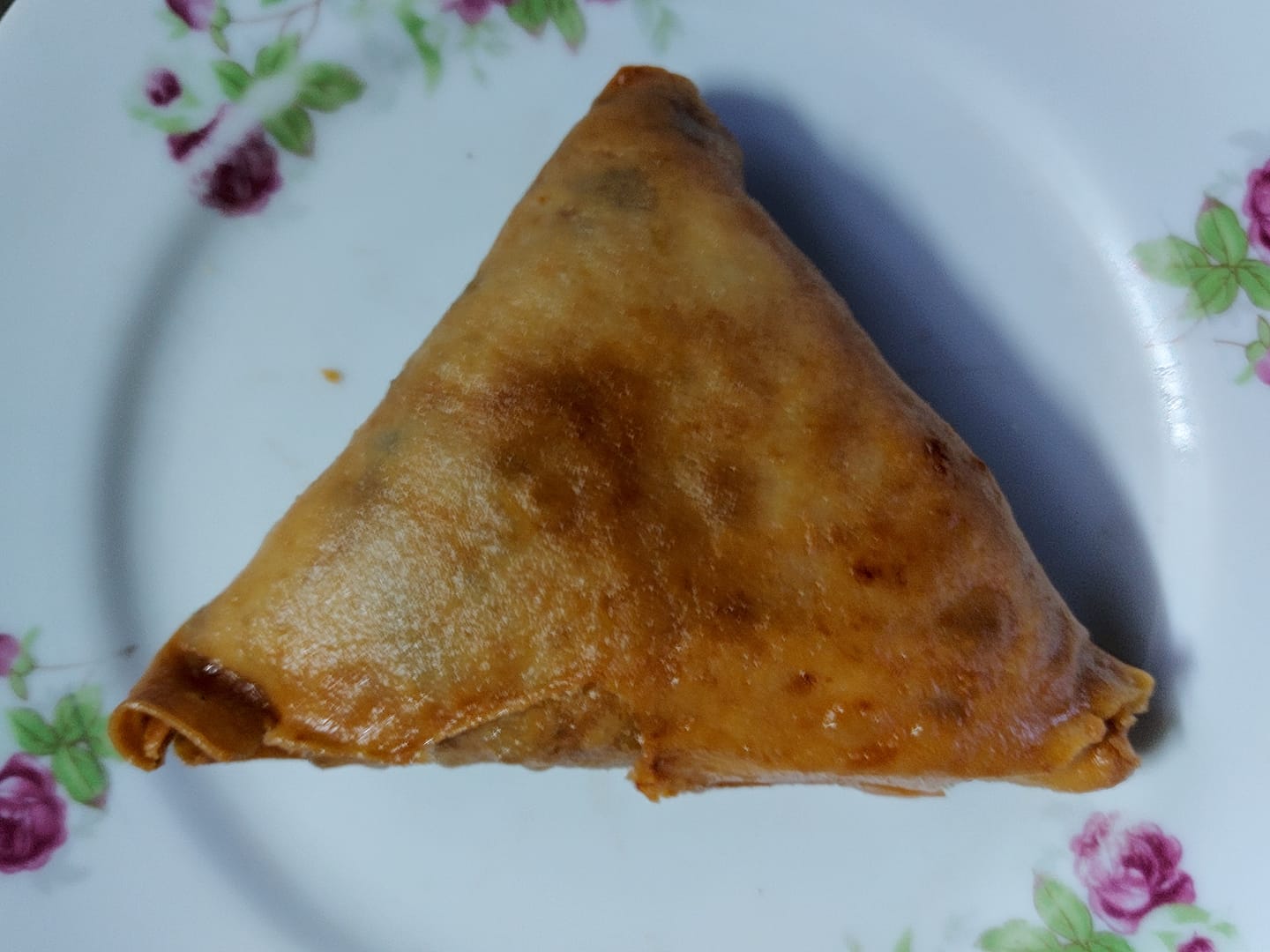 Last minute onion samosa - different wrapper and filling. I think it was closer to the middle eastern sambusa.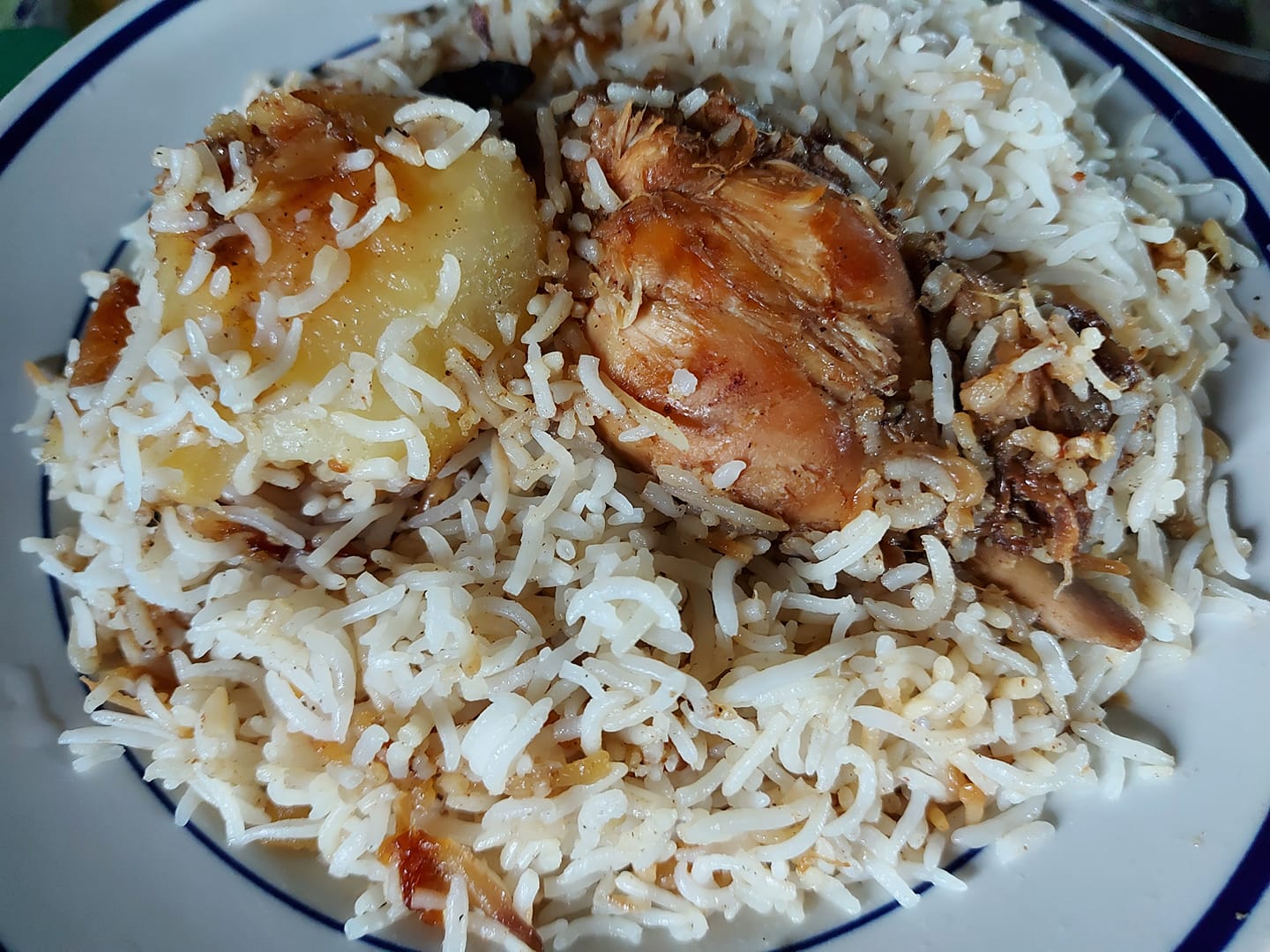 My first Biryani back in August. Some key spices were missing like cardamom, coriander and cloves but the taste was good but not close enough to the one I like. I saw a Kolkata-style biryani and thought potato might be good so I added it even though I still haven't tasted it in biryani before, so this actually is an amalgam of styles of biryani from the different regions in the Indian subcontinent. No aromatics too like rose water and kewra.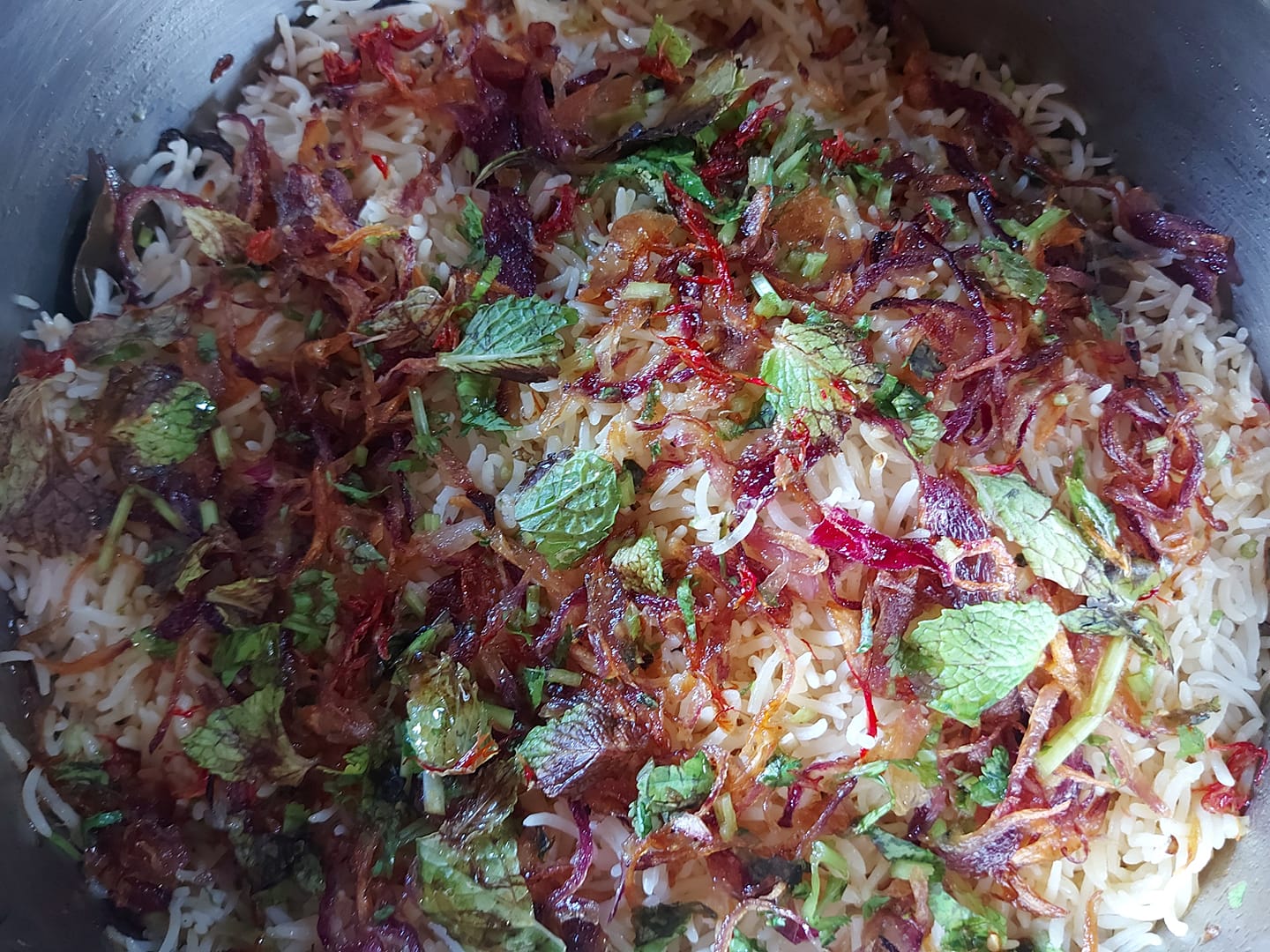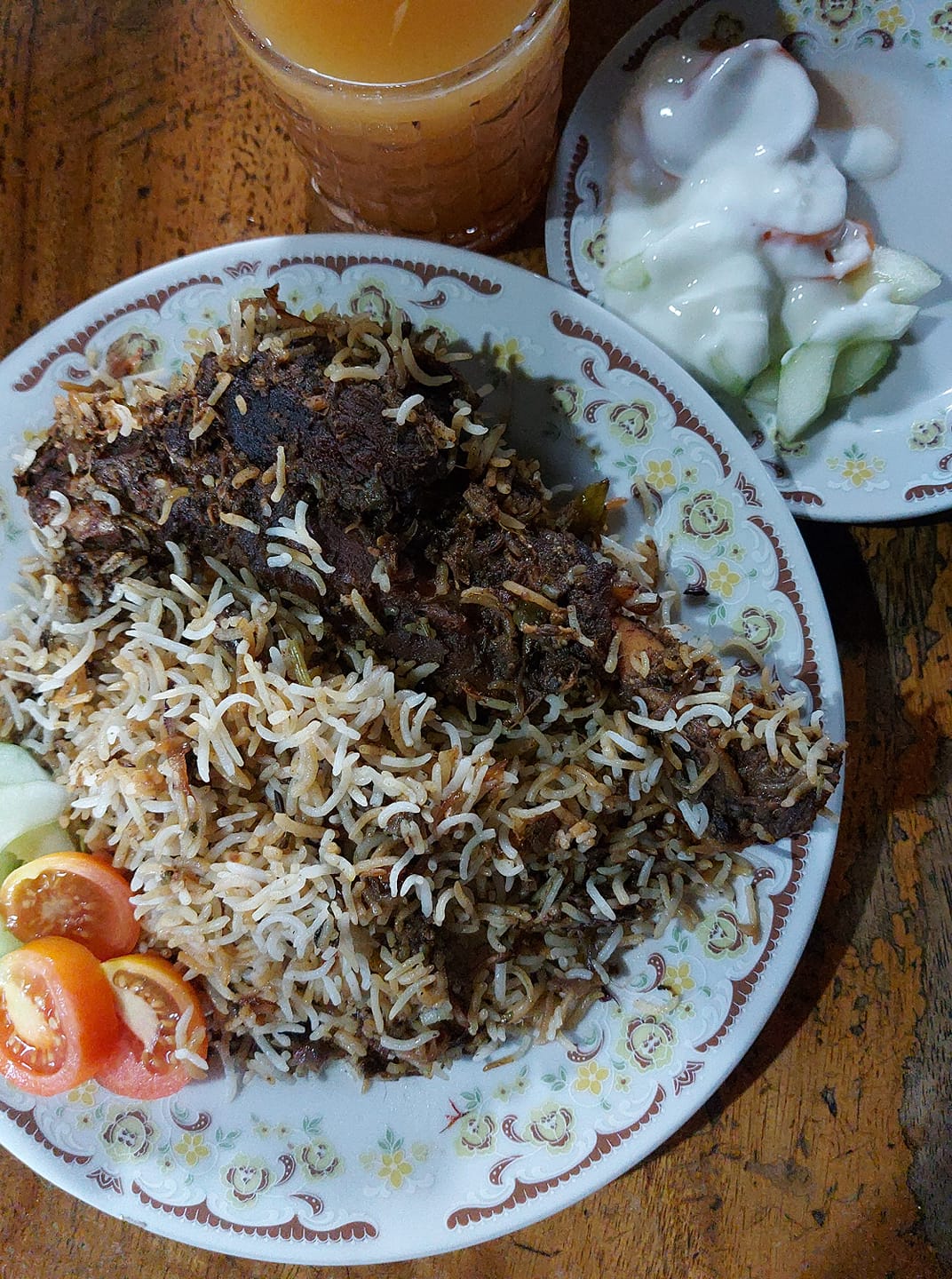 My second biryani, Lamb Biryani - Saw some lamb shank and shoulder in the supermarket for the first time and I was excited to try it. I thought it will be perfect for biryani; not knowing that mutton actually refers to goat in India. I made it closer to Hyderabadi style but still missing key spices and aromatics; the natural coloring I used also did not show up that well. Though, I made sure to get some mint as mint is classic accompaniment to lamb. Now comes the coriander (cilantro), I really don't like its taste and thought it will not come through due to all the strong flavors in the dish, Oh how wrong I was! It was so strong that I feel nauseated whenever the pot of the biryani was opened and no one in the family likes to try the lamb as it was too gamey for them so I was forced to eat it all by myself.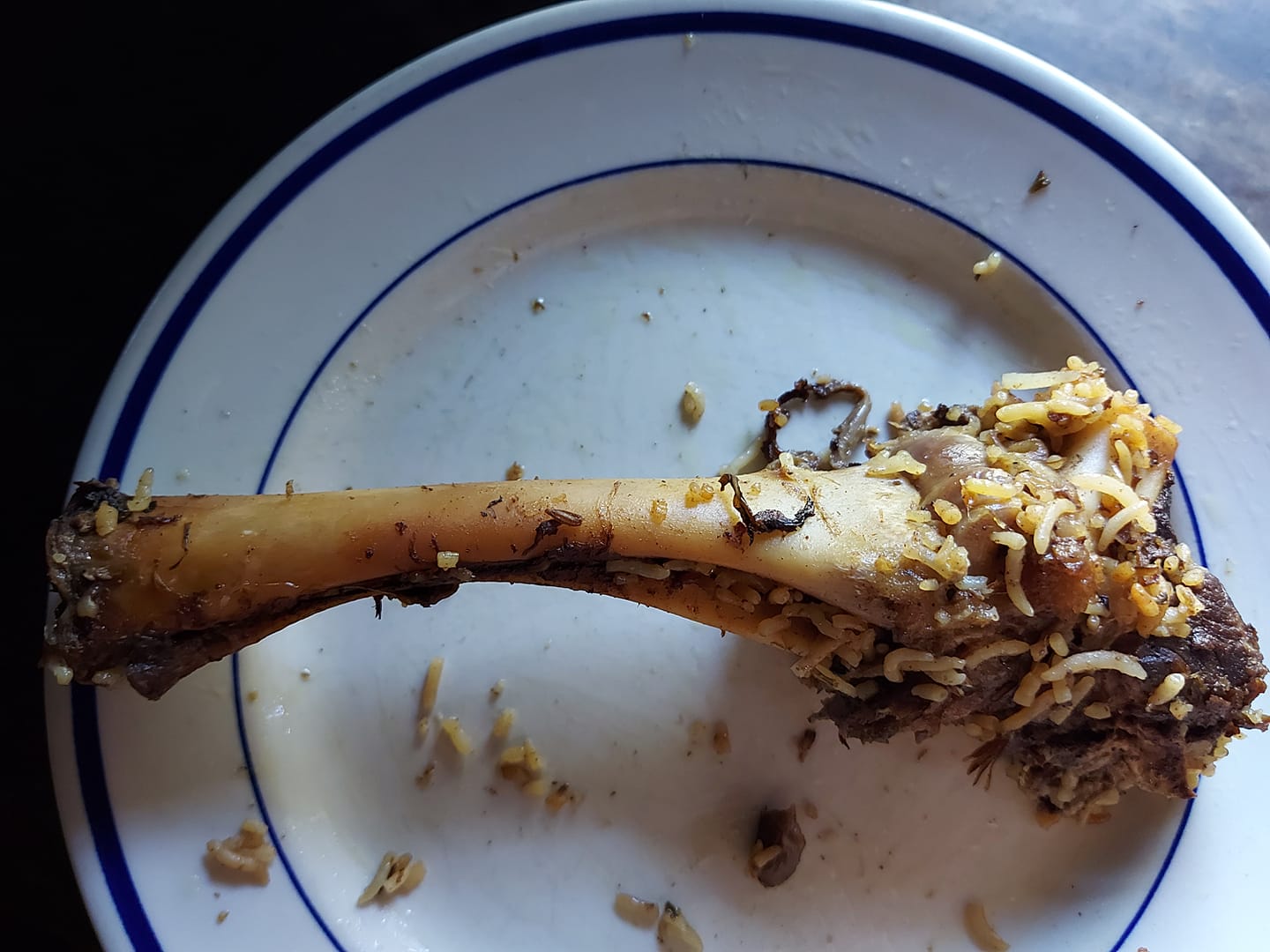 The lamb was great! I love it! The shank was tender and sticky and infused the rice with its wonderful fat. Had it not been for the coriander I would have devoured it really quickly!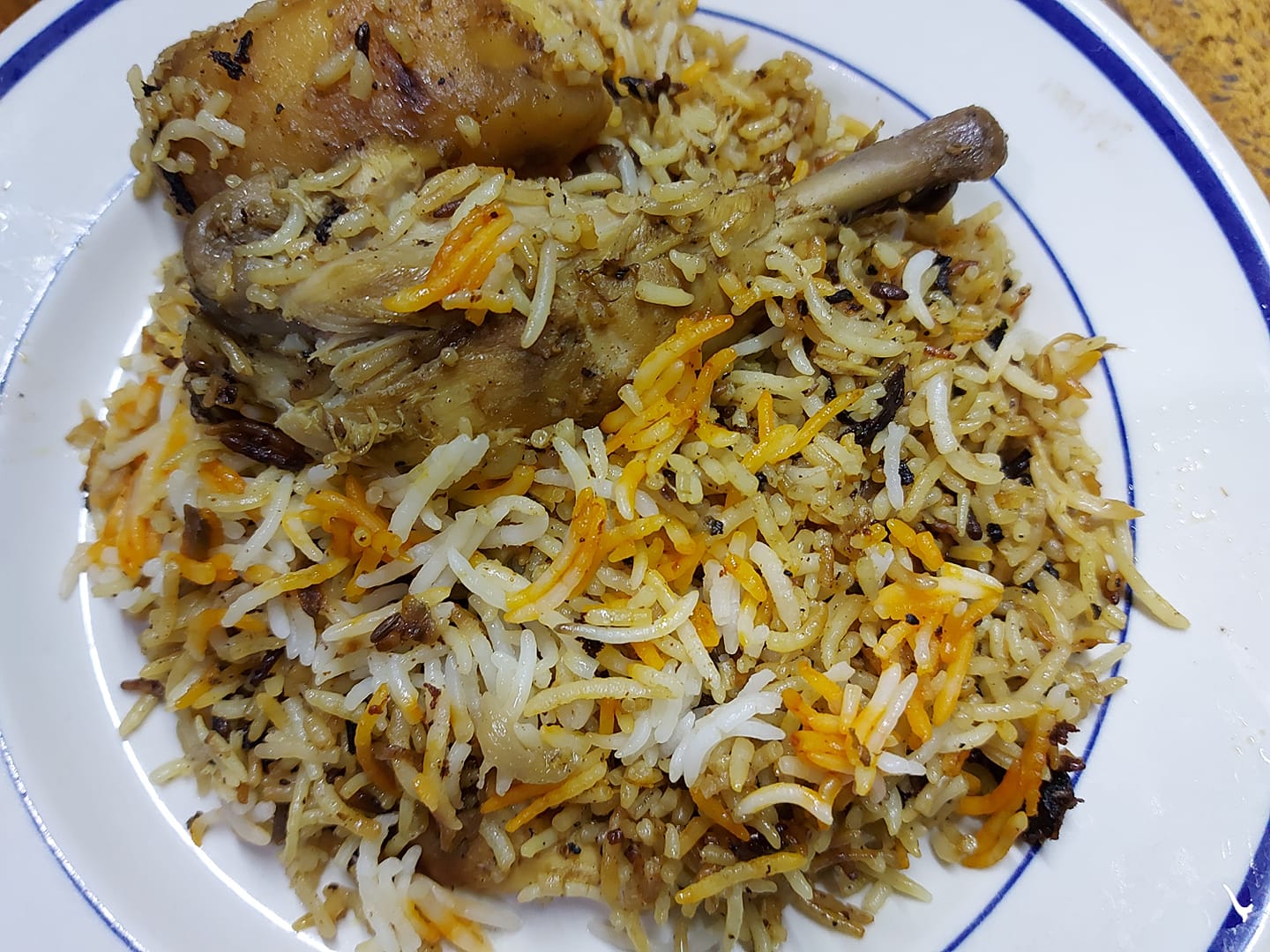 My third biryani- really eyeing for a Kolkata biryani with that potato. Still missing some key spices but I added those that I found to the spice mix. I also found a better natural colorant for that vivid streaks in the rice.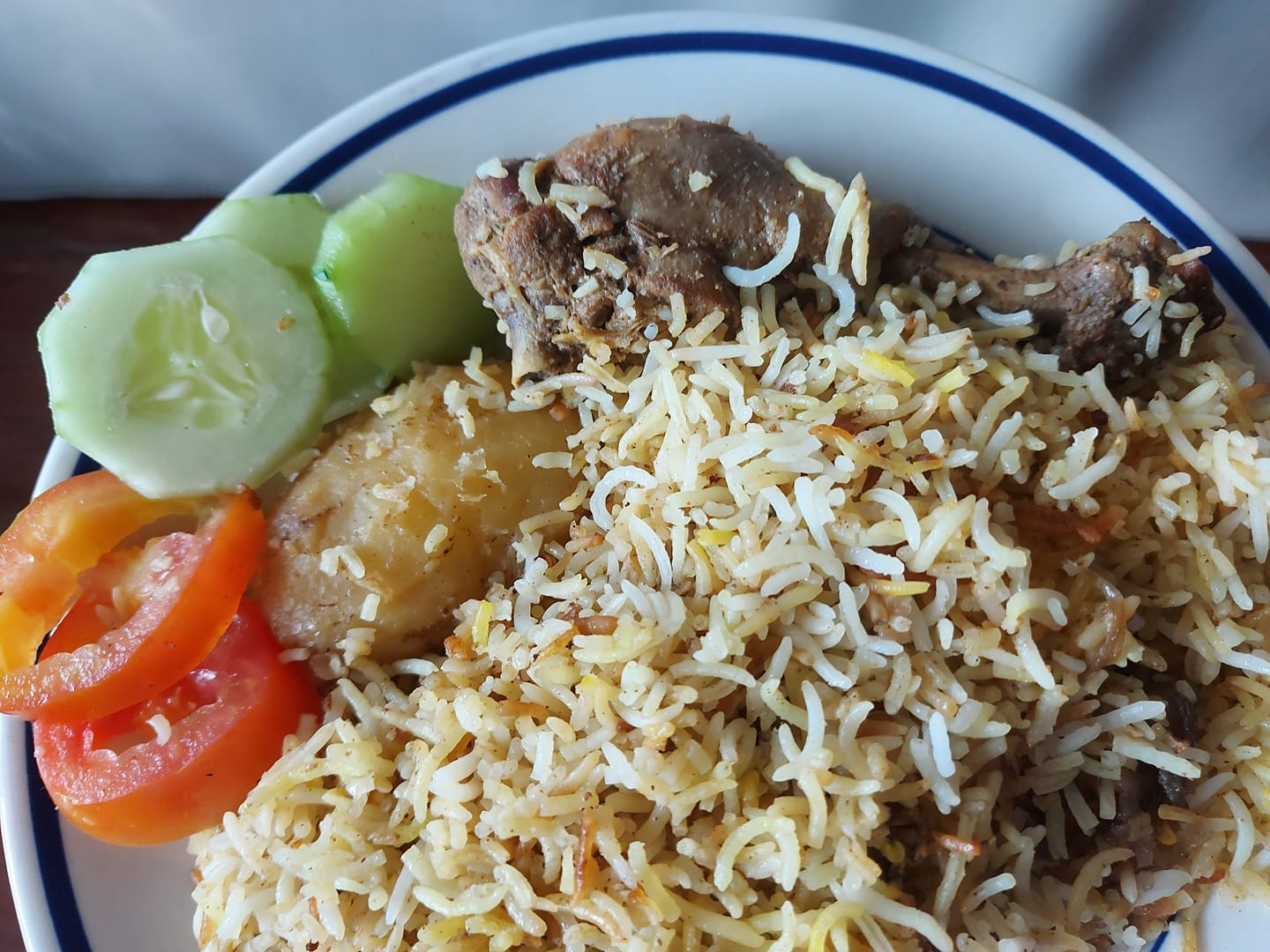 My final attempt this year. Finally found those spices; the cardamom, the coriander and I even found authentic saffron, how expensive it was! Especially cardamom and saffron, they really have those special aromas that are hard to describe. The yellow color of the rice came mainly from saffron. Really getting closer and closer to a Kolkata-style biryani, just made spicy with green chilies and with 1-3 aromatic distillates missing.
The Middle Eastern food that I prepared today is just the first, more will come God willing in 2021 and I hope to share it with you. Still tons of food that I learned to make in 2020. I will share them all hopefully in a more fitting post.

This really proves that there is really much to be thankful for, and us being able to witness another year is more than enough for us to consider ourselves truly blessed.

Happy New Year!


2020, you may not be the best year I still want to thank you for the things you have done to me. You allowed me to appreciate and value what I have more than ever, you allowed me to eat less and move more, you allowed me to discover and rediscover wonderful things; but most importantly, you brought me closer to God.