November 10, 2020 - 11:16am
Proth5 – returning from the void! Well, hardly. But I thought my recent activities might resonate with the "old timers" – those who were posting when I was a regular on this site – and I had to break my blog silence just this once. For the new folks, beware. My time away has only brought out the curmudgeon in me.
From time to time we all see the news stories where a couple met in high school and fell in love, but something in life intervened, they were separated and went on with their lives. Then they meet in a nursing home, recognize their old love and get married.
Thus has gone my "sheeter love". Ciril Hitz was the person who first taught me how to use a sheeter. He noticed the "Where have you been all my life?" look in my eye. Yes, a tool that efficiently rolled out dough. Much faster and more evenly than a rolling pin. I was no rookie with a rolling pin (I've baked for a very long time) but this was so much better.
Sheeters are expensive pieces of equipment. The least expensive that I found was a hand turned version from Machines Caplain that cost $3K, took up a fair amount of space, and had to be shipped from France. I went on with my life, I did lamination (real lamination, where fat is enclosed in dough to make layers that will puff when baked, not whatever it has come to mean on this site) by hand and was pretty successful with it. But deep in my heart, I always knew. It would be so much less effort with a sheeter. Every time I picked up my rolling pin, I thought "I wish I had a sheeter." But I had resigned myself it was not to be.
I was reading "Food and Wine" magazine (I don't just complain. I read. I learn.), when they reported that a small bakery did their lamination (real lamination – but I digress) using a slab roller. This is not a tool of the baking trade, but of ceramics, but had an action similar to a sheeter. A flat surface moves across a bottom roller while the top roller rolls out the slab. It wasn't cheap (in the $5-600 range) but I hadn't gone anywhere or done anything travel related this year (I wonder why…), nor was I going to. It seemed like I should treat myself. It was just a web order (and my pictures are enough advertising so you much search for an on line ceramics supply shop yourself) and some dark looks from the UPS guy (for the big, heavy box) away.
So, I set it up and tried it to make pains au chocolat. I even took pictures.
Here is the slab roller itself.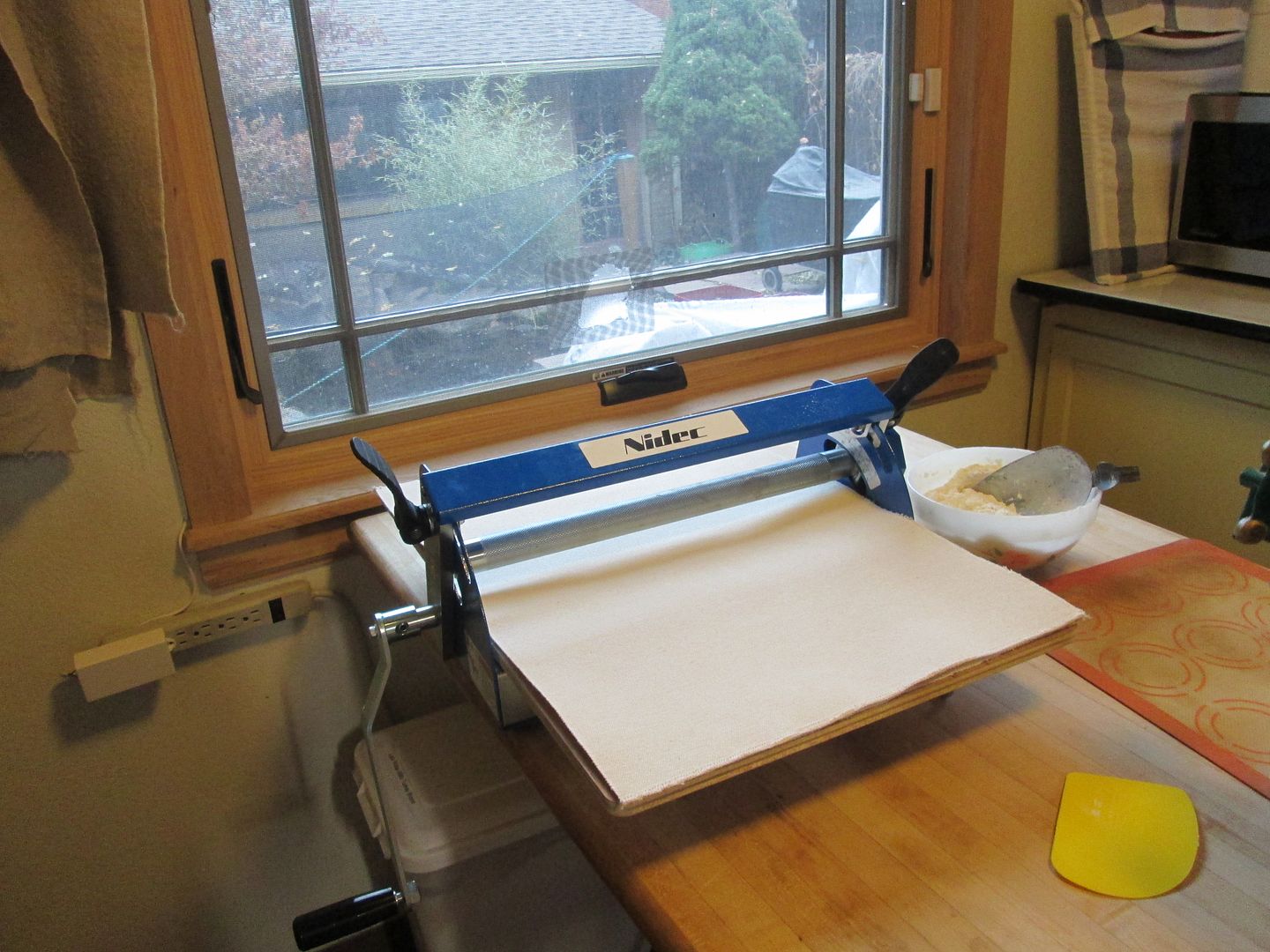 Here is a folded and rested paton ready to be sheeted. Notice that the paton is placed between two pieces of canvas. I found this disconcerting when I started, but it worked rather well. I thought of using two silpats, but mine are only half sheet size and were not large enough for what I was doing.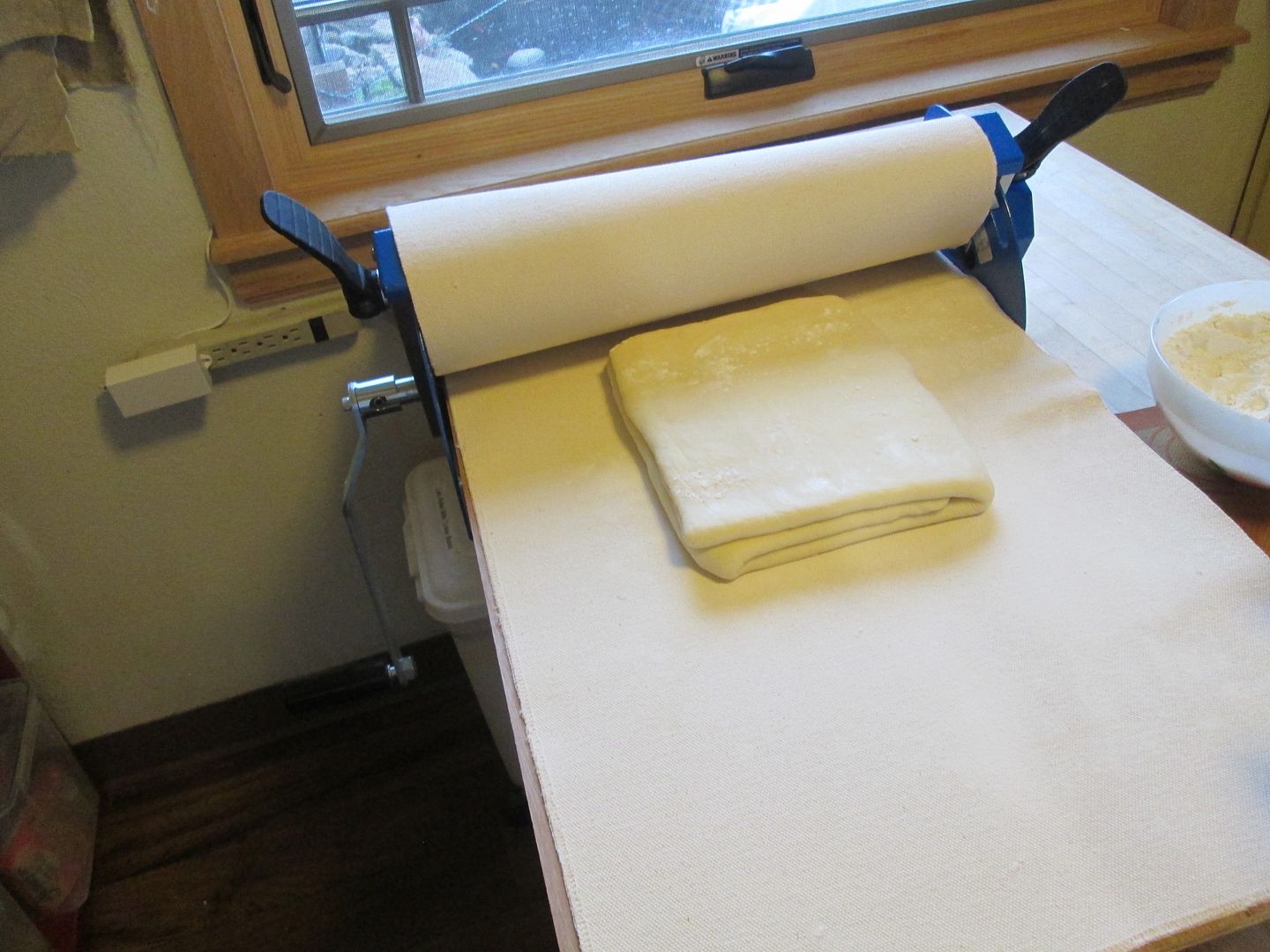 Here is a paton rolled and ready to be folded. See how pretty!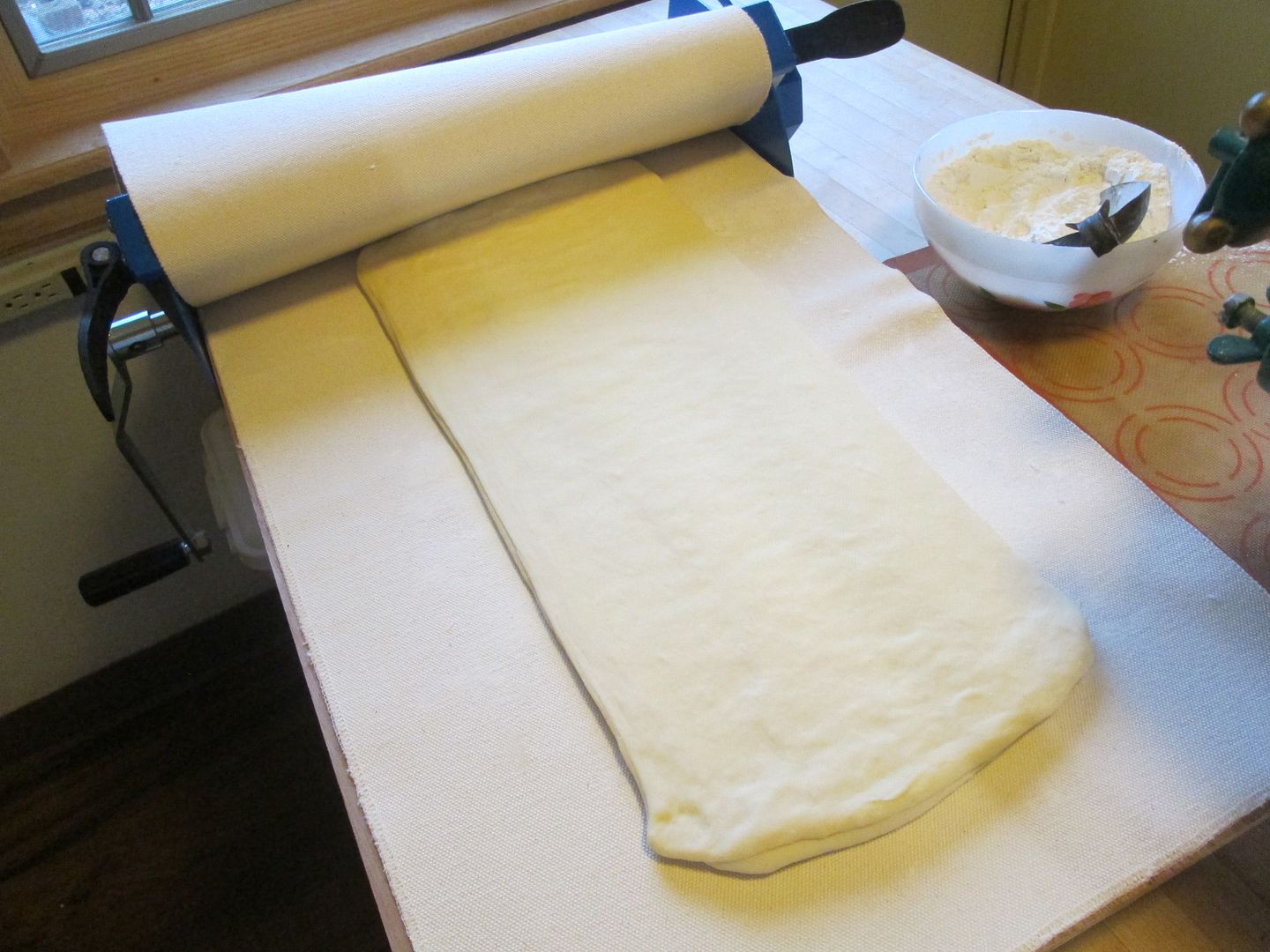 Of course, when a girl gets a new toy, she is tempted to push it to the limit and although I was trying to sheet to 0.125 inch, I thought  "What if I went just a bit lower" and created a disaster. I had a slab of shredded dough and a roller covered in dough. It cleaned up well, but I did have a really substandard batch of pains au chocolat. The second batch went much better.
Here is the "honeycomb" shot from the batch that I ruined:
Not bad considering what I had done to the dough. I didn't cut up the nice ones because I had some folks waiting to take them home, but here's a shot of the ones that I didn't ruin.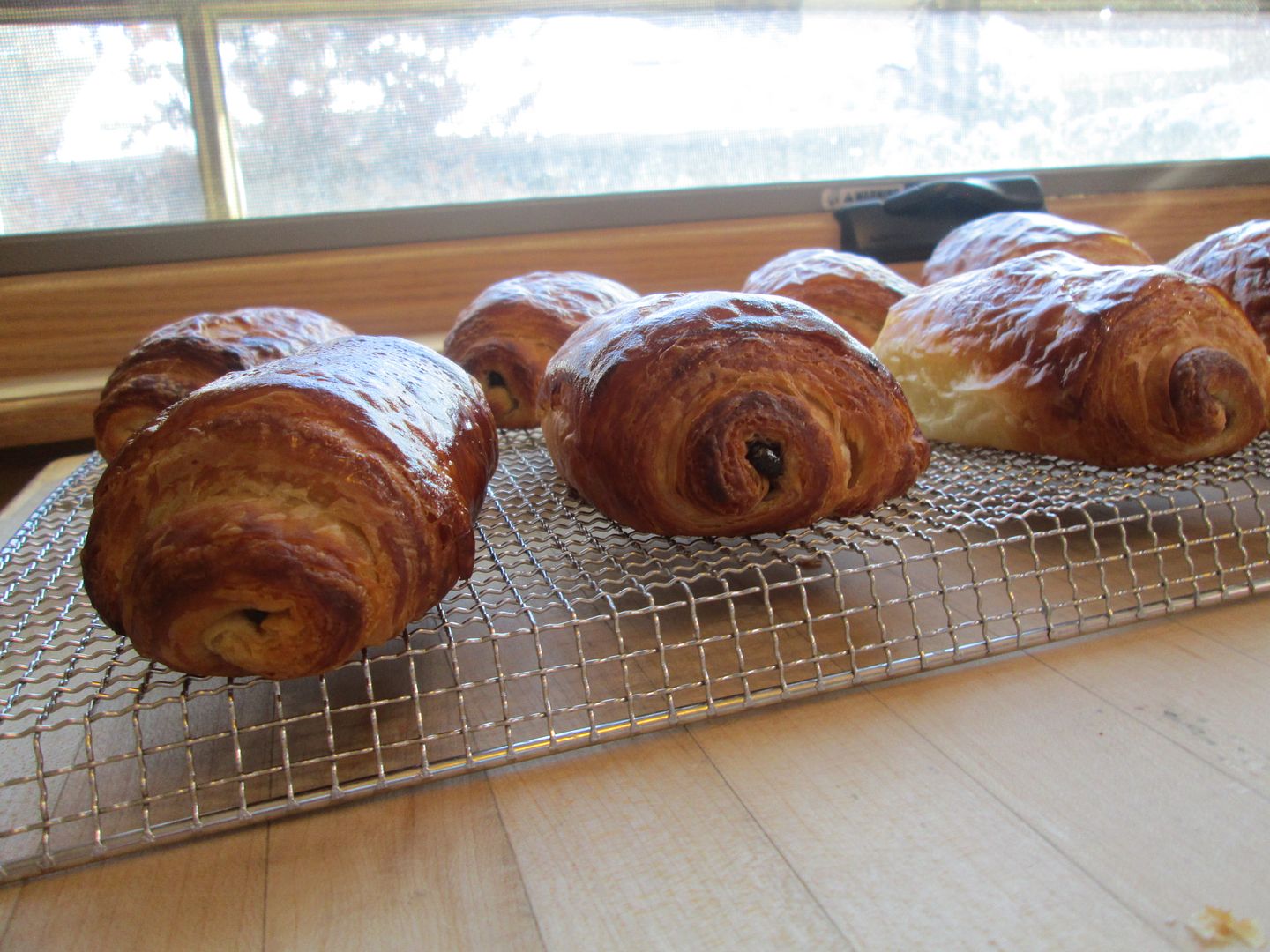 So, I have been united with my long-lost love and will certainly be using it a lot in the future.
I hear the echoes of a very old discussion about "artisan" when I look at my little slab roller. Let me be clear – this is not a "lamination machine". As the baker, I must bring all the knowledge and skill that lamination requires. I chose the flour, I mix the dough, I form the butter block (although I did use the slab roller to finish it),I even tempered and  piped the chocolate batons. The tool neither creates nor negates the artisan.  It is just is a more efficient way to roll out the dough. And it is great!
 OK, I must confess that I have attempted to post this thing three times and found it agonizing. I hope this one works. I can't believe I used to do this on a regular basis. Must have been before I got heavily into pastry and chocolate work!
Bye now.
 Pat