First bread bake with my new oven
At the end of July I finally gave in to temptation and ordered a new oven.  I settled on a 13 Function Bosch (not sure if I will ever use all of them!) and finally a week ago it was installed.
For this bake I just played around with some seeds - didn't want a heavy loaf so it was
Bread flour 80%, Wholewheat flour 15%, rye flour 5%, 80% hydration and salt at 2%.  I adjusted the flour to include 0.05% diastatic malt.  To this I added
Chia seed 4%, sesame seed 5%, flaxseed 5% sunflower seed 5% and pumpkin seed 5%. 
Method:
7 am: added hot water to the non ground, non toasted seed mix and left.  This was initially 60 g water and 86 g seed mix.  I felt it was a bit dry so added another 15 g water.
9:30 autolyse flours, remaining water and the seed mix for approx 30 minutes. I added extra 24 g water as well as dough felt quite firm. 
10 am Added the 100% hydration levain mixed evening before (9 g starter + 35 g flour + 9 g rye flour +43 g water) and mixed in with 100 slap and folds.  Added salt (7.2 g) and did another 100 slap and folds.  The dough was left to bulk ferment with 4 sets of coil folds every 30 minutes.  
14:45 preshaped dough
15:20 final shaping and left on bench until 5 pm when I refrigerated it until ready to bake. 
Preheated the oven & DO to 250 deg C on "Hot air".
18:15 loaded into oven and baked for 15 minutes, reducing heat to 245 deg C .  Baked another 15 minutes lid off..  Great caramelisation - so far so good, happy with the oven spring too.
Crumb shot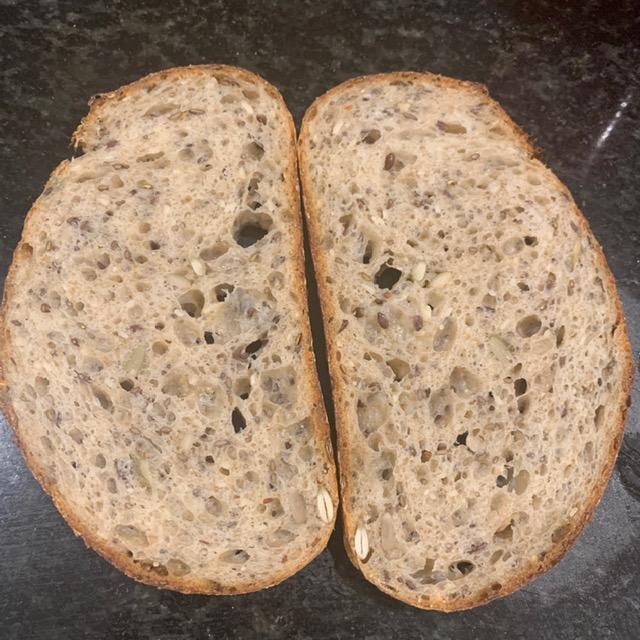 Really nutty and delicious and as hoped, the crumb was not too dense, yum!
I also made 2 other breads at the same time, following same basic methodology.
The 2nd bread was just 1:2:3 with 5% kibbled wheat, 5% kibbled rye & 5% rolled oats.  The soaker in this case was the same weight as the grains.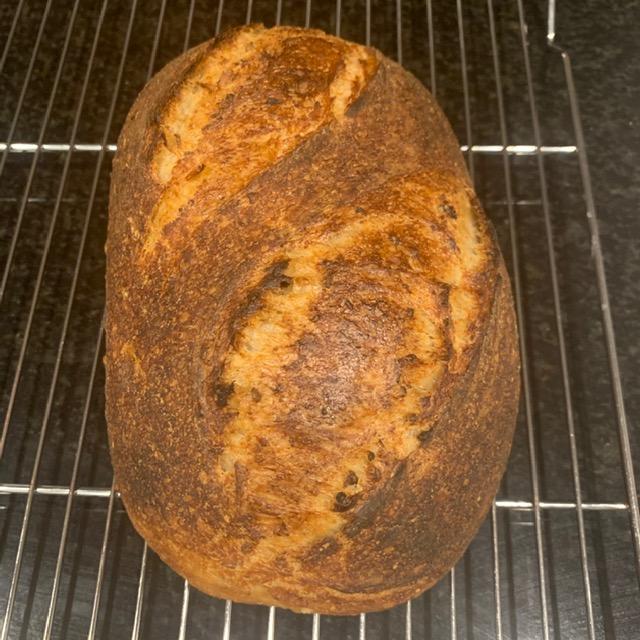 Crumb shot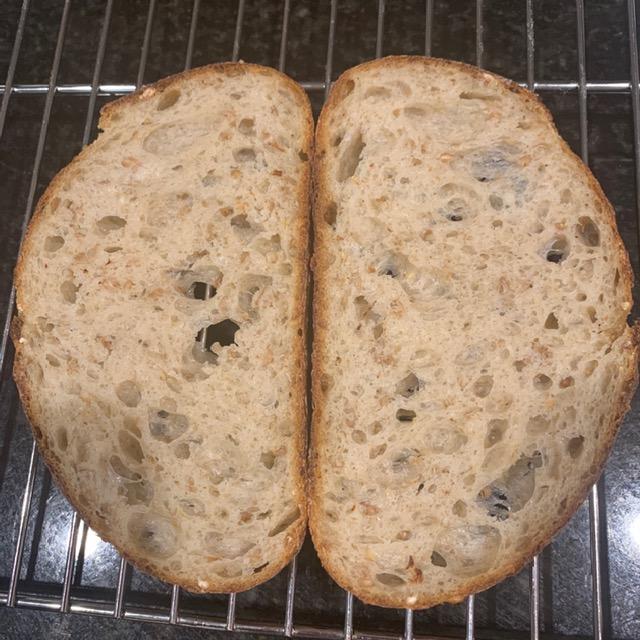 Really enjoying this loaf.  I haven't used kibbled wheat or rye for a long time and because I probably didn't soak for long enough to soften grain properly, there is a slight crunch and flavour is lovely and mild, slightly sweet!
The last bread I made (although it was the first baked and is a little paler than the other two as I was feeling my way with the bake temperature) was another 1:2:3 with no seeds  but 8% rye and 3% potato flour.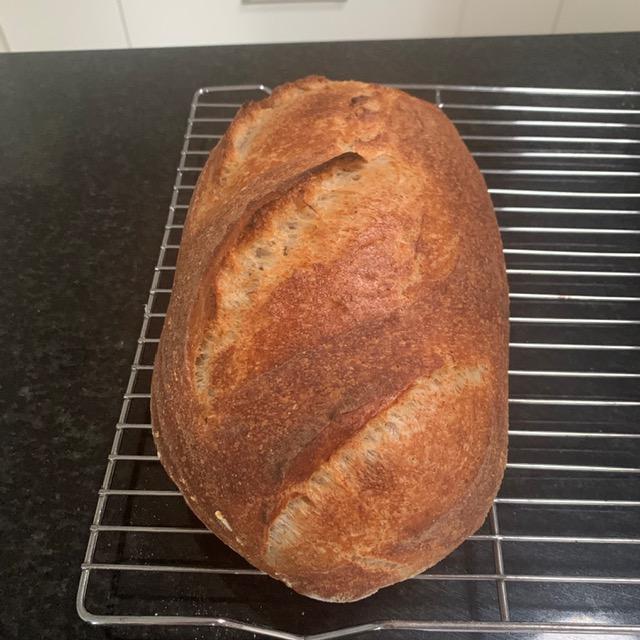 No crumb shot as this was a thank you for helping out with a chainsaw in the garden.  I offered him a choice of the 3 breads and he chose this one.  I am still to find out what the crumb was like and how it tasted.  It baked well and I was happy with it.
All in all, for a first bake in a new oven I am really really happy.  Crust is thin in all cases, and I achieved good caramelization (although I am sure the diastatic malt helped there too!).  Negative is that I could only bake one loaf at a time due to the shelf setup so oven ran for a bit longer than usual.  Will try out other options next bake. 
The flour I am using these days seems to develop enough gluten too so I am getting better shaped bread with good oven spring too.
Bake happy everyone 
Leslie