Kamut/Spelt loaf & basic white 1:2:3
Not baking so much but love the combination of Kamut & spelt so this weekend did a repeat of an earlier bake where I had pushed the Kamut to 50% with close to 80% hydration.  
Starter was refreshed on Friday morning and so before bed I built the levain. 13 g starter + 60 g water + 60 g bread flour
Saturday at 9:15 am autolyse for 30 minutes
114 g bread flour + 212 g kamut + 38 g spelt and 275 g water.  It felt a bit too wet and I remembered last bake where I had decided the hydration should be lower.  So I added another 20 g bread flour, not something I do at all.
9:45 am   add levain and mix with 100 SLAFs.  Patted dough out and sprinkled over 7.6 g salt, rolled it up and did another 100 SLAFs.  Leave to rest 40 minutes
10 am mix the white 1:2:3 following a 40 minute autolyse - just a very standard 600 g total dough weight loaf.  Method was the same as for the Kamut & spelt.  Left to rest for 30 minutes
10:45 am coil folds to both doughs and this was repeated 4 times at 40 minute intervals. 
12:50 pm both doughs were left to bulk ferment.  Room temperature was probably only 20 deg C and contrary to my usual practice I bulk fermented in shallow containers so I could perform coils more easily.  This meant I was a little uncertain about how far the fermentation had gone. 
15:40 pm There were some bubbles on top of both doughs and only small bubbles visible underneath but I felt the fermentation had gone as far as I wanted it to so I preshaped, rested for  20 minutes before doing the final shape - very simple folding sides to the midline and then rolling up.  Bench rest for 30 minutes then into the fridge overnight.  
Sunday morning 8 am.I find it quite difficult to get a really good colour on my breads these days, I am not happy with my oven but for now I have to do my best with it.  Oven was preheated to 260 deg C.  Dough was baked in DO 15 minutes covered, 15 minutes uncovered.  I popped it back for another minute with top element on high but didn't achieve much. 
Kamut/spelt loaf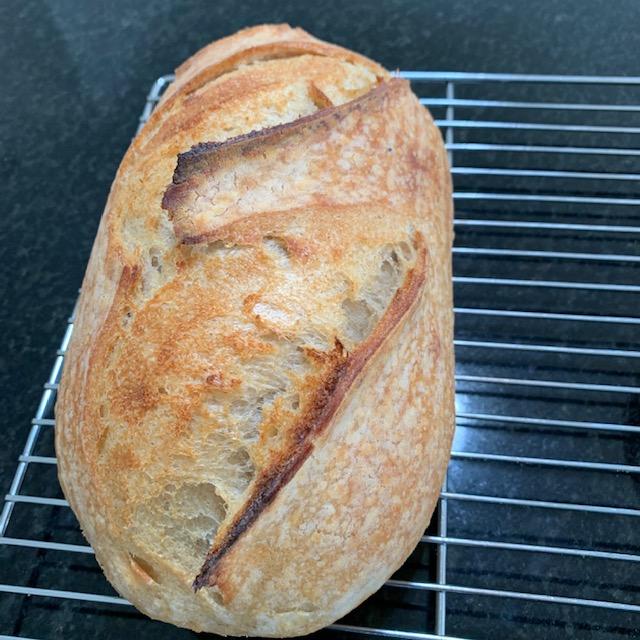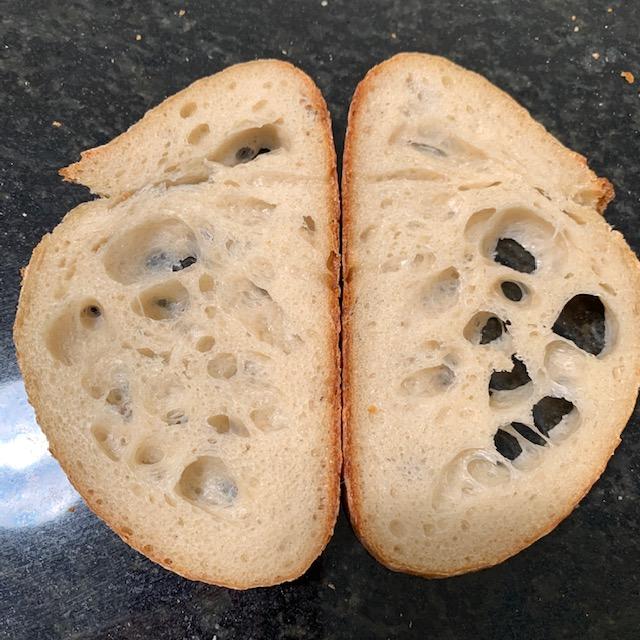 Basic white 1:2:3 (I was trying out a new brand of flour)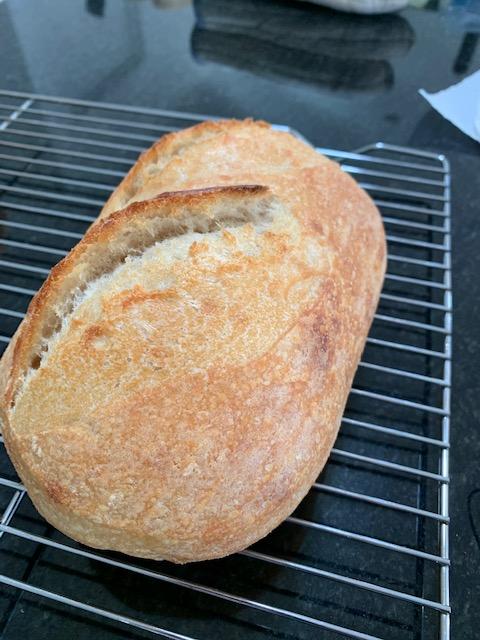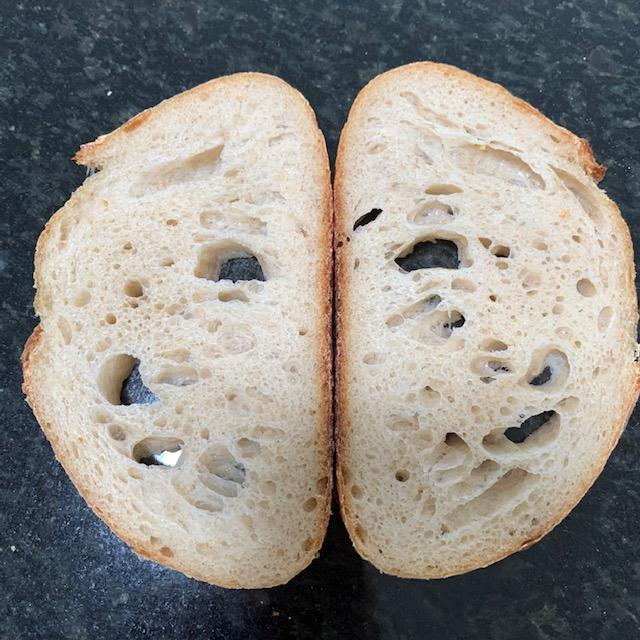 Just every day bread but using the different flour has made quite a difference.  I had made a new starter during Covid19 lockdown and have added it to my old starter so I happy the way it is performing.
Bake happy every one. 
Leslie