Abel's Baguette Rústica con Semillas de Girasol
Rustic/Country Baguettes with Sunflower Seeds.
Abel Sierra (Abelbreadgallery) sent a DM to me last week with a link to his new video where he makes this bread.   I asked if I could post this and he said yes.  And of course I wouldn't post it without giving it a whirl myself.  In this case, three whirls to get a version of the formula that I was satisfied with.
On the first run I soaked both sunflower and flax seeds.  Attempting to incorporate during the tail end of 200 French Folds the sliminess of the flax seeds created a problem, and I wasn't happy with the outcome.  For the second run I eliminated the soaker part as well as the flax seeds, and bumped the hydration up a few clicks.  Still not content, I ran this third time, dropping the FFs down from 200 to 125, incorporating the toasted seeds at the first and only Letter Fold.  I also combined a 20 minute proofing on countertop and 2 hours of retard.
Abel's formula is posted at the bottom.
My changes to his formula:
100% hydration WW levain instead of Abel's AP.
French Folds - limited to 125, split in two.
No soaker, just toasted sunflower seeds.
Combine countertop and refrigerator proof.
Rolled out to the longer 20 inch version, 50% longer than my standard long batards.  Lost 1 inch during bake.
Note, these don't like to exhibit a dark and rich color on the crust.  For a 27% WW flour mix, these had a moderately open crumb.  The flavor is quite nice and rich and the crust is thin and quite crunchy.  Still working on shaping, a bit more difficult due to the seeds.
Baguette Rústica con Semillas de Girasol
 
 
 
 
 
 
 
Abel Sierra, mod by alfanso
 
 
 
 
 
 
 
 
 
 
 
 
 
Total Flour
 
 
 
 
 
Total Dough Weight (g)
 
1100
 
Prefermented
9.10%
 
 
 
 
Total Formula
 
 
 
Liquid Levain 
 
 
Final Dough
 
 
Ingredients
%
Grams
 
%
Grams
 
Ingredients
Grams
 
Total Flour
100.00%
583.7
 
100.00%
53.1
 
Final Flour
530.6
 
AP Flour
72.70%
424.4
 
0%
0.0
 
AP Flour
424.4
 
Whole Wheat
27.30%
159.4
 
100%
53.1
 
Whole Wheat
106.2
 
Water cool
72.70%
424.4
 
100%
53.1
 
Water cool
371.2
 
Salt
1.90%
11.1
 
 
 
 
Salt
11.1
 
IDY
0.25%
1.1
 
 
 
 
IDY
1.1
 
toasted Sunflower (soaked)
13.60%
79.4
 
 
 
 
Sunflower Seeds
79.4
 
Starter (in final dough)
2.28%
13.3
 
25%
13.3
 
 
 
 
 
 
 
 
 
 
 
Levain
106.2
 
Totals
188.45%
1099.6
 
225%
119.5
 
 
1099.6
 
 
 
 
 
 
 
 
 
 
 
 
 
 
 
1 stage liquid levain build @100% hydration
Toast sunflower seeds.
 
 
 
Stage 1
 
 
 
 
Autolyse Flour, cool Water.  20 Min.
 
 
 
AP Flour
0.0
 
 
 
Levain Salt, IDY.
 
 
 
Water
53.1
 
 
 
FF: 75, 5min., 50, 
 
 
Total
53.1
 
 
 
Bulk ~2 Hr..  LF@60 min. Fold in seeds on LF.
 
 
 
 
 
 
 
 
Divide, pre-shape, 15 min rest, shape as baguettes
 
 
 
 
 
 
 
Shape as Baguettes @350g each
 
 
 
 
 
 
 
 
Moderate flour on couche, seam side up
 
 
 
 
 
 
 
Proof 20 min. coutnertop, ~2 hrs. retard.
 
 
 
 
 
 
 
Pre-heat @500dF.
 
 
 
 
 
 
 
 
Steam, bake @480dF. 17 min with steam, 6 min more at 430dF.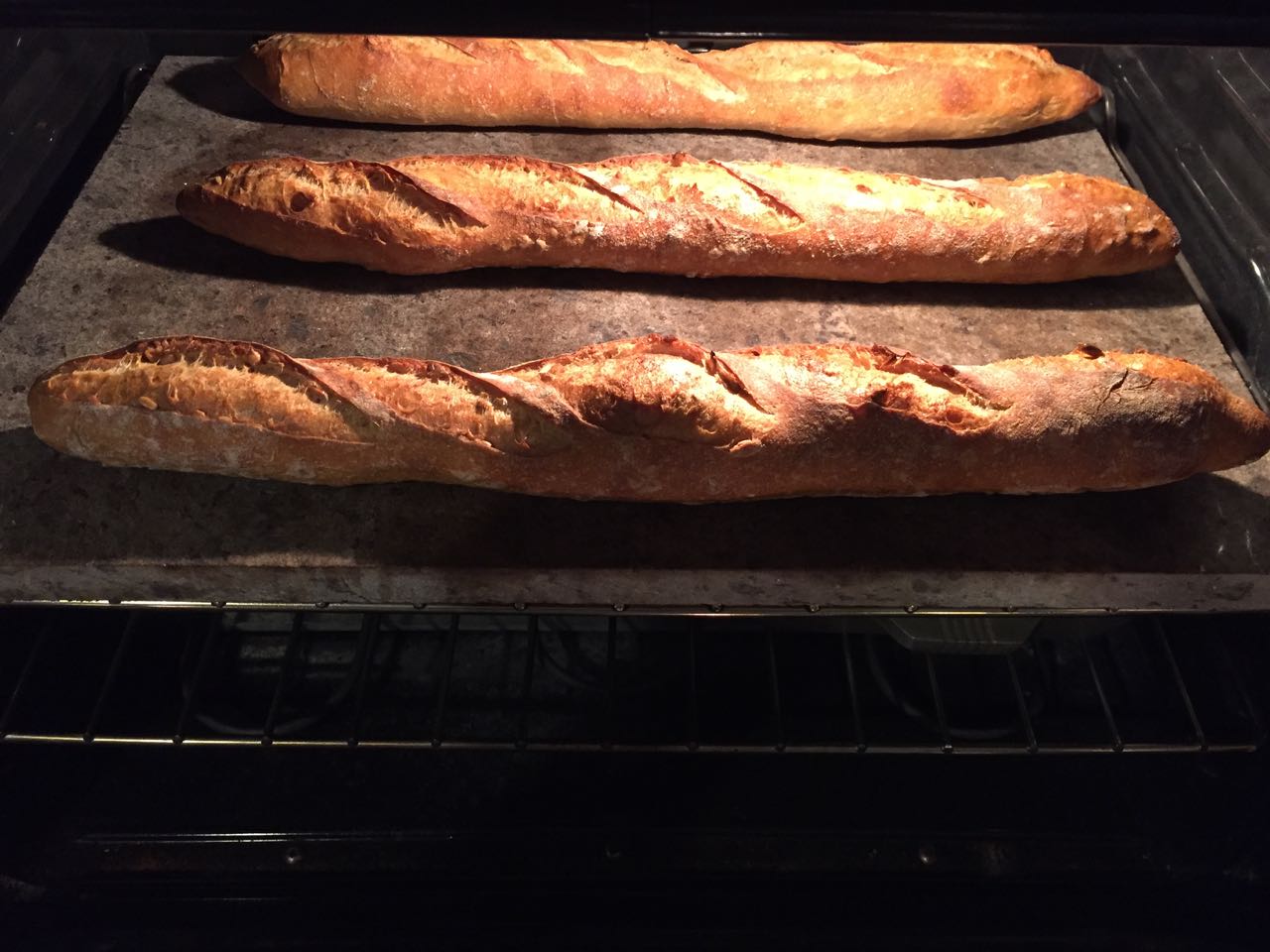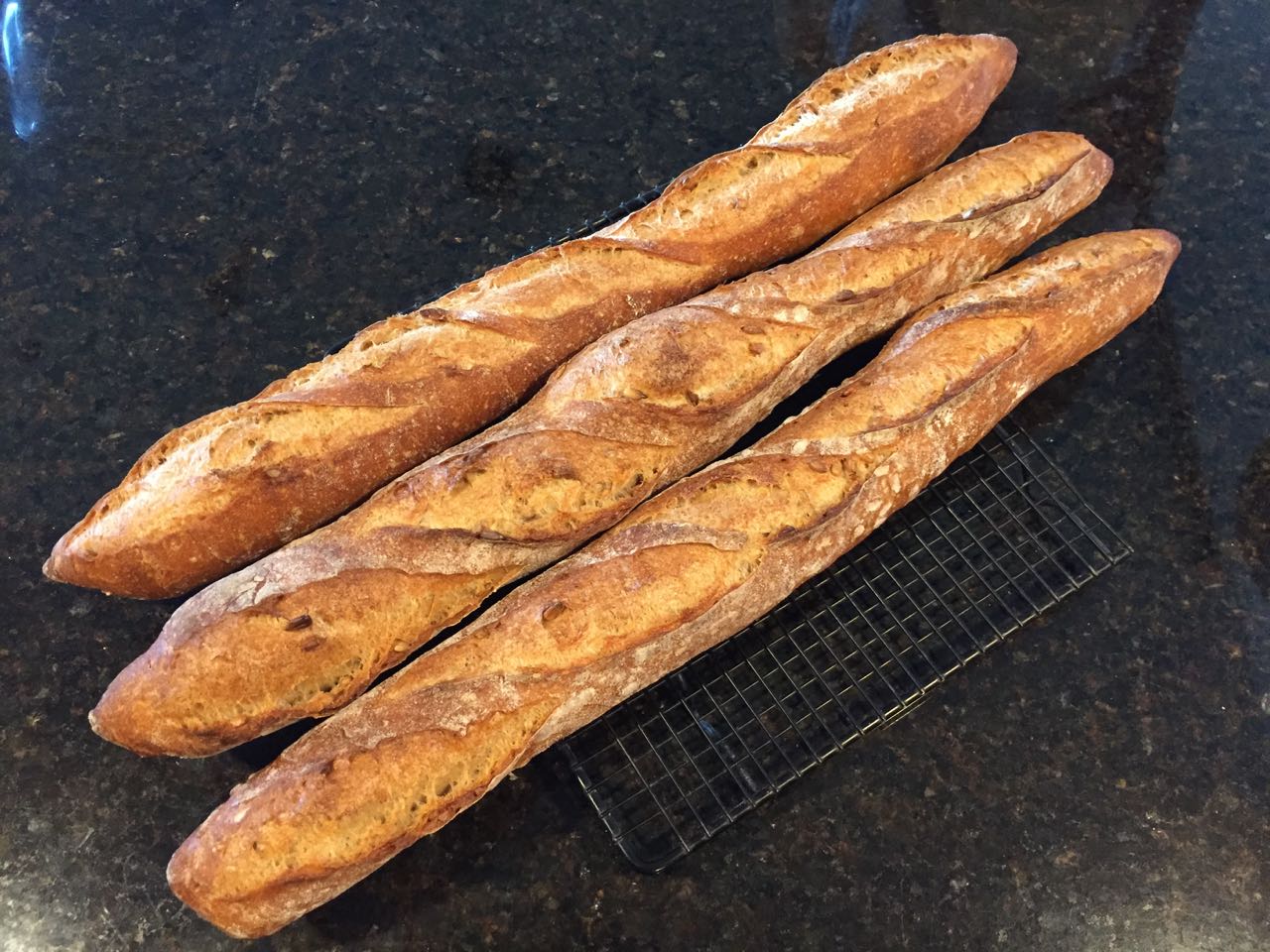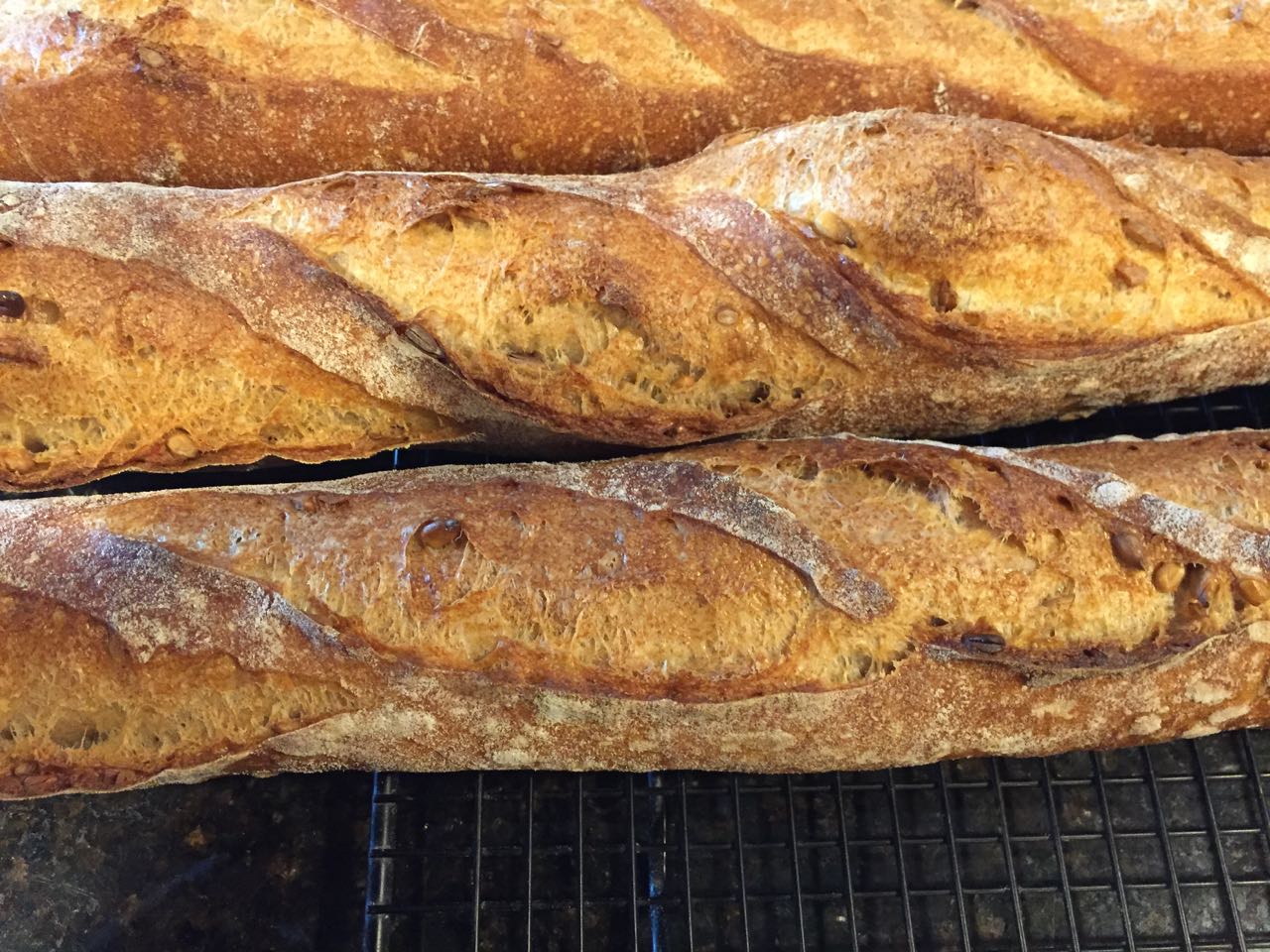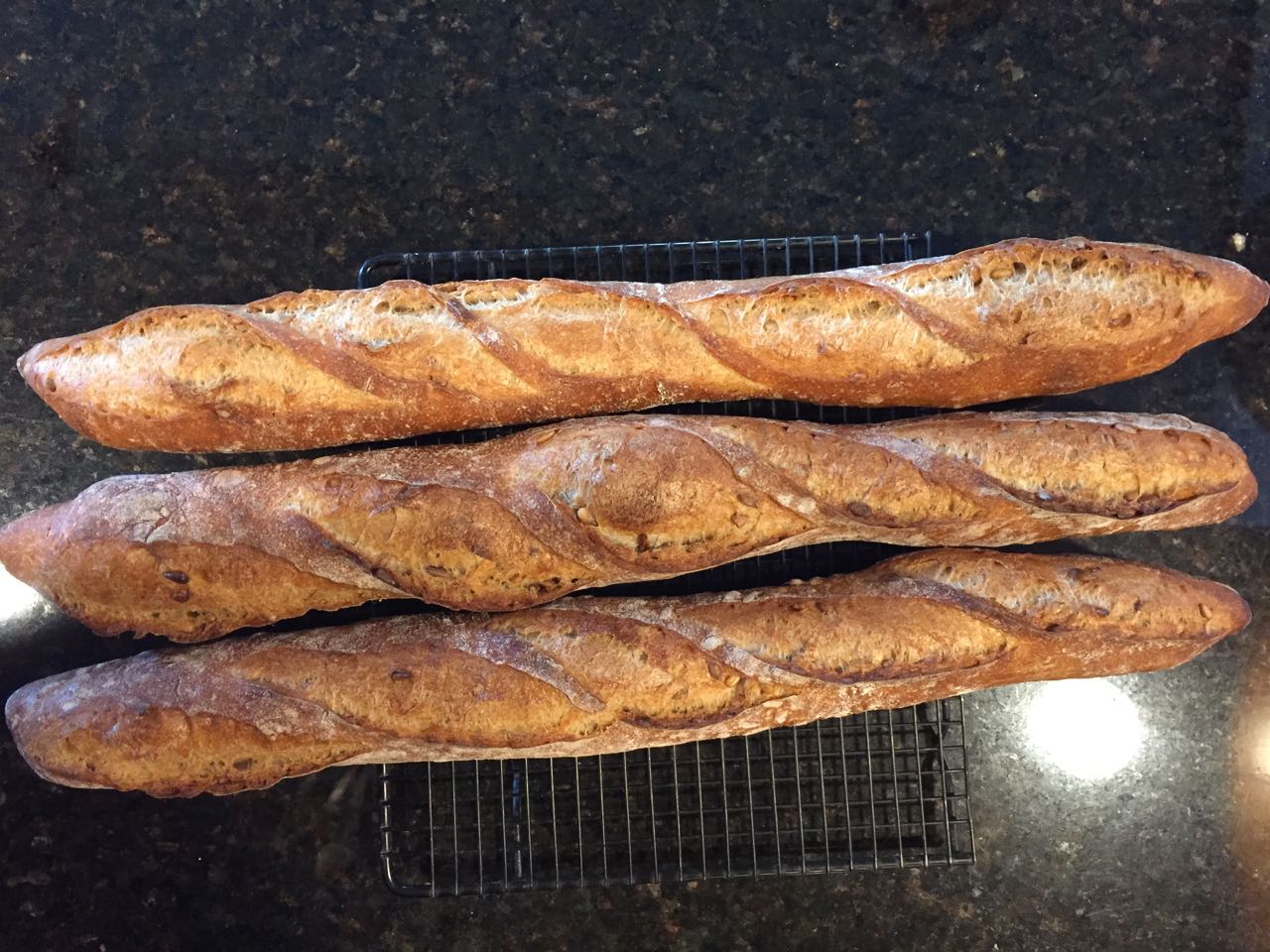 350g x 3 baguettes. 
Here is a screen capture from Abel's video.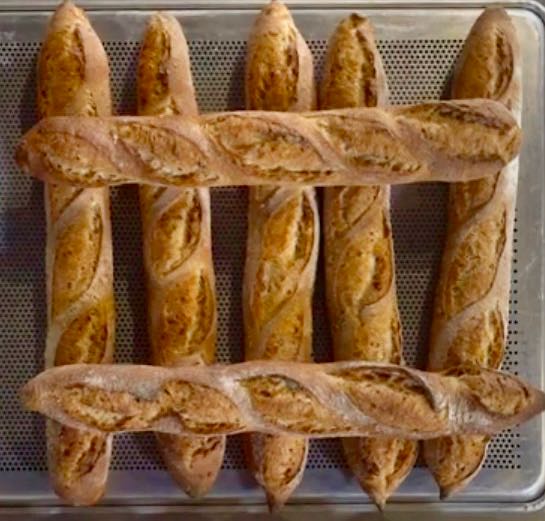 And the formula as given to me by Abel.
Ingredients:
700 gr bread flour, 300 gr wholewheat flour, 700 ml cool water (10-12ºC), 200 gr liquid levain, 21 gr salt, 6 gr fresh yeast, 150 gr of soaked seeds (toasted sunflower + raw flaxseeds + water)
Method:
- Make autolyse mixing bread flour, wholewheat and cool water, just 1-2 minutes in slow speed. Let rest 30 minutes.
- Add levain, salt and yeast. Mix 7-8 minutes in slow speed, and then 3 minutes in second speed. Add seeds at the end of the mixing process.
- The temperature of the dough should be around 24-25ºC at the end of the mixing process.
- Let the dough rest 1 hour. Make one fold and let rest 1 hour more. 
- Divide in pieces of 350 gr. Preshape and let rest 15-20 minutes.
- Shape baguettes and place over linen couche with the seam up.
- Let proof 45 minutes to 1 hour.
- Bake at high temperature. I suggest 17 minutes at 260-240ºC, then release the steam and reduce temperature to 230-210ºC the last 6 minutes.