Herb-y Nutty(Seed-y?) SD ×2
Two herb-y nutty SD this week. One with cheese and one without. Make your choice… Or let's have both :)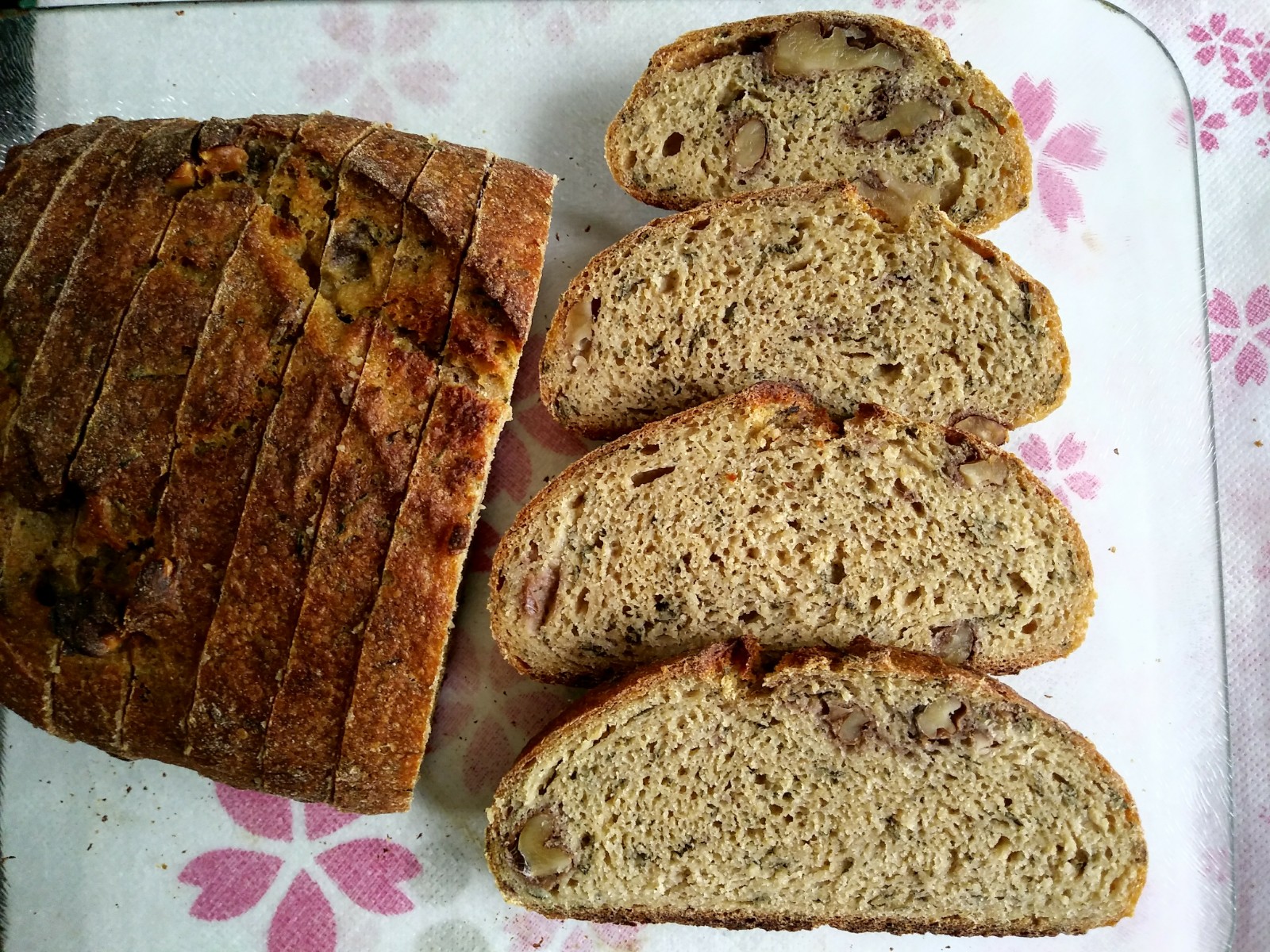 Tarragon Walnut SD with 40% Sprouted Durum
 

Dough flour

Final Dough

Levain

Total Dough

 

g

%

g

%

g

%

g

%

Flour (All Freshly Milled)

300

100

273

100

27

100

303

100

Sprouted Durum Flour

120

40

 
 
 
 

120

39.60

Whole Kamut Flour

120

40

 
 
 
 

120

39.60

Amaranth Flour

60

20

 
 
 
 

60

19.80

White Whole Wheat Flour (Starter)

 
 
 
 
 
 

1.5

0.50

Whole Rye Flour (Starter)

 
 
 
 
 
 

1.5

0.50

 
 
 
 
 
 
 
 
 

Hydration

 
 
 
 

30

100

261

86.14

Cold Water + Hot water

 
 

231

84.62

27

100

261

86.14

 
 
 
 
 
 
 
 
 

Salt

4

1.33

4

1.47

 
 

4

1.32

Vital Wheat Gluten

7.5

2.5

7.5

2.75

 
 

7.5

2.48

Starter (100% Hydration)

 
 
 
 

6

22.22

 
 

Levain

 
 

60

21.98

 
 
 
 
 
 
 
 
 
 
 
 
 

Add-ins

39

12.00

39

14.29

 
 

39

12.87

Toasted Walnuts

36

12.00

36

13.19

 
 

36

11.88

Dried Tarragon

3

1.00

3

1.10

 
 

3

0.99

 
 
 
 
 
 
 
 
 

Total

 
 

614.5

225.09

60

222.22

614.5

202.81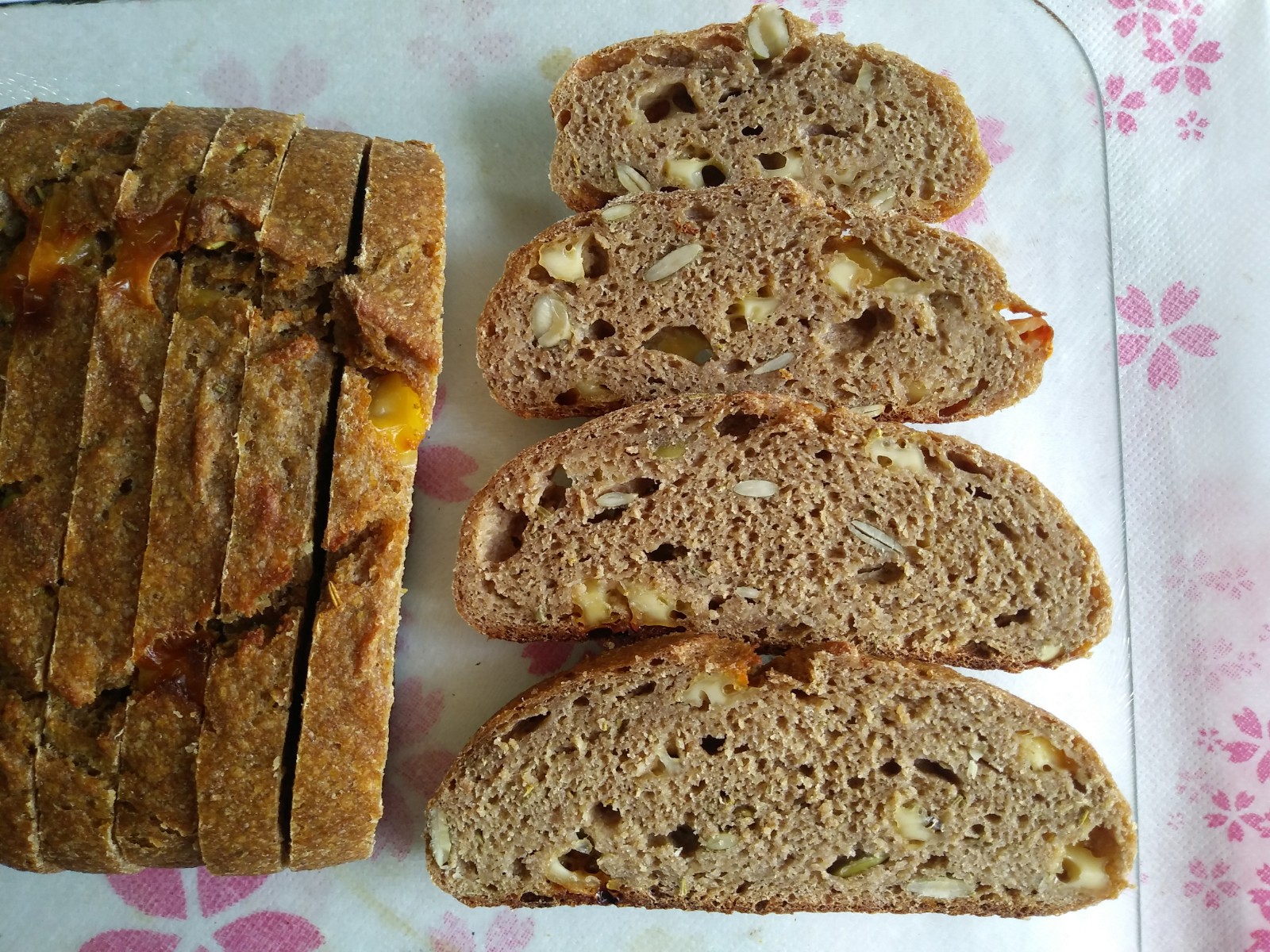 Rosemary Edam Pumpkin Seed SD with 40% Sprouted Emmer
 

Dough flour

Final Dough

Levain

Total Dough

 

g

%

g

%

g

%

g

%

Flour (All Freshly Milled)

300

100

270

100

30

100

303

100

Sprouted Blue Emmer Flour

120

40

 
 
 
 

120

39.60

Whole Kamut Flour

180

60

 
 
 
 

180

59.41

White Whole Wheat Flour (Starter)

 
 
 
 
 
 

1.5

0.50

Whole Rye Flour (Starter)

 
 
 
 
 
 

1.5

0.50

 
 
 
 
 
 
 
 
 

Hydration

 
 
 
 

33

100

303

100.00

Water

 
 

270

100.00

30

100

303

100.00

 
 
 
 
 
 
 
 
 

Salt

4

1.33

4

1.48

 
 

4

1.32

Vital Wheat Gluten

7.5

2.5

7.5

2.78

 
 

7.5

2.48

Starter (100% Hydration)

 
 
 
 

6

20.00

 
 

Levain

 
 

66

24.44

 
 
 
 
 
 
 
 
 
 
 
 
 

Add-ins

58.5

12.00

58.5

21.67

 
 

58.5

19.31

Edam, Diced

36

12.00

36

13.33

 
 

36

11.88

Toasted Pumpkin Seeds

21

7.00

21

7.78

 
 

21

6.93

Dried Rosemary

1.5

0.50

1.5

0.56

 
 

1.5

0.50

 
 
 
 
 
 
 
 
 

Total

 
 

676

250.37

66

220.00

676

223.10
(* For the instruction below, the numbers before and after the slash (/) are for the 1st formula and the 2nd formula respectively)

Sift out the bran from dough flour, reserve 27/30 g for the leaven. Soak the rest, if any, in equal amount of water taken from dough ingredients.

Combine all leaven ingredients and let sit until ready, about 4/4 hours (28/28.5°C).
Roughly combine all dough ingredients except for the nuts, seeds and cheese. For both bread, ferment for a total of 4 hours. Mix on low for 2 minutes at the 30 and 40 minute mark. Fold in the reserved add-ins at the 50 minute-mark. After the bulk, shape the dough then put in into a banneton. Freeze for 1 hour before retarding in the fridge for 10 hours.
Preheat the oven at 250°C/482°F. Score and spritz the dough. Remove the dough from the fridge and bake straight at 250°C/482°F with steam for 20 minutes then without steam for 25 minutes more or until the internal temperature reaches a minimum of 208°F. Let it cool for a minimum of 2 hours before slicing.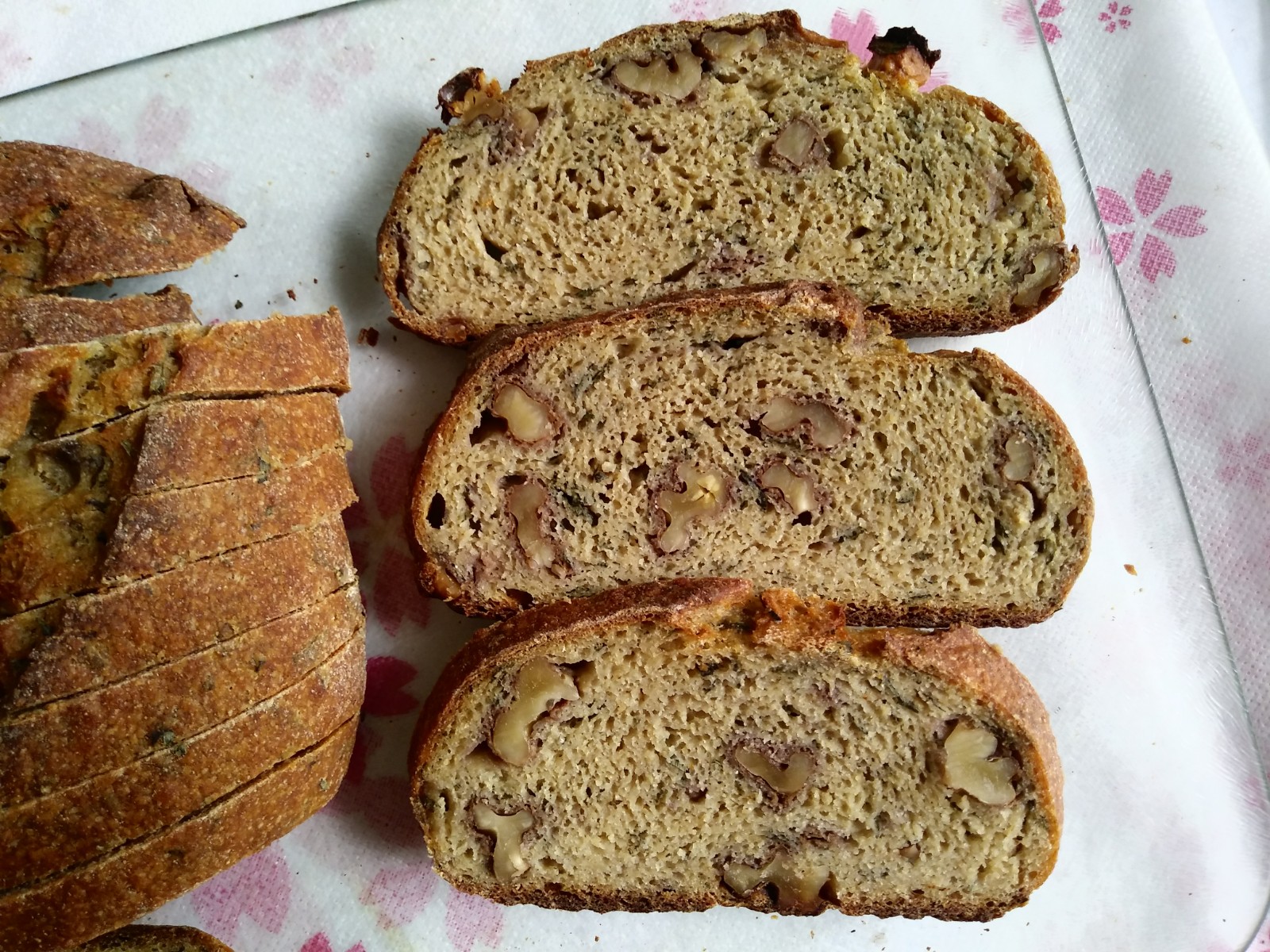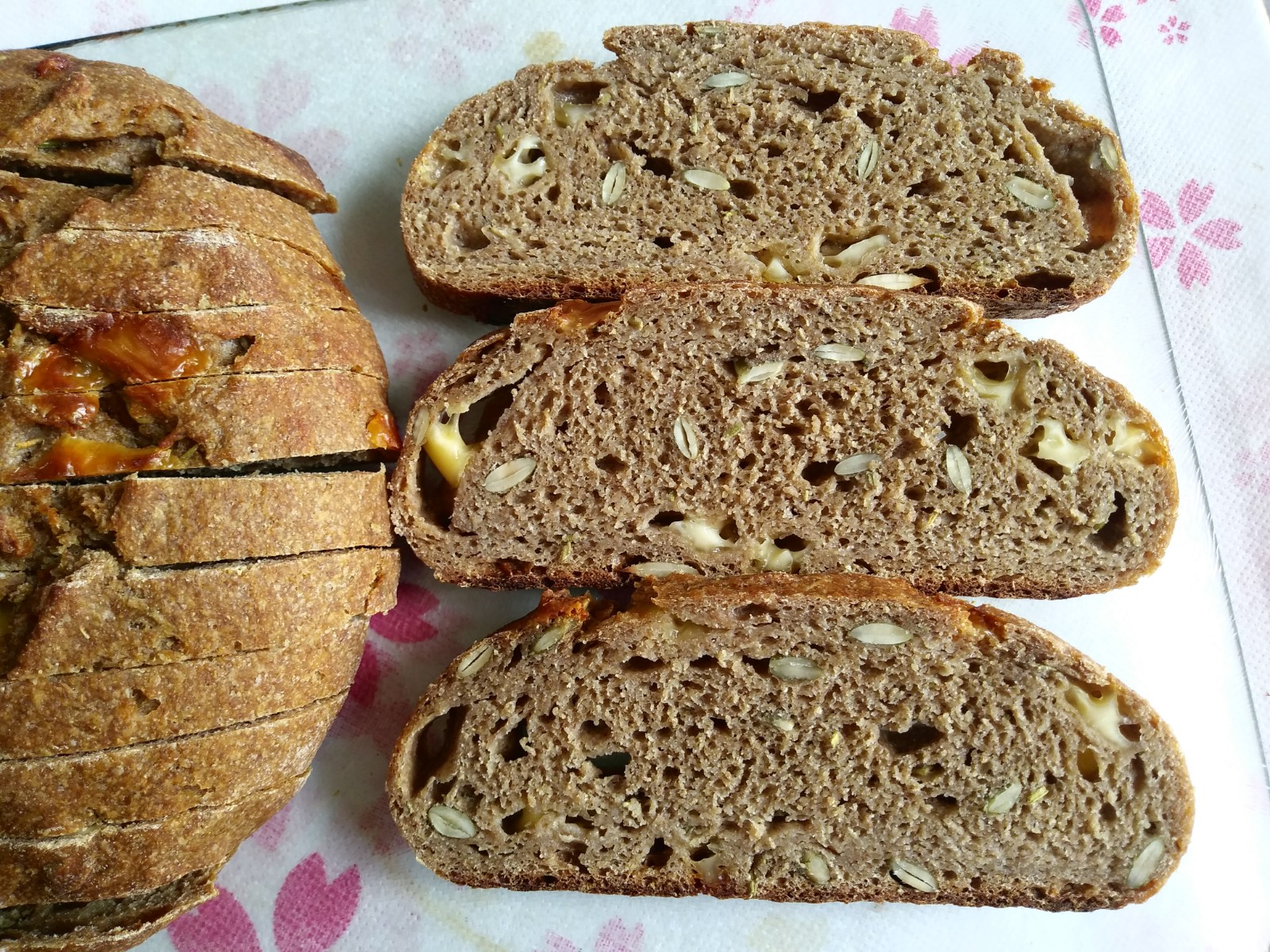 Both loaves are quite complex in terms of flavour and texture. The first one is sweeter with the yellow grains and the vanilla aroma of tarragon, while the second has an additional salty note from the cheese. I might enjoy the latter a touch more. After all, it has got cheese.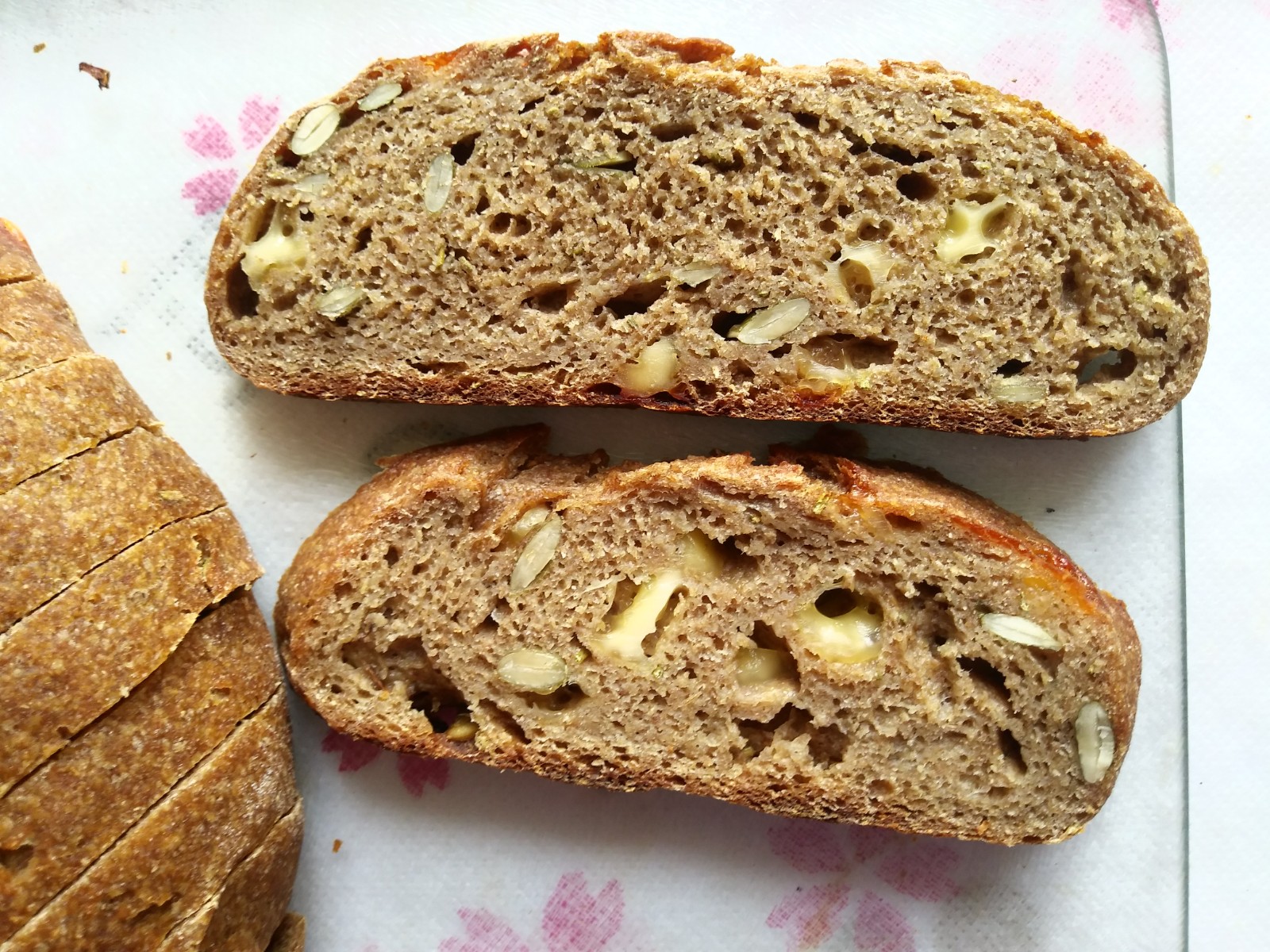 ____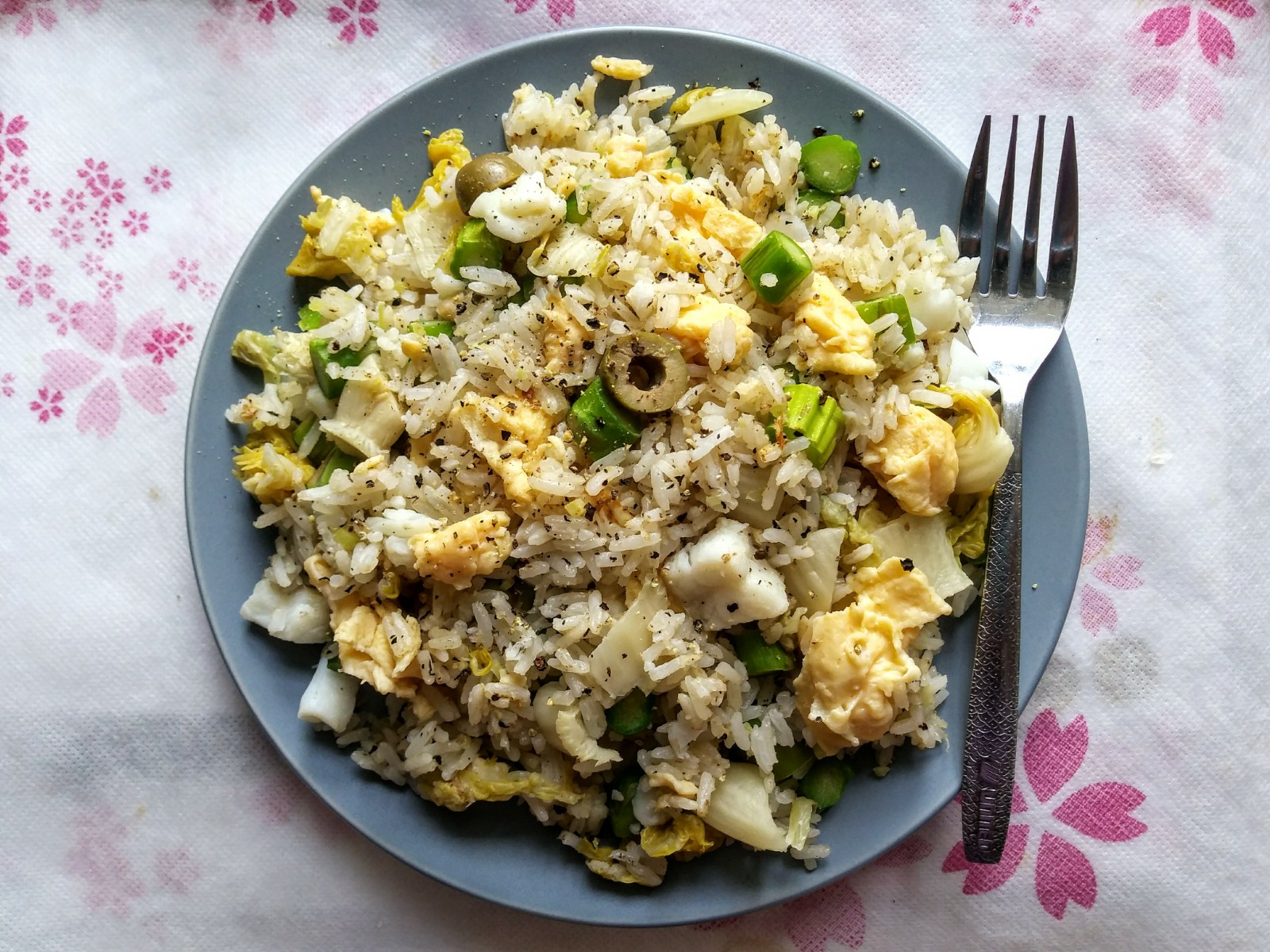 Macau Portuguese-inspired salted cod fried rice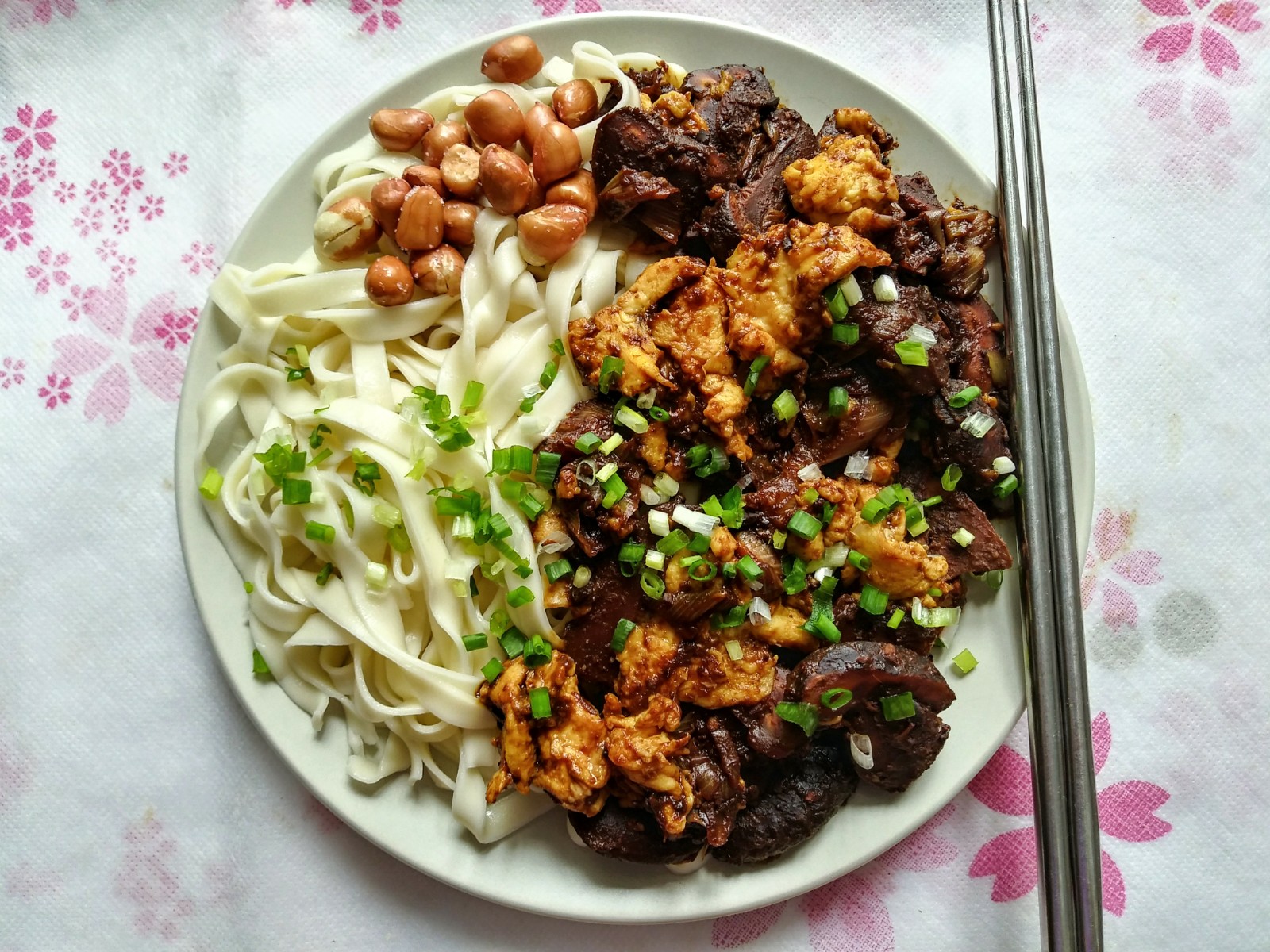 Egg & shiitake mushroom Zhajiang noodles with crispy peanuts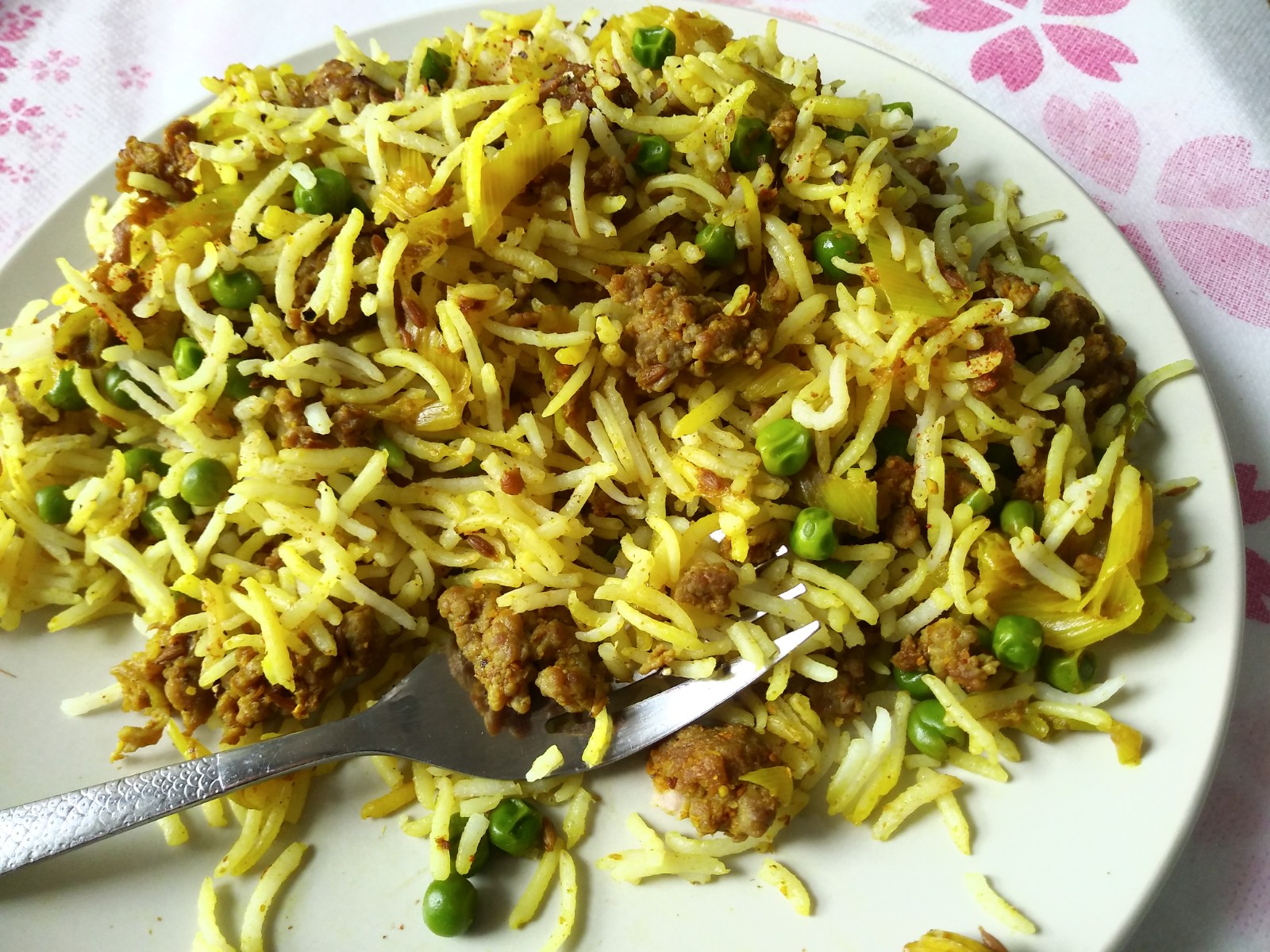 Minced lamb & pea biryani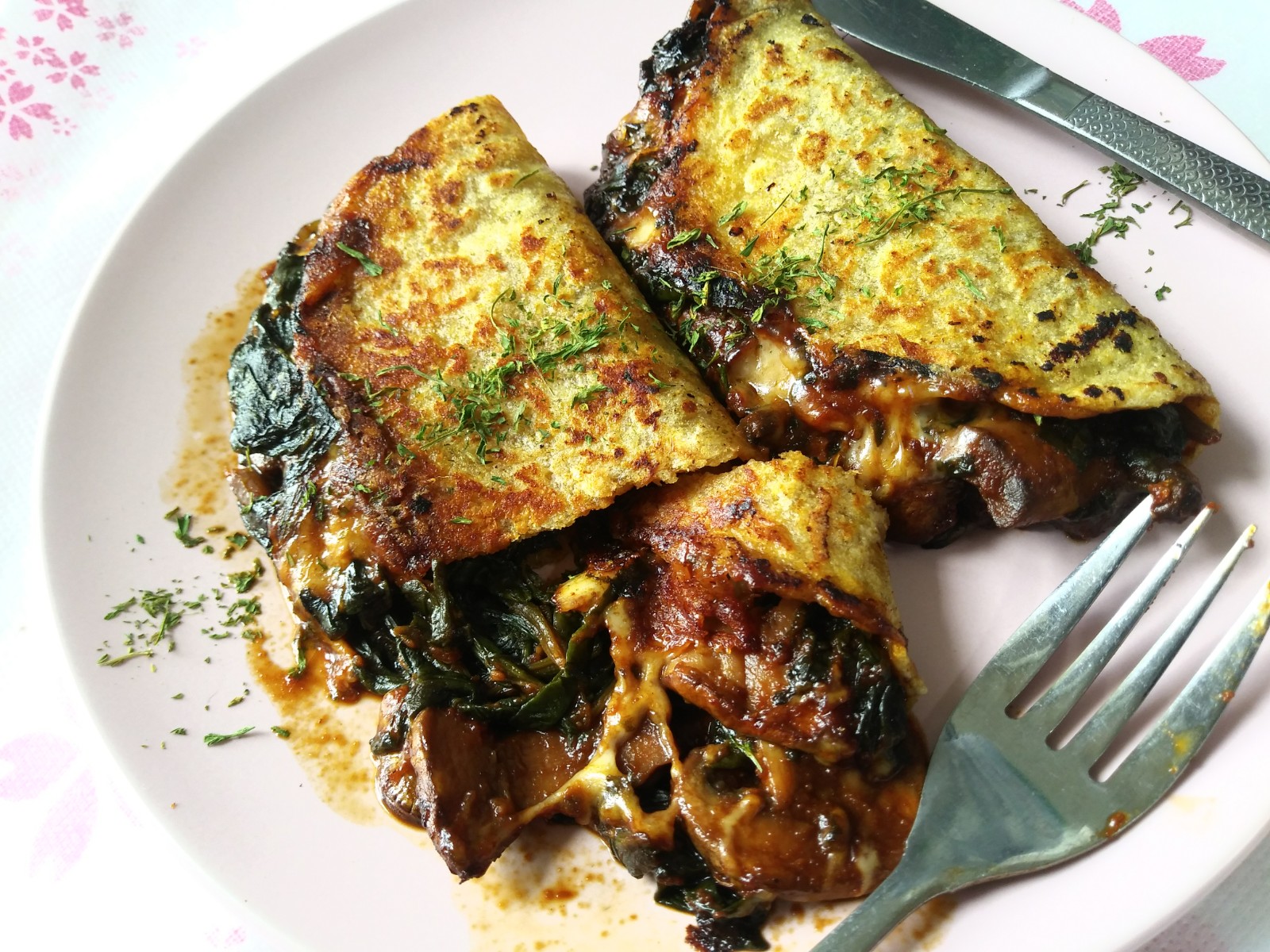 Ancho chili spinach mushroom Edam enchiladas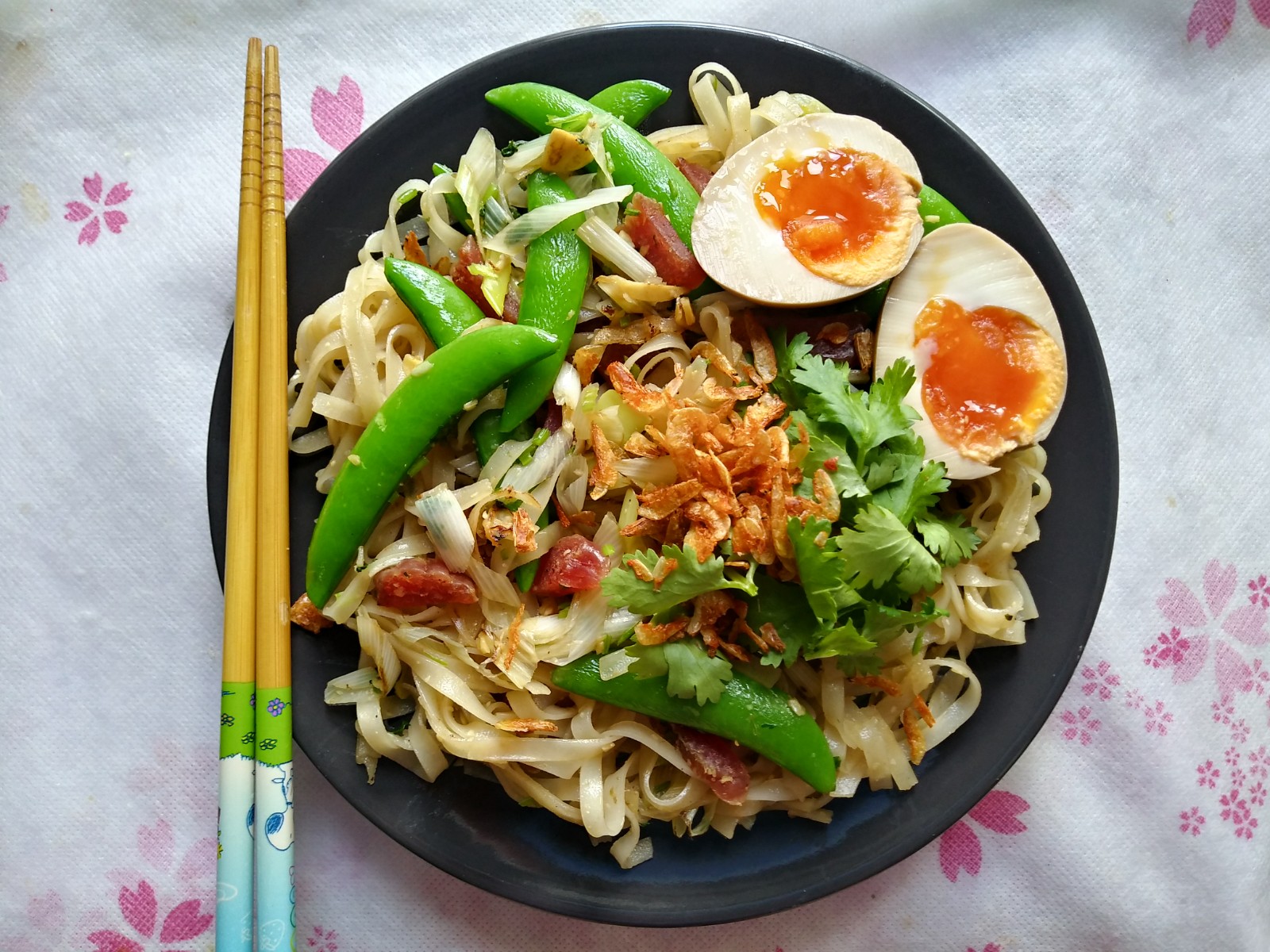 Simple fried rice noodles with snap peas, Chinese sausages & marinated eggs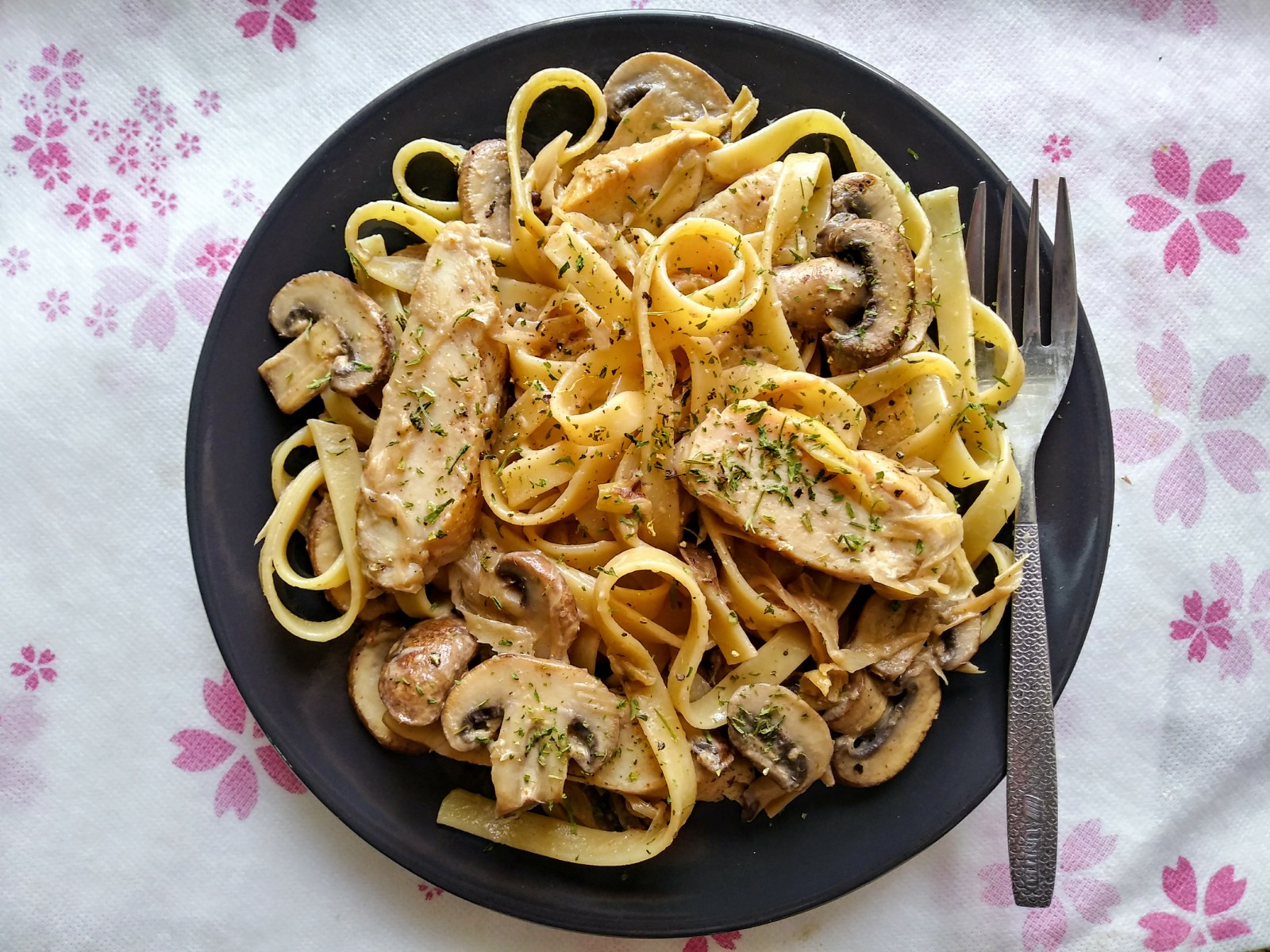 Chicken & mushroom fettuccine in creamy coconut sauce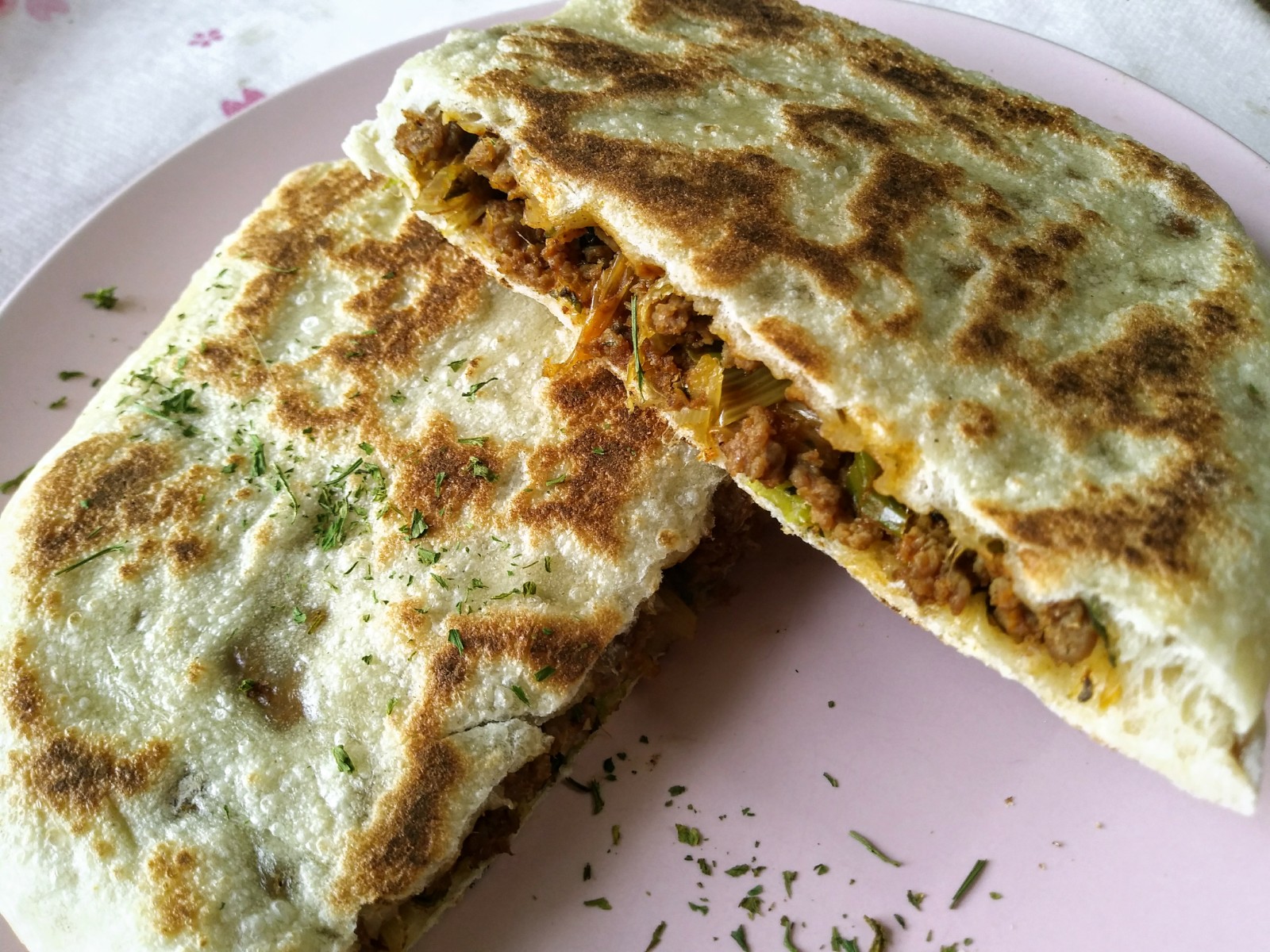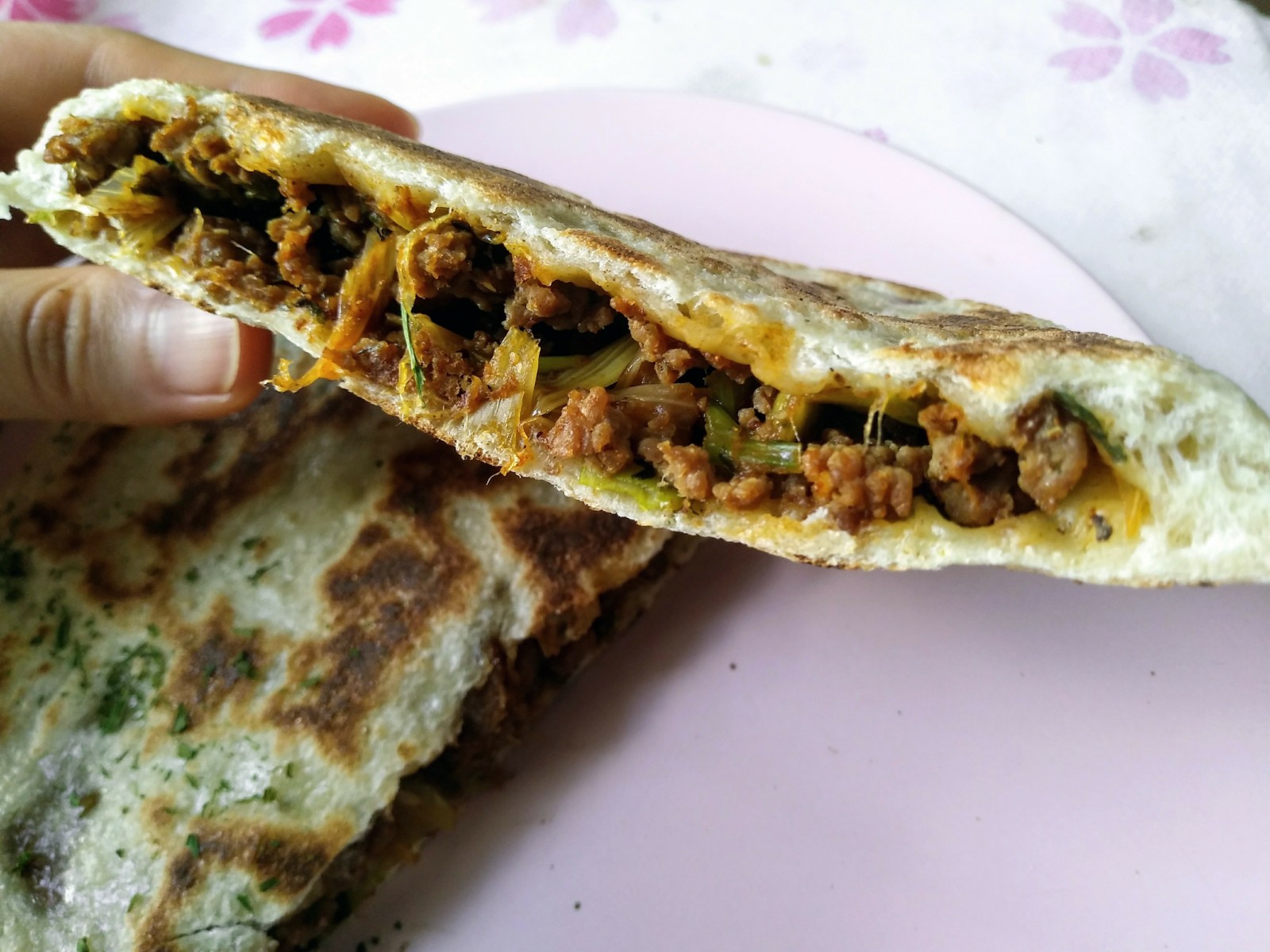 Spicy lamb & leek gozleme