Home Milled and Sifted Wheat Montana Sourdough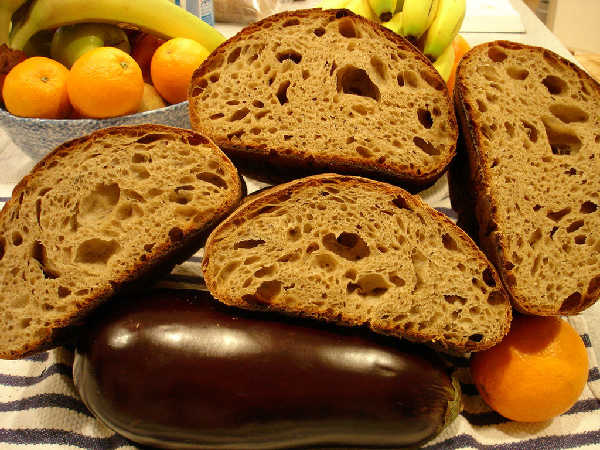 My adventures in home milling and sifting continue. Most recently, I did fairly extensive additional test milling and sifting of Wheat Montana Bronze Chief hard red spring berries. In the past, I regularly used flour from two main sources: Heartland Mill, and Wheat Montana. Heartland Mill is a good source of hard red and hard white winter wheat flour and berries. Wheat Montana is a good source of hard red and hard white spring wheat flour and berries. After sending test flours from the milling and sifting session with Wheat Montana Bronze chief hard red spring wheat berries, I wanted to follow that with a "production run" and some test baking. I've already posted a fairly unusual "Reconstituted Mash Bread" made from Wheat Montana hard white and red spring wheat berries. The following is a more ordinary sourdough made from high extraction flour from the same milling session.
A spreadsheet in xls and html format is posted with the recipe and the sourdough timing. Additional photos are posted.
The formula is again much the same as previous test bakes. It consists of a levain contributing 15% fermented flour to total recipe flour made with equal quantities of sifted rye, sifted spelt, and freshly milled and sifted  "cream flour" from my milling session, combined with an overnight soaker of the remaining dough ingredients, which is the remaining "cream flour", 2% salt, about 76.5% water, and 1% malt syrup. The estimated ash content of my "cream flour" is about 1.1%, so it is similar once again to previous high extraction flours that I model after Heartland Mill Golden Buffalo flour.
The bread had some large and small holes, as the dough at 76.5% hydration was a little softer than I expected. As before, it takes some experience to learn the amount of water that my home milled and sifted flours will absorb. I slightly overestimated the amount of water in this case and ended up with a bread more reflective of a fairly soft and wet dough. The crumb was light and flavorful, which was expected, since I've had excellent results from Wheat Montana Prairie Gold and Bronze Chief flours in the past.