Spelt and Black Treacle (My Bake)
After reading about this recipe, I decided to go for it, especially because I had never tried a 100% spelt loaf before and I like black treacle.  For the initial mixing I included sixty-five slap-and-folds because the dough felt reasonably strong, and that seemed to be fine.  Although I did try the letter fold technique for the first S&F, the dough stuck to my counter a lot, and I opted to leave the dough in my 6-quart Cambro tub for the second S&F and did the usual reach-under-and-lift-up.
The bulk fermentation took about an hour, but the final proofing accelerated, and I left the dough in bannetons for only 38 minutes (rather than the suggested 50 minutes from the recipe).  I shaped a boule for the Dutch oven and a batard for my baking stone.  The lid stayed on the Dutch oven for the first 20 minutes, and total time for that loaf was 39 minutes.  For the baking stone I opened the oven door after twelve minutes to vent steam and flipped the loaf around at the twenty minute mark.  Total time for the batard was 37 minutes.
The crust is crisp, and the crumb has a nice subtle but observable flavor supplied by the black treacle.  I suspect that this bread will toast very nicely too.  Scoring was difficult in that the dough is very soft and puffy, and the oven spring from spelt is not what you get from bread flour or all-purpose, but this was a fun bread to make.  In addition, because this bread uses only instant yeast and no preferment, I started at 9:00 am and removed the loaves slightly before 2:00 pm.
Here are the two loaves (photos spliced).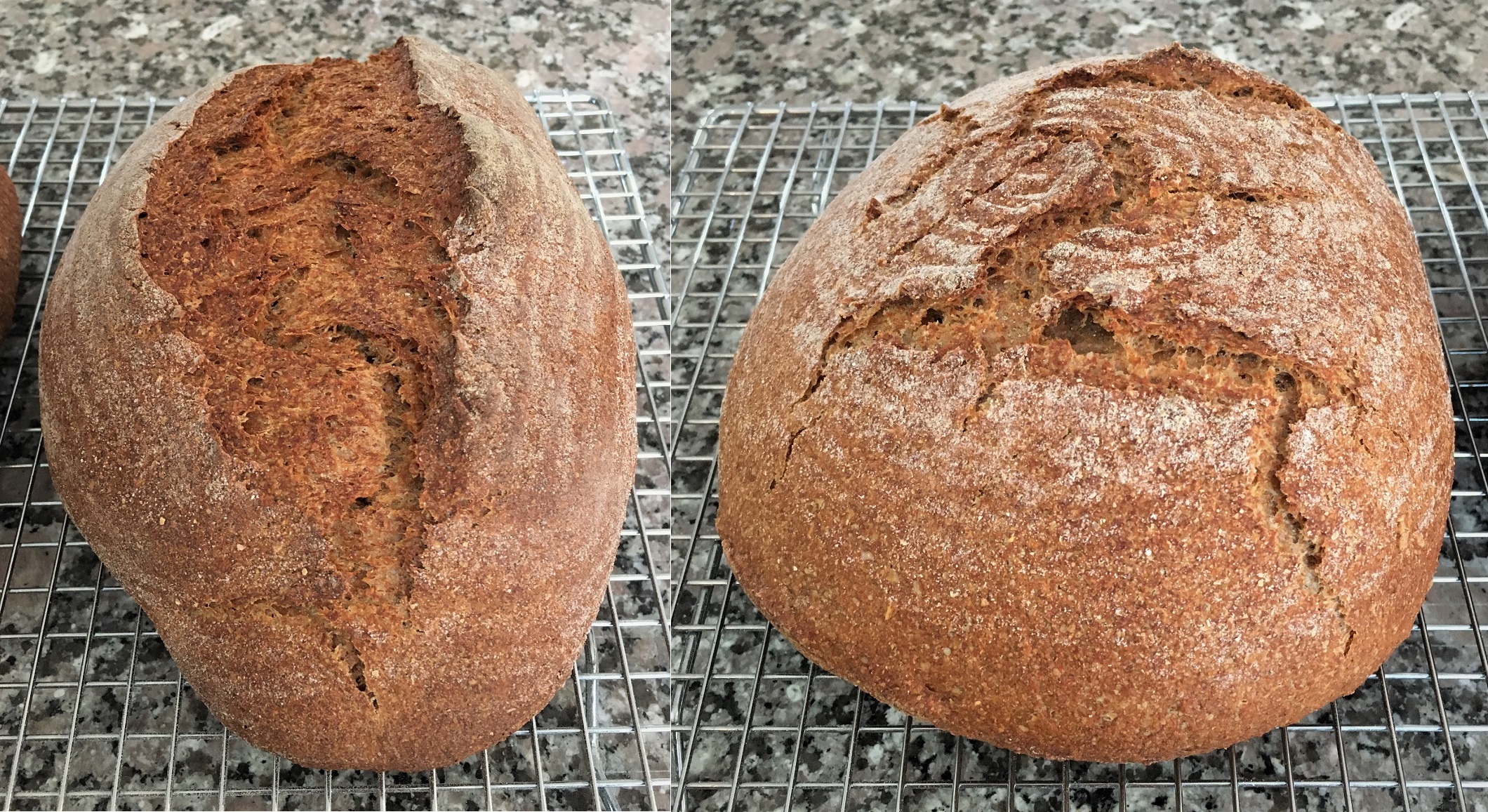 Here is the crumb from the batard.