Don't get too excited - the spelt is only 20% of the flour - but it makes for a nice loaf!
It's ages since I've posted details of one of my bakes on TFL. TFL is full of baking questions at the moment, so I thought a few details and pictures of my weekend spelt bake might give a bit of content variation.

It was a pretty simple bake (for me!) with 20% mockmilled spelt, 3% rye from the levain and a hydration of 74%. It includes 1% of my current favourite ingredient, fava bean flour.

I'm running a trial with my starter at the moment, keeping it on the counter and feeding it once a day, rather than keeping it in the fridge. The plan is to see if it has more "vitality" managing it this way.

Flour mix

    200g Mockmilled spelt
    780g bread flour
    10g diastatic malt flour
    10g fava bean flour


Levain

    Build 1 at e7 day0: 5/25BF-5rye/24water 27C
    Build 2 at m8 day1: 55/80-30/88 29C

 
Other

    True hydration 74%
    Salt 1.8%

Process  

    m11 day1: Spelt flour autolysed with 160g RT water + 2g salt
    e1 day1: 532g water in mixer, add dry flours and spelt mixture.  Autolyse 15min
    Add 225g levain, mix in
    3min low speed
    add 18g salt and mix 2min low speed
    Mix on high speed 1min 30secs
    Drip in 40g bassinage water on low speed, total time 4min
    Turn out of the mixer into proofing bowl, dough temp 25C
    Bulk ferment at 25C for 4hrs 15mins with a couple of coil folds. Volume increase about 55%
    Preshape to 2 x 850g batards. BR 20mins
    Shape, proof on counter for 20mins
    Retard in fridge overnight
    Score and bake as normal with steam

Thoughts

    Good ears and nice blisters.
    Pretty open crumb
    Mild flavour - I'd like to get a bit more lactic tang in - maybe by reducing levain quantity and fermenting longer?
Photos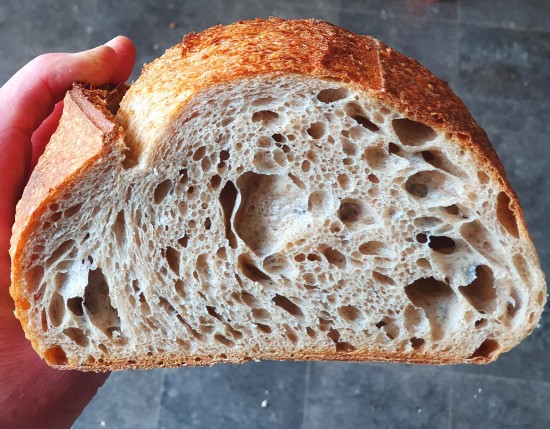 Lance