February 14, 2020 - 10:24pm
Kalamata olive sourdough: question about crumb
Hi, I was inspired by some recipes I saw here. I didn't end up following any in particular because of my busy schedule. At this point I sort of have a standard protocol which involves roughly autolysing and stretching and folding the dough whenever I get home in the evening, bulk fermenting up till I go to bed, then cold fermenting until I get home the next day. It's worked well for me, this loaf was soo yummy, but I do have a few questions.
Questions
1. Why do I get such a bimodal distribution of large and small bubbles, as in why do I have so many huge bubbles and many tiny ones, but few in-between?
2. Do people usually add steam to their DO? I lined the bottom with foil and slipped 3 cubes of ice down the side when I first loaded the loaf.
This is my first time using a dutch oven. Maybe the DO is why this loaf had the lightest, crispiest crumb I've had yet.
I know I didn't S&F very consistently, maybe the lack of gluten development and short bulk ferment led to the inconsistent crumb. I'm guessing I shouldn't put the dough straight into the fridge after my last S&F?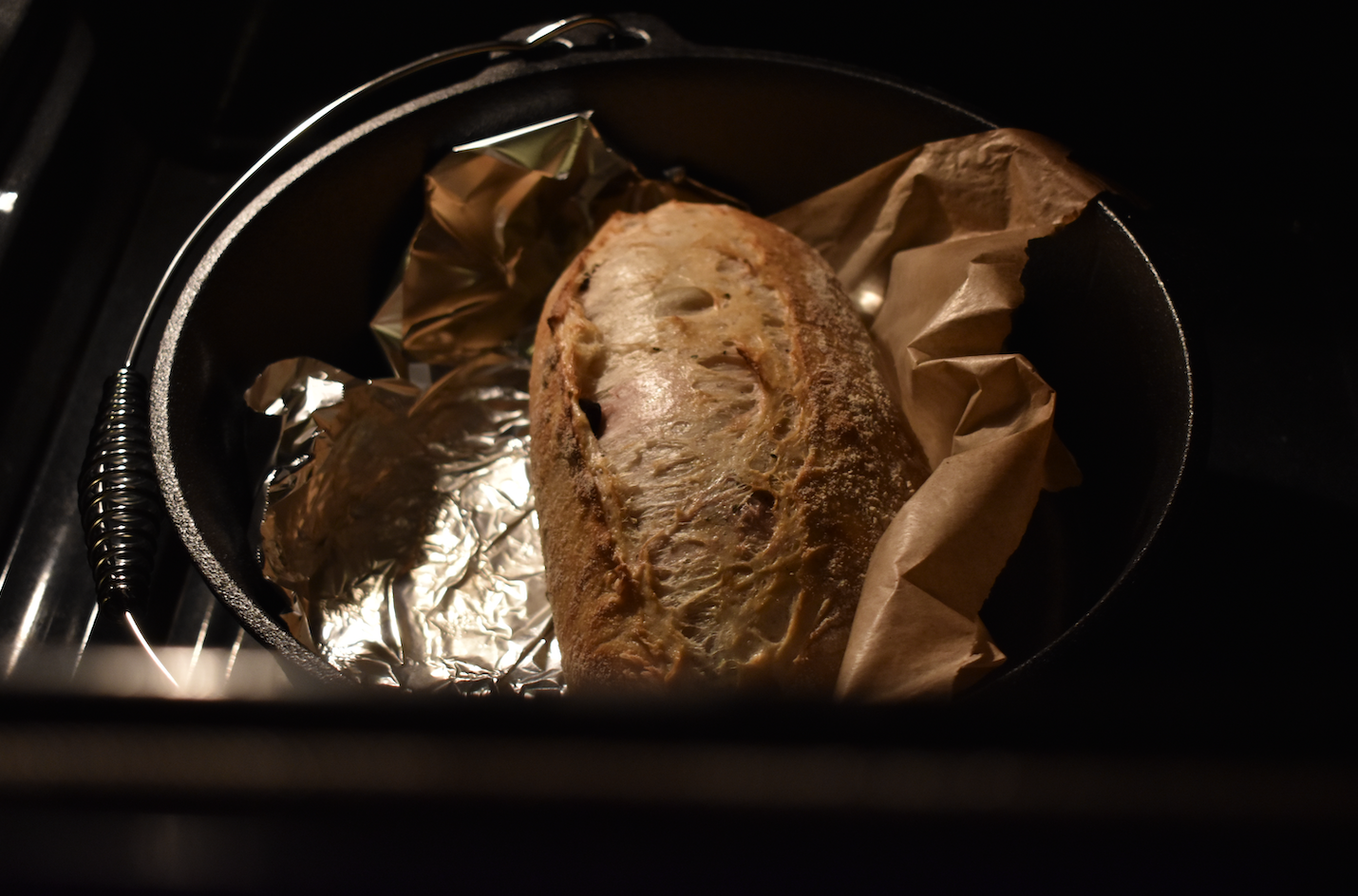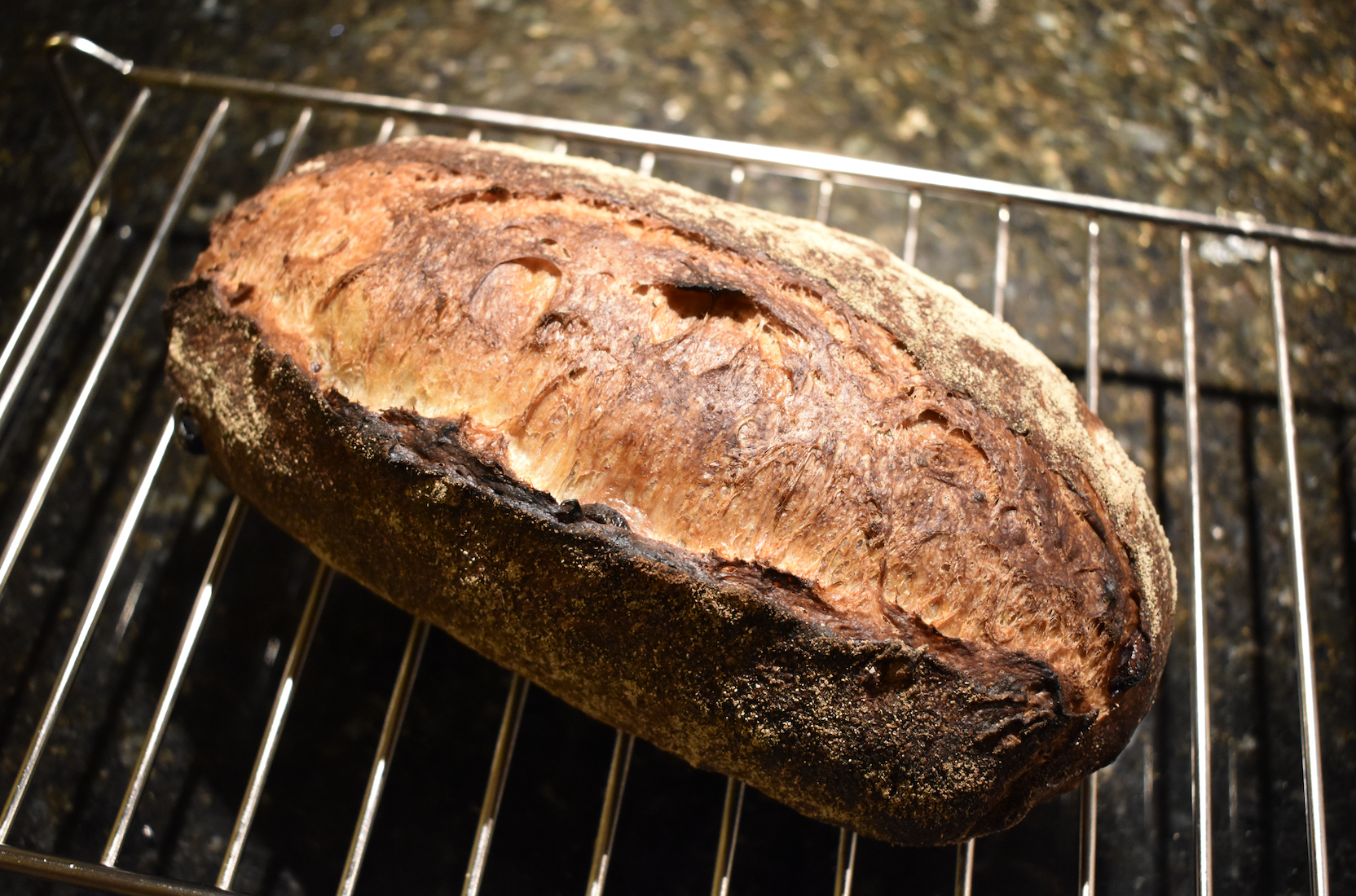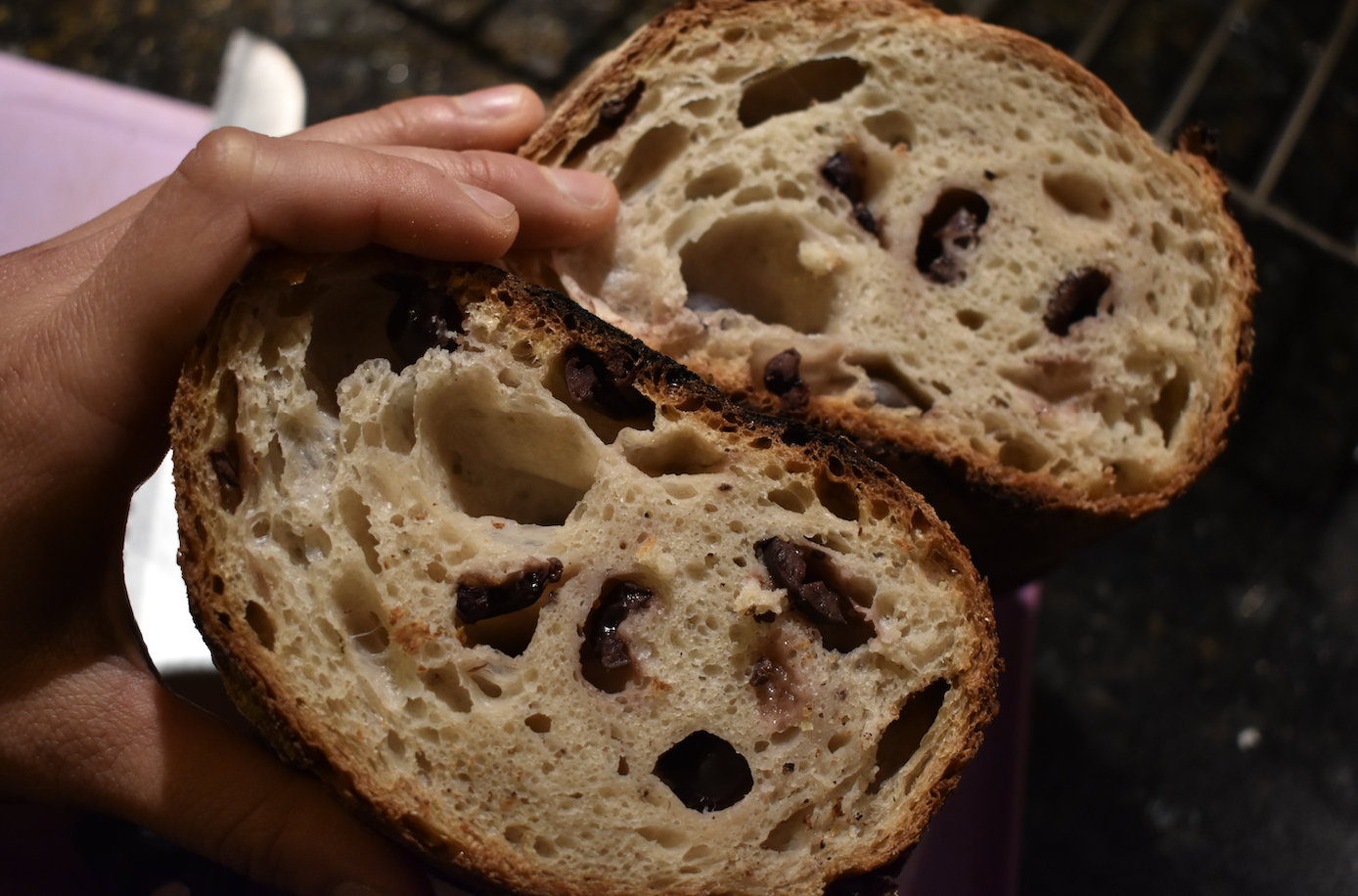 Ingredients
250 g AP flour
50 g WW flour
226 g water (78% hydration)
5 g salt (1.5% salt, lowered to adjust for salinity from olives)
0.5 g IDY (roughly a pinch, to make up for the slow starter)
70 g starter (fed 8 hours prior with 3:1:4 AP:WW:water)
Steps
These steps are just what I ended up doing and probably aren't ideal. I recommend anyone interested to refer to these two recipes.
1. Feed starter in the morning
2. 8 hours later mix flour, water (minus 20 g), IDY, and starter and autolyse for 40 mins
3. Use remaining water to help incorporate the salt into the dough
4. Let the dough sit for 30 mins and then add the olives and herbs
5. S&F roughly every 30 minutes 6 times
6. 20-hour cold ferment (refrigerated right after the last S&F) total bulk ferment roughly 4 hrs
7. Remove dough from fridge and let sit at RT for 20 minutes
8. Pre-shape dough and rest for another 20 minutes
9. Preheat DO and oven to 500 F, line bottom of DO with foil, leaving one corner folded up
10. Shape dough and final proof on floured couche for 40 minutes
11. Score and load loaf with floured baking paper
12. Slip 3 cubes of ice into DO, ideally under the folded-up corner of foil, so the water doesn't come in direct contact with the dough
13. Bake at 500 F, covered, for 15 mins
14. Bake at 450 F with convection uncovered, for another 30 mins
15. Rest in cracked oven for 20 minutes, cool before slicing