November 25, 2019 - 8:03pm
Seeded sourdough with an oops!
I started out to make Ru's seeded sourdough which I love.  I ran out of levain (didn't calculate properly) so added in the left over from the first refreshment of the refrigerated starter.  I am not sure how much water I added to it to thin it from 66% hydration - a dumb move as it was quite thin when I used it. 
12 midday - toasted 15 g chia seed, 37 g sesame seed and 22 g flaxseed. I had blitzed sesame and flaxseed a little in the coffee grinder. I then added 55 g water but it sucked it all up so I added another 55 g water and left to soak.
12:15 pm Autolyse 245 g flour, 50 g wholewheat flour freshly milled, 28 g freshly milled rye and 4 g gluten flour with 198 g water.  I amended the water amount because of the extra with the grain but it was too dry so just went with what it should have been. 
13:30 I added the seed soaker and 90 g 100% levain. I did 100 SLAFs and dough just wouldn't come together.  Far too wet! This was my oops, too much extra water.  Thinking about it I realised that in the past I have added seed soaker when I did the autolyse!!  I really don't know where my head was that day.  What shall I add to soak up the excess?  Oh, how about some oat bran, got a packet of that!  So I worked in 20 g oat bran and did 30 more SLAFs before adding 7 g salt.  This was followed by another 130 SLAFs and dough felt really good!
14:15 pm one set of coil folds. 
14:50 pm one set of coil folds
15:25 pm one set of coil folds
16:00 pm final set of coil folds and dough was left to bulk ferment.
19:00 pm dough had risen about 50% so preshaped and left for 25 minutes
19:25 pm final shaping followed by 30 minute bench rest and retarding at 19:55 pm
Baked the next morning after 14 hour retard in a preheated DO for 15 minutes at 240 deg C with lid on and 18 minutes lid off.
Managed a small ear! Crumb shot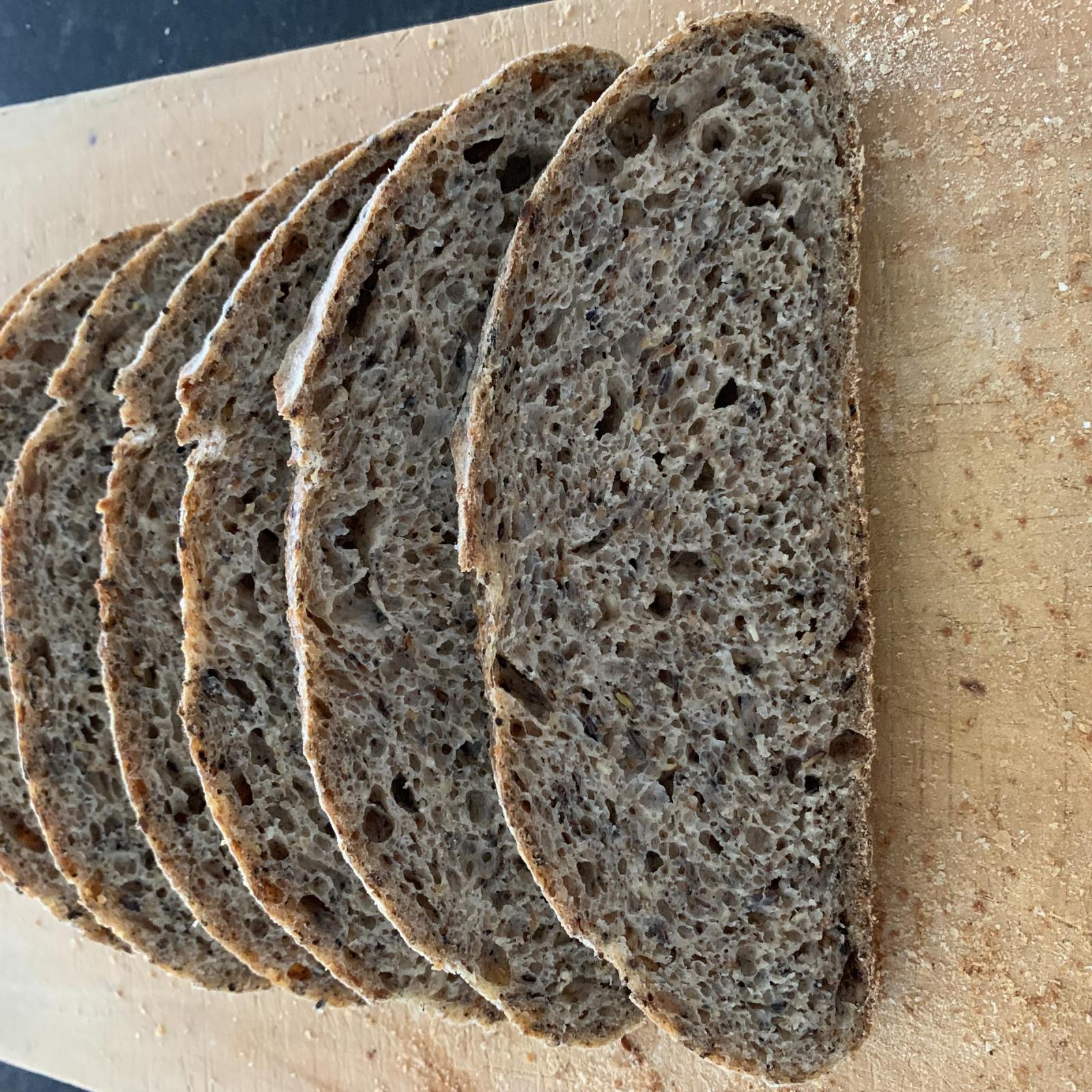 Really really happy with this loaf, lovely nutty flavour.  My oops correction worked out really well so I may add some oat bran again in future.
It feels good to be starting to bake a bit more again.
Leslie