November 10, 2019 - 8:13am
Baguette adventures round 5: Finally a good one
Hi, I've been making baguettes every weekend. This is my fifth attempt, I made a blog post about my last one as well. I finally made one loaf I'm happy with. I took some advice I got from Alan and Dan and handled the dough more gently, let the dough autolyse before kneading, portioned the dough out before the cold ferment, and baked at 470 ˚F. I also watched some of their videos and kneaded the dough (this time 72% hydration) with 200 french folds.
I still didn't get enough oven spring for 2/3 baguettes. I think the main culprits might be 1. underdeveloped gluten, 2. over-handling the dough during shaping (I just can't seem to roll the dough out long enough without squishing it), 3. shallow scoring, and maybe 4. under-proving? Do you agree that these are my main problems? I'd love some feedback on how I can improve.
I'm not having my old problem of the loaves bursting at the seams or the sides, so at least there's progress on that front.
Photos
Finally one good baguette!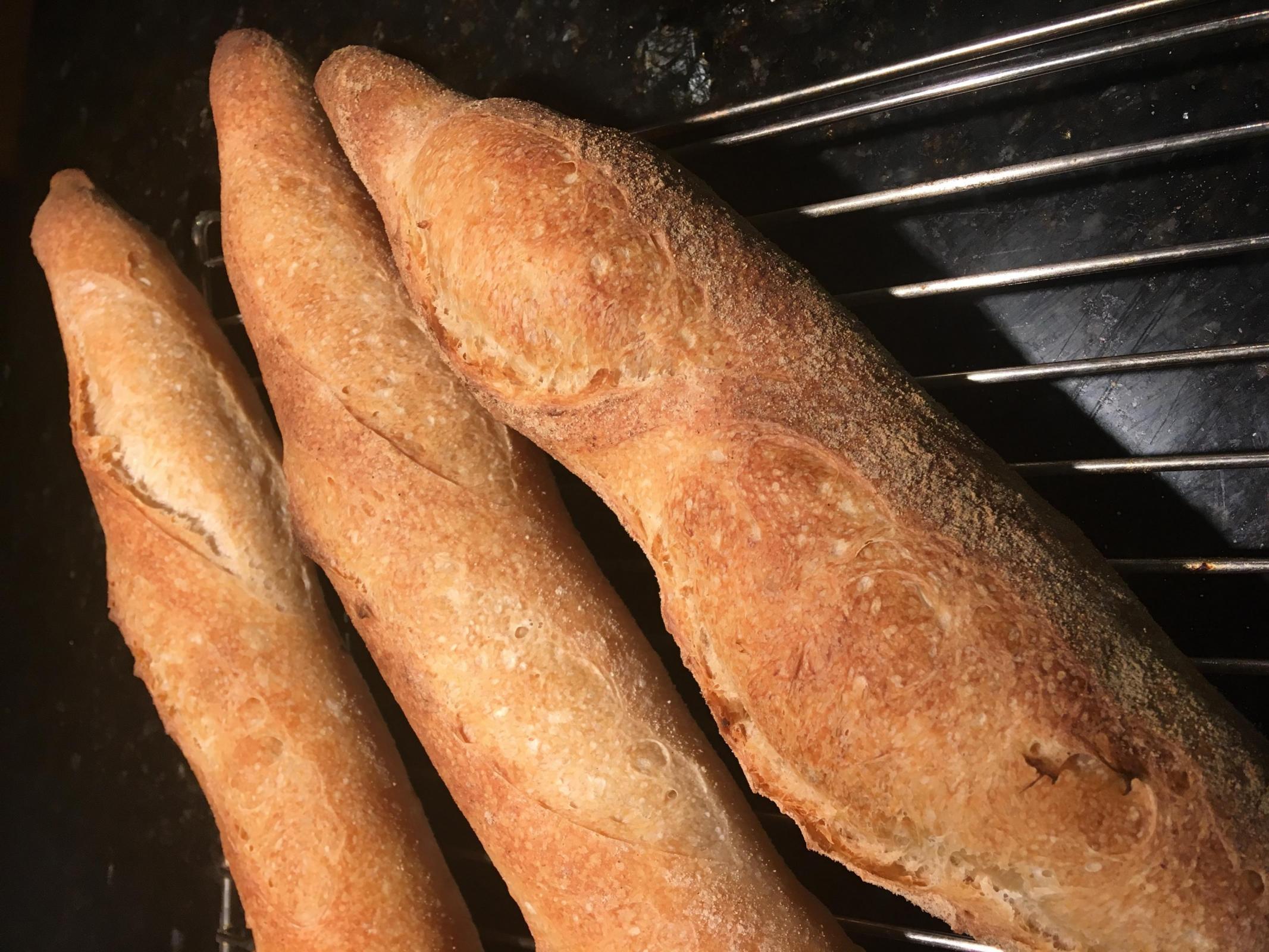 Cross section of one of the flatter loaves, crumb is close-textured but the crust was light.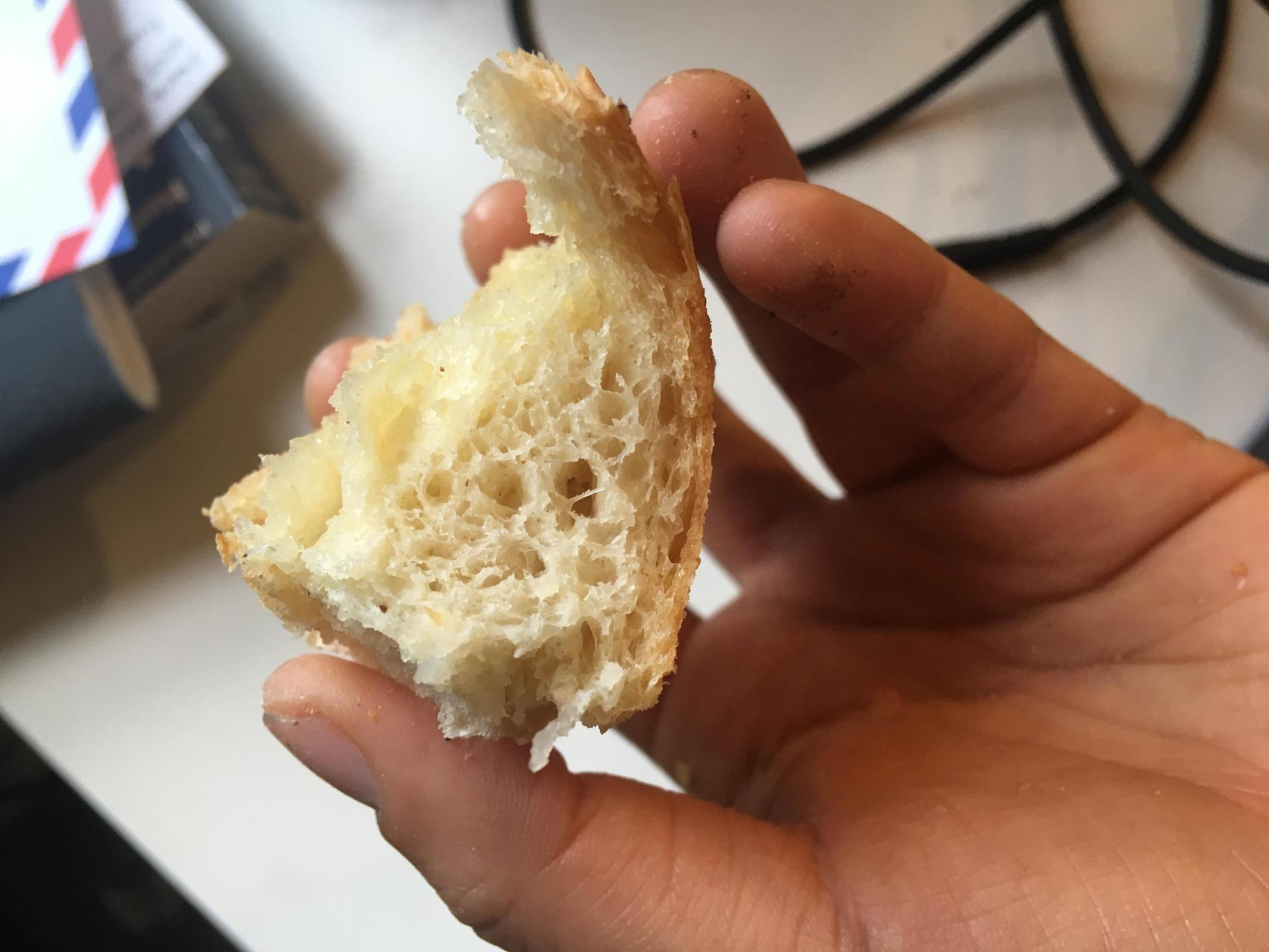 Baguette on the top is the one that rose the most beautifully in the oven. It looks pillowier than the rest here, probably because I shaped it first and let it rest the longest. You can also see that it's the shortest loaf, that's because I didn't roll it/squish it as much as the others.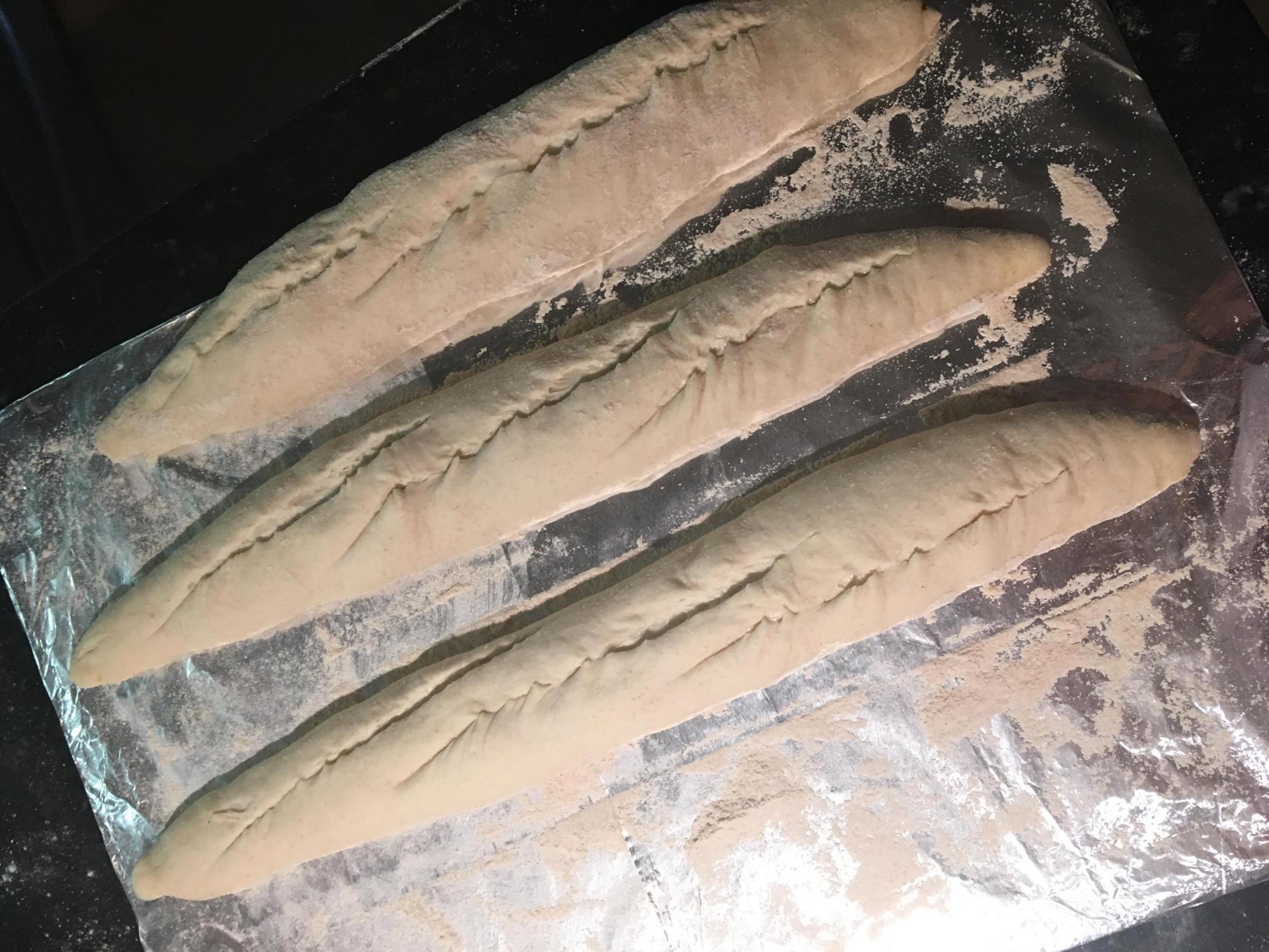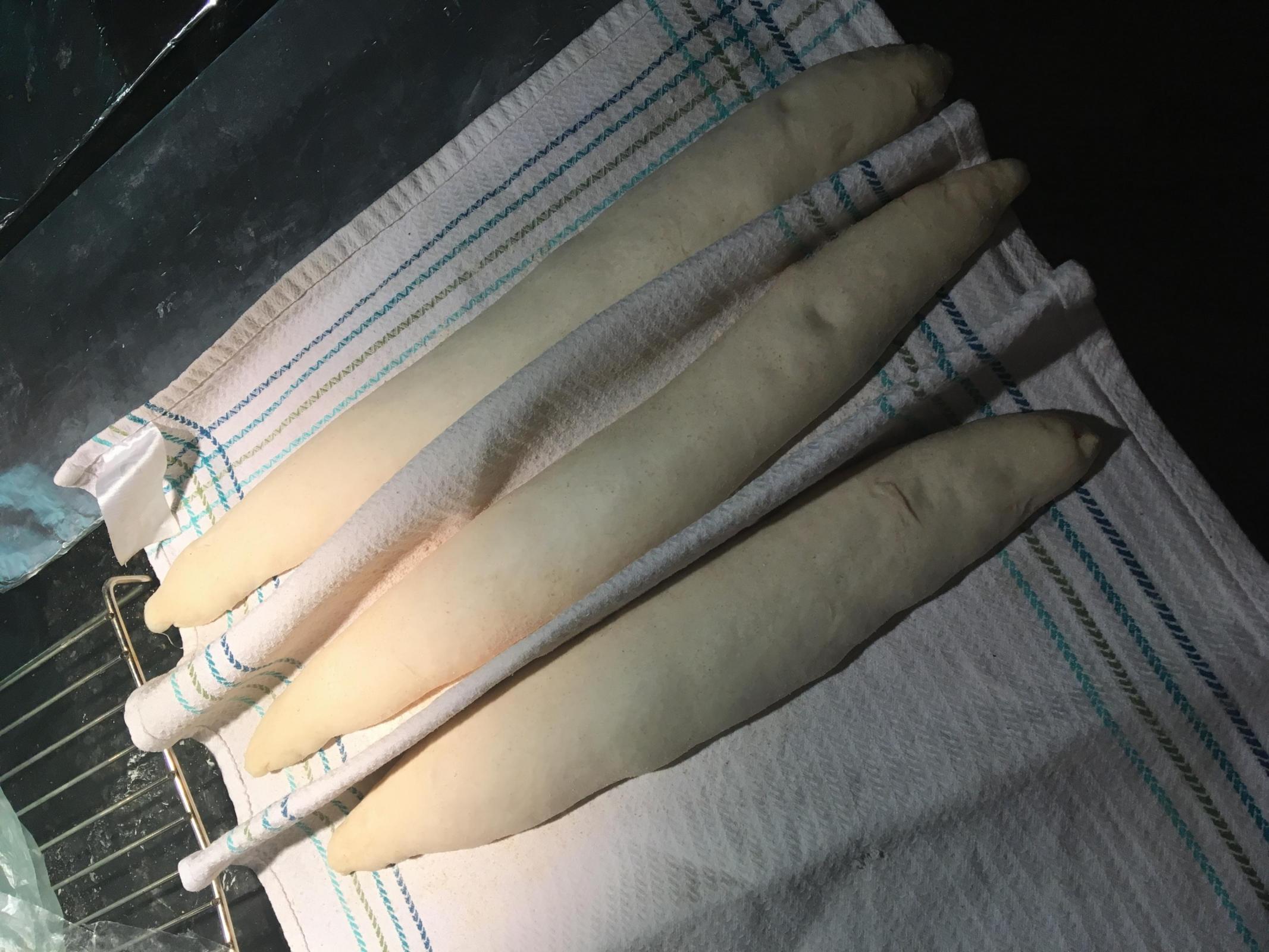 Ingredients
I've basically been modifying the KAF classic baguette recipe, at this point its only vaguely like the original. I've been sticking to this recipe just because I don't have a miligram scale for yeast and repeating and modifying one recipe is a good way for me to keep track of what changes I'm making.
Poolish

    113 g cool water
    1/16 tsp SAF instant yeast
    120 g KAF AP flour

Dough

    All of the starter
    1 1/2 tsp SAF instant yeast
    274 g lukewarm water (for 72% hydration)
    418 g KAF AP flour
    1 1/2 tsp salt
Steps
Mix everything to make the poolish, cover and rest at room temperature for 14 hrs.
Add all the other ingredients except for salt into the starter and mixing until incorporated, then autolyse for 20 mins.
Incorporate the salt and make 200 french folds.
Place dough into a large bowl and S&F every 30 mins for 90 mins, a total of 3 rounds.
Portion dough into 3 equal parts (roughly 300 g* each), shape lightly and place seam-side down into container. (*edited from 100 g, thanks Alan)
Cold ferment in refrigerator for 24 hrs.
Remove dough from fridge, make one gentle letter fold and let rest, covered, on counter for 30 mins.
Preheat oven to 470 ˚F (regular bake, not convection) with a cast-iron pan in the bottom rack.
Shape the dough by doing one letter fold and then one final seal where you bring the edge of the dough to the countertop. Roll out gently to prevent de-gassing.
Rest, covered, on floured couche for 45 minutes.
Boil 2 cups of water and transfer all three loaves to a well-floured peel.
Score the loaves (see image) and load into oven, close oven door.
Pour boiled water into cast iron pan and spray the loaves and oven walls generously with water.
Close oven and bake for 10 minutes.
Remove steam, set oven to 450 ˚F at convection and bake for another 14 minutes.
Remove from oven immediately and let cool.