October 13, 2019 - 9:40am
GF oat starter/sourdough based bread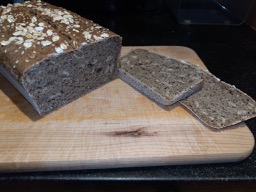 I'm not gluten intolerant as far as a test goes, but we have decided to try to reduce our gluten intake from other reading.  Grain Brain is the book, FYI.  I'm not writing to discuss the science ... or not.

I set about trying to make a hearty bread like the sourdough multigrain (AP starter, bread, ww, rye, oats, buckwheat, teff, wheat and rye berries, malt syrup, porter beer) that I normally make.
I figured oats as a base with the usual sort of "M4M" blend of other flours.
But I also wanted to see if I could get any ferment into an oat starter.
I stumbled on this.
https://artisaniaeth.com/index.php/en/2018/03/09/oat-sourdough-experiment/
After contact with Geth, I altered his experiment using conventional (Quaker) rolled oats ground into flour using a blade type coffee/nut grinder.
Other than that, I followed Geths' methodology.  Now I have a couple jars in various stages of forming the final starter.
Now to find a recipe to jump off from.
I got a bunch of books from the local liberry system.
The how can it be gluten free cookbook
The Laurel's kitchen bread book
Gluten-free baking classics
Against the grain
Gluten-free on a shoestring bakes bread
Gluten-free artisan bread in five minutes a day
In my mind, flour with eggs is cake.  So I was looking for something without eggs.

The last 2 books were closest to that concept.
More reading and googooing, and I resigned myself to either xanthan or Psyllium.
I added 100g of the (Geth) oat starter to water (100º) and oat flour, 1:1:1.
Simply because that is the way I feed my AP and rye based starters.
I let it go over night.  There was some activity, but not like I see with the AP starter.
The jump off recipe came from Gluten-free artisan bread in five minutes a day.
On page 146, Oatmeal Maple bread.  I started with a 1/2 recipe in case it was a compostable disaster failure.
Below is the altered recipe that I used, not the original.

2c KAF M4M flour
(I wasn't being lazy, but CostCo had it in the aisle.  Figured there was enough positive spin on it and I like their products in general .... it was worth a shot.  It still ain't cheap, but....  It is pretty much like what Hertzberg/François describe in the book).
all 300g of fed oat starter I'd made.
1/4c teff flour (BRM)
1/4c buckwheat flour  (BRM)
2.5 tsp Red Star
2.5 tsp Baleine sea salt
300g water at 100º F
2.5 tbsp (1/2 and 1/2, raw honey and Vt maple syrup (I'm a NYer, but VT syrup, especially right from the farmer is the bomb.  YMMD)
Put it all in the trusty Concept 7 for a 7 min spin on 3 with the euro hook.
Dropped it in my rise bucket and left it on the counter for a couple hours to do it's thing. Which it did, admirably.
The house is pretty cool, ~66º. 
Then into the fridge as the recipe describes.
I let it do it's thing there for about 36 hours.
On bake day, I took it out and it look a bit wet.  So I added a 1/4c oats and mixed that in by hand.
I dropped it into a 4/5" x 8.5" (?) greased non-stick pan.
Some oats and sesame on top and a deep cut into the wet dough with a hot wet serrated knife.

Into a preheated oven at 400º for 60 or 65 mins, until the Thermapin came out fairly dry and internal temp was about 205º.

Just had a couple toasted slices with poached eggs.  Didn't crumble.  Wasn't excessively wet or dry.
Tasted pretty good.  Not at all like some of cardboard I've had.  But eggs would cover a lot of sin.  And cheddar, cado and aji pepper sauce.  It's not at all like my multigrain described above, but I didn't expect it would be.
A Hyundai is a Hyundai and a Ferrari is a Ferrari.
One has 4 cylinders and will get you to where you're going.
The other has 8 or 12 cylinders and will get you to where you're going waaaaay faster but with a $100 ticket, a head shake, and that "really?" look from the cop who writes the ticket.
Tmrw, PBJ ....... actually almond butter (TJs raw, no salt, crunchy) and strawbs or naners.  Blueberry season is over, Darn the Luck ! ! !

Forthwith, a couple snaps.
The white discoloration, I assume, is the hand mixed oats.

I think next time, I may try to sub some of that M4M with more teff and or buckwheat.
And perhaps reduce the water by 1/4c.

Awright, time to feed the cat or let him in or out .... if he can make a decision.