It's been a pretty good day in the kitchen
The lead photo is Auvergne Dark Rye from Leader's Local Breads.  While I won't know until tomorrow how it looks inside, I really like the way the crust turned out.  I expect it will be worlds better than my disastrous first attempt with this bread a few years ago.  
The big difference is hydration.  Leader describes the dough as "soupy" but the water quantities (50g in the levain and 350g in the final dough) only work out to 53% hydration.  Something is obviously amiss.  My prior experience taught me that a soupy dough doesn't work.  Some googling this morning brought recommendations for 475g to 550g of water in the final dough.  After considering it for a few minutes, I opted to use 500g of water.  The dough was definitely soft but nowhere near soupy.  
Leader doesn't say anything about using bannetons for the final proof of this bread, which seems peculiar.  The dough is supposed to be very soft, so why not give it some support for the brief (20-30 minute) final proof?  Since I was already straying from his non-instructions, I figured I'd proof the boules seam-side down and let them fissure naturally, instead of scoring them.  Ah, yes, boules.  Plural.  Leader recommends a single large boule.  From my previous experience, I thought the smaller boules might bake out better than one great big boule, especially at the 500F oven temperature he recommends. Like I said, the appearance is encouraging.  Now to see if the crumb is as good as the crust.  
Since I was in the book, I also made Leader's Classic French Sourdough, including the seeded soaker.  For the soaker, I chose millet, steel cut oats, rolled barley, and cornmeal.  Given that combo, I also chose to use boiling water instead of room temperature water.  The thought of cracking a tooth on a millet seed or an oat fragment that hadn't fully softened before baking even harder just didn't appeal to me.  Other than adding a quarter teaspoon of ADY to the final dough, the rest of the process went as per instructions. 
The batards also turned out well, at least on the outside.  We might get into one of those with our dinner this evening.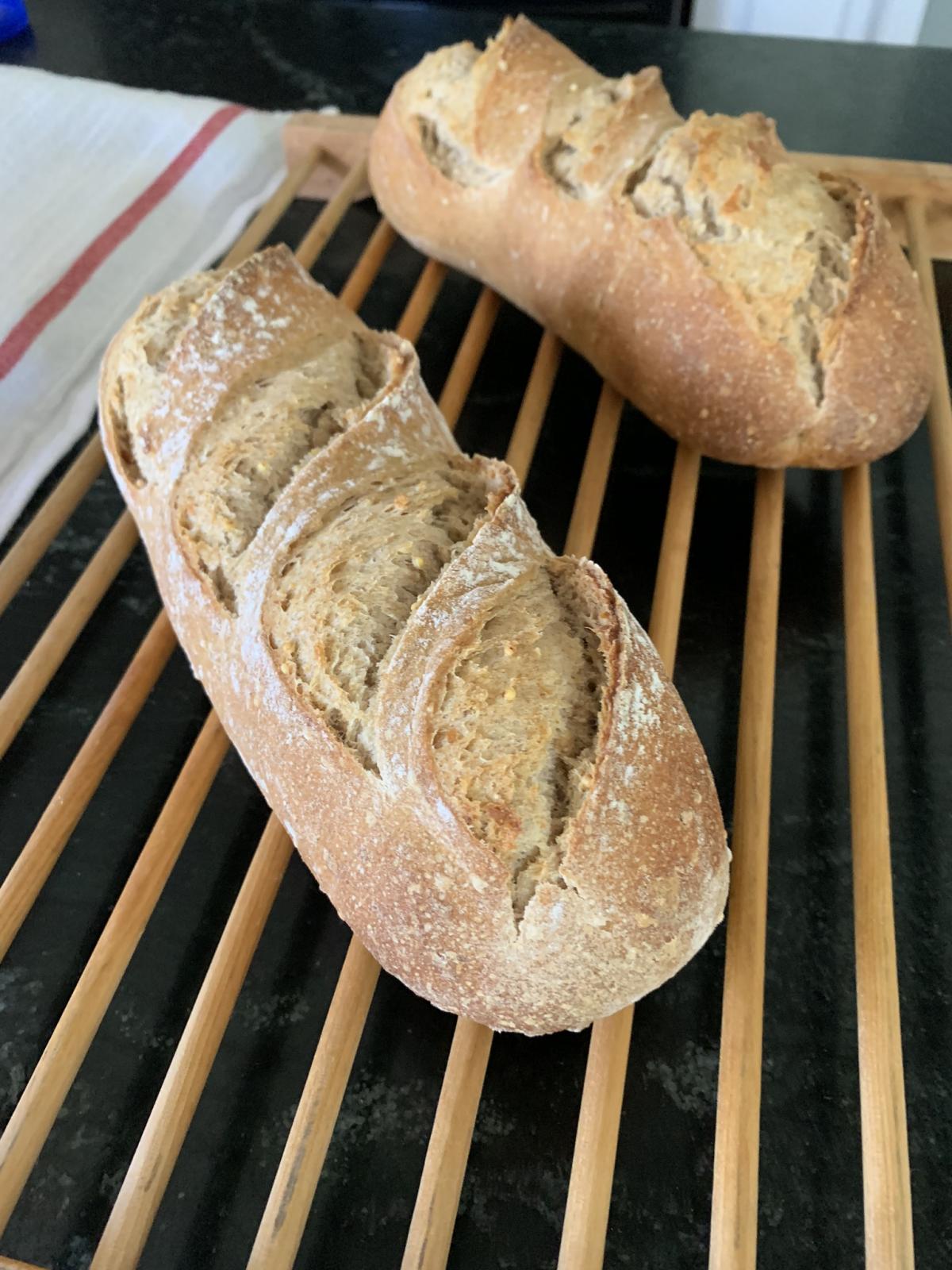 After some recent bakes that ranged from disappointing to frustrating, it feels really good to have two good ones in the same day.  
Paul
Auvergne Dark Rye crumb:
As good as hoped for.