Maurizio's Cinnamon Raisin Levain as baguettes
Earlier this week Abe sent to me a link of the just published Cinnamon Raisin Sour Dough on Maurizio Leo's The Perfect Loaf.  In a move of unusual rapidity for me, I built a BBGA spreadsheet entry for the bread and concurrently fed my levain in preparation.
As is often the case in the alfanso household, I went rebel and turned his posted tapered batards into baguettes.  How unusual for me!  But I wasn't finished there and made some changes to the whole process.  As follows:
I turned to my 75% hydration mixed flour goop rather than using his 100% hydration Bread Flour/WW levain.
Prefermented flour @10% vs. his 5.4%.  I'd rather rush the bulk phase a bit.  As mentioned earlier, my DNA isn't all that accepting of a bulk rise beyond about 3 hours.
Added the levain to the initial flour and water autolyse step - bad dog!  Since being enamored with the 125% levains of Mr. Hamelman, I got to liking the idea of adding the levain into the initial autolyse phase.  Plus, levains below 100 Liquid Levain levels are a bit goopier and nastier to hand mix after the autolyse.
Lowered the overall hydration to 78.5% from the posted 81%.  From prior experience I know that baguettes perform better in my hands when the hydration is below 80% for this type of dough
Gave the "autolyse" 45 min. vs. 60 min due to the addition of the levain.
Held back the recommended 15% bassinage water until after autolyse completion
100 French Folds, 5 min. rest.  Bassinage and hand mix to incorporate the 15% water.  100 FFs.  5 min. rest.  Hand mix to incorporate the cinnamon.  Final 100 FFs.
Added the previously hydrated golden raisins during the first Letter Fold.
Letter folds at 30, 60 and 120 minutes. 
And then made the rookie mistake of retarding the mix at the 2 hr. mark, when I was intending for a 3 hour bulk rise.  Realizing this hours later, I pulled the dough from the refrigerator, gave it a final Letter Fold and let it rise for 2 hours on the counter figuring the warming up of the dough after two hours would compensate sufficiently.  And I suppose that in the end I was right.  Or lucky.
Then back to retard for a few hours more before divide and shape, couche and then return to retard once more for several more hours.  Not as much grigne as I would have liked to have seen, but based on the photos posted by Maurizio, I think that I did quite okay here.  The crumb also looks to be quite nicely opened.
Certainly a tasty bread, almost dessert-like, and sure to find it's way into my selected Wheel of Fortune down the road.  The crust is not as crisp as I would have preferred but certainly has more snap to it than a soft crust bread, say, a potato bread.
And just as a reminder to those who haven't yet ventured beyond precisely following the trail laid out by the original poster of a formula and gone rogue - It is okay and even recommended to do so.  Once you do it, it is no longer someone else's bread it is yours!  And you will learn something along the way that you may not have known before.  I do.  All the time.  Try it, you'll like it!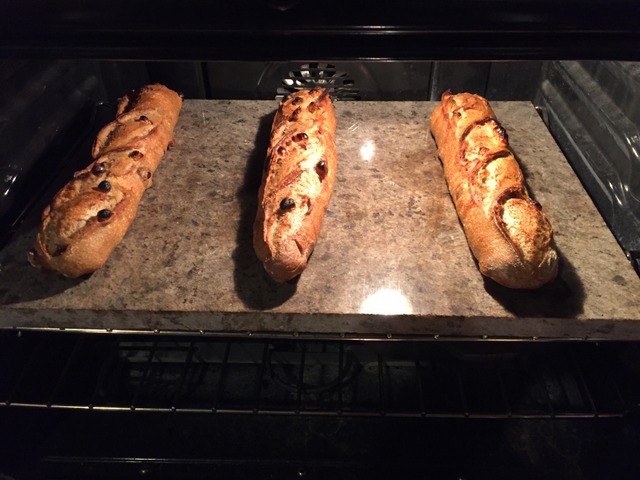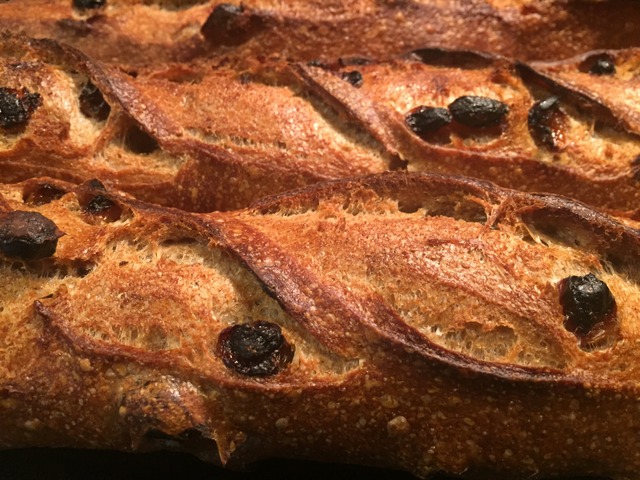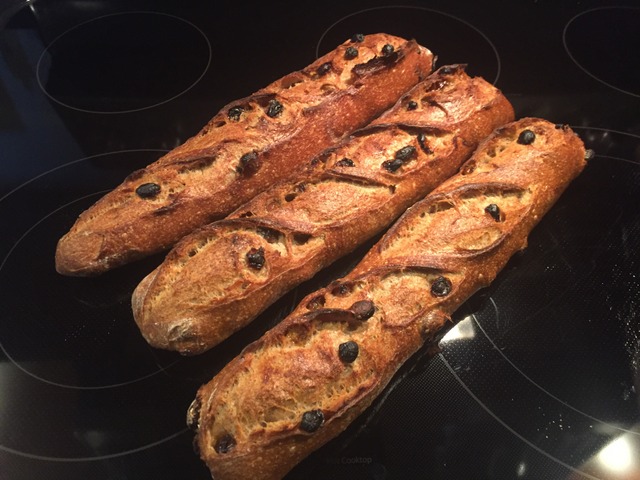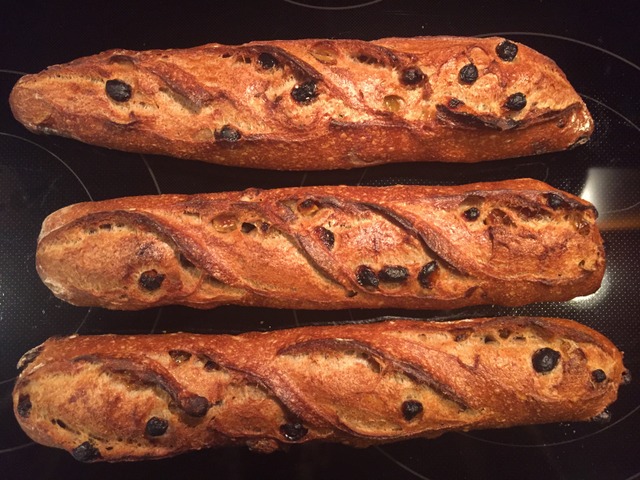 400g x 3 baguettes/long batards