Abe's do-nothing bread gets a porridge (plus crumb shot)
…or: how many variables can we change at once?
A few things have caught my attention in the last week or so:
oat porridge from the Community Bake: makes for a lovely crumb, as does a fermented oak soaker
while I liked the crumb of the oat porridge bread, I felt like it could do with a little more textural contrast
Caroline (trailrunner) has been experimenting with bakes using unfed starter
my associate brought me a bags of T80 ("high-extraction"?) and T110 ("first-clear"?) from the country. No idea whether the stuff is stone ground, nor of the protein content
saw on some French site that adding 10% semolina helps strengthen a potentially weak dough.
So, where to start? Maybe with the levain. This do-nothing bread usually calls for 10-20g of starter, depending on ambient temps. Up until this week, I would obediently mix up a fresh batch, but always felt silly about just making 20g of the stuff, so always made about 150g, using the extra 130g for my yogurt cake. Because of Caroline's experiments, I decided to try using 23g of starter straight from the fridge (the extra three grams was for the porridge).
Caroline mentioned a double-boiler for the oat porridge, and all of a sudden I had this flash of a childhood memory of a lovely hotel cook stirring the stuff over a double boiler. So cooked 50g of whole oat flakes in 100g of water that way. I didn't get any sticking, but I didn't get creamy, either.
While the oats were cooling, I opened the cupboard and measured out the various flours. I didn't sift, but gave everything a good whisking with salt and seeds.Since I didn't know the protein content of the T80 flour, I only used 200g of that with 200g of T65 bread flour (12% protein). The fine-grind whole semolina was 12;4% protein, and the T110 was another unknown quantity. (In the lead photo, clockwise from bottom left: semolina, T110, black sesame seeds, T65, flax seeds, T80.)
I either forgot that I wanted to try something other than water, or decided that I'd already thrown too many unknowns together, so used just room-temperature water.
In the end, this is what got tossed together:
23g whole-rye starter (100% hydration) from the fridge
150g whole-oat porrdige (1:2 ratio)
50g whole semolina (fine grind)
50g T110
200g T65
200g T80
17g black sesame seeds
18g flax seeds
350g water
12g NaCl
Method:
Whisked together water and starter, then added the cooled porridge
Added this mixture to all the other stuff, gave a good mix to get a shaggy mess with no dry bits
Covered and left at room temperature for at least 12 hours
Actually, at about 12.5 hours, this batch was ready for shaping, but I needed to get lunch started, so popped the dough into the fridge for a couple of hours, then let it come back to room temp for about an hour
Preshape was sticky and slack, but I was ready for it and didn't panic.
Bench rested, final shaped, dipped in seeds and proofed in wooden bread molds for about 1.5 hours
Baked at 230° for 20 minutes covered, then 210° for another 20 minutes uncovered. Took the loaves out of their molds at the same time as removing the lid.
I left one loaf unscored and baked seam-side up; the other got the usual three diagonal slashes, but not deeply enough. The unscored one baked up taller and longer.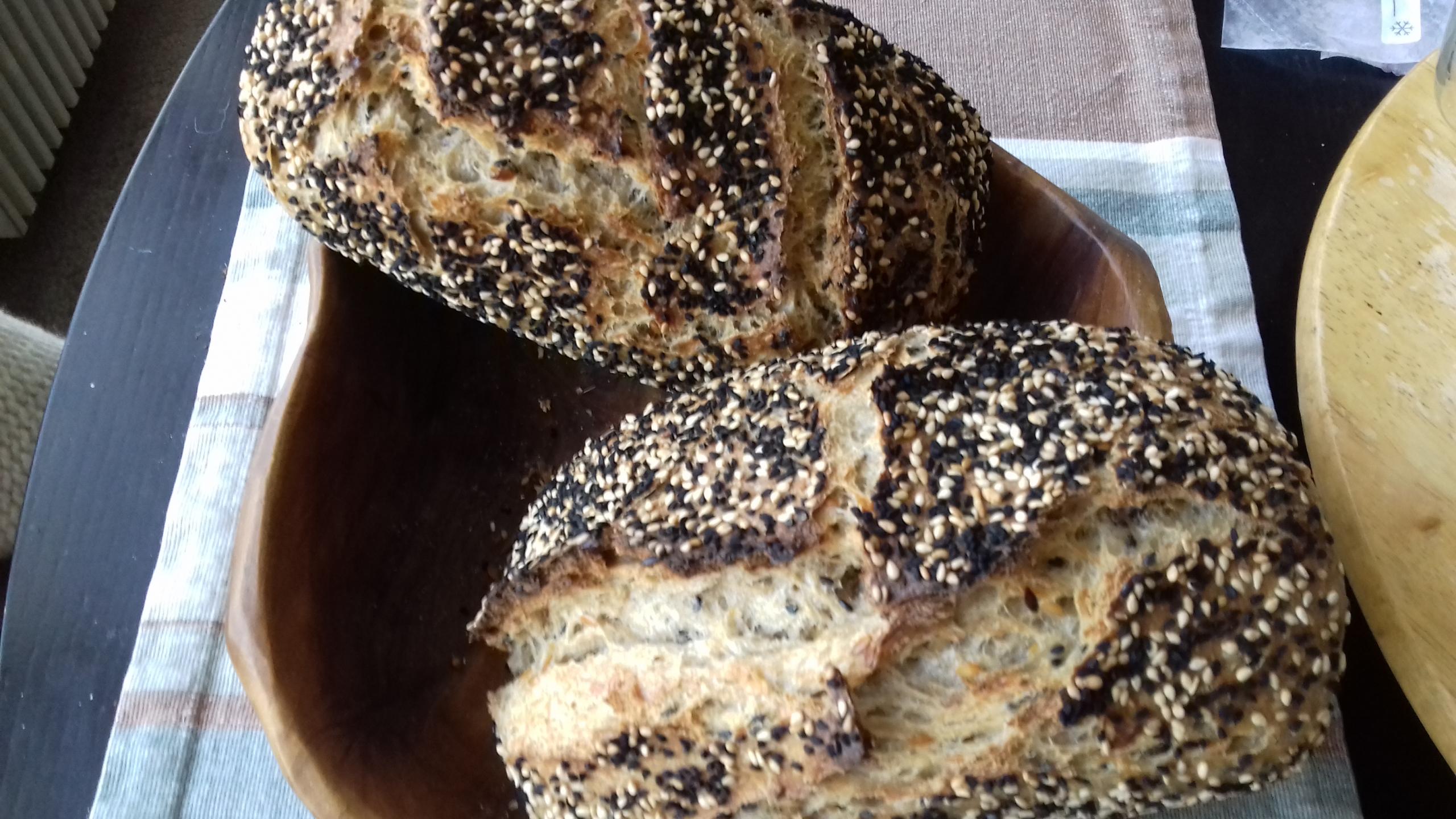 It occured to me after I removed the loaves from the oven that Caroline also uses her yeast water, which is something I need to get back to. I'm wondering if I could've pushed the final proof a little longer. Will know tomorrow when I cut one open. The other has been gifted.
Edit: crumb shot and taste report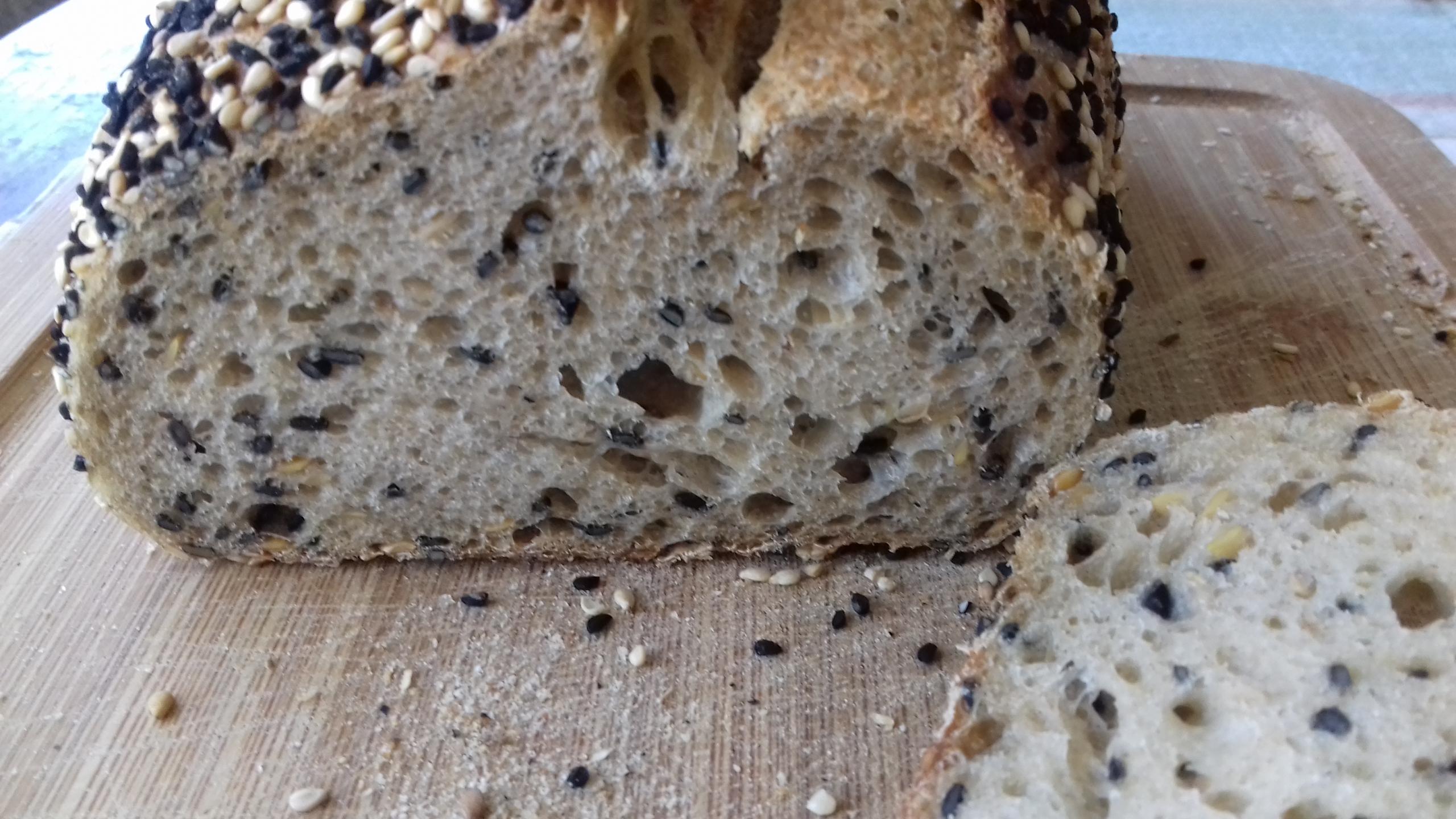 Crumb is tighter than I'd have liked, which makes me think I could've proofed longer -- or taken Caroline's lead and used yeast water as part of the mix (I shall get around to making one). Or, just feed my starter before mixing into the dough.
Because of the oats, the crumb is soft, with little bits of nubbiness from the seeds. I like the taste of this one, so will probably rework this again, maybe starting tonight.