Oat porridge community bake and more rye (with crumb shot)
Our very own Dan Ayo has organized another bakefest, so of course I couldn't resist. Especially since I've become a fervent convert to oatmeal soakers/scalds and have been wondering about the difference between pouring boiling water over oats and letting them cool overnight, and actually cooking a porridge. So this seemed like the perfect opportunity to do so.
Like Kat (NaCl), I looked over Maurizio's recipe, which got me thinking that I needed to hedge my bets. Maurizio's formulae tend to call for strong flours, much stronger than what I can get here. To make matters worse, the protein level in my go-to T65 bread flour -- from one bag to the next -- went from 12% to 9.9%! There was no way I was going to be able to hoist myself up to a 13% protein level with the flours at hand.
Not wanting to resort to VWG, I was already feeling kind of stuck, until I opened the fridge and remembered that I hadn't tossed the little lump of dough that I removed from the proofing stage of a midweek bake. So I decided to use that as a pâte fermentée, in the hopes of adding a bit of strength to the dough.
So that was hedge n°1.
Having read all the comments about the stickiness of the dough, and knowing from experience how absolutely gloppy a soaker dough can be, I opted to add the porridge at the same time as the salt, so as not to challenge whatever fragile gluten might have developed in the autolyse.
And there was hedge n°2.
Other than that, as we see so often on TFL, "I followed the recipe to a T".
Well, sort of. My oats, despite covered cooking over low heat, were quickly getting very dense and solid, and I was afraid to add more water. So they did not cook for the 16 minutes as directed.
Made my young levain in two stages, then "pseudo-autolysed" it with the flours and the water, holding back the quantities that Maurizio recommends.
Then came the final mix, with the salt and the porridge, which I first incorporated with pincering and folding and then did 20 minutes of SLAFs until the dough came together. Very sticky, very extensible, not elastic at all. Had I not already experienced what an oat soaker can do to dough, I probably would've started worrying.
But I let it sit and then did a first STAF at 30 minutes -- still very stretchy and sticky, with very little elasticity. I missed the STAFs at 60 and 90 minutes for scheduling reasons, then caught up with myself later on.
By the end of the five or six stretch and folds, it was getting on to about midnight so I decided to retard the dough overnight, then shape and bake the next day. I was also hoping that the dough would firm up a little to make shaping a little less tricky.
After being removed from the fridge, the dough sat out for a couple of hours, by which time it looked and felt like it might be workable. Did two preshapes and a final shaping. Despite the fact that the loaves didn't spread as much as I'd feared, I decided to do myself a favor by plopping them into low-sided wooden loaf pans.
Baked at 230° for 20 minutes, then 210 for an additional 10 minutes with cover. Don't you just love/dread that moment when you remove the cover from your roaster/DO? An additional 20 minutes uncovered at 200°C.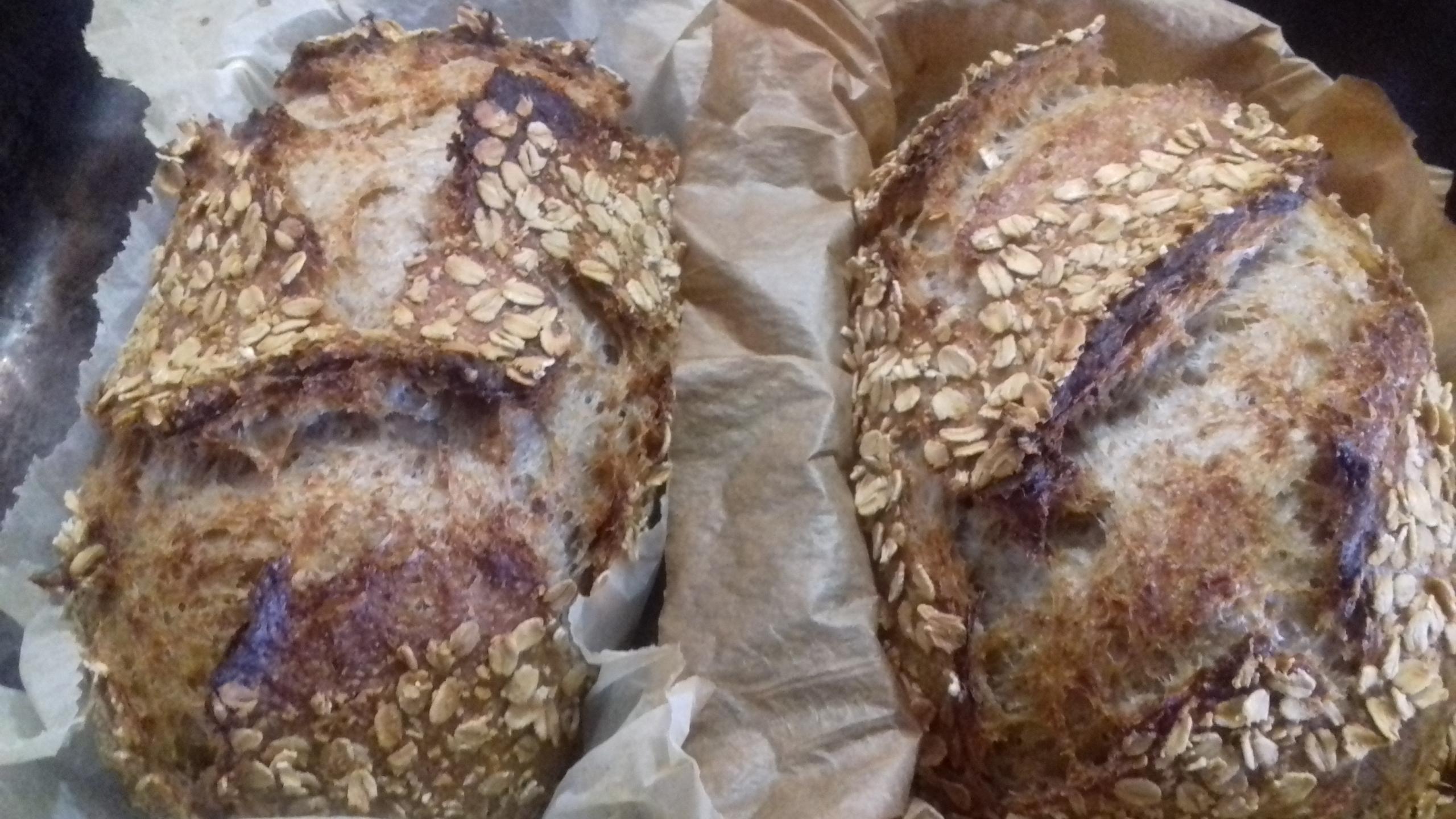 I was very eager to slice open a loaf this morning. The crumb is amazing; soft, supple, almost shreddable, with a wonderful, mild and wholesome taste. Crust is thin and crackly. I can (and did) eat this untoasted with nothing on it, it was that good!
I will definitely attempt this one again, maybe trying one loaf free-standing to see how badly it spreads.
Earlier in the week
Have become totally enamored of Wally's (Larry) rye loaf, I made another double batch, adding 10g of bread spices and swapping out 20g of T80 high-extraction flour in the bread-flour part of the formula. Just thought I'd document some of the steps, if anyone else would like to give it a try.
I love my starter. The rye sour had a nicer, rounder dome, but I dropped the bowl and sort of compacted things :-o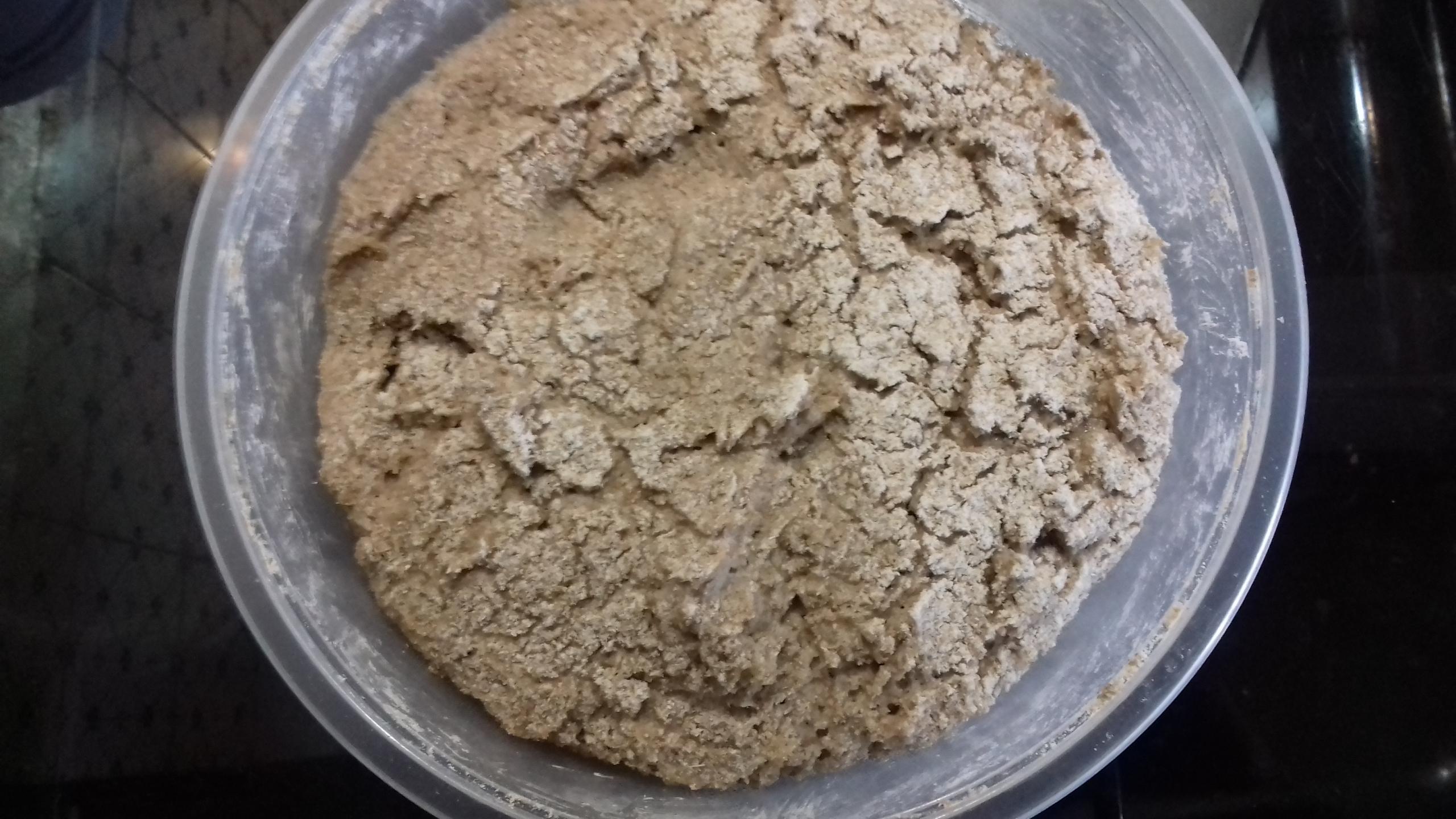 This is the clay-like dough after mixing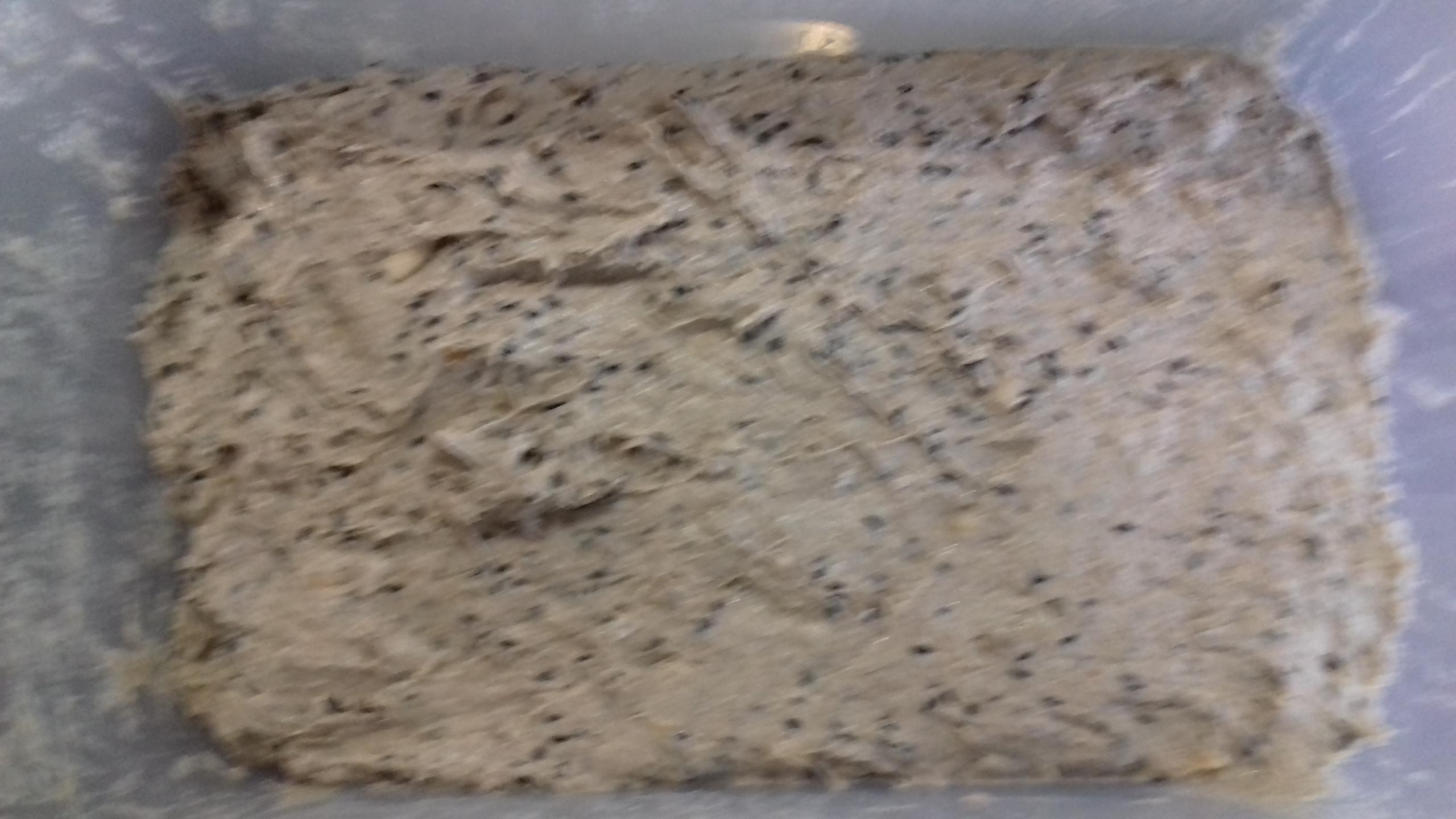 Scraped into pans and topped with seeds and flour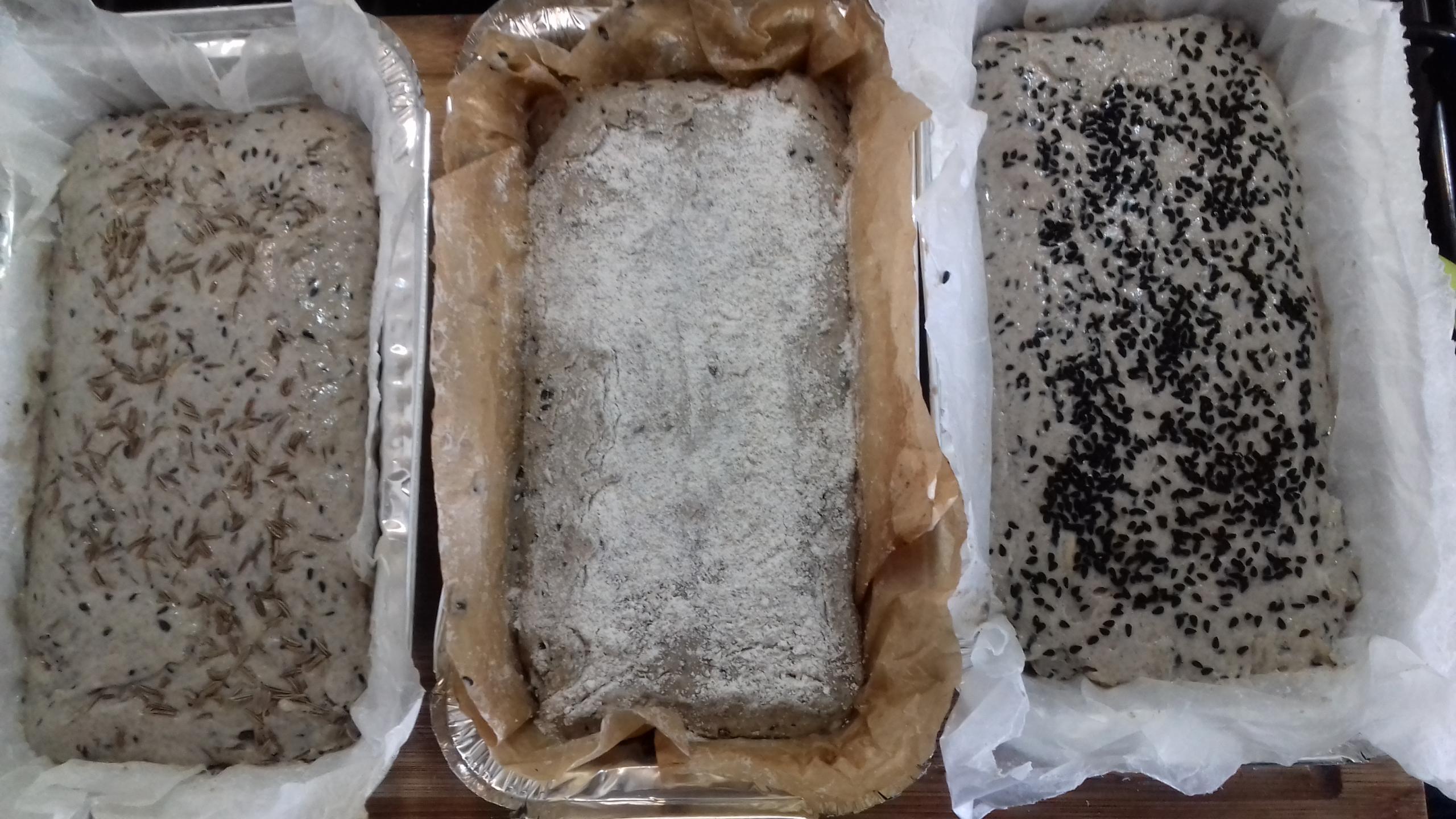 After an hour or so, almost ready for baking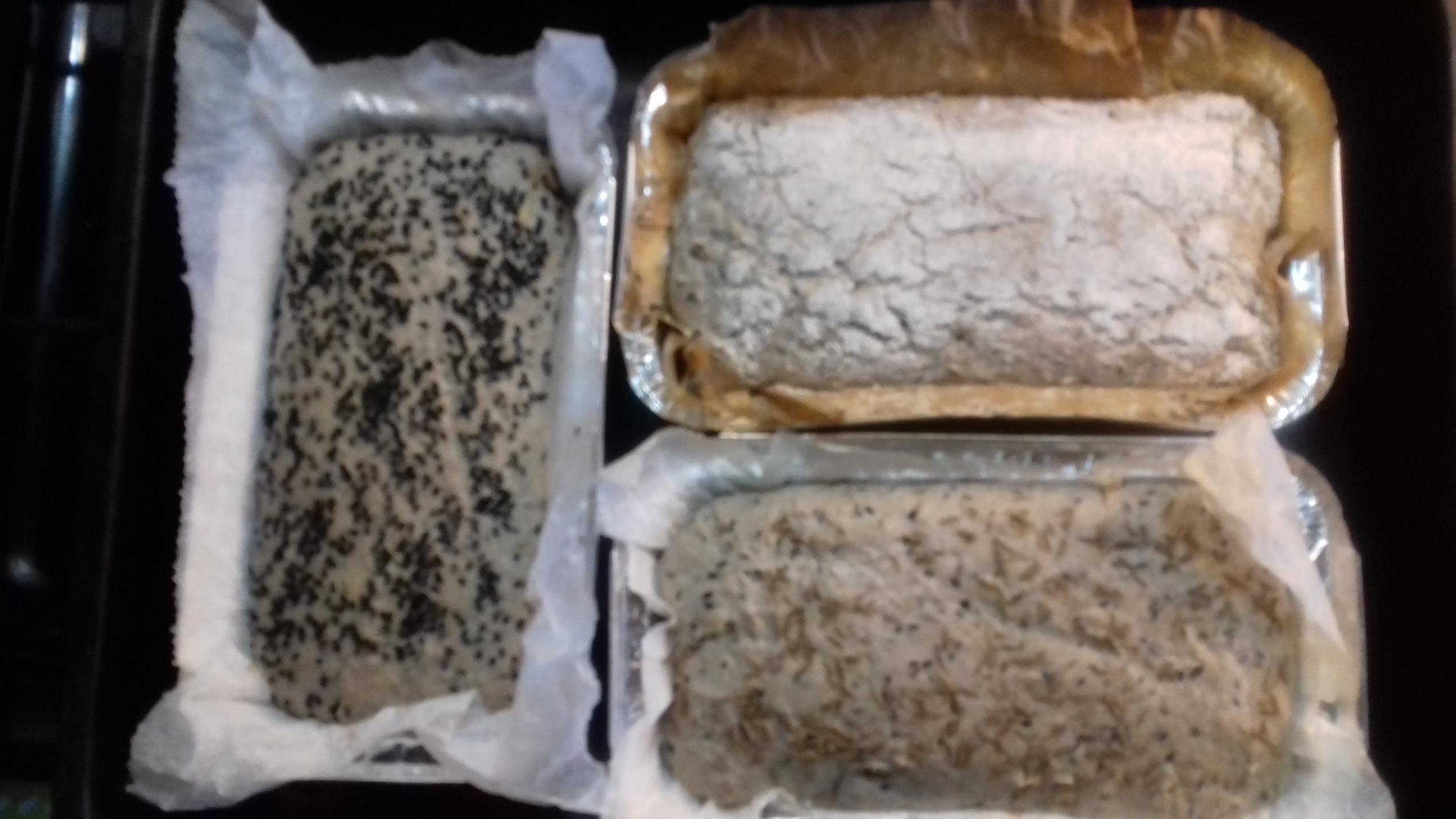 After 75 minutes with steam, starting at 230°, then stepping down to 210° and 190° at 20 and 35 minutes.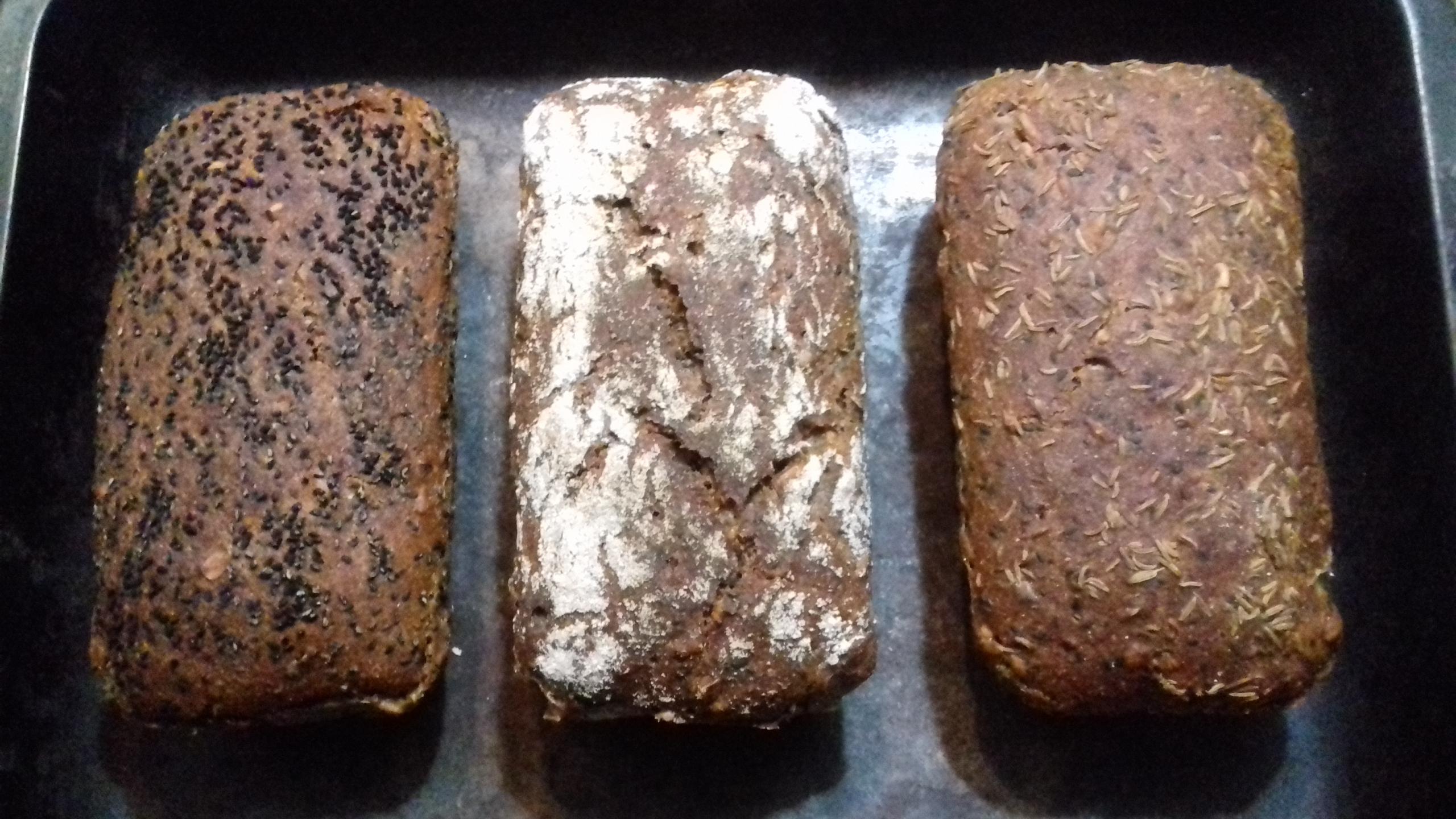 They've been cooled and wrapped. One has been reserved and is in the freezer; I'm not sure when I'll cut one open, since I've got the porridge bread to eat too! But the kitchen smelled wonderful during the bake.
Yum!
EDIT: Some newbie notes
I may be repeating/stating the obvious, but since I gather that I'm not the only one who's been intimidated by the prospect of making rye bread, here are just a couple of thoughts, based on a few bakes of this bread:
make the soaker in your final (so biggest) mixing bowl; that way, you can just add in the sour and mix till combined, then pour over your flours and go to town doing Rubaud. It's a work-out, for sure!
while clean-up is minimal (there's practically no bench work, if any at all), don't dawdle: once you've scraped your sour into the soaker, give the emptied bowl a quick swipe with a damp something disposable (I use the little kraft bags from the fruit and veg man, I believe Mini uses the plastic net used for packaging produce). Wheat flour, when dried, flakes off and cleans up fairly easily; rye turns into cement.
to figure out what to do once you've scraped your dough into their pans, Mark Sinclair's video can be extremely helpful
and all kinds of rye knowledge can be found on Mini's post for her 104% hydration rye
EDIT: Crumb shots
OK, it was too hard to resist, and I guess I'll just have to double up on my bread eating. I'm really happy with this crumb and the taste, love that I can slice this to about 1.5mm thin!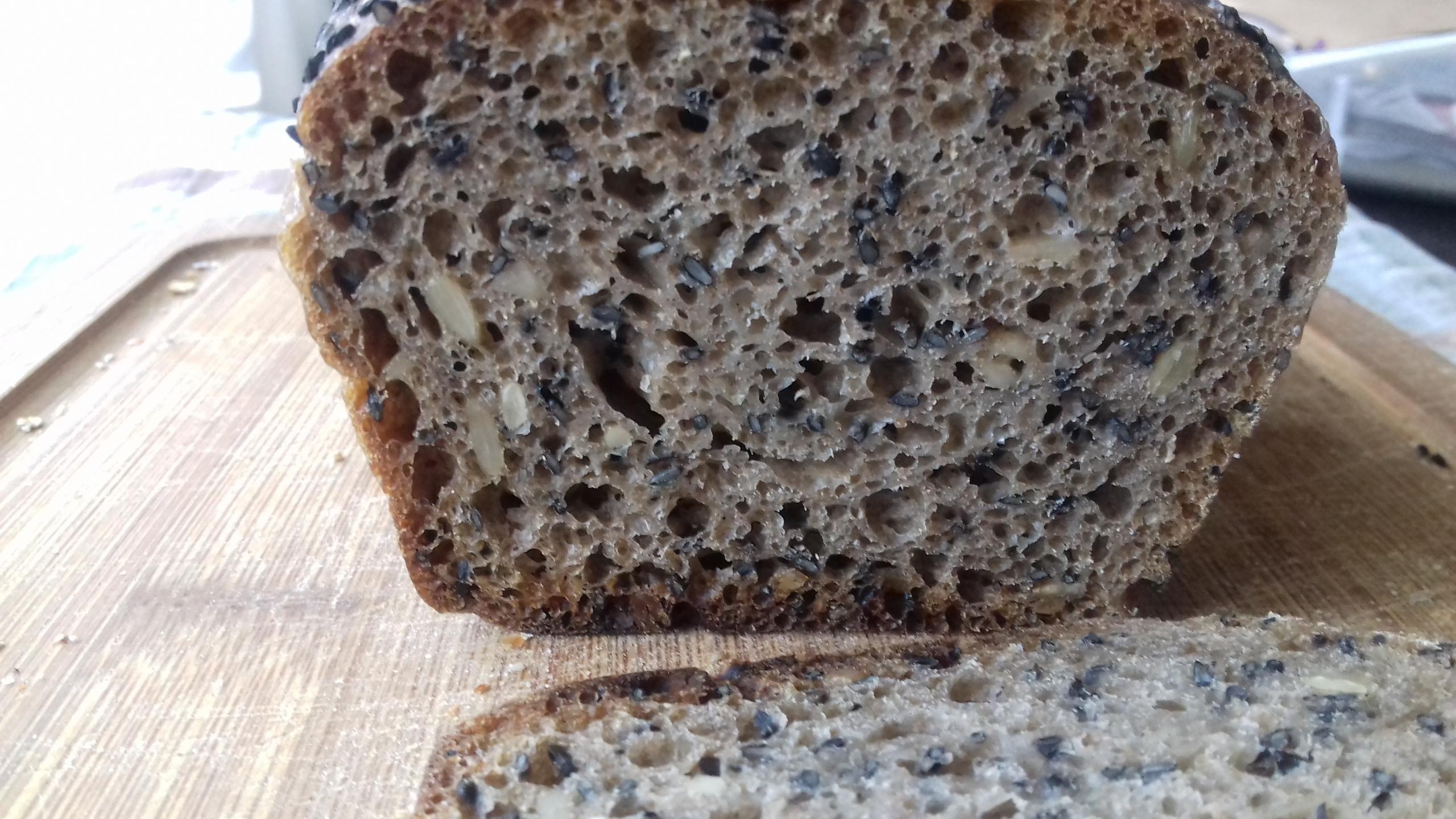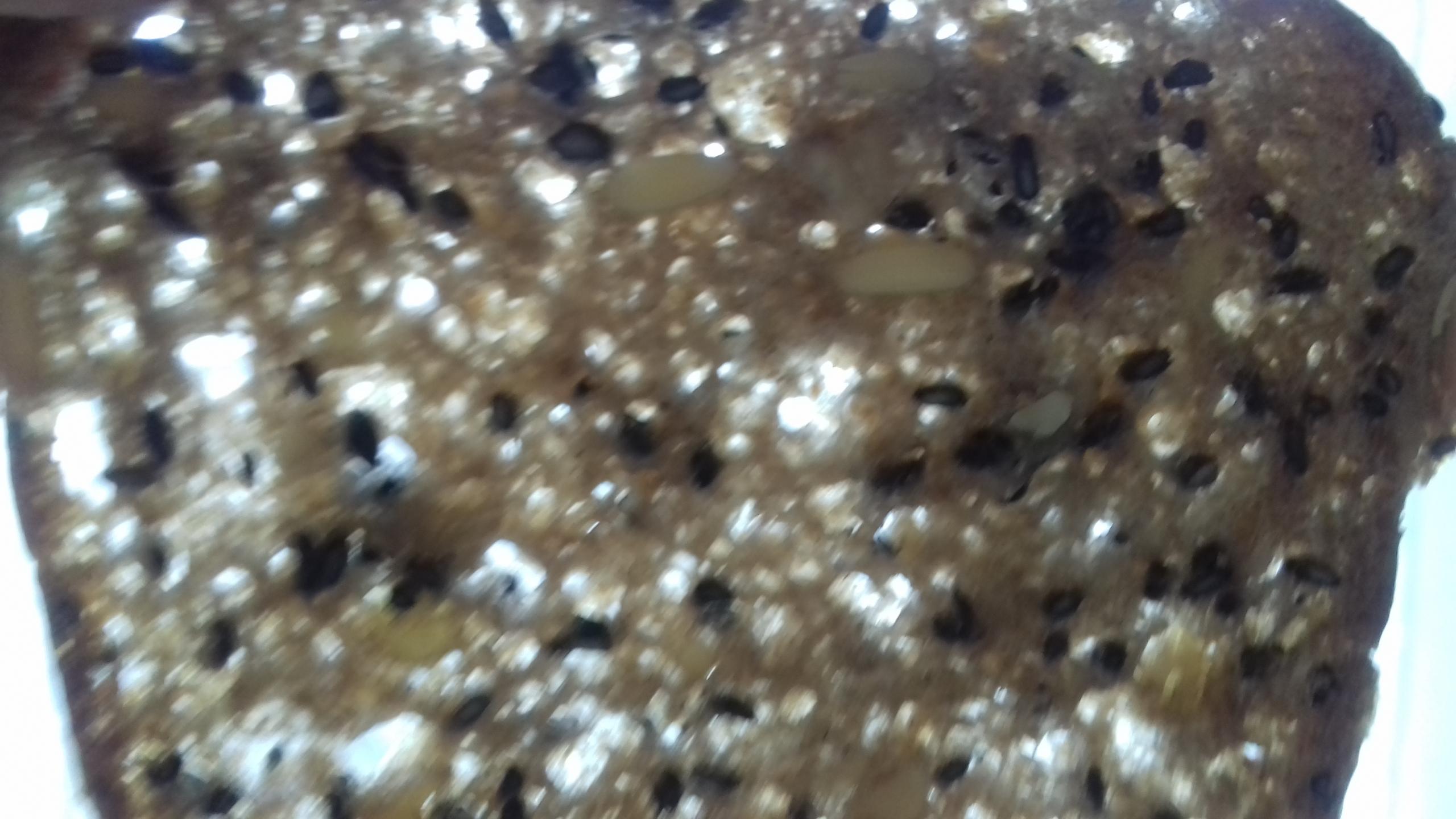 Those are black sesame seeds; I thought I had a bag of golden ones, but couldn't find them.
Now, how can I tweak this? Up the percentage of whole-wheat flour in the bread-flour part of the equation? Use beer instead of water? Once I get a YW going (when it gets warm enough), I might try that… Or should I not tweak?
Am now tempted to take a shot at Mini's 104% hydration all-rye…