Hamelman's Five-Grain -- My Bake
Inspired by the Community Bake a month or so ago, I decided to take a stab at Hamelman's Five-Grain Levain recipe.  This turned out to be a really delicious bread, which my wife likes a lot too, and there will be more loaves baked in the future.
For the Liquid Levain, I used my trusty starter (50 g), bread flour (250 g), and water (313 g).  I could not find any cracked rye easily available, so I ordered some rye chops online.  (Question for those who baked this loaf: Where can I get cracked rye?)  The Soaker then became rye chops (92 g), flaxseeds (92 g), sunflower seeds (77 g), oats (77 g), salt (6 g), and water (406 g).  Even though Hamelman states in his book that boiling water is not needed if rye chops are used instead of cracked rye, I opted to boil.  The oats were a generic kind that my wife microwaves for breakfast each day (i.e., nothing special).
The Final Dough consisted of bread flour (500 g), whole wheat flour (250 g), most of the liquid levain (563 g), the soaker (all), some instant dry yeast (1 tsp), salt (18 g), and water (261 g).  I included the yeast because I wanted the finished bread to be available by mid-afternoon.  In addition, my kitchen was 68dF, the levain and flour were 66dF, and the soaker was 64dF.  Even with 110dF water the dough temperature turned out to be 72dF at the end of some vigorous mixing by hand.
Vigorous mixing indeed.  After five minutes, there was still some dry flour in the bottom of the 12-quart Cambro tub, and my hand was encased in a glop of various seeds and wet sticky dough.  Eventually I managed to keep flopping the dough mass around until all of the dry flour became part of the mass, at which point I began some serious pinching and twisting of the dough to get some good gluten development ensured.  I also wanted to be certain that all of the various ingredients were somewhat evenly distributed, which I suspect is much more easily accomplished with a stand mixer.  On the other hand, this is a pretty sturdy dough that would challenge the motor of my KitchenAid, and I tend to use it only for things like ciabatta.  After a few more minutes I concluded that nothing much more was going to be achieved other than wearing out my hand and arm, so I stuck my Thermapen into the dough, recorded the 72dF dough temperature, and put the lid on the tub.
I went with Hamelman's forty-five minute rest before doing a set of stretch-and-folds, but with a cool kitchen I figured that a bit more time of bulk fermentation might be needed.  After another seventy-five minutes things looked right for pre-shaping.  The dough by then had expanded nicely, and several looks at the bottom of the tub revealed a nice collection of bubbles forming in the dough.  Pre-shaping was smooth, and as can be seen, a twenty minute bench rest saw only a little flattening (definitely no pancakes -- this is a rugged dough).

Typically I make two loaves, one baked in a Dutch oven, and the other on a baking stone.  Both began at 460dF.  After twenty minutes I removed the lid on the Dutch oven, and that loaf (the boule) went for another twenty-nine minutes.  (Heeding Hamelman's admonition to bake fully because of the increased hydration, I checked the internal temperature several times and was a little surprised to see how long it took even to reach 200dF.  In the end both were around 208dF.)  For the batard on the stone, I dropped the temperature to 435dF after thirty minutes and then had to put an aluminum foil tent over the loaf at the thirty-three minute mark. The batard baked for a total of fifty minutes.  These loaves were hefty too, weighing in at 1145 g for the batard and 944 g for the boule.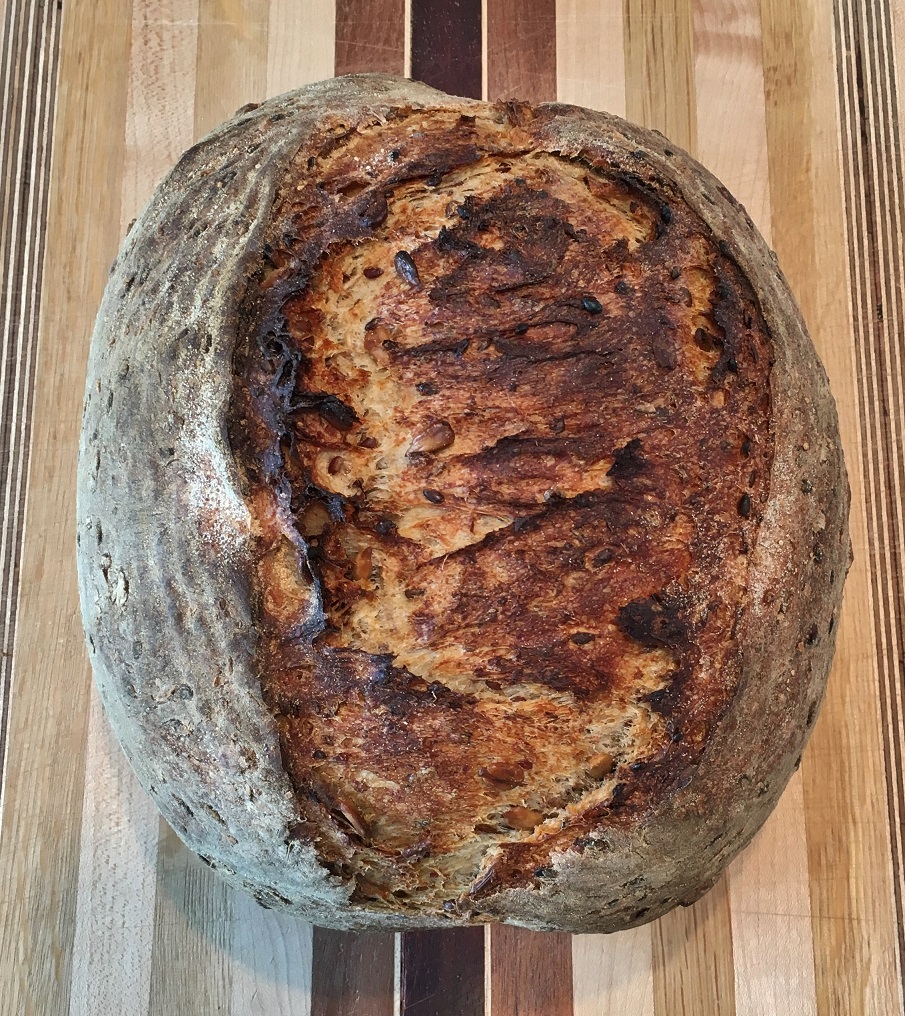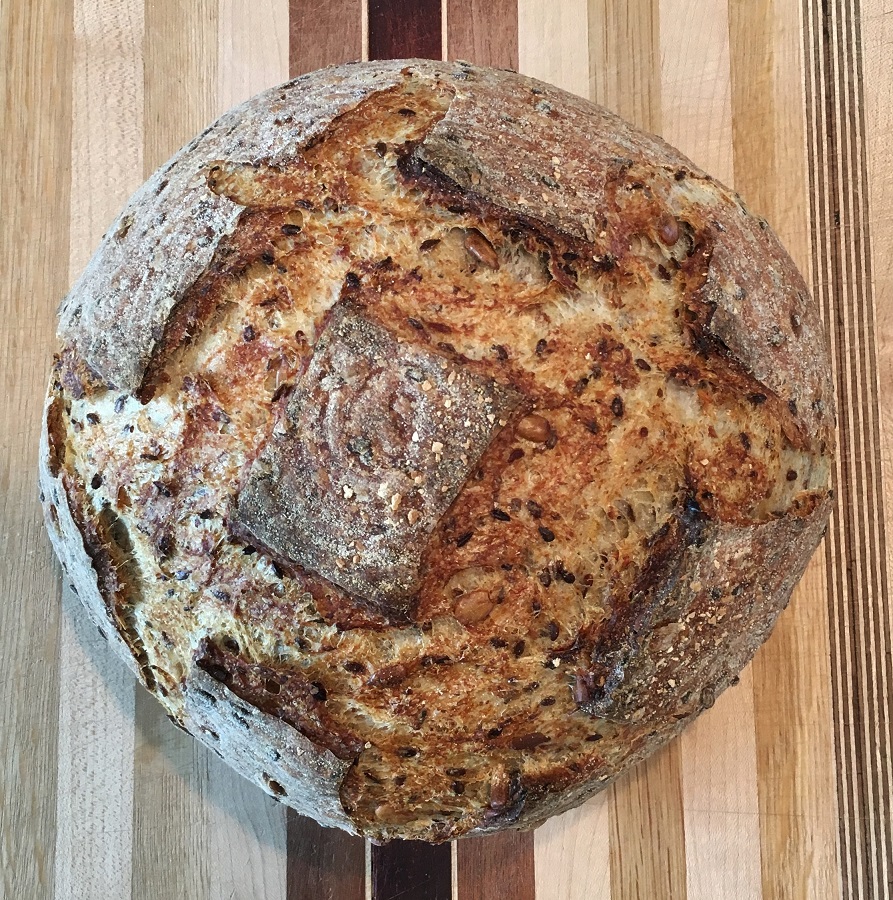 We put the boule into the freezer, but ate some of the batard for dinner.  Here is a crumb shot.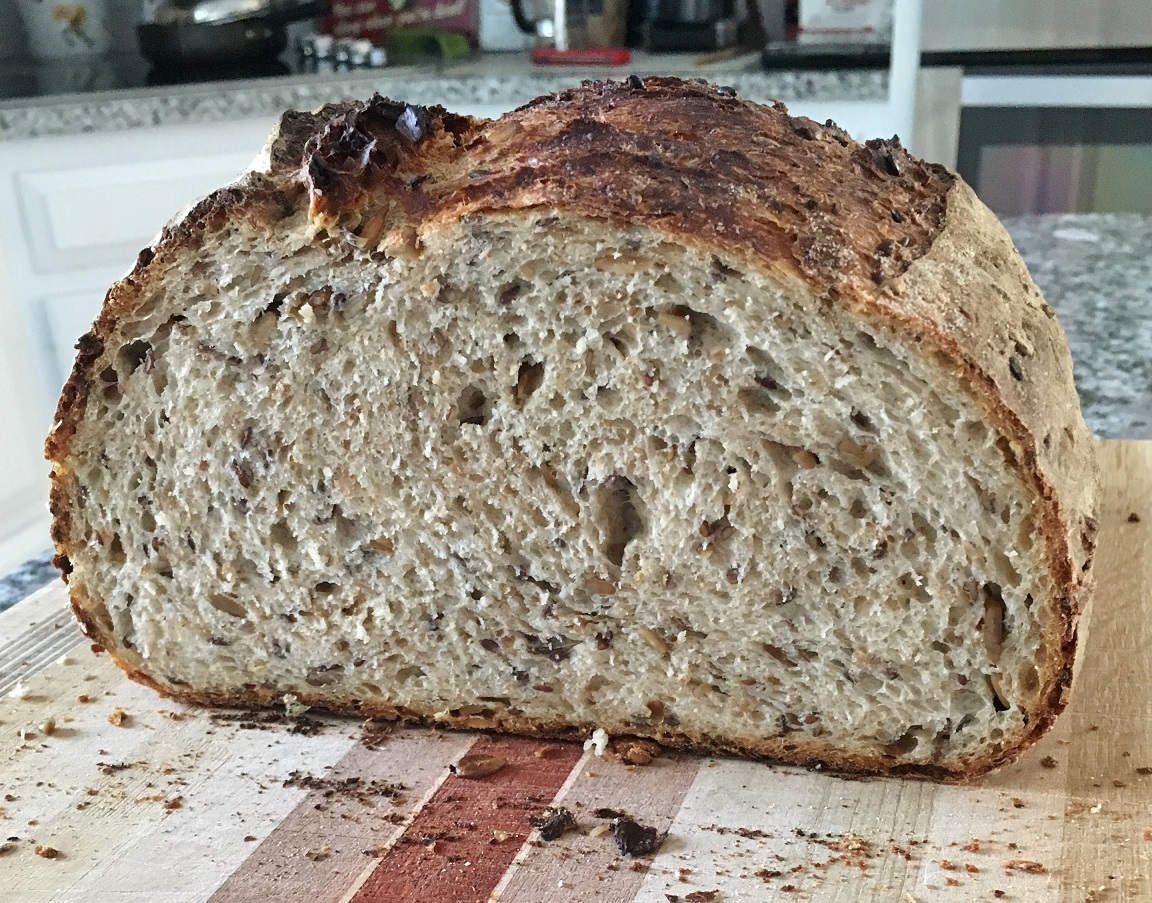 Many thanks to Danny for organizing the Community Bake, without which I wouldn't have baked this bread so soon.  Thanks also to those who posted in that thread, which I read in part several times and which provided helpful information.  Next time I will likely omit the instant dry yeast, and I will incorporate cracked rye if I can locate any without too much trouble.  For someone who usually bakes bread composed of the four basics (flour, water, salt, and starter), this was an interesting experience in handling a dough with multiple add-ins and different characteristics.  The reward was the pleasure of tasting a new bread.  Albeit my participation in the Community Bake was a bit belated, I hope that someone who has not yet made this bread might find some inspiration too and realize one of the benefits of being on TFL.