Sourdough Yeast, growth rates at various temperatures
There is a graph going around which compares the growth of yeast to LAB across the temperature range.  The yeast being compared is C. milleri.  What disturbs me about this graph is that people interpret it as being the only yeast relevant to their sourdough.  It's not.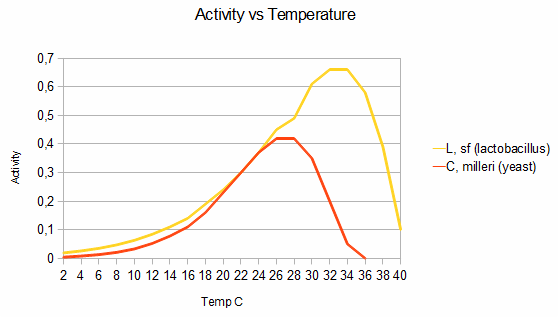 C. milleri is not the dominant yeast species in ANY of the 567 sourdough samples genetically analysed by the http://robdunnlab.com/projects/sourdough .  However, a lot of research has found C. Milleri to be present in the most powerful starters. Most of the older sourdough samples (the best and most well known) are dominated by the famous and well known Saccharomyces cerevisiae.
S. cerevisiae has been studied quite a lot, and its temperature dependent growth is fairly well studied and modelled [1][2][3][4].
I include a much better graph for this yeast (the upper solid line marked "Sc" is Saccharomyces cerevisiae.  The lower dotted line is irrelevant).
I think both yeasts are relevant.  The optimal temperature for maximizing your starter's leavening capacity [Edit: probably not, too many complicating factors, especially LAB competition] probably depends on what temperature you've been keeping it at (and thus the balance of yeasts), but I would expect it to be around 29-30C, which is damn good for both of these yeast varieties.
[1] Cheung et al., 2015, The Effect of Temperature on the Growth Rate of Saccharomyces cerevisiae.
[2] Mensonides, F.I.C., Schuurmans, J.M., de Mattos, M.J.T, Hellingwerf, K.J. and Brul, S. 2002. The metabolic response of Saccharoymces cerevisiae to continous heat stress. Molecular Biology Reports, 29: 103-106.
[3] Authur, H., and Watson, K. 1976. Thermal adaptation in yeast: Growth temperatures, membrane lipid, and cytochrome composition of psychrophilic, mesophilic, and thermophilic yeast. Journal of Bacteriology, 128 (1): 56-68.
[4] Salvado, Z., Arroyo-Lopez, F.N., Guillamon, J.M., Salazasr, G., Querol, A., and Berrio, E. 2011. Temperature adaptation markedly determines evolution within the Genus Saccharomyces. Applied and Environmental Microbiology, 77 (7); 2292-2302.  https://www.ncbi.nlm.nih.gov/pmc/articles/PMC3067424/