February 12, 2019 - 9:29am
This is a 76% hydration ciabatta modeled on that of Scott McGee.    Unusual in the low hydration and that he shapes these.
Dinner the other evening with friends for "Sunday macaroni and gravy", which may be an Americanism for pasta with tomato sauce.  Also includes sausages, meatballs and ribs, all cooked in the "gravy".  I hadn't made a ciabatta in a while, so it was off to the races as part of our contribution to dinner.  
Today I'm once again seeing our visiting-the-U.S. London TFL compatriot Abe (in olden days "Lechem" and even older "A BakEr").  So I thought that I'd bake him one too.  But I wanted to bake something bigger.  Bumped up from 500g to 750g each, they are pretty easy to make, The biga was made the evening before and then warehoused in the refrigerator until mix time.  I've tried the Jason Molina Cocodrillo ciabatta quite a while back, and although it is a cinch to make, the flavor is lacking, so I ditched the effort and formula after two consecutive trials.
These were stretched out long enough that I had to load the baking deck sideways instead of head in.  13 minutes with steam, 16 minutes after, and 3 minutes of venting.  These could have gone a few minutes more.  
If you are a fan of the super open ciabatta crumb that mice and small children can fall through, this isn't the formula for you.  But it is a ciabatta in every way, with modest open crumb,  thin crisp crust, and a light as a feather crumb. And makes fabulous toast.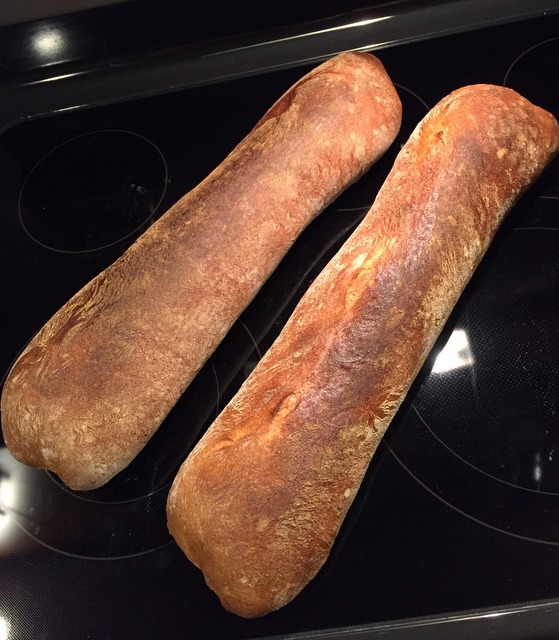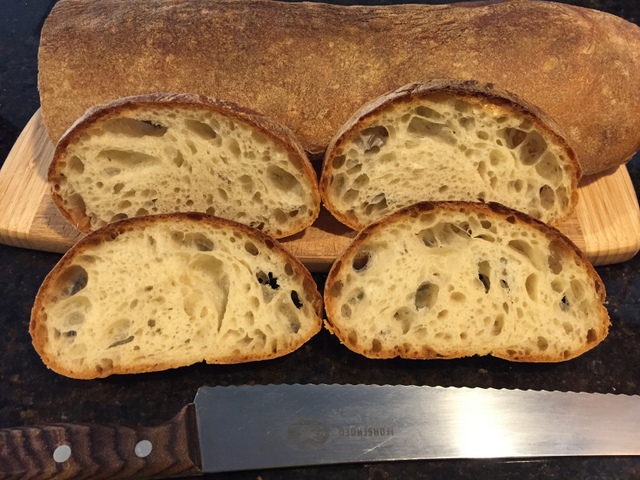 And as toast: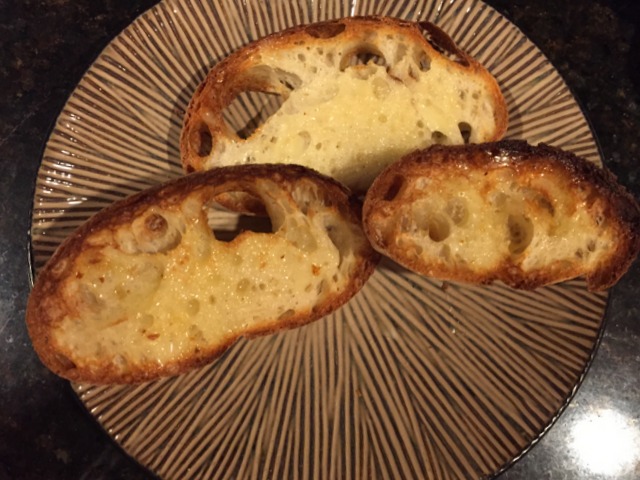 Ciabatta w/Biga @76% Hydration
 
 
 
 
 
 
 
Scott MeGee, alfanso
 
 
 
 
 
 
 
 
500g  will yield 3" diameter loaves - small 
 
 
 
 
 
 
 
 
 
 
 
 
Total Flour
 
 
 
 
 
Total Dough Weight (g)
 
1500
 
Prefermented
40.00%
 
 
 
 
Total Formula
 
 
 
Biga
 
 
Final Dough
 
 
Ingredients
%
Grams
 
%
Grams
 
Ingredients
Grams
 
Total Flour
100.00%
825.5
 
100.00%
 
 
Final Flour
495.3
 
Bread Flour
100.00%
825.5
 
100%
330.2
 
Bread Flour
495.3
 
Water (cold in final dough)
76.00%
627.4
 
66%
217.9
 
Water cold
327.6
 
 
 
 
 
 
 
 
bassinage
81.9
 
Olive Oil
3.00%
24.8
 
 
 
 
Olive Oil
24.8
 
Salt
2.10%
17.3
 
 
 
 
Salt
17.3
 
IDY
0.60%
5.0
 
0.14%
0.46
 
IDY
4.5
 
 
 
 
 
 
 
 
Biga cold
548.6
 
Totals
181.70%
1500
 
166.14%
548.62
 
 
1500
 
 
 
 
 
 
 
 
 
 
KA mixer: "1",  "2" & "6" to incorporate, 2nd hydration @ "4"to add, "6" to mix, "8" to finish.
 
 
 
 
 
 
 
 
 
 
 
In mixer: IDY into COLD water, COLD biga, flour.  MIX ON "1" until water is taken up, then "2" until shaggy.  Pinch and fold.
Remove dough from mixer,  ~50 FFs, 5 min rest, 50 FFs.
 
 
 
 
 
 
Back to mixer: bassinage of COLD water, salt and olive oil ADD VERY SLOWLY - MIXER ON"4" THEN  "6" & "8" to finish.
Mix done with slapping sound, pulling off bowl onto hook, then dropping back to bowl again.
 
 
 
 
 
 
 
 
 
 
 
 
bulk proof - 2 hr., 3 folds - 0, 40, 80
 
 
 
 
 
 
 
 
scale at 500g, no pre-shape, couche seam side up
 
 
 
 
 
 
 
40 min final proof
 
 
 
 
 
 
 
 
Roll and stretch dough as it goes to baking peel
 
 
 
 
 
 
 
Preheat @480dF
 
 
 
 
 
 
 
 
Bake w/ steam @460dF, ~13 min, another ~15 min, then vent