October 17, 2018 - 2:20pm
I chanced upon a long TFL post Chasing thin, crispy, not thick/tough dough A comment by Mariana regarding a 100% sponge method loaf caught my eye. I think Mariana made it in a bread machine, but the loft was incredible. I've been thinking of making a tin loaf for a while, so this was the perfect opportunity.
It's a yeasted dough, but I did a couple of tweaks to add some extra flavour: addition of 10% Mockmilled whole wheat flour and addition of 13% leftover stiff levain I had in the fridge. Overall hydration was 64%, plus the butter.
Initial mix
270g Duchy bread flour
270g Waitrose Canadian bread flour
60g Mockmilled whole wheat flour
1.5g diastatic malt
24g warm butter
3g IDY
0.03g ascorbic acid
80g levain @ 56%
324g warm water
 Later Additions

12g salt (1.8%)
12g honey
24g dried skim milk powder
64g water
Process   
IDY creamed with 24g water at 40C
64g boiling water poured onto honey and skim milk powder - mix and allow to cool
300g water in mixer, add AA, then flours, levain, creamed IDY, malt, butter
Mix lightly - no gluten development
Rest for 3hrs 40 mins
Add honey/milk mix and mix in on slow, then add salt and mix in
Develop gluten - 5 mins on high speed
Bulk ferment at 28C for 30 mins
Shape to 1 x 900g tin loaf plus a very small "leftovers" loaf
Final proof 1 hour at 28C - dough nearly at top of tin.
Bake in oven at 230C with steam for around 50 mins until internal temp 95C
Thoughts
A crazy big loaf - I don't think i've ever made a taller one! Height was 185mm/7.25"
Nice crumb - not too open, which wouldn't have been appropriate, but not tight.
Mild but pleasant flavour.
Probably not a type of loaf I will make on a regular basis, but a nice occasional style.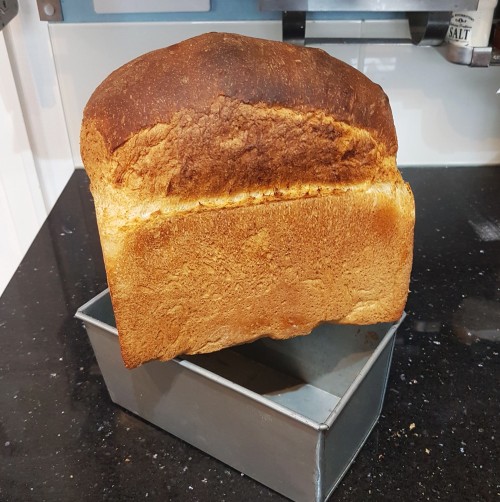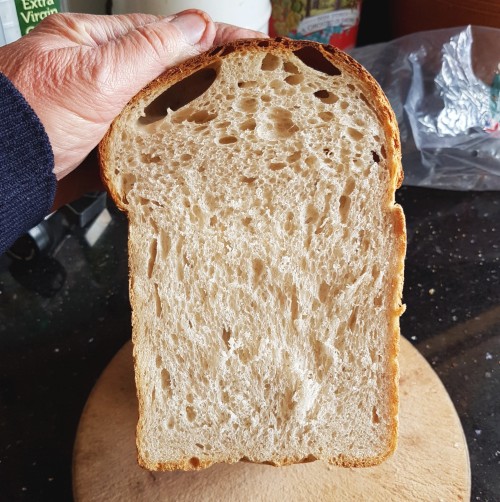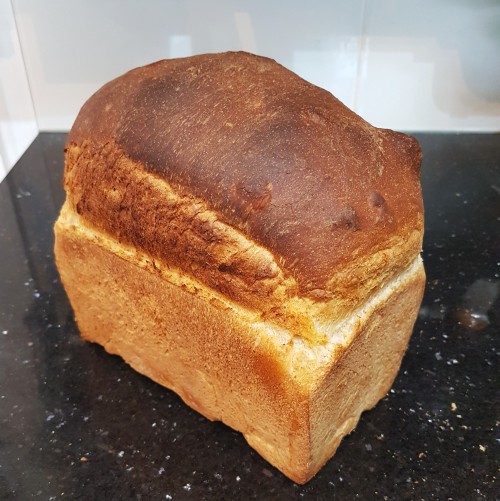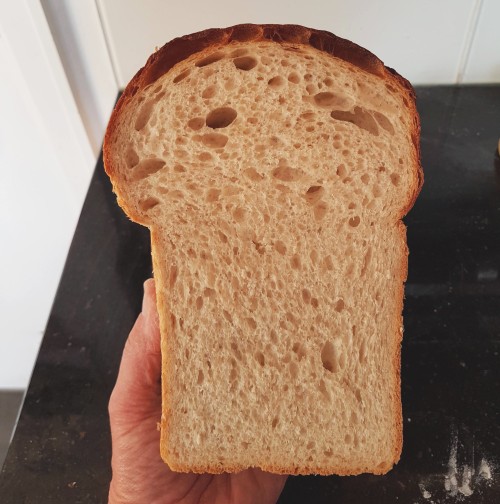 Lance