September 5, 2018 - 11:17am
Maurizio's baguette - upping the ante
Or at least upping the hydration.  My first two runs had the hydration at the prescribed 73% and then 70%.  That first at 73 presented issues with a too sticky dough being difficult to shape and then to extricate from a heavily floured couche.  The subsequent run at 70 yielded much better results as I documented earlier.

Not being satisfied enough with not being satisfied enough, and with a "lot" more experience, I threw some caution to the wind and ran with a 75% hydration.  The dough unsurprisingly was wetter to begin my pinch and folds and then French Folds, but once I breached the 20 FF mark everything settled down and continued as documented before.  

I could have had some better scores on two of these, particularly at the first two entries of the blade, in fact on the initial scores of all four baguettes.  But overall I'd classify this run as a success.

The dough was as soft and compliant as could be during the shaping and maintained a very workable and soft slackness to it.  In many ways it was quite a positive experience shaping these.  As soft as newly-fallen snow and the dough just about rolled itself out.

Again onto a well floured couche.  No problems releasing them from the couche to get onto the hand peel.

Notes:
The levain was mixed and then placed into my wine cooler at 65dF for approximately a full calendar day.  It was very bubbly on the surface and had just begun to recede as it approached its limit of food supply.  
The levain was added to the final mix at that 65 degree temp. So the final mix completed at 76dF instead of my typical 78.
An increase from 10 to 30 min. between pre-shape and shaping.  I'll continue doing this going forward as the shaping has shown signs of improvement with the additional rest period.
Less flour on the bench for shaping.
20-25 min. out of retard vs. my typical 0 min. before placing them onto the baking peel.
The crumb still maintains that creamy color, likely due to an all-white flour bread where the FFs can't approximate anything more than a short mix.
The area that has a tight crumb corresponds exactly with the two scores that had minimal oven spring.
Takeways.
A third run was "necessary to understanding" this dough.
I don't see much advantage of going from 70% to 75% hydration, except for the challenge of doing it.
I continue to get better at handling slack doughs at shaping time.  But I still prefer to work with stiffer doughs.
I've learned to let the dough rest longer between pre-shape and shape phases.
Another in the growing list of understanding control of the process through time and temperature.  Re: the levain build in the wine cooler. 
I never stop learning.
Getting ready to load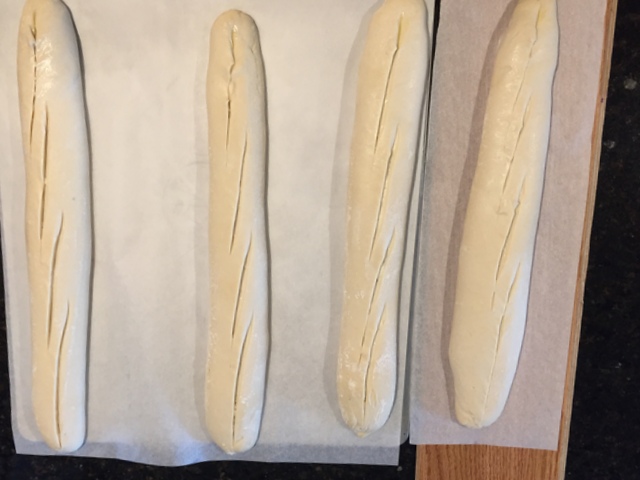 Steam released, baguettes rotated.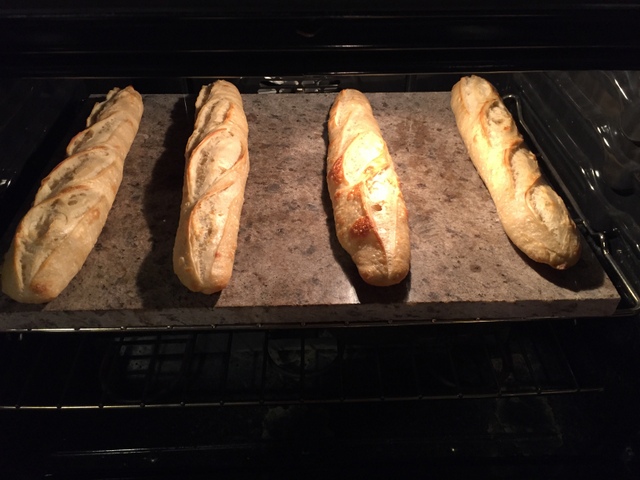 Top view.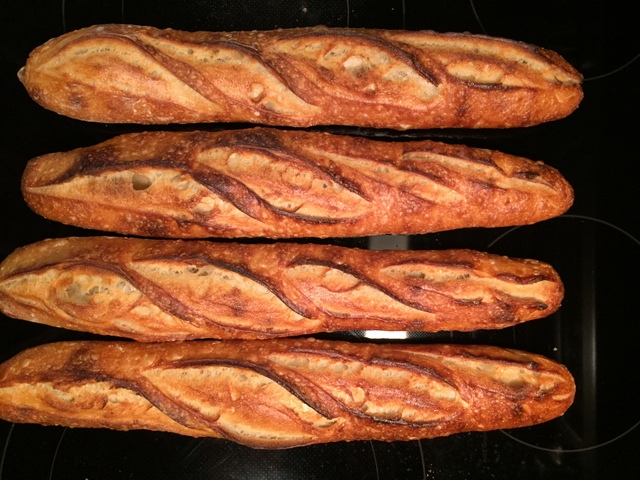 Waveforms.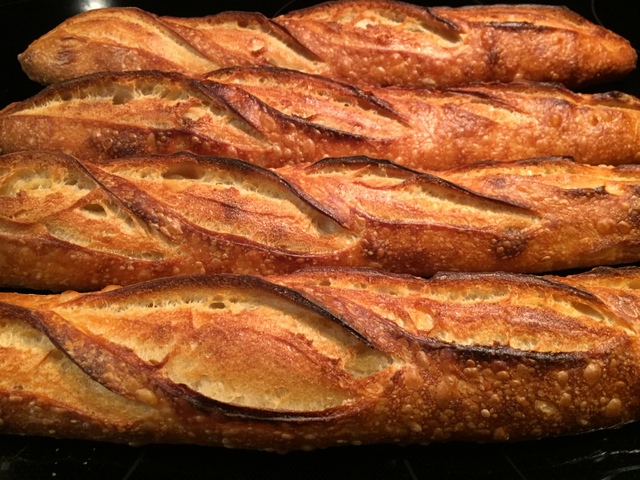 Bird's eye view of crumb.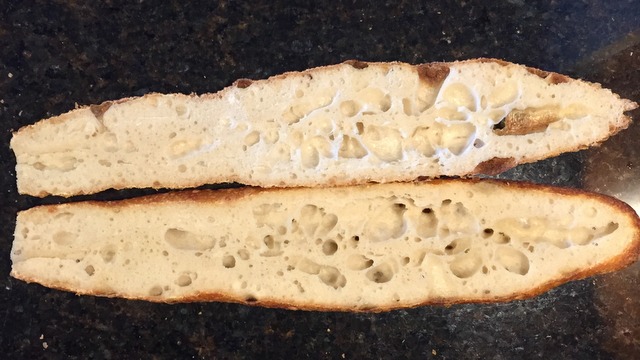 Snail's eye view of crumb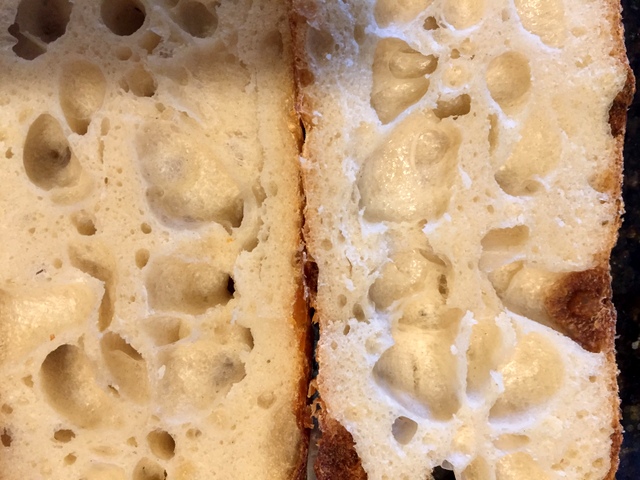 Considering the difficulty experienced in the first 73% run, I can say that I am pleased with the outcome.
alan