This is a simple bread to make and for rising involves only instant dry yeast (i.e., no sourdough starter).  My reasons for posting this in such detail are threefold.  First, perhaps a new baker might like to see what each step looks like.  (My bias I suppose -- photos helped me see whether I was on track when I was new to this craft.)  Second, experienced bakers who want a break from sourdough starter breads might be interested.  Third, this is a tasty bread and is very fast to make.  (For those used to long periods of waiting for sourdough stages to pass, this feels like baking in the fast lane.)
This bread uses a poolish that consists of all-purpose flour, water, and a tiny amount of instant yeast (barely an eighth of a teaspoon).

Those are combined in a bowl and then covered for an overnight (12-14 hours) at room temperature.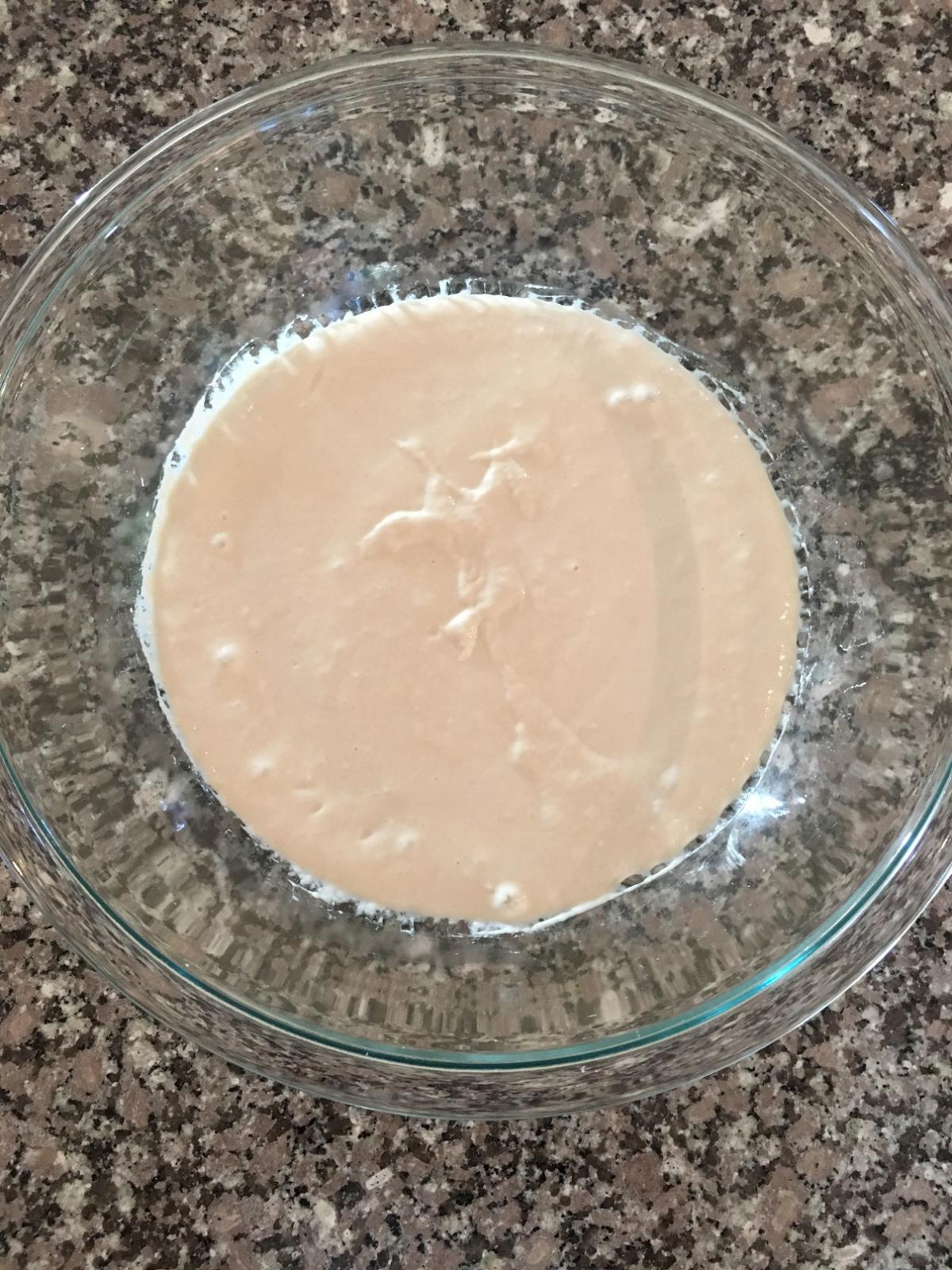 The goal is to reach a nice bubbly condition.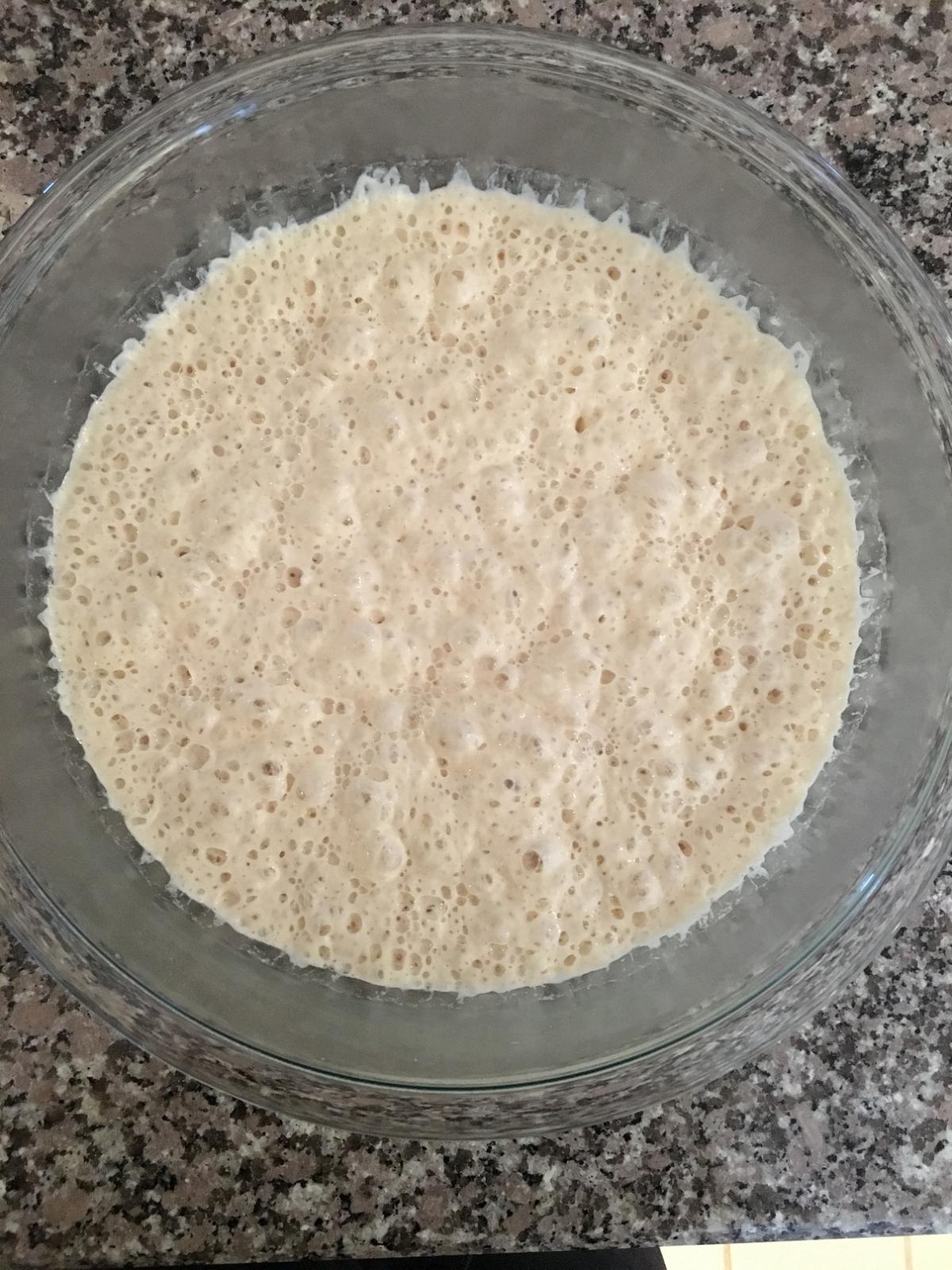 Along with the usual flour (all-purpose and some whole wheat), water, salt, and yeast, this bread includes wheat germ and wheat bran.  The first step of course is to weigh the various ingredients. [Note: Forkish uses 3/4 of a teaspoon of instant yeast, but I cut that back to 1/2 teaspoon based on prior experience with this dough.]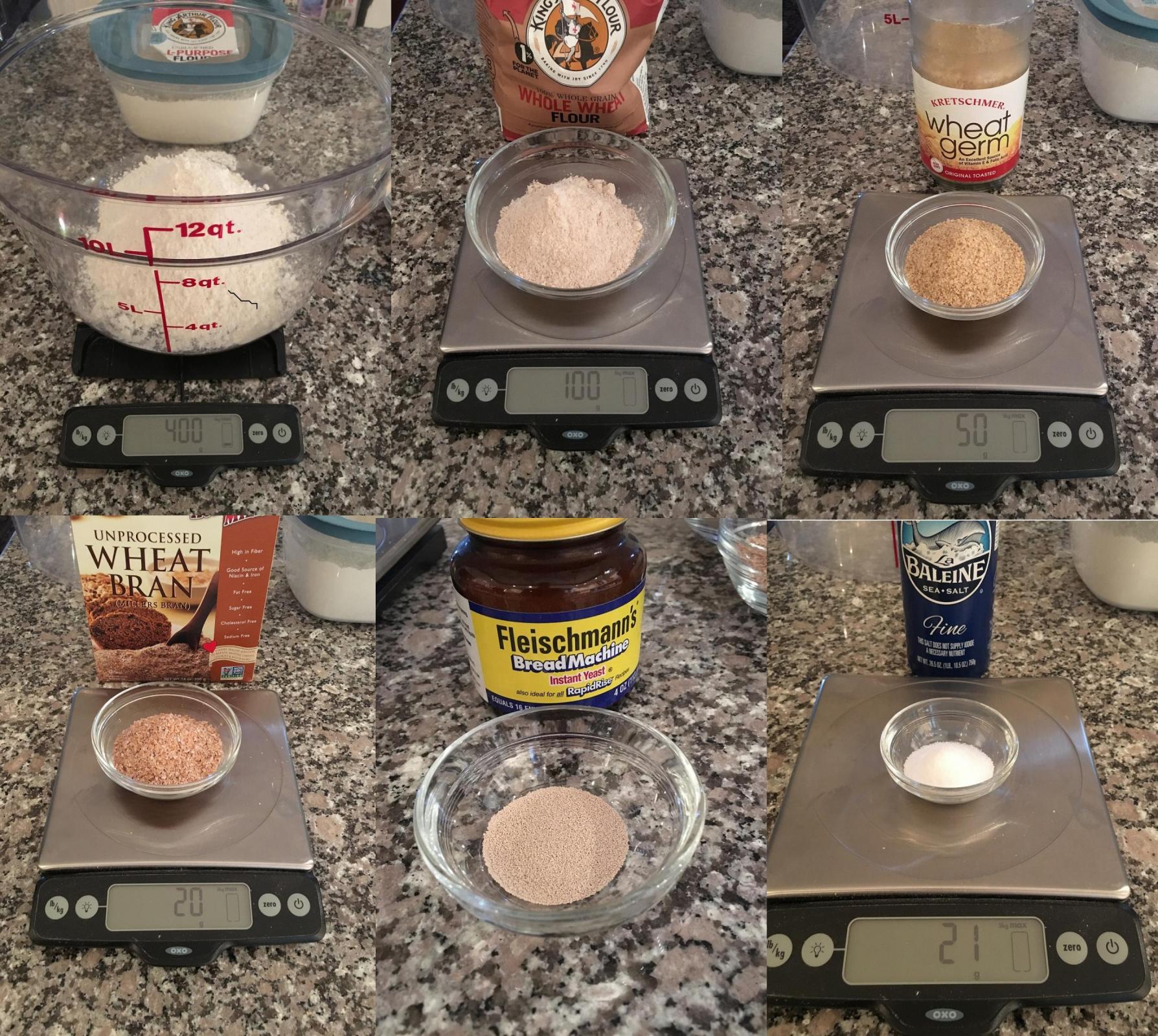 The dry ingredients are put together in my mixing tub (a 12-quart Cambro).  Water is added to the poolish and stirred a bit.  The dry ingredients are mixed with a whisk, and then the poolish/water is poured onto the dry ingredients.

In the beginning I use a dough scraper to help distribute the water and poolish among the dry stuff, but eventually I switch to using my hand.  A nearby bowl of water for dipping my hand helps to keep too much of the dough from clinging, but this is a sticky mixture.  Perhaps eight to ten minutes of pretty vigorous kneading (a combination of Forkish's pincer, Wilson's tugging, and some pulling) is followed by  letting the dough rest for about three minutes and then another couple of minutes of kneading to make sure I like the feel of the dough.  (It has developed some gluten, exhibits elasticity, and hangs together when I pull.)  I then check the dough temperature and put the lid on for a thirty minute period.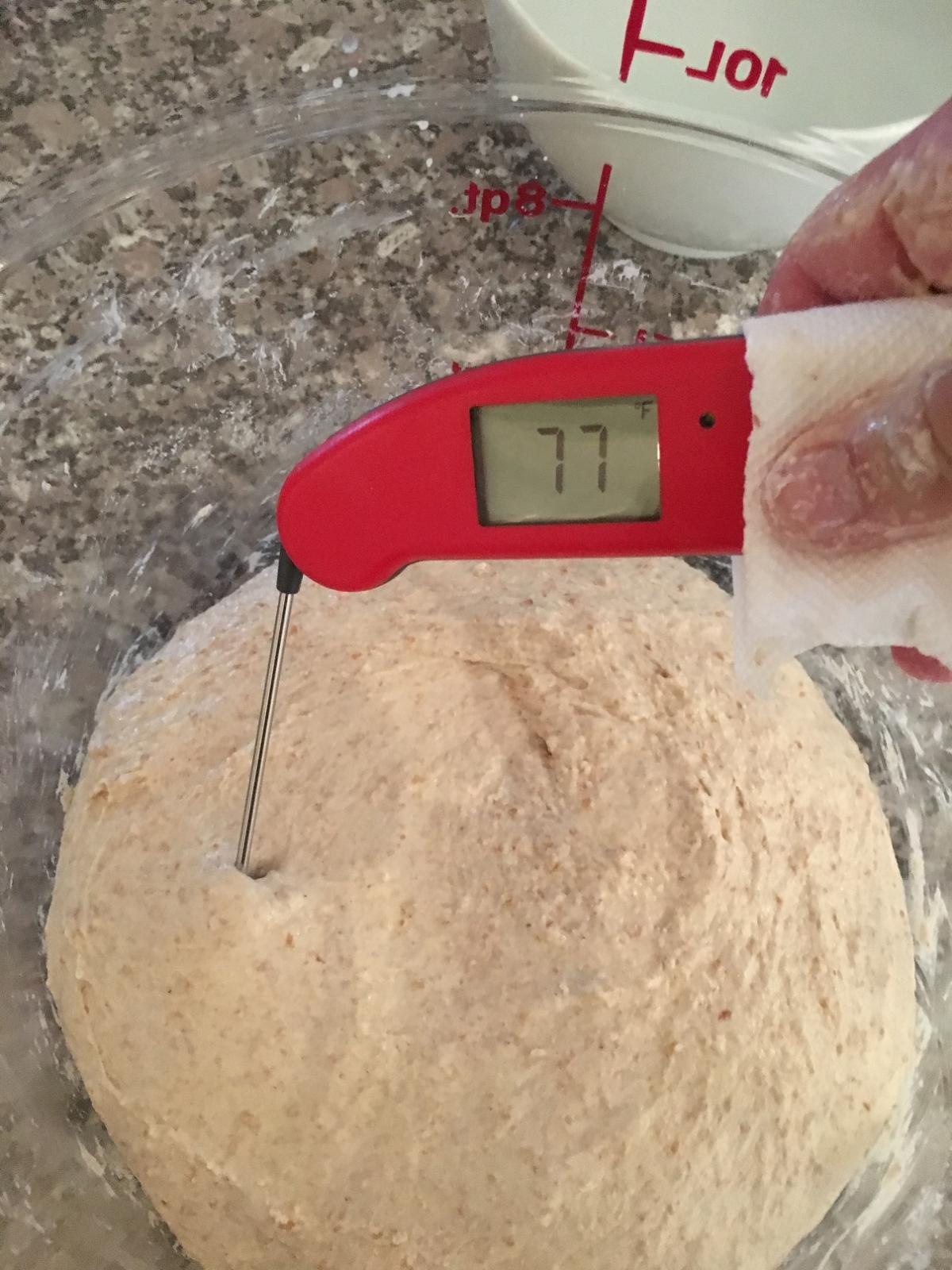 After thirty minutes I check the dough from the top and the side and then do a set of stretch and folds.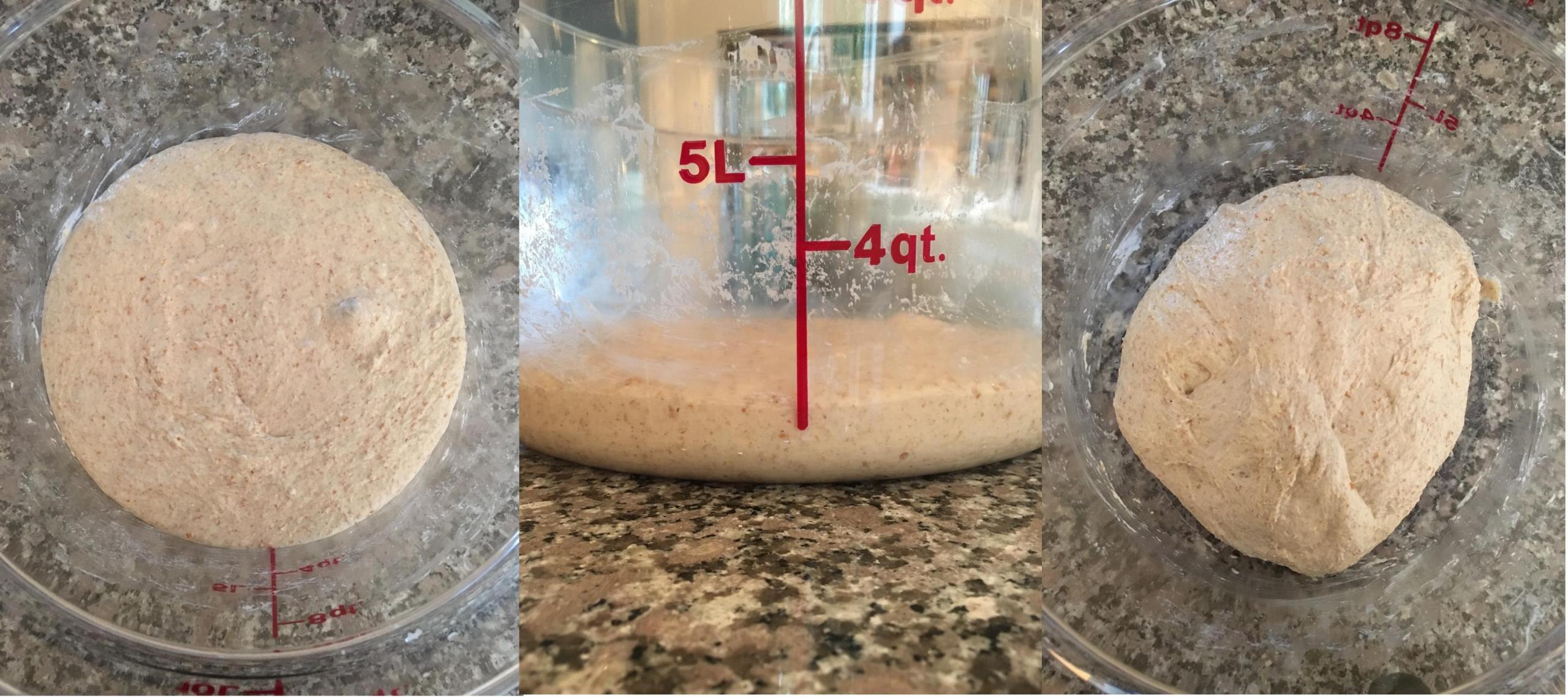 After another thirty minutes it is time for another set of stretch and folds.  The dough is beginning to rise and show some bubbles.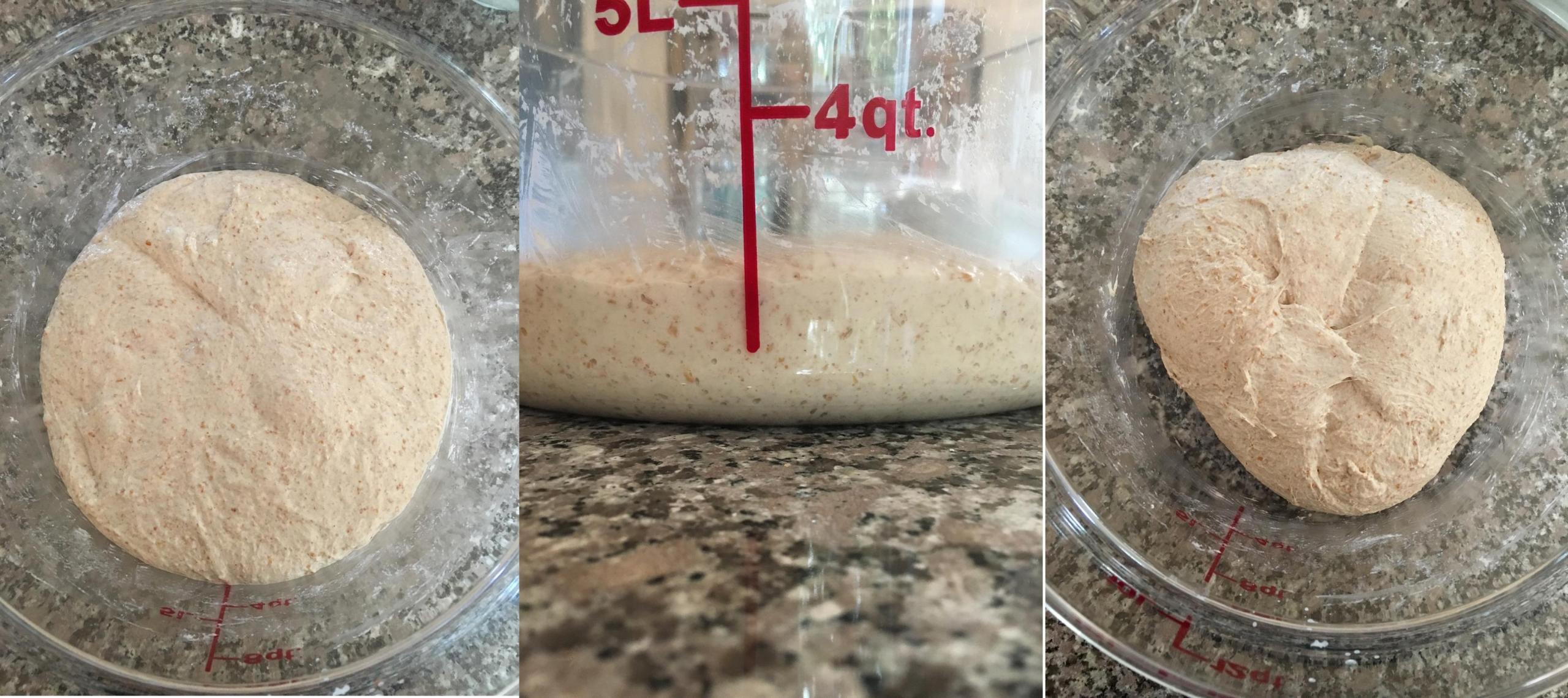 Forkish suggests two S&F sessions, so now it is time to watch the dough during the remainder of the bulk fermentation.  After one more hour, the dough had risen and there were enough bubbles, and the surface was looking puffy and a bit jiggly.  Time to pour the dough onto the countertop.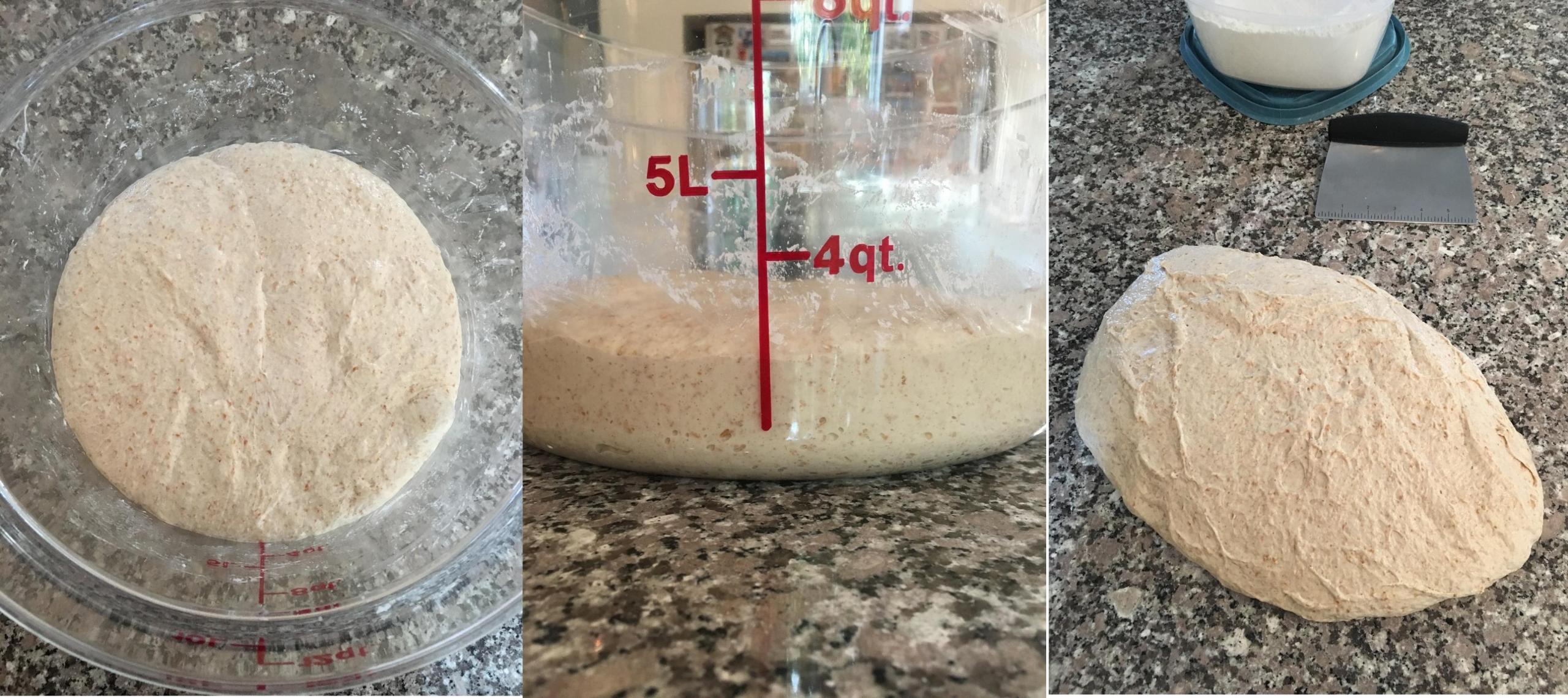 Although Forkish rarely includes a pre-shaping, I like to include them, if only to promote some extensibility before final shaping.  I pre-shaped into rounds, let them sit under a linen tea towel for ten minutes, and then did final shaping (one a boule and the other a batard -- still learning how to make that shape).

The dough then went into bannetons, which were placed in large plastic bags, sealed, and left at room temperature to proof.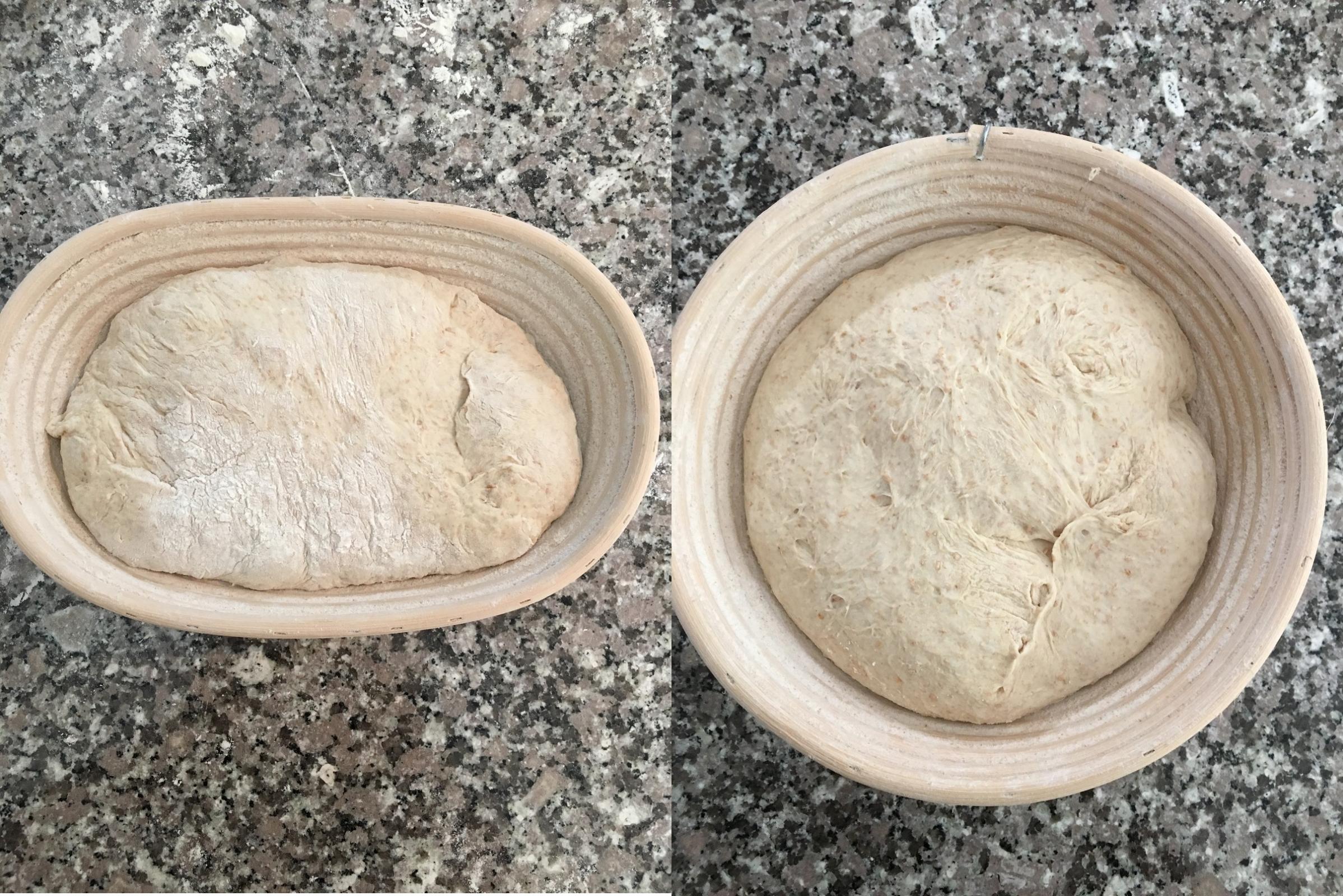 After a mere forty minutes (remember I said that this is baking in the fast lane) the loaves had risen noticeably and were ready for baking both visually and from the finger poke test.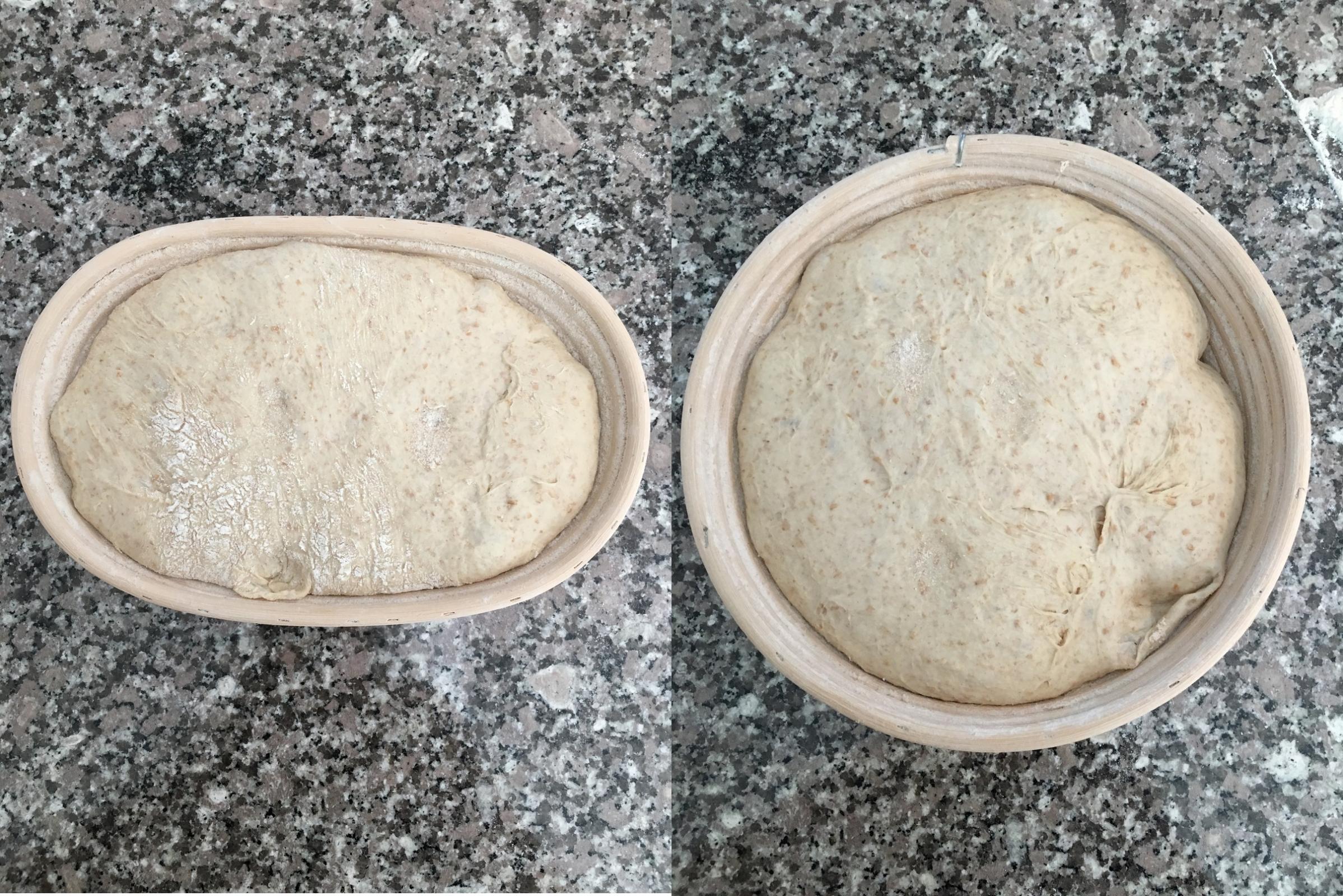 The batard went onto a sheet of parchment paper and after being scored was placed onto a peel and into the oven on a baking stone at 450F.  The boule was plopped onto my hand and then quickly cradled by both hands and placed into a Dutch oven, scored, and put into the oven at 475F.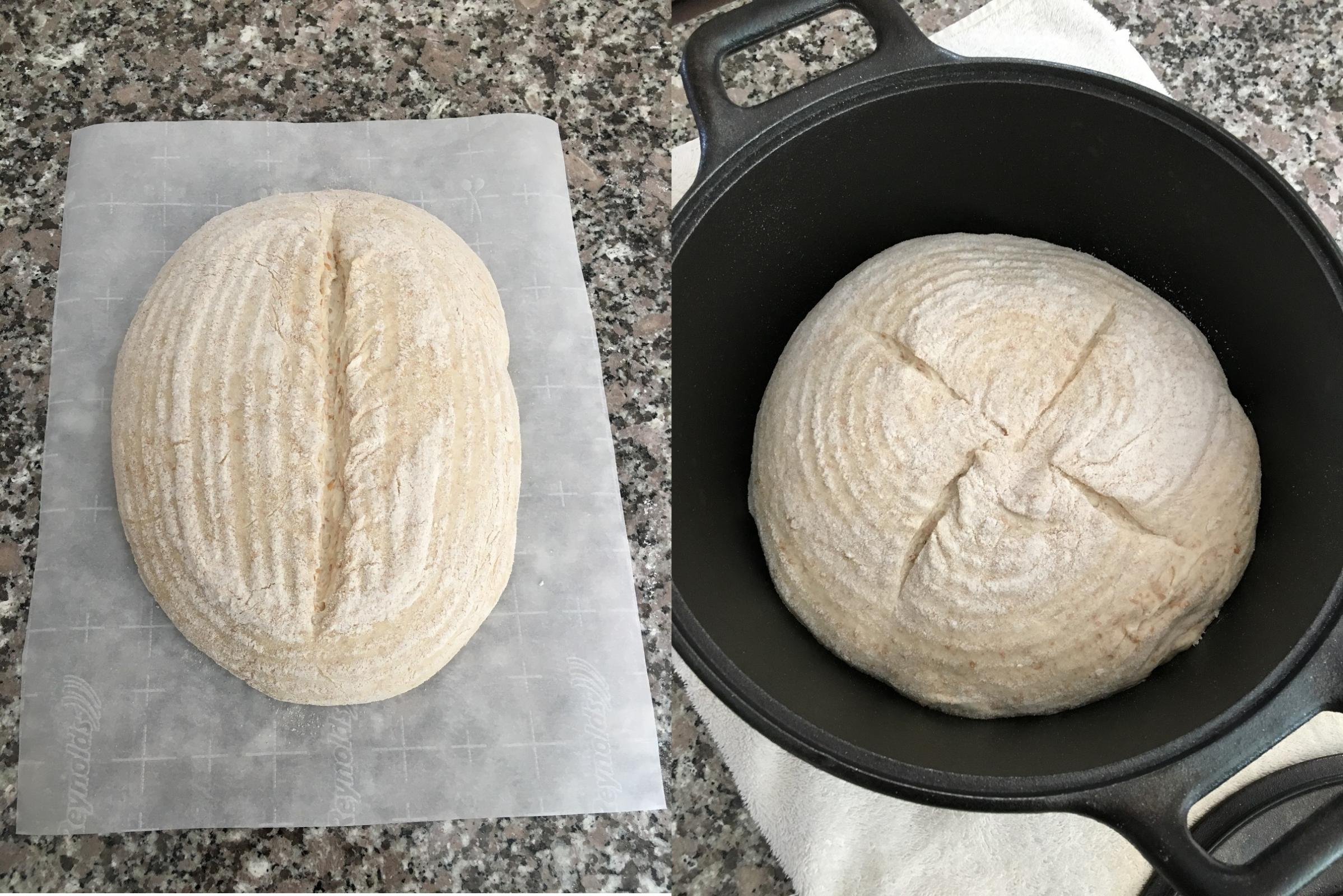 The batard baked for forty-five minutes (with a rotation at twenty).  After thirty minutes I took the lid off the Dutch oven, and the boule continuted to bake for another twenty minutes.  The internal temperatures were about 207F.
The batard was a gift for a friend and weighed 718 grams.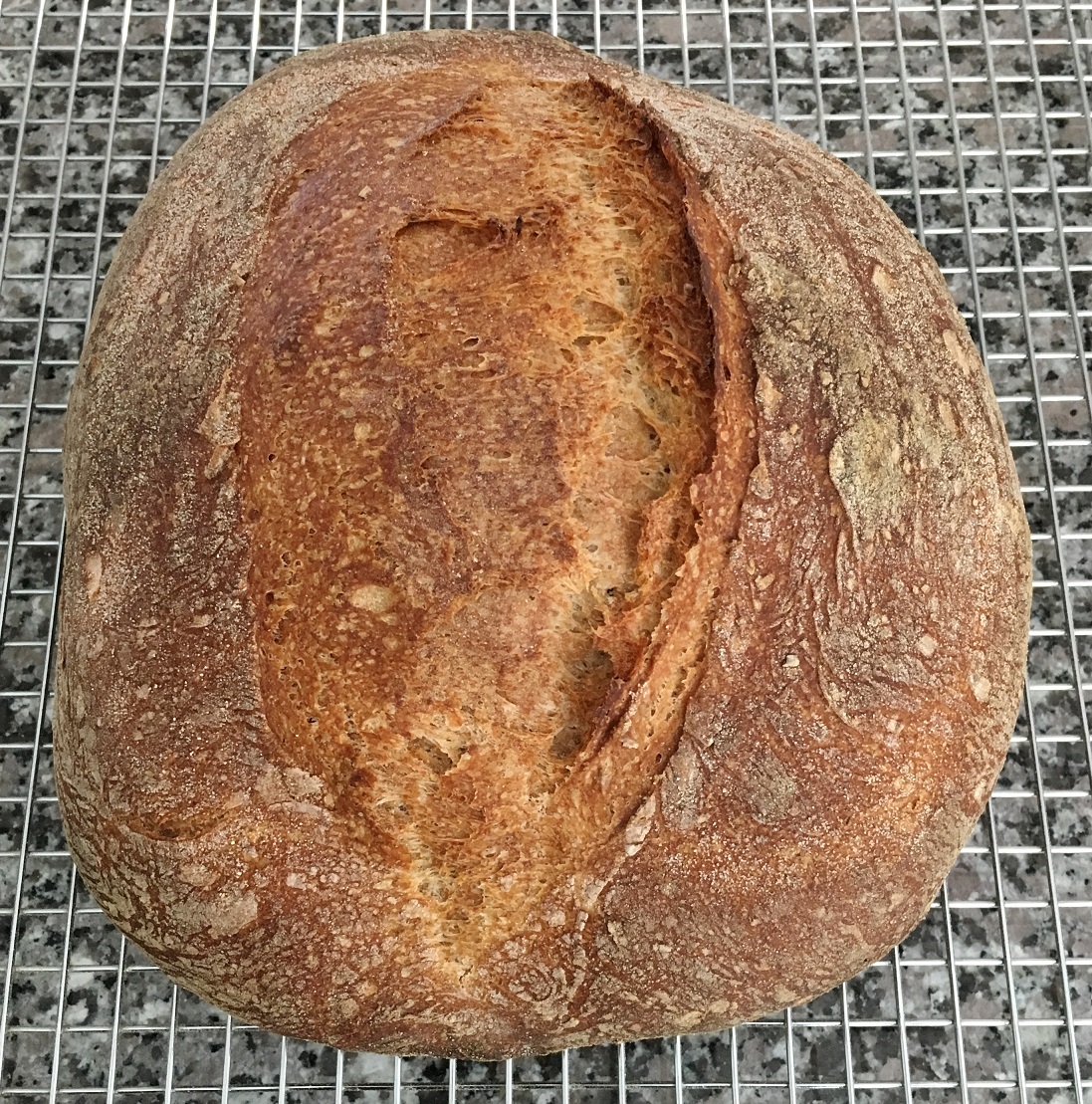 We kept the boule, which weighed 870 grams.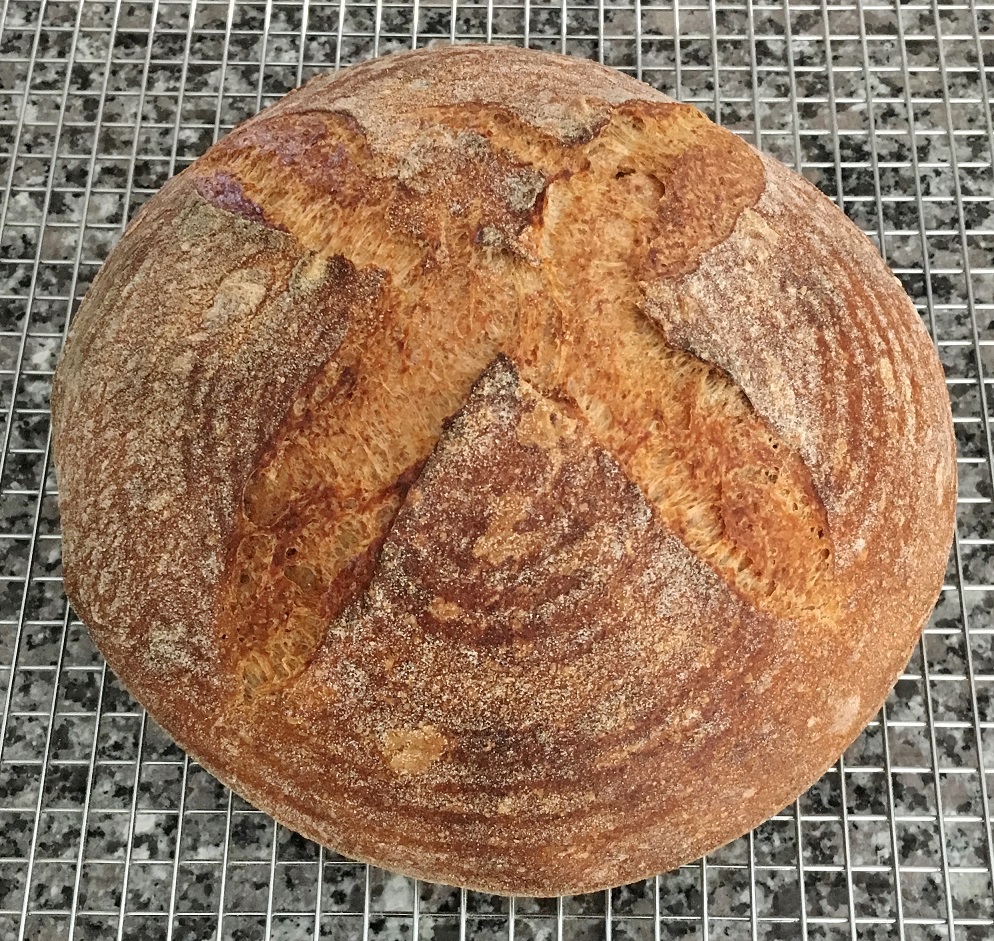 The crust is a little chewy, but not overly, and the crumb is light and tasty.  Yum.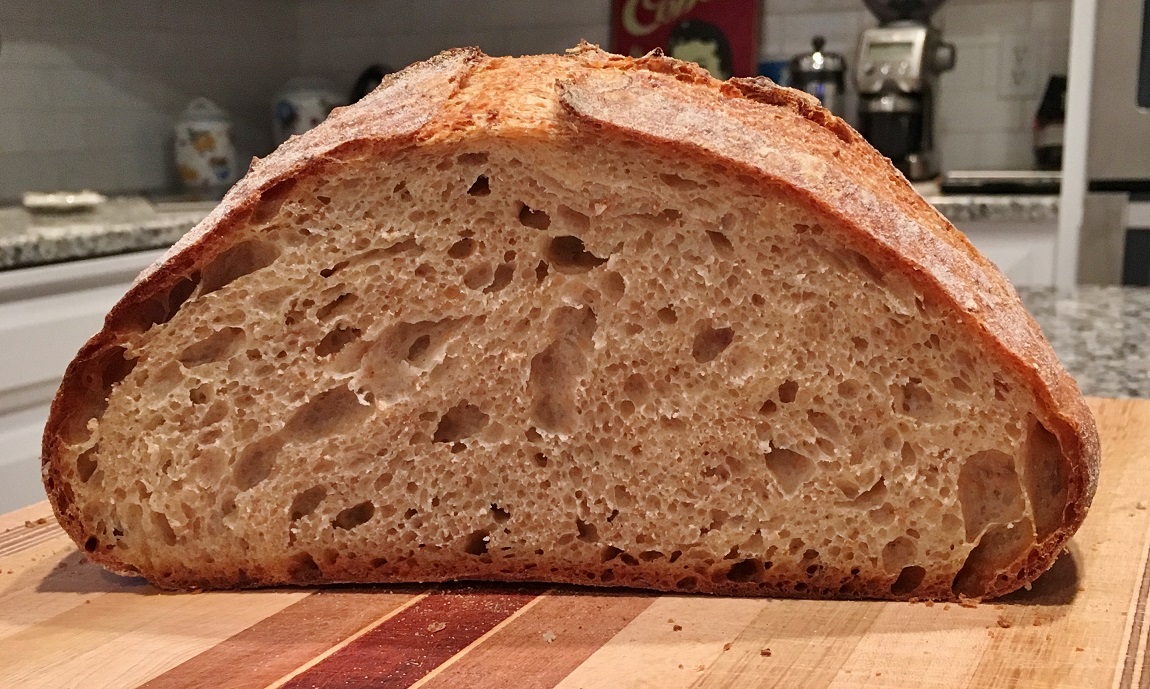 The bread is great by itself as well as with butter, toasted, and with other toppings.  If you decide to make this bread, and especially if you are accustomed to the pace of a sourdough loaf, be alert and watch the dough during all phases.  I began a shade before 8:00 am and took the baked loaves out of the oven before noon.