Hansjoakim's 70% Sourdough Rye -- My Attempt
A few weeks ago, someone posted about a rye bread, and David Snyder referenced a recipe for Hansjoakim's 70% Sourdough Rye.  Having dabbled a bit with whole rye flour (as in Field Blend #2 from FWSY), but never having plunged deeply into that area, I decided to give it a go. Especially because the recipe sounded relatively simple and straightforward.
If you are looking for a bread with a nice rye flavor and texture, try this one.  Thanks, David!
First I needed to create a rye starter, but that was easy.  As David indicated in the other thread, one feed of rye to my regular starter (typically fed with a 50/50 mix of AP and whole wheat) was enough.  At 7:55, am I mixed 15 g of my regular starter with 50 g of whole rye and 50 g of water.  Opting to bake two loaves, I created one rye sour final build at 5:30 pm and the other at 6:20 pm so as to stagger the bakes the following day.
If you think that you need a lot of starter, consider these photos.  A piddly 11 g of starter combined with 218 g of whole rye and 218 g of water.  The middle picture is right after mixing the build, and the picture on the right is from the next morning.  Sure surprised me.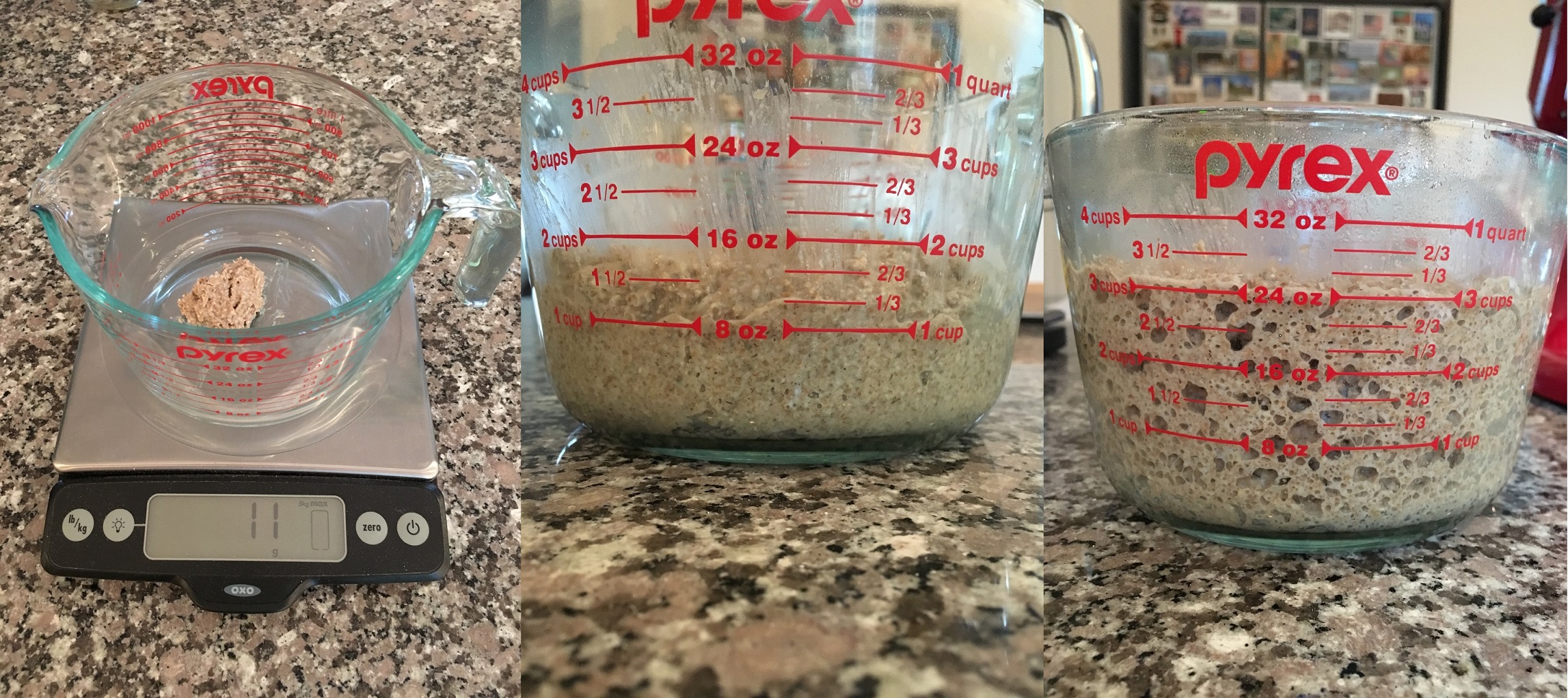 I chose to use my KitchenAid mixer.  Everything goes in at once for three minutes with the paddle and then three minutes with the dough hook.  The mixture tended to cling to the paddle, but not so much to the dough hook.  (Forget about those admonitions with wheat flours to mix until the dough leaves the sides of the bowl.  This rye dough ain't leaving nothing.)  As David mentioned, the mix "at this point is a thick paste with little strength."  Certainly unlike any dough I had worked with before.
Did I hear anyone asking for a quick bake?  There are no stretch-and-fold sessions.  Simply transfer the dough to an oiled bowl and cover it for an hour.  That's the entire bulk fermentation.  Pre-shape (to the extent possible -- this stuff feels more like a pile of mashed potatoes), bench rest for a whole five minutes, and then final shape (again not so easy, but I did manage a sort of Tartine-type package) and into a banneton.
The recipe calls for a two hour final proofing, but this stuff rises swiftly (even Field Blend #2 with its commercial yeast supplementing the sourdough starter is nowhere near as fast to rise).  My kitchen was about 80F, and taking David's advice to heart (his kitchen was a similar temperature according to his write-up), I shortened the period to about an hour-and-forty-five minutes.  In retrospect (note to self for the next bake), with a kitchen that warm, I would consider an even shorter final proofing.  Here are the before and after (just into the banneton and just before coming out).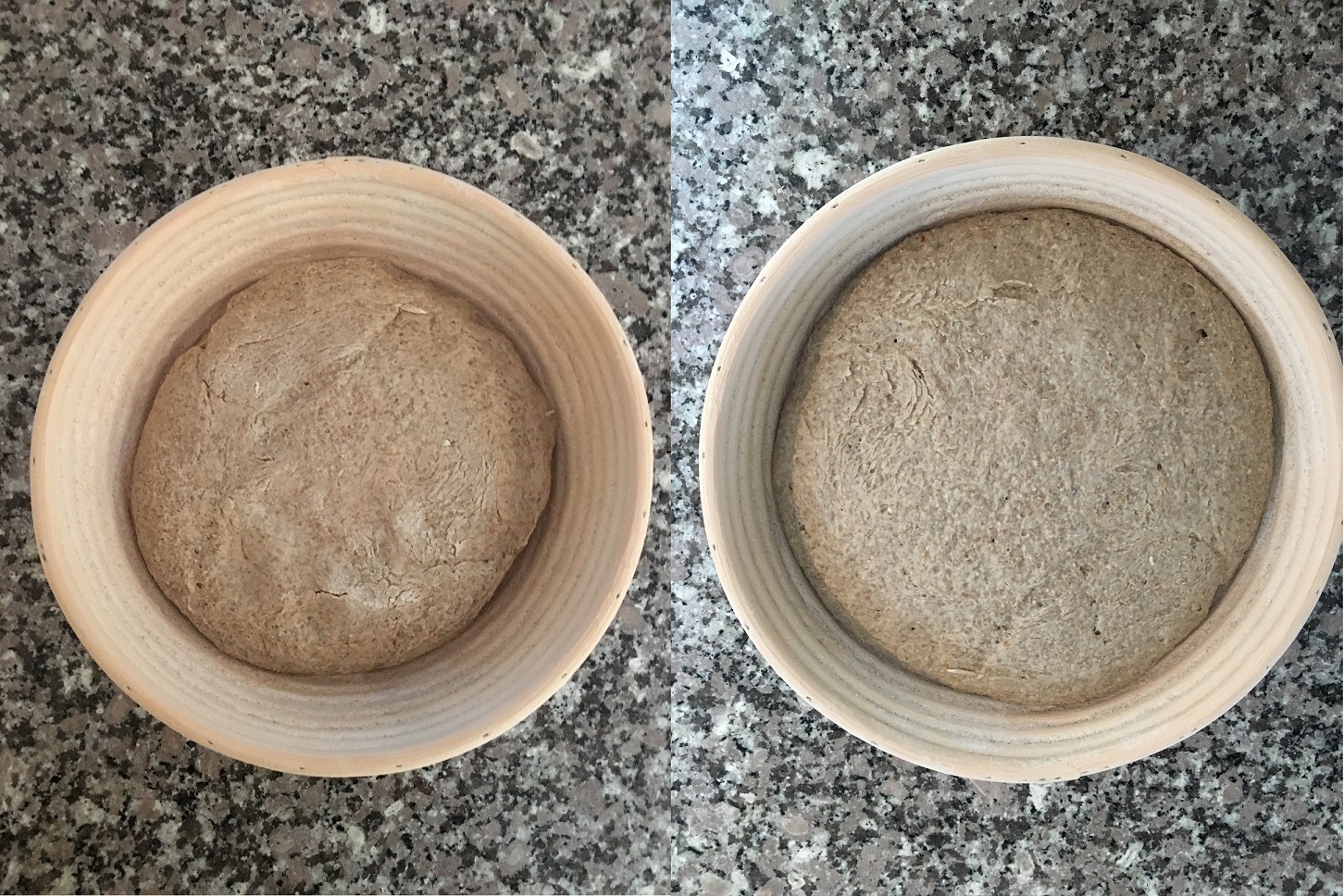 The bake went as David described, with an initial temperature of 480 being dropped to 440 and then 420 and then 400.  I too did not get much oven spring, and I attribute that to leaving the dough too long in the banneton.  (The loaf with the slightly greater oven spring is a gift for someone else, and that loaf proofed a shade less time.  Maybe I will see the crumb.)  The bread has a great rye flavor, however, with a nice chewy crust and a crumb that is both soft and dense.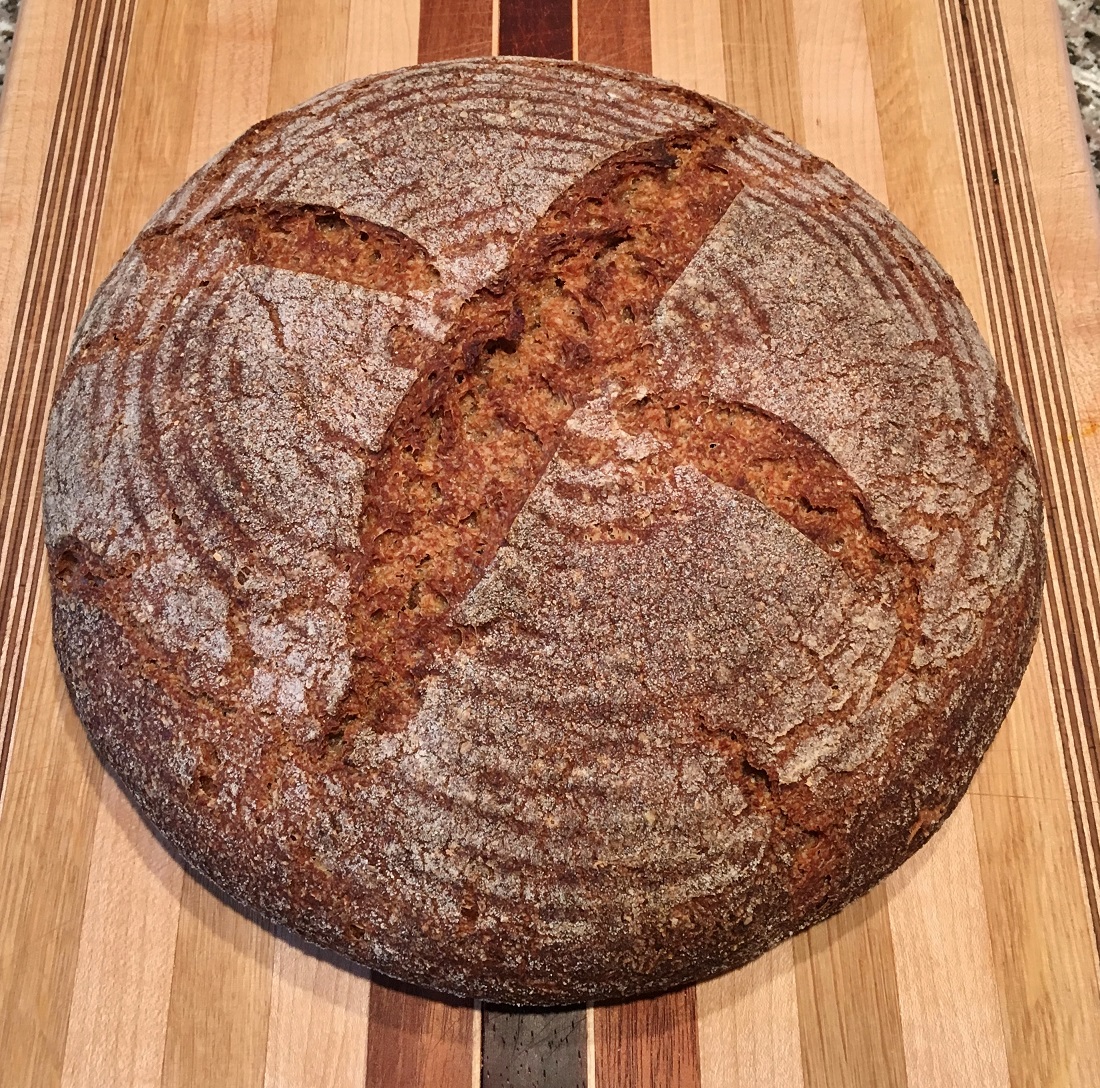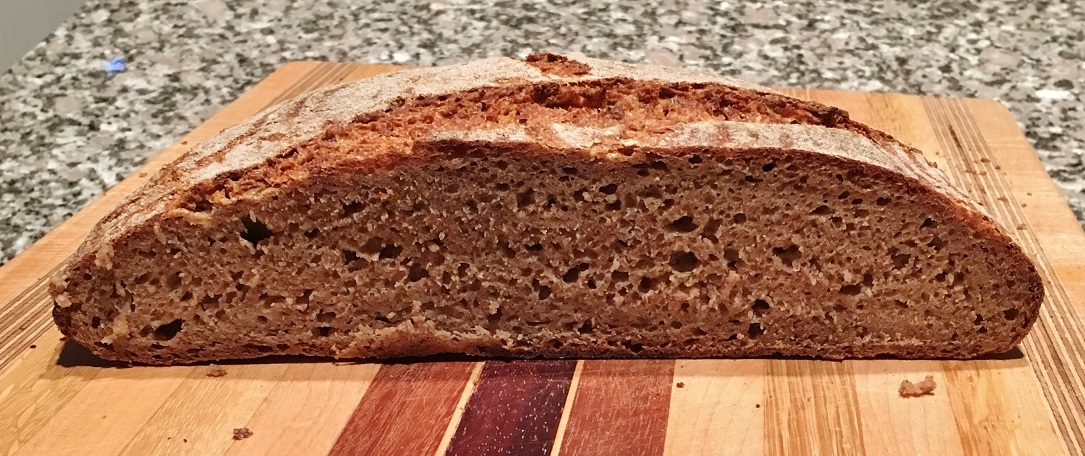 Starting at 8:00 am, I had the first loaf out of the oven a pinch after noon.  Although the recipe cites medium rye, I used whole rye to capture as much rye flavor as possible.  This is definitely a bake that I will do again.