Oat spelt sourdough + white SD
 Hello friends! 
This weekend, I tried to make my toasted oat SD using spelt instead of whole wheat, I've never used spelt before, so I don't really know what the rules are. All I know is what I've read here, so feel free to give your feedback. 
The main thing I changed was lower the hydration (because spelt needs less what than regular wheat, right?) Although, the hydration below is 75%, the final dough had a lower hydration than my regular loaf because I used way less water to soak the oats. I wanted to get an upfront feel for what the dough would feel like and not add too much wetness with the soaker. 
Formula
| | | | |
| --- | --- | --- | --- |
| Levain |   |             82 | 22% |
| Water |   | 278 | 75% |
| Flour |   | 370 | 100% |
| Unbleached white bread flour | 295 |   | 80% |
| Whole grain spelt | 75 |   | 20% |
| Salt |   | 10 | 3% |
| Oat soaker |   | 140 | 38% |
|   |   |        880 |   |
1. The levain was mad from 15g NMNF rye starte, 40g whole grain spelt flour and 32g water. So the final loaf actually had about 27% spelt.
2. Soak 68g rolled oats in 80g boiling water, I usually like to toast my oats, but I wanted to taste spelt. Leave to cool. 
3. Premix the flours, salt and water, chill for a couple of hours and leave to come to room temp overnight. I shouldn't have done this; the dough didn't feel right in the morning, it felt a tiny bit on the goopy side. Is this a spelt thing? Next time, I'm going with a short(ish) autolyse.
4. In the morning, mix the dough, levain and oat soaker. Leave to rest for 60 mins and then do as many stretch and folds as needed to strengthen the dough. I needed to do 4, I every hour. The dough did feel better at this point, but still not as nice as it does when I use whole wheat. 
5. Let the dough bulk ferment undisturbed for 2.5 hours (or for however long it needs to start looking bubbly).
Pre-shape, rest for 30mins and then shape. I left the dough to proof on the counter before putting it in the fridge for 8 hours.
6. Bake at 250dC with steam for 20 minutes with steam and then for another 25mins. 
Here is the result: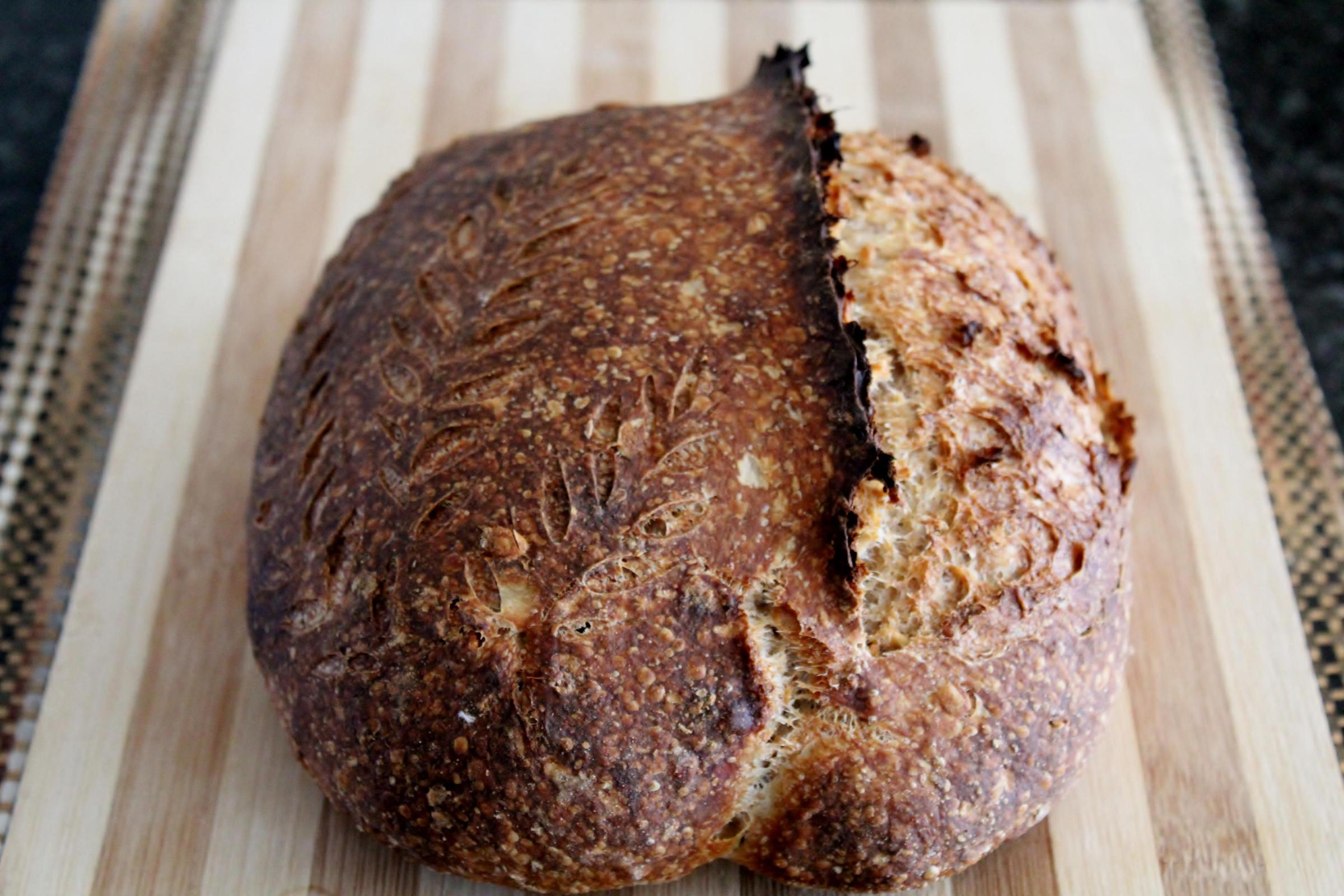 And the crumb....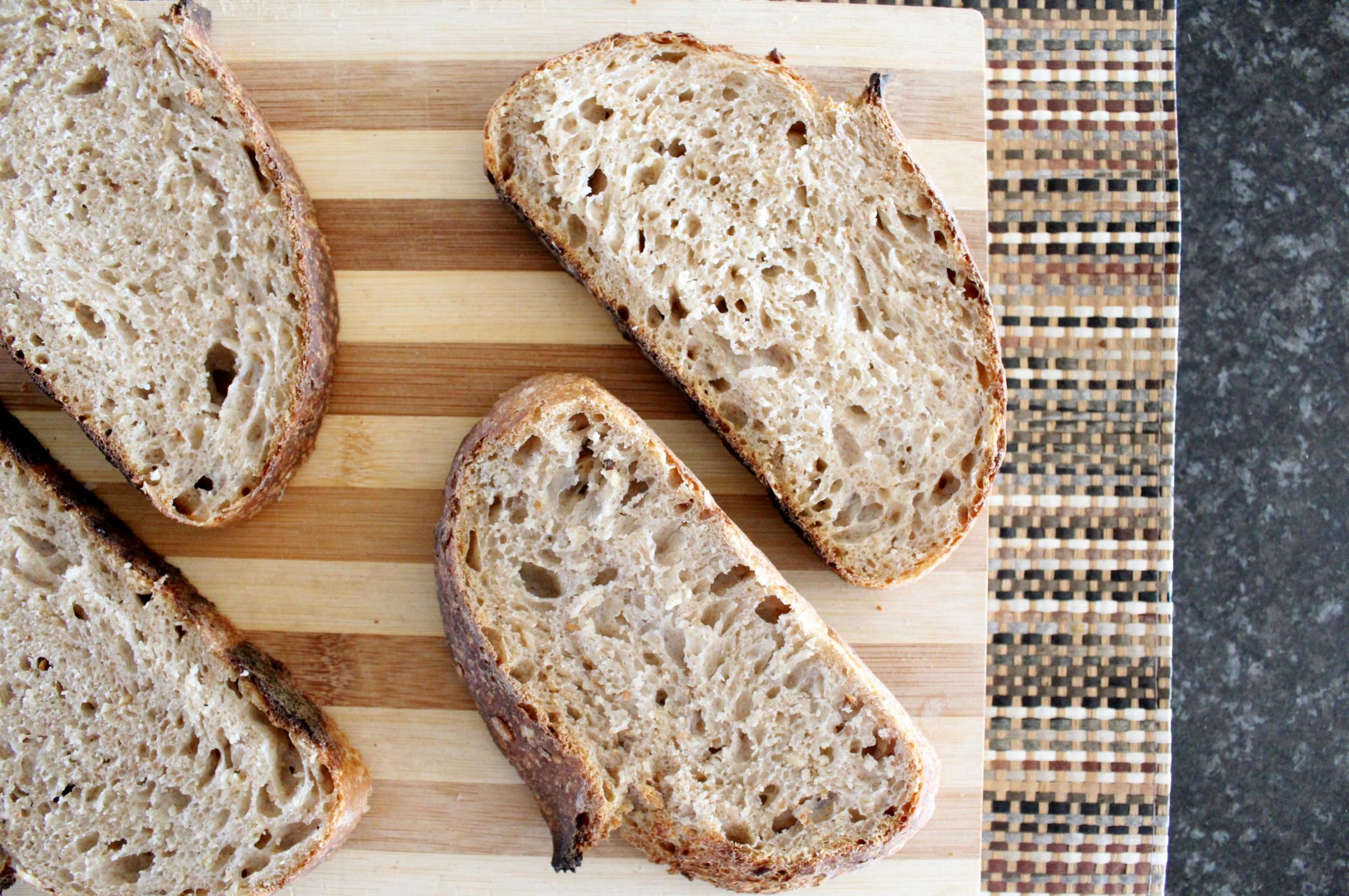 I;m fairly pleased with the final product, because its so yummy! Its tangier than my regular oat sourdough, and I like it! I would have liked the crumb to be a tiny bit more open... I'll try this again next week, and shorten the amount of the time the flour stays wet. I think that's what I need to do. 
I've been making my (mostly) white SD every week, here's the latest version.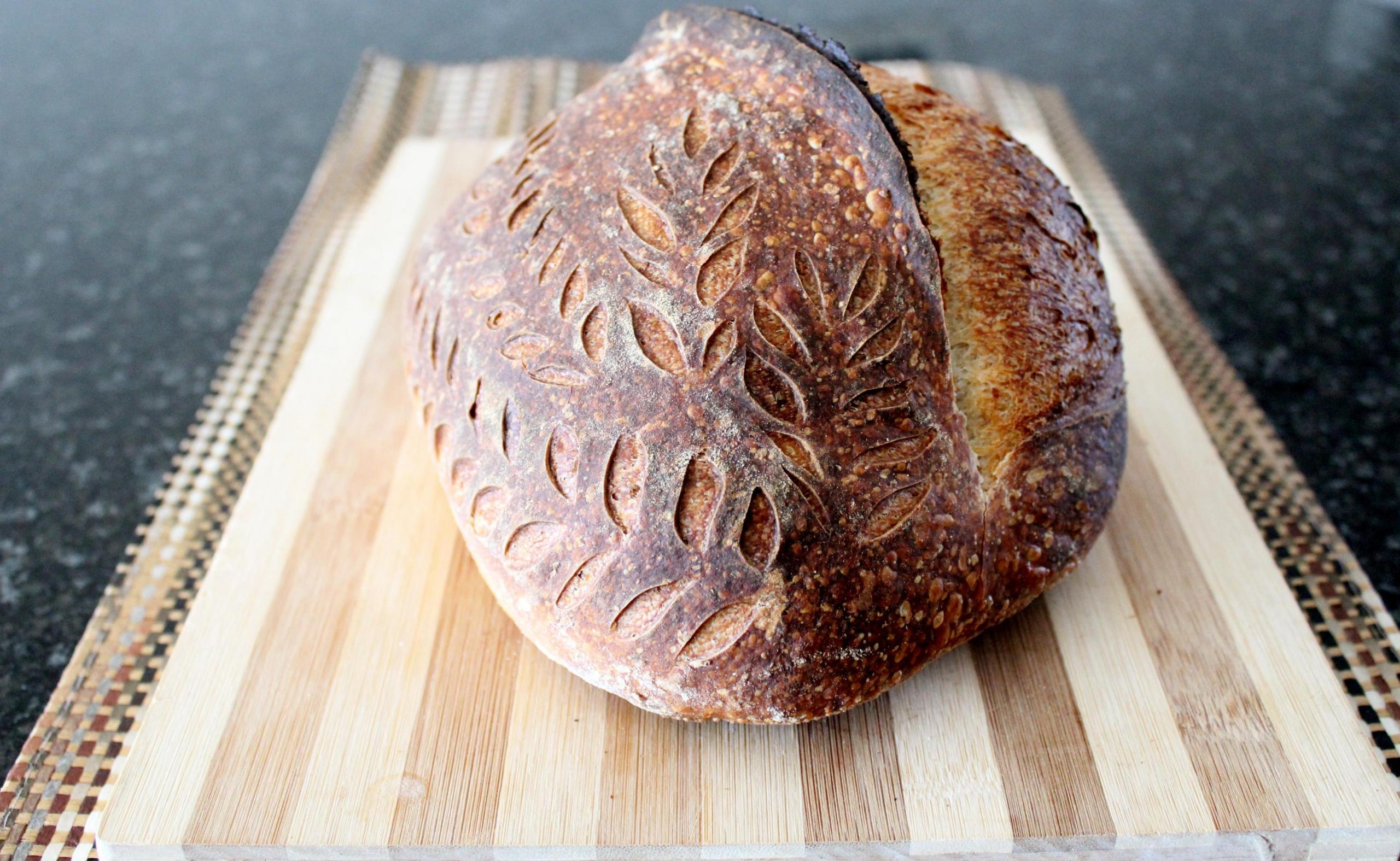 and the crumb...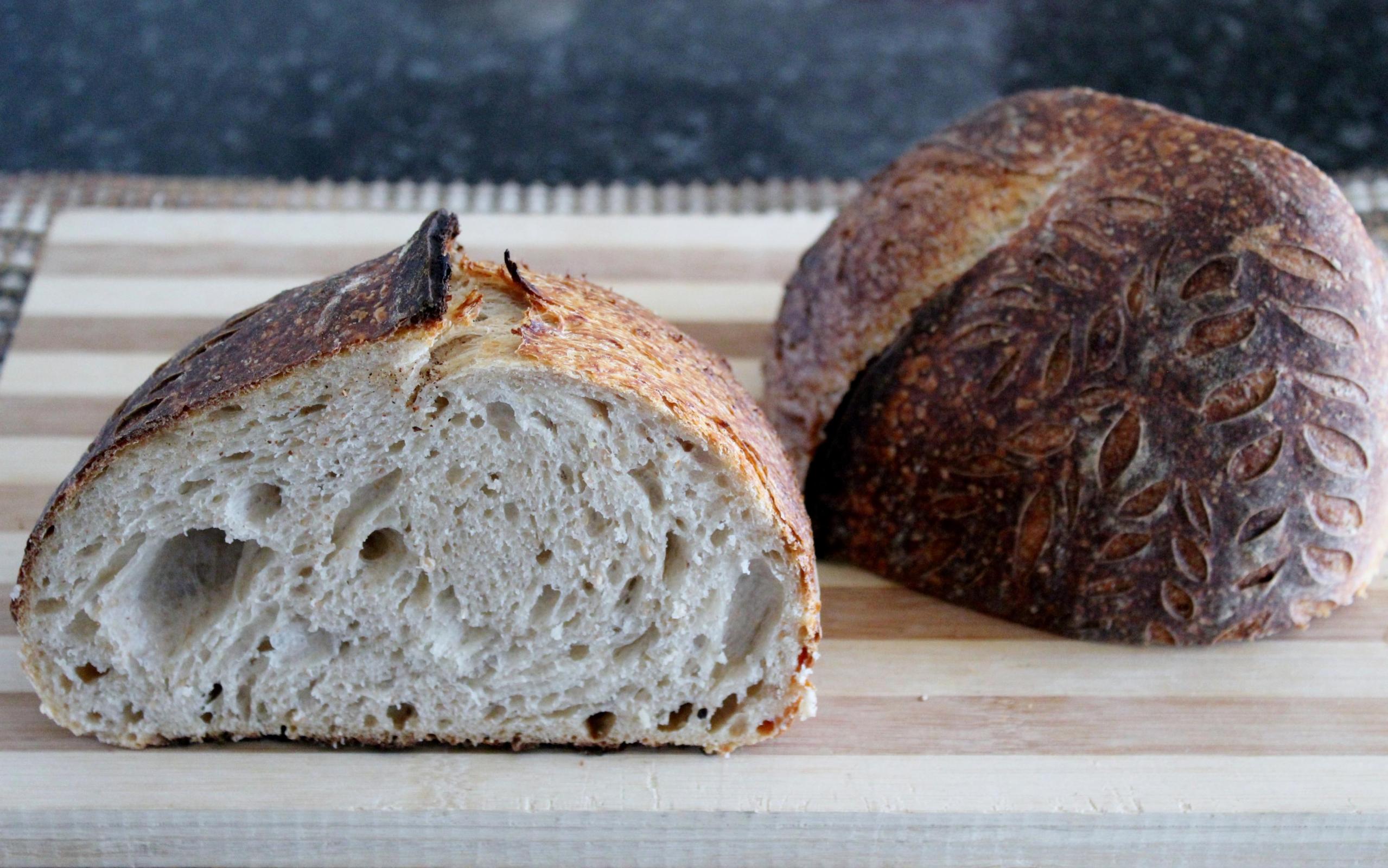 I think the shaping technique I used (which involves rolling the dough when I shape is giving my crumb the swirly effect). Its more pronounced in the shot below, reminds me of a croissant!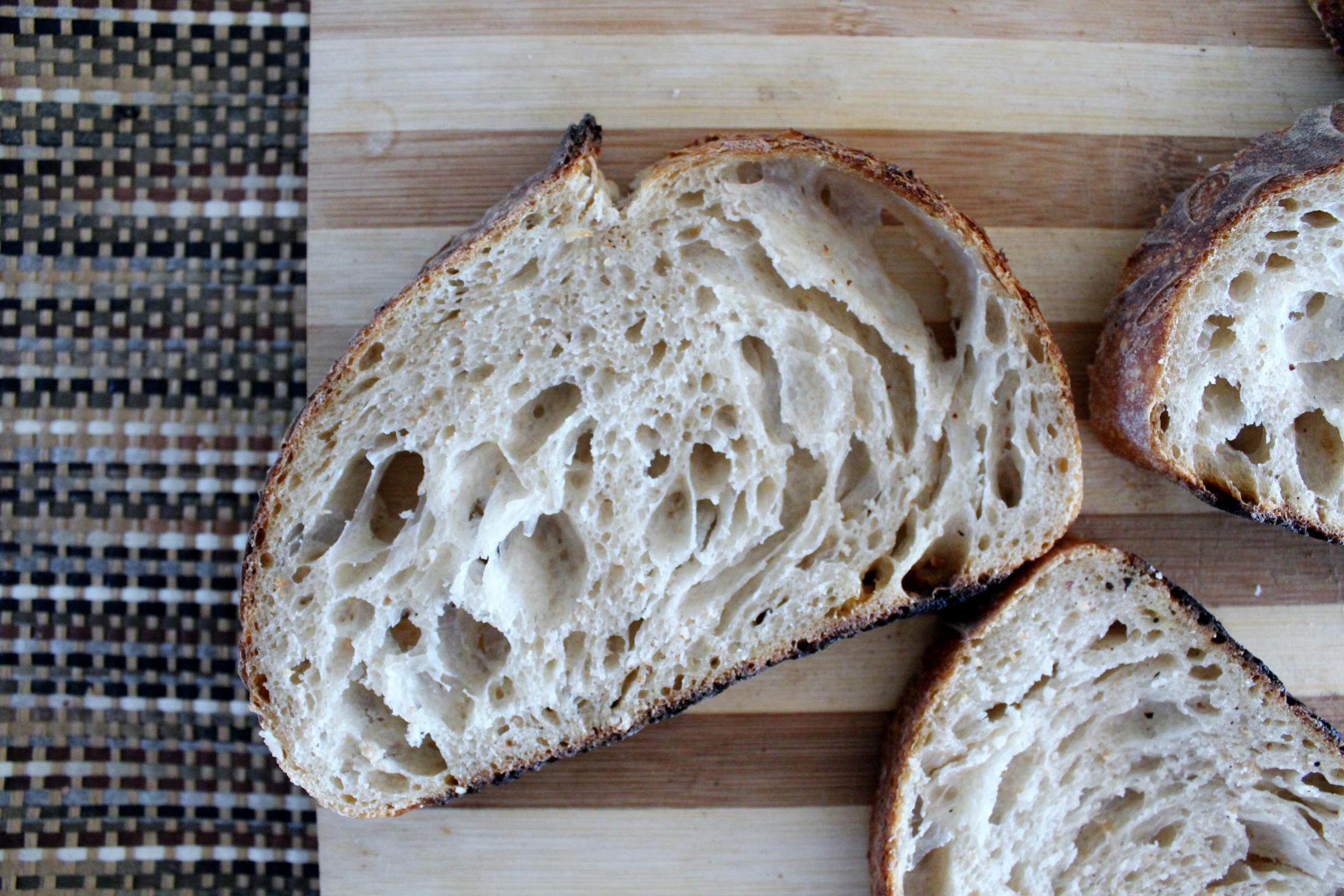 Changes: Slightly higher hydration 78%, shorter bulk, longer shaped proof and shorter cold retardation.
This has become my "blank canvas" loaf, I'm experimenting with different, proofing times, hydration levels, mixing methods shaping techniques, scoring designs, you name it, i'll try it on this loaf! This is maybe my favourite version so far.
Have a lovey week everyone and happy baking!! 
Ru