February 9, 2018 - 5:44am
Advice Needed for First time baker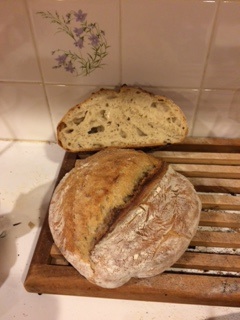 Gurus,
Our son wants to try baking bread.  I"m supplying him with a combo cooker, a brotform and a lame.  He's leery of a recipe with 'too many steps'.  He needs to start with a straight dough. I'll scale it down for him for a single loaf.  I cannot decide between having him do Hamelman's Country bread,  Forkish's Overnight White Bread or Forkish's White Bread with 80% Biga
I remember beginning with the  80% biga and being ecstatic when I got a lovely loaf.  I waited 6 months to get Hamelman's book and by then was doing only Sourdough so never tried his Country loaf.  All opinions deeply appreciated esp. from people who were very nervous at first.  He's lives too far away for me to help him directly.

Thanks in advance.

Above is my pain Rustique from last week.