February 4, 2018 - 6:10am
European Peasant Loaf
I am continuing my quest, as one of many others, for getting better oven spring and open crumb. This is my adaptation of Trevor's European Peasant Bread.
Recipe:
150 g freshly milled spelt
150 g freshly milled rye
150 g Arva Mills whole wheat flour
820 g unbleached flour
50 g freshly ground flax
850 g filtered water
23 g Himalayan pink salt
30 g kefir
280 g 100% hydration levain (procedure for this is in recipe)
Mill spelt and rye and sift out the bran to feed the levain (as per Dab). Sift out the bran from the whole wheat flour. As an aside, I am surprised that I sift out much more bran out of the commercial flour than out of my own home milled. Weigh the bran and set aside. Mine ended up weighing 35 g. Reserve the sifted flour in a large bucket or bowl.
Weigh out the unbleached flour and remove enough from this amount to add to the bran in order to equal 140 g. In this case, I removed 105 g and set it aside for the levain. The rest of the flour joined the sifted flours in the bucket.
After refreshing my starter 2 or 3 times, I build the levain in 3 stages: Stage 1 - 10 g starter, 20 g water, 20 g bran. Stage 2 - 40 g water, 15 g bran/25 g flour. Stage 3 - 80 g water, 80 g flour. Each stage took about 8 hours except for the last one that I used after 6 hours. Once again, the first build with only bran in it, had no rise but the levain rose just fine once unbleached flour was added in. 
Autolyse the mix of flours, the ground flax and the water for about 4 hours. Add in the pink salt, the kefir and the levain and mix well. Use folds and in bucket kneading to make sure that everything is well integrated. Let rest for a few minutes and do another set of folds.
Fermentation was 3 sets of folds 30 minutes to 45 minutes apart and one last fold an hour later. Bulk fermentation took 4 and half hours and the dough rose about 30%. This is where I began to doubt myself. I had lots of bubbles on the edges right from the beginning but there didn't seem to be a lot of large bubbles through the wall of the container. I traditionally have waited until the dough doubles but that was before doing folds right through the bulk. The last few weeks, doing folds through the bulk, I still waited till the dough had risen almost to 50%. My dough is usually like a bowl of jello. Stopping the bulk earlier gave me a dough with air in it but not what I am used to so I almost put it back in the bucket. I went back and checked out Trevor's videos and mine was still poofier than his so I decided to just forge ahead.
Lightly flour the counter. Now that was a change for me as well. I normally use lots and lots of flour for shaping. I am trying to cut back on this habit.
Do a very light fold and remove the dough gently from the bucket. Divide the dough into 3 equal portions. Preround the dough with a scraper. Trevor, if you are reading this, I have to say I hate you for making it look so easy. Imagine trying to round 6 boules on a counter that is 24 by 30 or so and part of that counter has a built in trash container. Oh and I forgot, the scale has to have a spot too on here. Well the dough was sticking to the scraper, to me, and to the counter! I tried to be twinkle finger like Mr. Trevor but I am sure he would be killing himself laughing at my ineptitude. Well long story short, I did get them somewhat rounded. Nothing like those nice little boules he gets but at least, they weren't pancakes AND I didn't deflate the dough.
Let rest for 20 minutes and then do the final shape. I did Trevor's cinching method which is something I hadn't tried before. I usually end up degassing the dough quite a bit. This time, there was no degassing whatsoever except for the part where you roll over and pinch the dough gently to hold it. Check out Trevor's videos on cinching on Instagram. That seemed to go a lot better for me than the rounding. I plopped the boules into the bannetons seam side down even though they were not perfectly round. I figured it was better to preserve the air in the dough than worry about perfectly shaped boules. 
Then cover and put to bed in the fridge for the night. The next morning, the dough had risen a bit but had flattened out somewhat. I was sure that I was in for some flat, flat, flat loaves. 
Heat the oven to 475F with the dutch ovens inside for at least 45 minutes. Place rounds of parchment paper in the bottom of the pots and gently place the dough seam side up inside. My feeling of getting flat, flat, flat loaves was reinforced when I turned out the dough and picked it up to put into the pots. It was definitely not firm like I am used to. It was soft enough to bend in the middle when I picked it up by the edges. So it was a quick movement from the counter to into the pots. I resigned myself to 12 flat, flat, flat loaves. Did I say that they were going to be flat? 
Cover the pots and bake the loaves at 450 F for 25 minutes, remove the lids…. and surprise!!!!! I got great oven spring, great ears and just awesome loaves! Wow, who would have guessed that! I dropped the temperature to 425F and baked for another 22 minutes.
Cool, admire, do a happy dance, decide that Trevor knows what he is talking about and enjoy!
As a side note, the second batch of 6 loaves (I make 12 total for those who don't know and one batch makes 3 loaves), the bulk ended up much closer to a 50% rise by the time I got to it. I remembered reading that if you get closer to 50%, do not do a fold to remove the dough. Just remove it as gently as possible, with a scraper in order to not deflate it. The second batch turned out just as well as the first.
Batch #2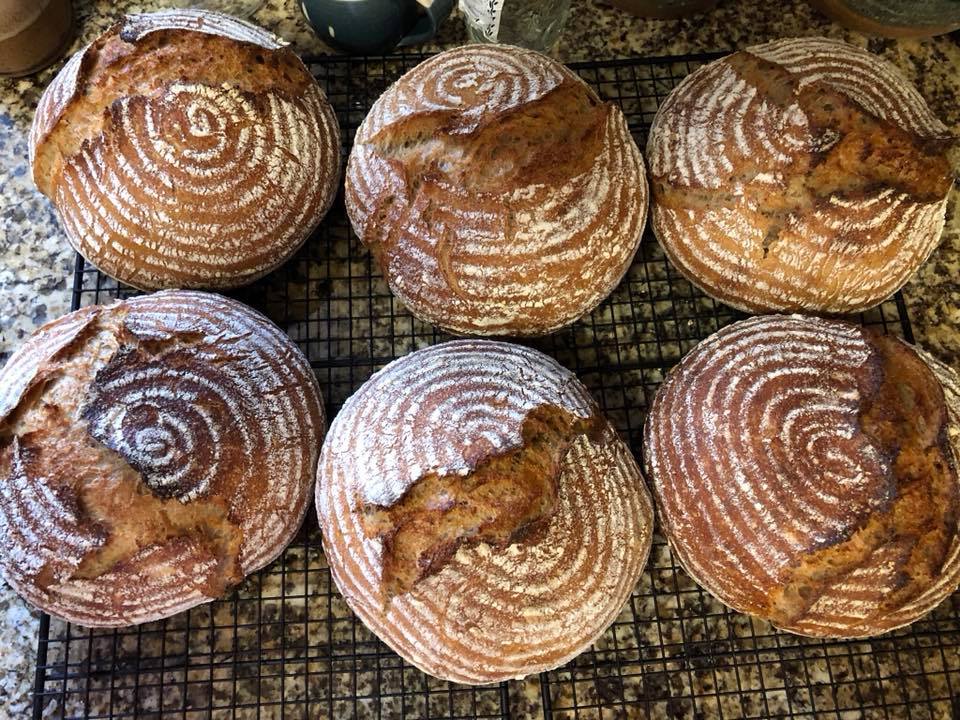 Batch #1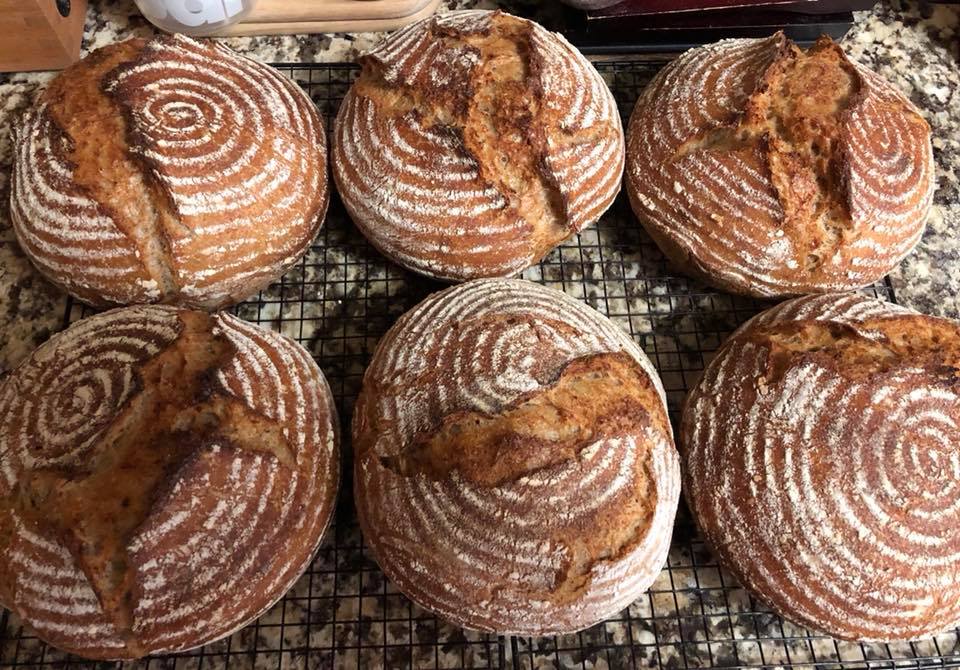 I am very curious to see what the crumb looks like but the loaves are still hot. Crumb shot to come later.