January 13, 2008 - 10:06am
Cream of Wheat Middlings for Breakfast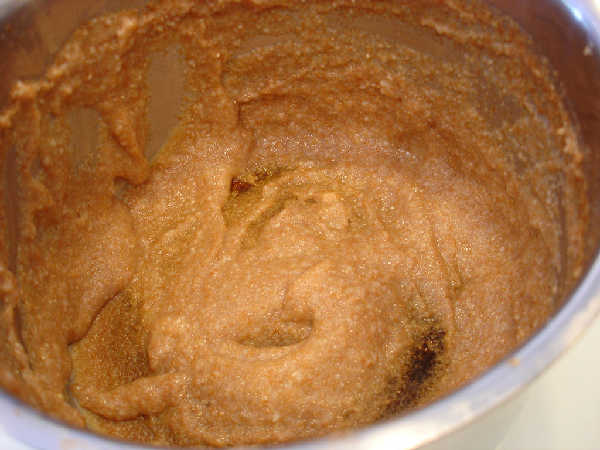 My home sifting project resulted in "middlings", a term I may be using incorrectly. What I mean by middlings is the stuff I sifted out that is finer than bran but was coarser and darker than I wanted for the flour being produced.
This output of my milling and sifting process had a coarseness similar to semolina or maybe a little more coarse. It was a fairly dark brown. I refrigerated it, thinking it might be useful for dusting a couche or some other purpose eventually. To some extent, I was hoping to discover some good food use for this part of my output, which should contain a fairly large nutritional content, since it has much of the darker, vitamin-rich outer layers of the wheat berry in it. My more whole grain oriented friends might be less disapproving of my use of less than 100% whole wheat flour in some of my breads, if I could show that the other parts of the whole grain are still being used. Also, my wife is more interested in whole grain nutrition, so she asked me to save it, probably also imagining some good use she might discover for very freshly ground outer layers of the wheat berry.
The nice thing is that I can see this output will be consumed nearly as quickly if not more quickly than the bread that was made from this sifting session. My whole wheat loving friends would be happy, since we would be eating 100% fresh ground whole wheat by eating the bread and having the cream of wheat middlings and bran for breakfast.
This morning it occurred to me that the "middlings" were a lot like cream of wheat in consistency, just browner. I decided to try making "cream of wheat middlings". I forgot to measure, but roughly speaking the recipe was 1.5 cups water, 1.5 cups skim milk, 0.5 tsp salt, 1.5 cups of "wheat middlings", and about 0.5 cups of "wheat bran", the coarsest output of my sifting process. I then brought it to a strong boil, dropped the heat to low, and let it simmer, stirring periodically, for about 15 minutes.
The resulting gruel was served with some milk poured on it, and some brown sugar sprinkled over it. My 13 year old son wolfed this concoction down with great delight, saying it was very good. I thought it was a great breakfast, more flavorful than cream of wheat and probably nutritionally much superior, and it would have significantly more bran fiber, for those who might like that aspect of it. I tried adding raisins to some of it, which I thought made it even better but my son thought detracted from it.