November 10, 2017 - 4:00pm
Chocolate Cherry Sourdough in "Modernist Bread"
The chocolate cherry sourdough bread recipe is published recently in the New York Times article, "slicing through the myths to rethink bread." The article reviews the new bread book, Modernist Bread, chronicling the history and science of the bread making in-depth. It addresses the key question: how do you make the best bread possible?
Do I need another bread book? I own the Modernist Cuisine at Home and have read it from cover to cover. Furthermore, I thoroughly enjoy the deeper explanation and useful variations the "modernist" books provide. This bread book can be useful. But it is also seriously expensive ($600), there is just no way to justify it for a home baker, isn't there? Why not start baking one of its recipes?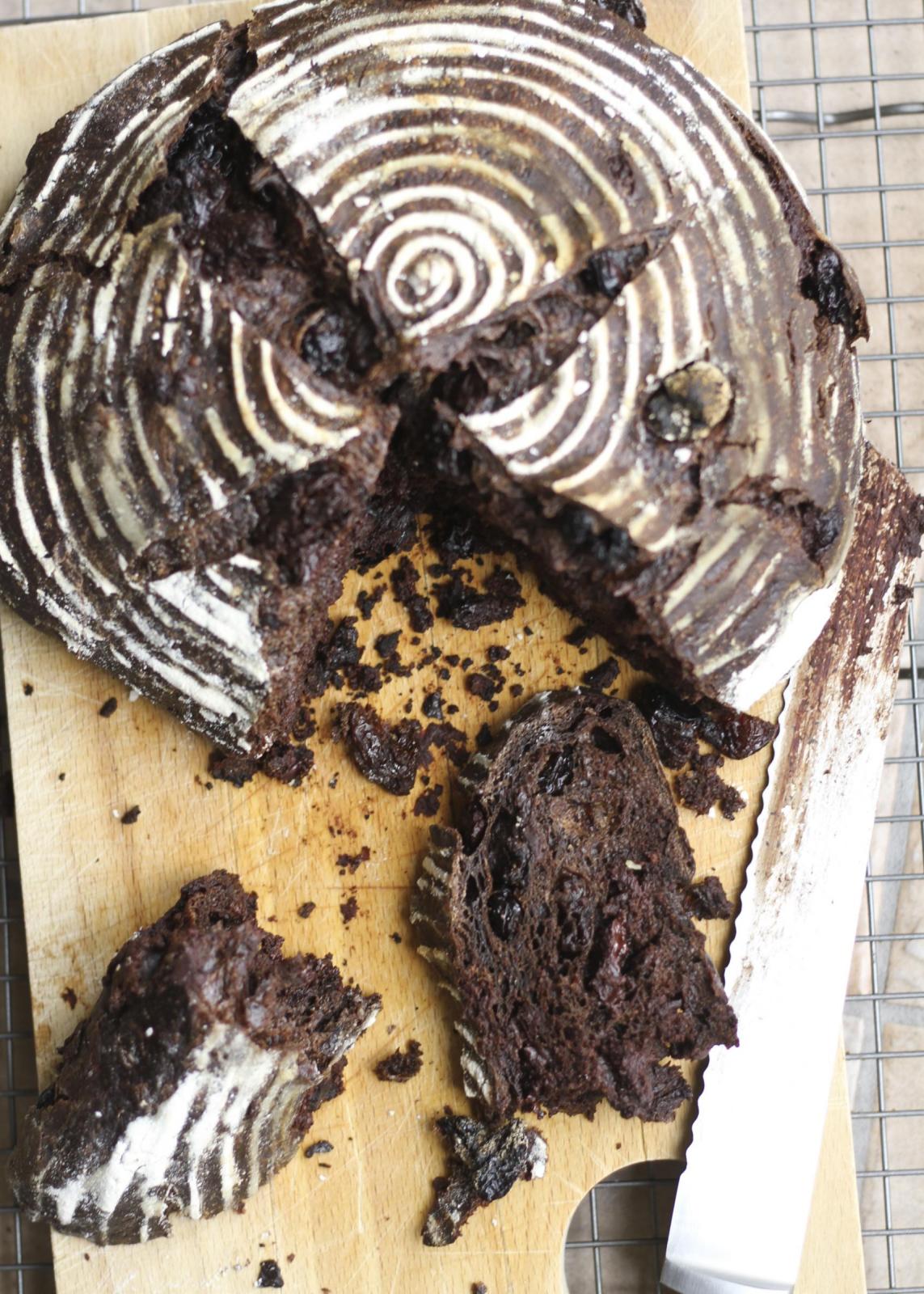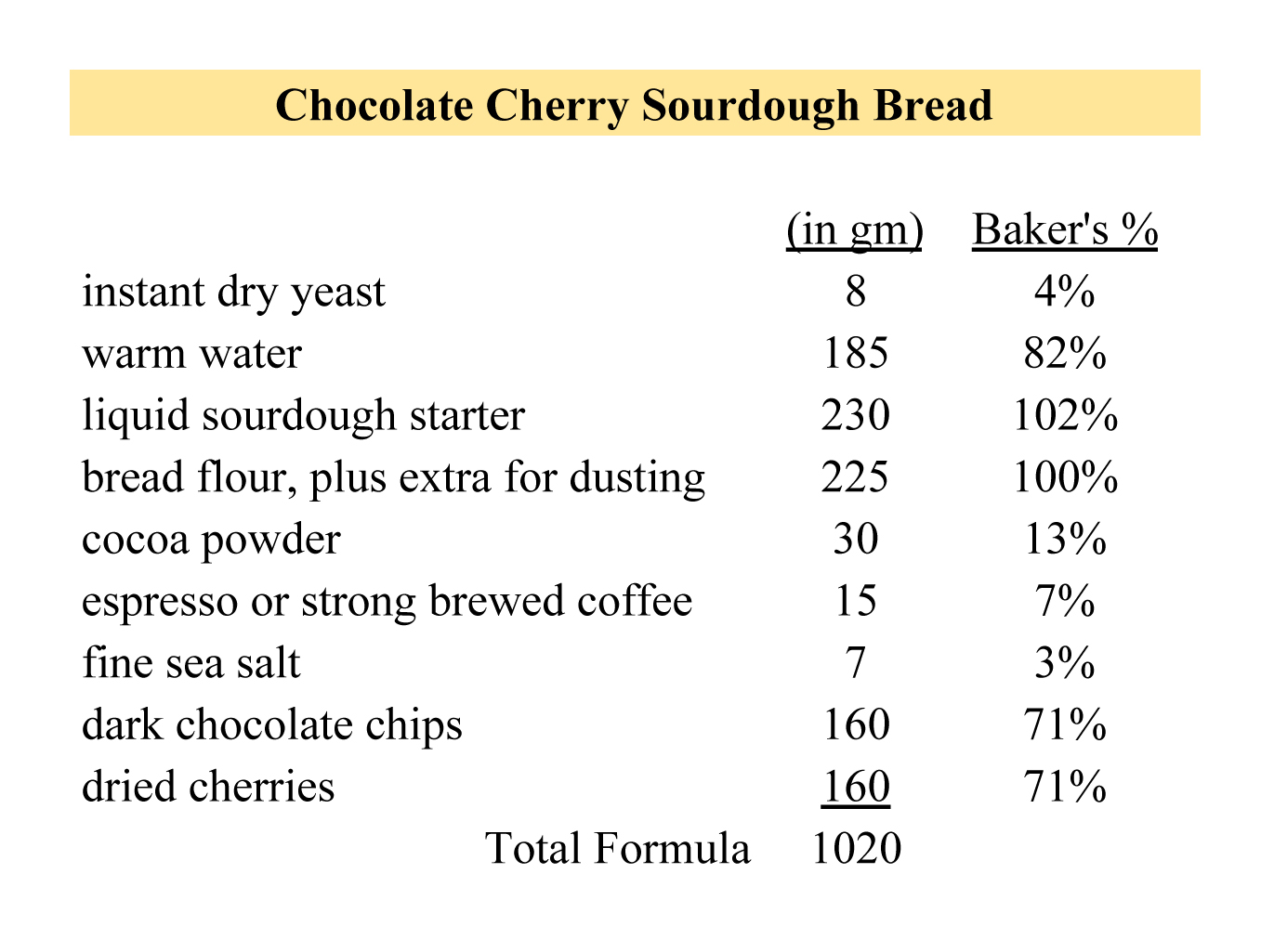 This chocolate cherry sourdough bread has earned a place on your holiday dessert table. What is different about this bread as compared to most sourdough breads I make?
The use of yeast as leavener, in conjunction to the basic one-stage sourdough starter.
Sourdough starter is in excess of 100% of flour weight, a large amount of sour culture where lactic-acid-producing bacteria or LAB dominates.
Hydration is about 89%, considering the high percentage of 100% hydration sourdough starter used. However, the dough was quite manageable.
A copious amount of cherries and chocolate chips are added at the second fold, making the bread a delectable celebration dessert/bread.
High degree of gluten development is desired.
A cold ferment in the refrigerator for 14 to 16 hours is an option. Or proof at about 55 degrees until the dough has increased in size.
Cold dough is brought to room temperature in a cold cast-iron Dutch oven. (This reminds me of Westphalian Pumpernickel and Icelandic thermal bread that cook low and slow, in sealed pans. The slowly rising internal temperature creates the ideal conditions for the amylase enzymes to transform starches into sugars and the bread carries a slightly molasses notes.) Then bake in the 500°F oven for a total of 43 minutes.
The final bread has a subtle sweetness, produced by the enzyme activity and as the sugars caramelize during baking. Meanwhile, there is no sugar at all on the ingredient list.
The addition of yeast, the high percentage of sourdough starter, the cold-temperature proofing and the use of a cold Dutch oven are some of the measures bakers often use to manipulate the yeast, enzyme and LAB balance. They work wonderfully well here to create the complex flavor profile of this bread. This recipe is reminding me what I've read in the bread-baking books and the true notion that "baking is biochemistry." Indeed!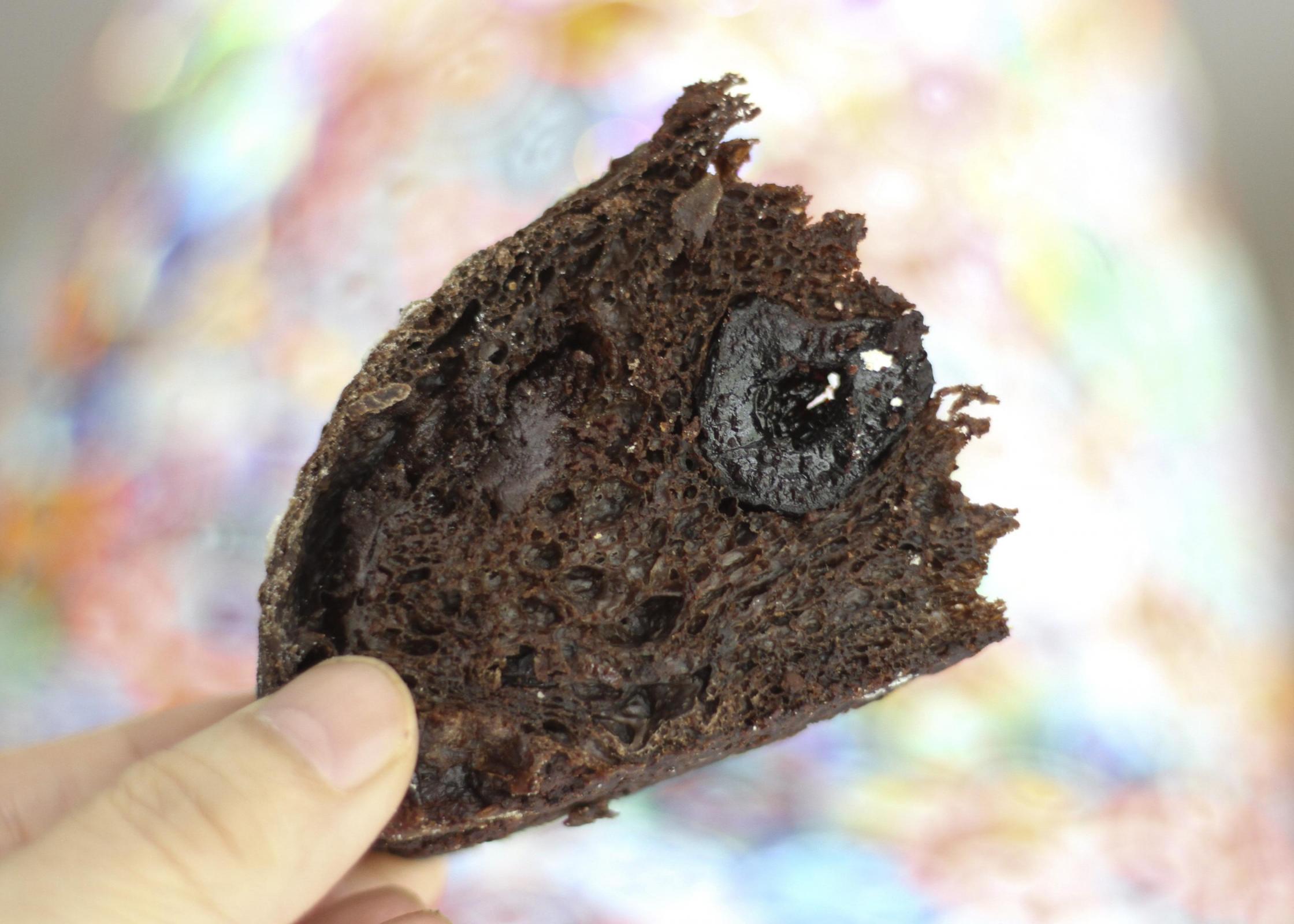 For details on the recipe: 
https://www.everopensauce.com/chocolate-cherry-sourdough-bread/