September 29, 2017 - 5:15am
This is not a bagel, hahaa! It's a 69% Swiss rye, shaped in a circular ring so that it can be hung from the ceiling during the long winter months from the Alpine region in Switzerland.
While I grew up eating white bread, making complex, robust and nutritious breads, have been my ultimate goal. My experience in making rye bread is limited. Therefore, I've turned to Stanley Ginsberg's The Rye Baker for guidance and inspiration. He did not disappoint.
Once you get passed the lengthy 3-steps build before the final mix, this recipe is relatively easy. On the first day, I made the rye sponge from a rye starter (a low-hydration sour rye sponge that favors acetic acid formation) and the wheat poolish (that's refrigerated overnight to bring out the wheat's nutty sweetness). On the next day, I mixed the final dough and let it rise. After shaping, I let the dough proof in a round cake pan lined with parchment paper. Then transfer and bake in a Dutch oven for about 30 minutes. What came out was a complex, flavorful and tight-crumbed rye bread. More than that, the smell in the kitchen was fragrant and mellow. Similar to Nordic breads, this rye ring goes well with smoked fish or brined meat. The ring shape makes cutting and slicing really easy.
The amount or rye flours (medium and light) is about 69%. Preferment flour is about 55% (33% rye). The recipe calls for first clear flour, which gives rye bread its unique flavor. I substituted that with bread flour. That has worked out better than the high-extraction whole-wheat flour substitution I used in my first attempt. You can tell from the smaller and denser slice in the middle of the last picture, from the first bake using whole wheat, as compared to the bigger slices and the ring, from the second bake using bread flour. In the second round, I can't help myself in adding more water. That was a slippery slope, literally. The dough became quite fragile and slippery to shape. I think the dough benefits from higher hydration, but I'd hesitate to add water much beyond 70% of flour weight.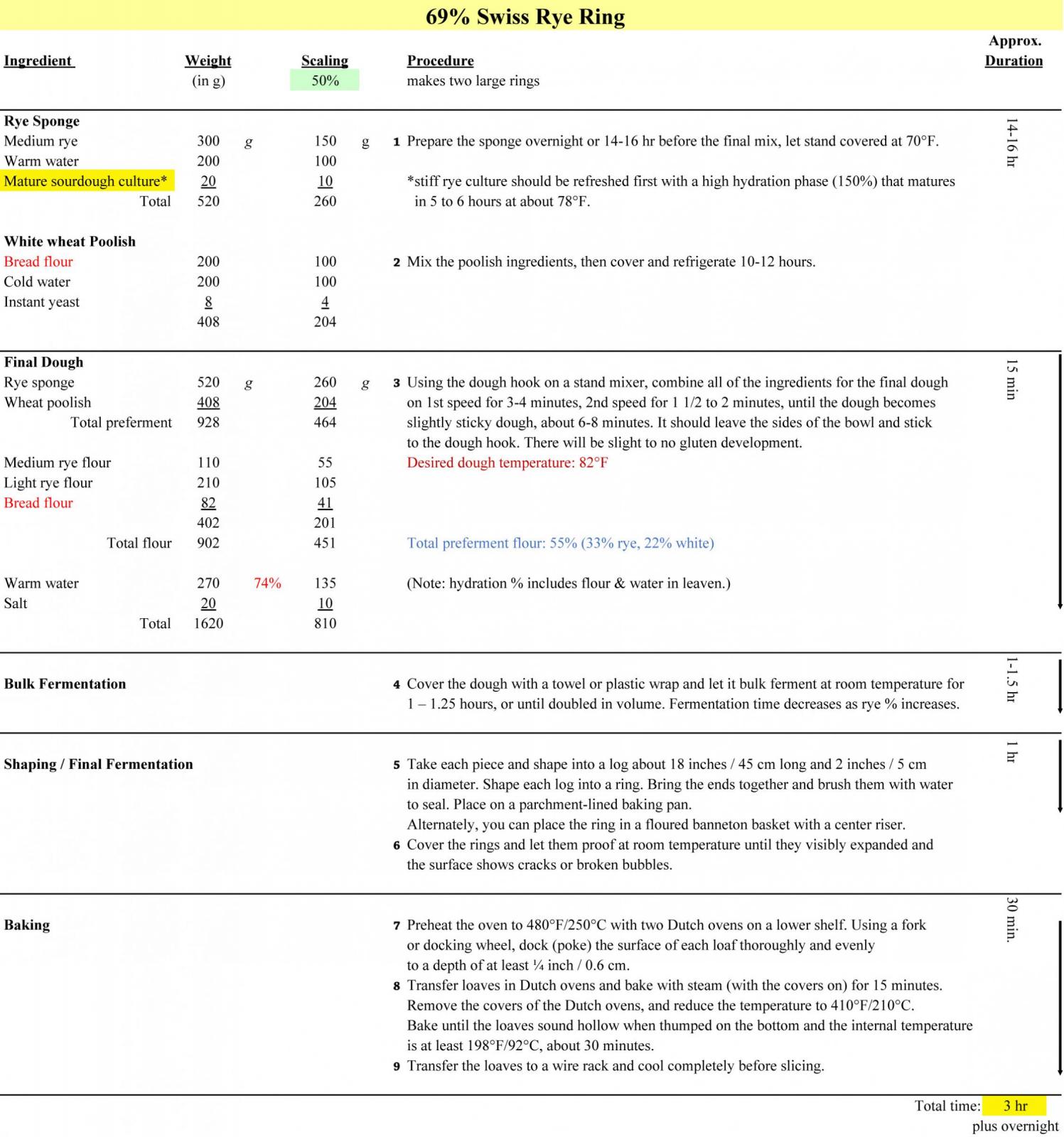 https://www.everopensauce.com/69-swiss-rye-ring-brasciadela-breadbakingbabes/https://www.everopensauce.com/69-swiss-rye-ring-brasciadela-breadbakingba...