After last week's 99% white bread, Lucy nearly went into shock with the Dark Side Heebie Jeebies.  Yes, there is such a thing as fatal HJ's but Lucy has an app for that.  So, this week she went dark starting with prunes and Deshuette's Black Porter, 61.3% wholegrain rye and 38.7% whole grain red and white wheat.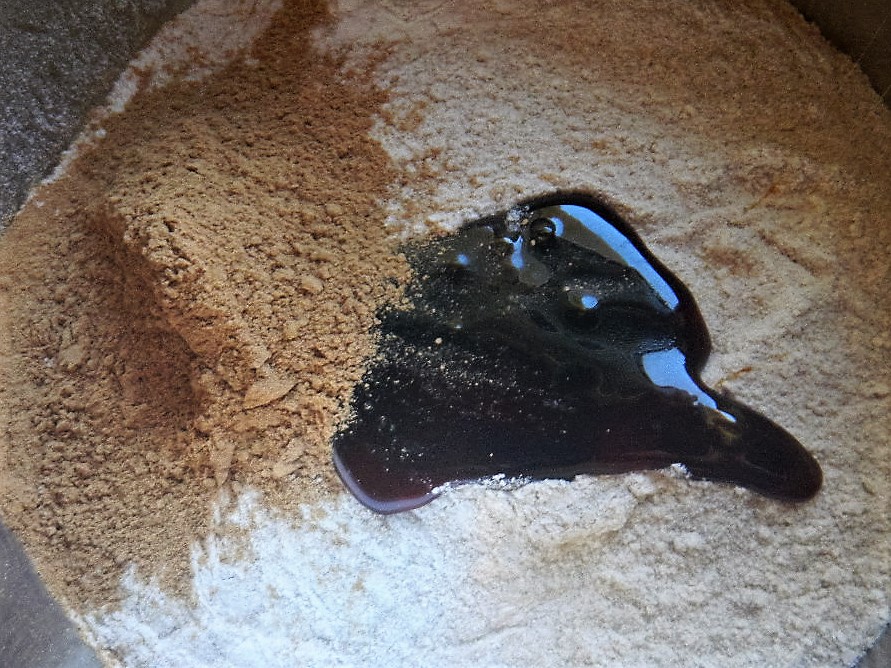 These odd percentiles would upset any full-blooded German to no end.  She didn't plan on it but she decided to toss in 20 g of red rye malt and since that is whole grain sprouted rye, it threw off the wholistic bread making percentages she usually lives and dies by.  If this wasn't dark enough, she then tossed in 1% each cocoa and espresso.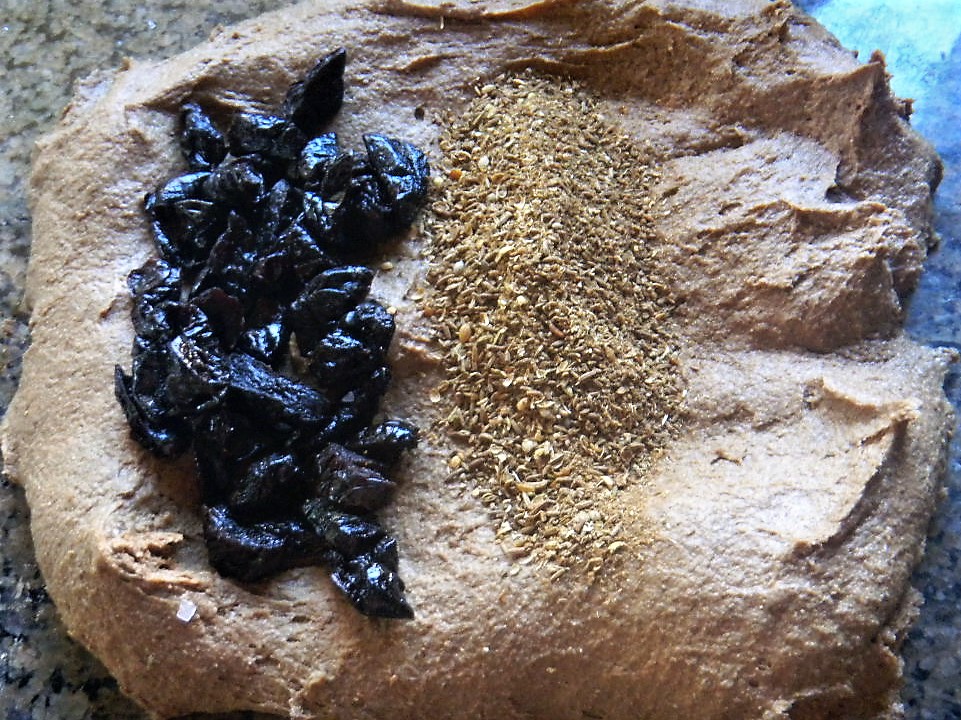 She normally would not use the last two dark side elements but I told her she couldn't bake the bread low and slow, pumpernickel style, in the mini oven outside on the patio.  I wasn't going to be out there in the AZ heat for hours and hours checking on her latest DaPumperized loaf.  She was worried it wouldn't be dark enough so in they went.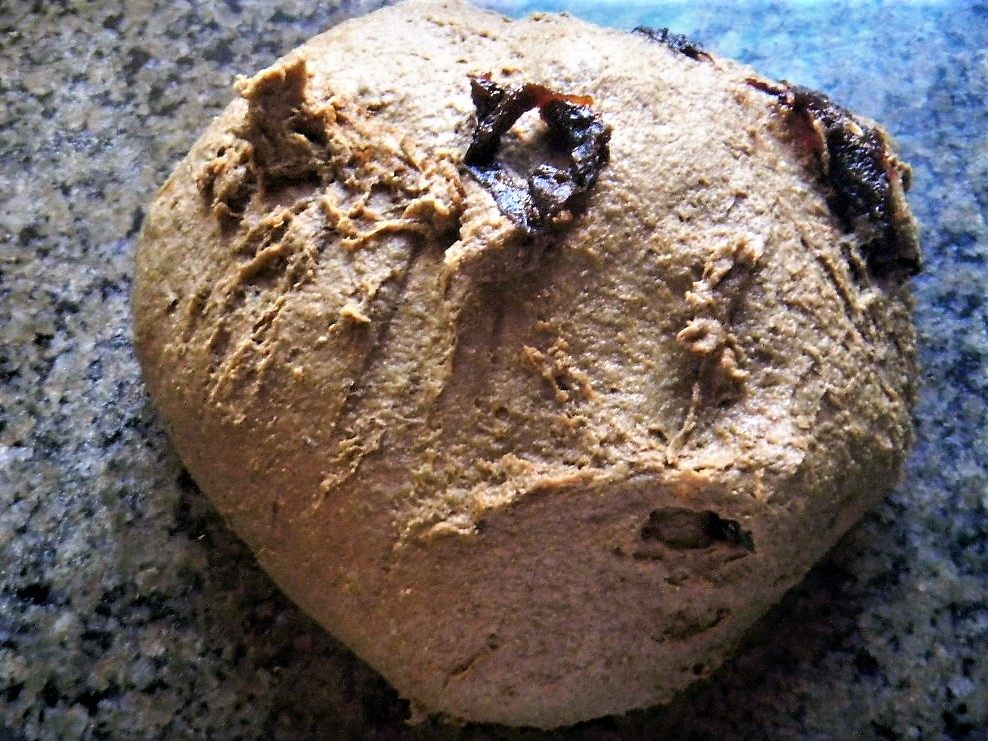 She worries about the oddest things and could care less about important matters like getting groomed and summer clipped at the Paw Salon and Spa this week and what kind of canned Alpo is going to get mixed in with her Purina Pro 100 dry food.  No, she isn't getting paid by Purina and Alpo for these plugs but I think they should at least pay me.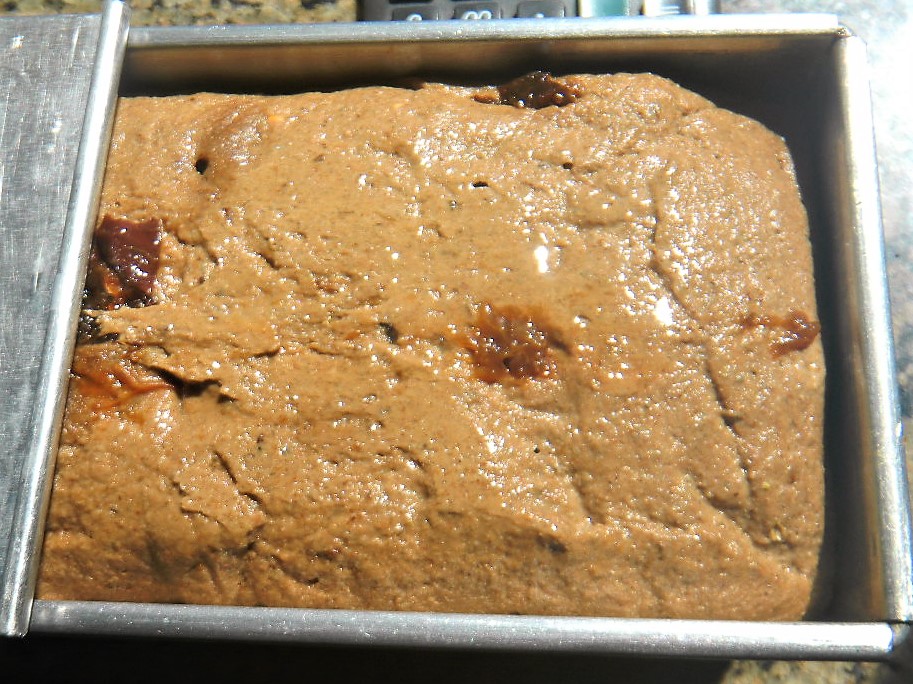 Don't fprget to dock the top of the loaf with a toothpick before closing the lid and putting it in the oven.
Being a rye bread where abundant acid is the most important thing in controlling amylase action that destroys the crumb structure she upped the pre-fermented flour of levain to 17.6%.  the pre-fermented flour was entirely bran that was sifted from the whole grain and wheat after milling it to a medium constancy rather than our usual fine grind.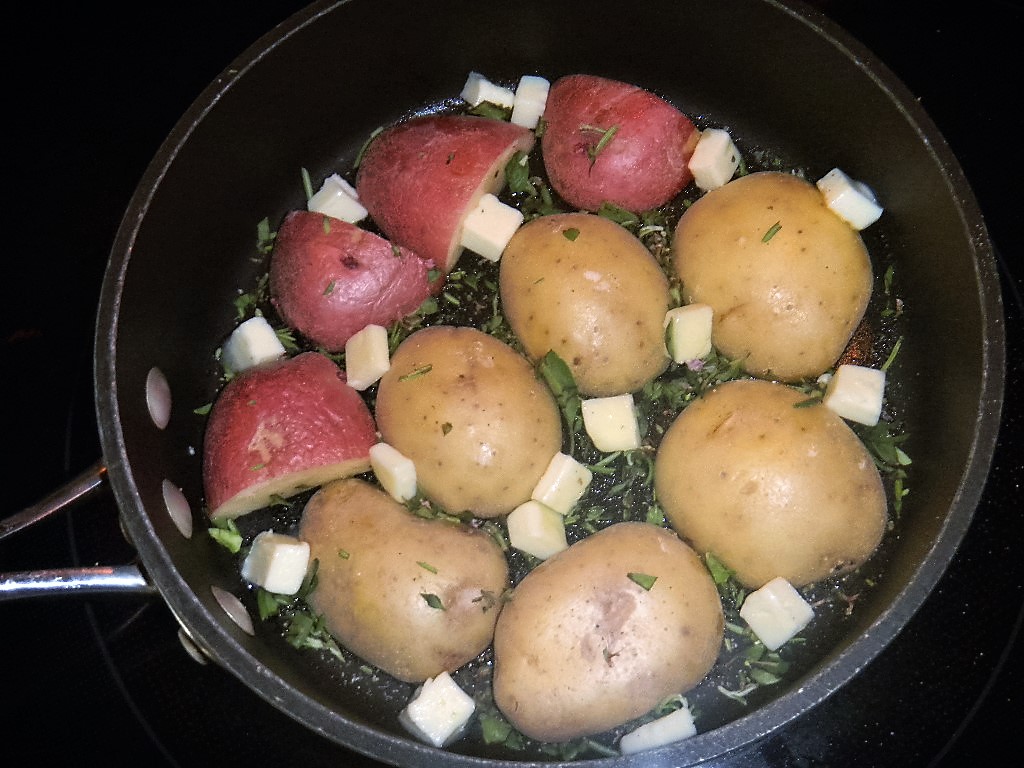 Potatoes butter rosemary and basil with 1/8th cup of water steamed woith lid on and then removed until browned becomes the best fried, herb potatoes ever!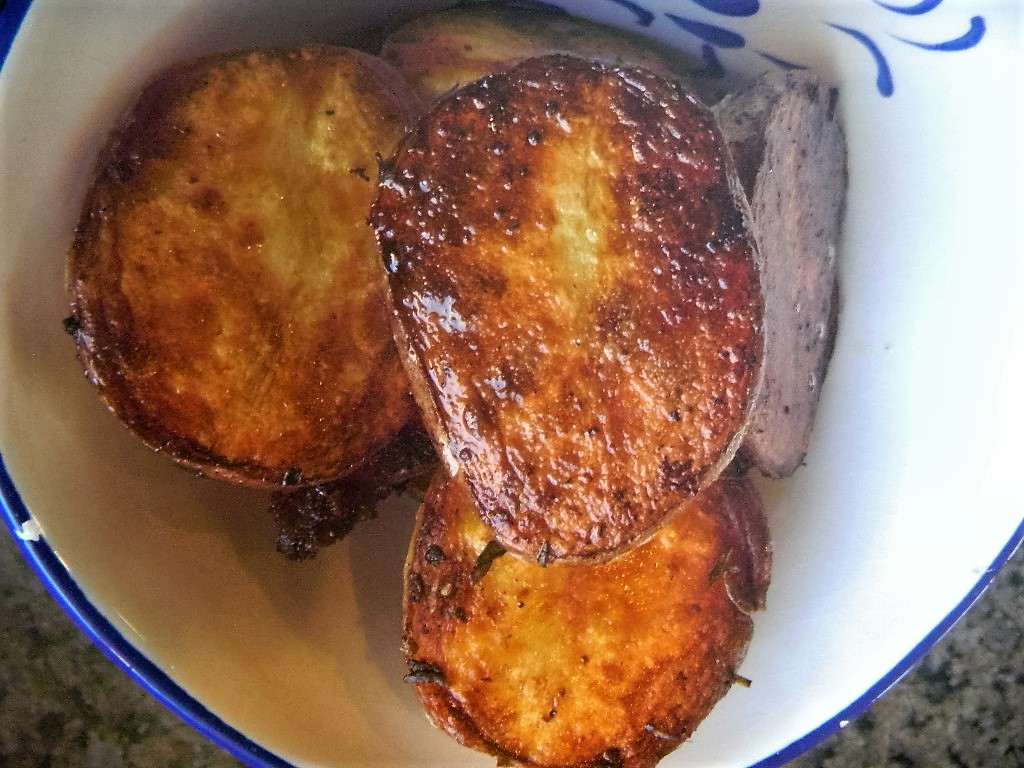 The levain was our usual 100% hydration but was different in that it 20 g of our NMNF WG rye starter and was a single stage 6 hour affair that was not retarded.  We autolyzed the dough flour with a bottle of the Deshuettes Black Porter and some water and 5% barley malt syrup, for 1 hour to get the overall hydration up to 92.3% with the PH sea salt sprinkled on top.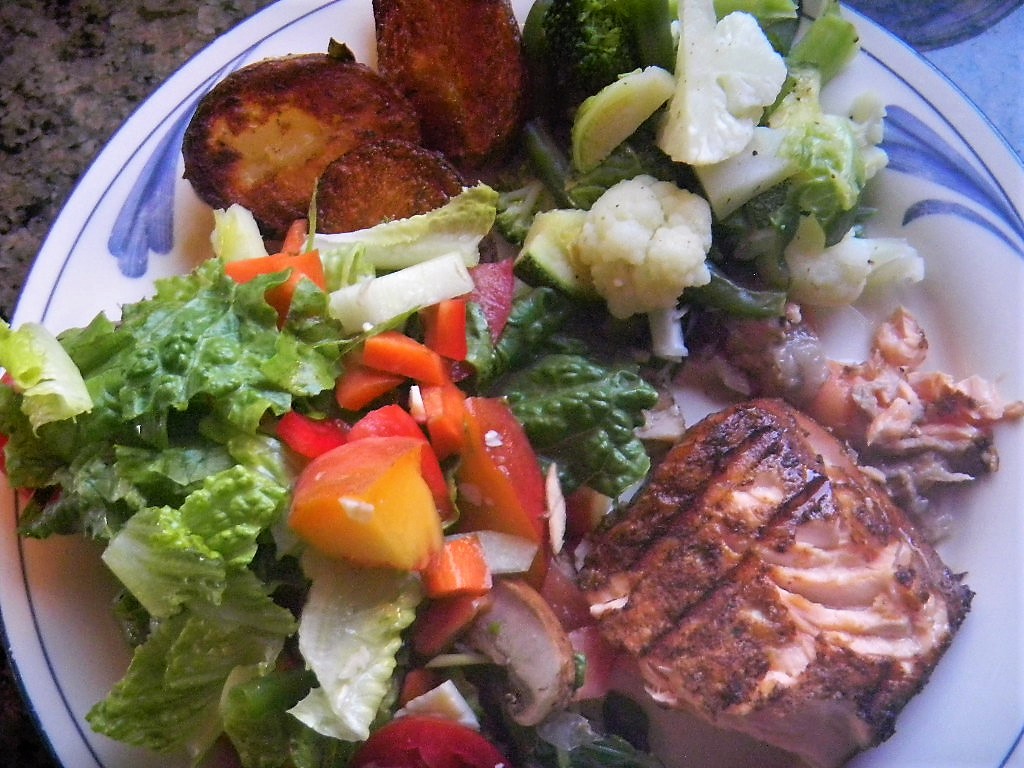 We still eat grilled salmon just about every week
Once the levain hit the mix we did 4 sets of slap and folds of 60 20, 10 and 4 slaps and folds with the prunes and toasted, crushed, aromatic seeds going in at the 3rd set after trying to fold them in first.  All the slapping the dough into shape was done on 30 minute intervals.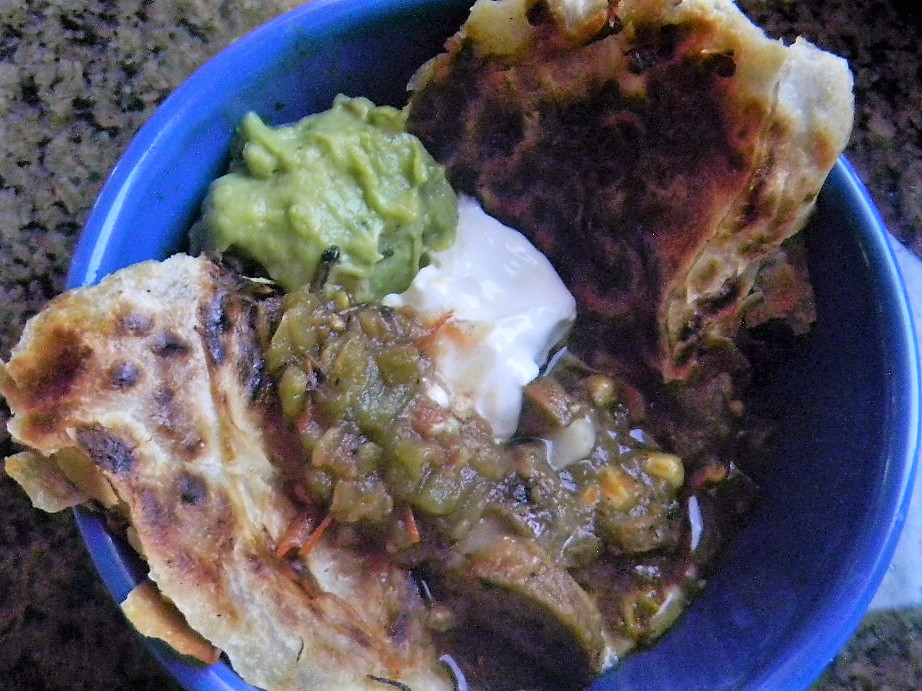 This was chicken grilled veg cheese crisp wit pork chili verde - extra yum with guacamole, crema and pico!
We then shaped the dough into a loaf shape that would fit the pan release sprayed Exotic Oriental Pullman Pan.  We slid the lid in and put it in the fridge for a 12 hour retard after a short 40 minute proof on the counter.  Since the cold brings amylase activity down to a crawl you can retard your higher percent rye breads like any other one without worrying about the word ending – but Lucy has an app for that too.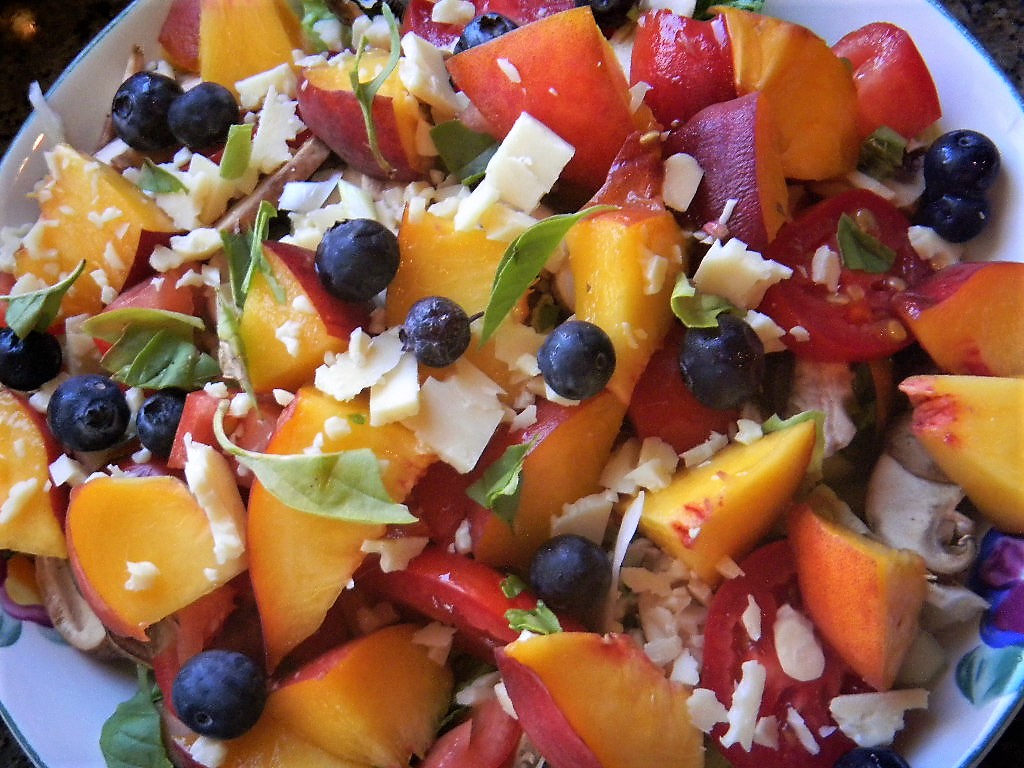 Lucy says to have a great salad every night and this one was exceptional with perfect peaches and blueberries
After taking it out in the morning, it looked like it had puffed itself up weakly in the middle about .34" without much movement anywhere else - pretty sad at the time.  So, we let it sit on the counter to warm up and finish proofing to fill that lovely pan up to the brim.  We expected this to taok many, many hours - over 8 in fact in the vein of this bread Purim and Sprouted Westfalian Rye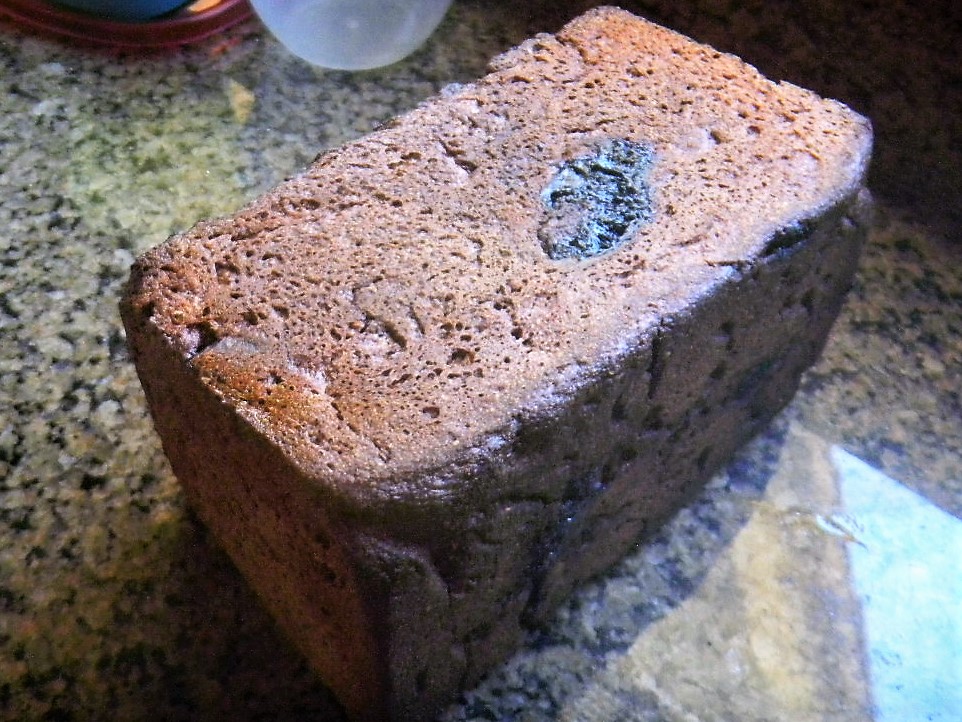 We were surprised when it took only 3 hours.  The levain had to be much nor active plus the kitchen was 25 degrees warmer too!  We decided to bake the bread the same way as we did last March but using the mini oven instead and adding 20 minutes to the steaming portion since the MO heats up so much faster than Big Old Betsy.  We started with the mini oven off, put the bread in, cranked it up to 450 F and steamed it for 30 minutes at 425 F after it hit temperature.  We then removed the lid and continued to bake for 1 hour at 375 F.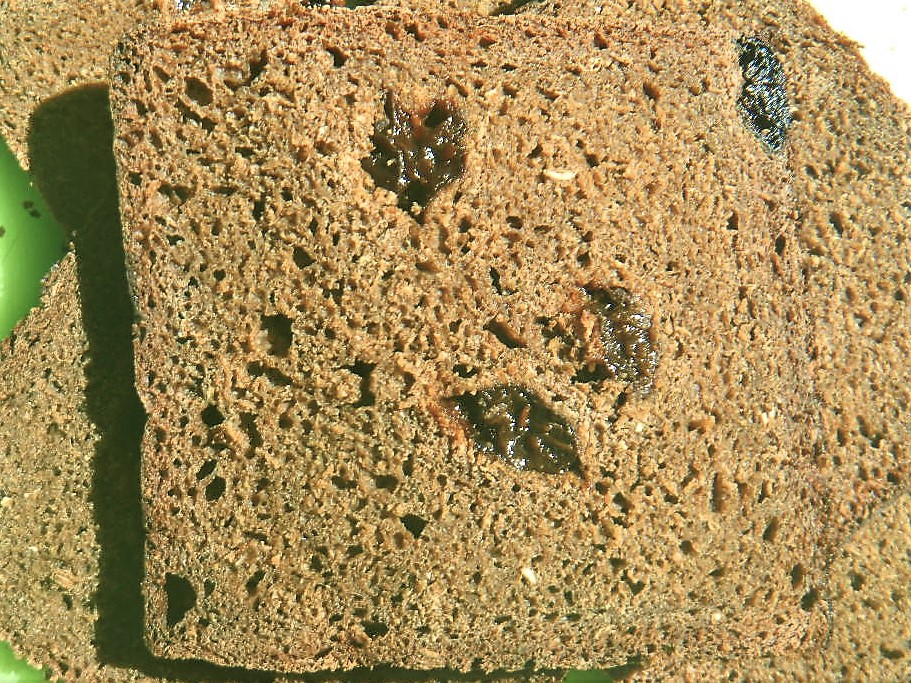 We were going to let the bread continue baking out of the pan at this point but I was already 206 F and a bit more than the 202 F we were shooting for - so onto the cooling rack it went.   We will now wait to see if the crumb came out as nice as it did in last March sans nuts and sprouts.  The crumb was not as moist as usual due to the over baking by 4 F we were looking for.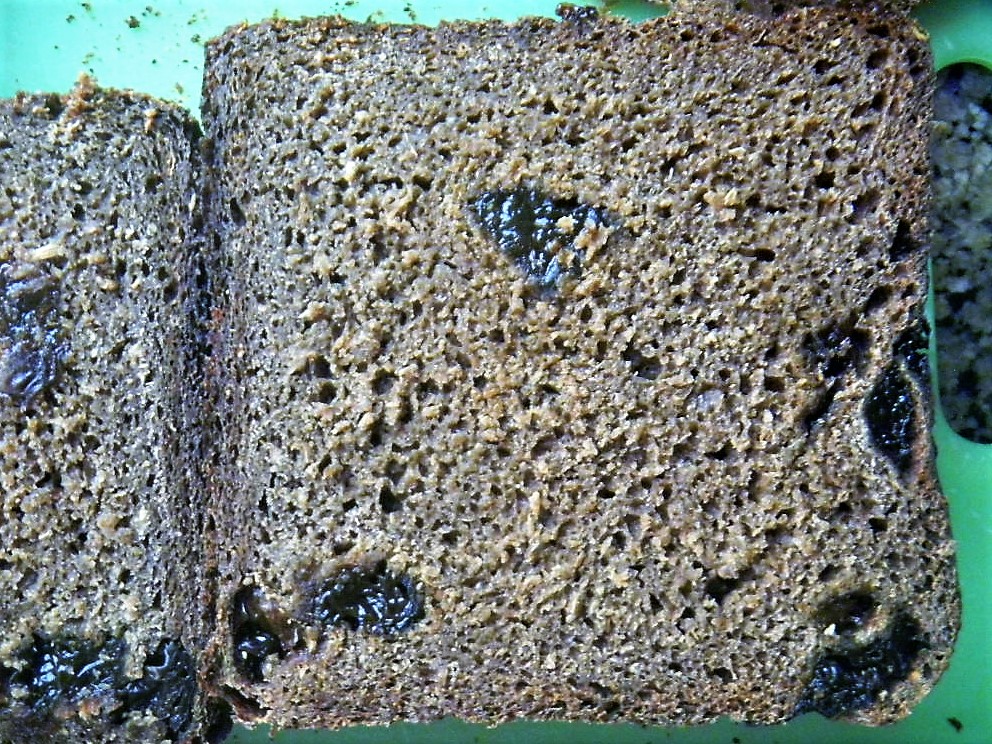 This shot not taken in direct sunlight and represents the real crumb color better .
The bread sliced very thinly and easily making  for perfect less than 1/4" slices.  The bread spices are more subtle than usual too..... 6% would have been better.  We still like this bread very much even if not as open as others but it is 100% whole grain bread in the classic 60 / 40 rye wheat split found all over The Netherlands - but the prunes are pure Andy of TFL fame and delicious in this bread.   I also like it better with Mini Oven's Toasted Walnuts and Lucy's sprouts as additional add ins.  It is still about the best thing since sliced bread none the less.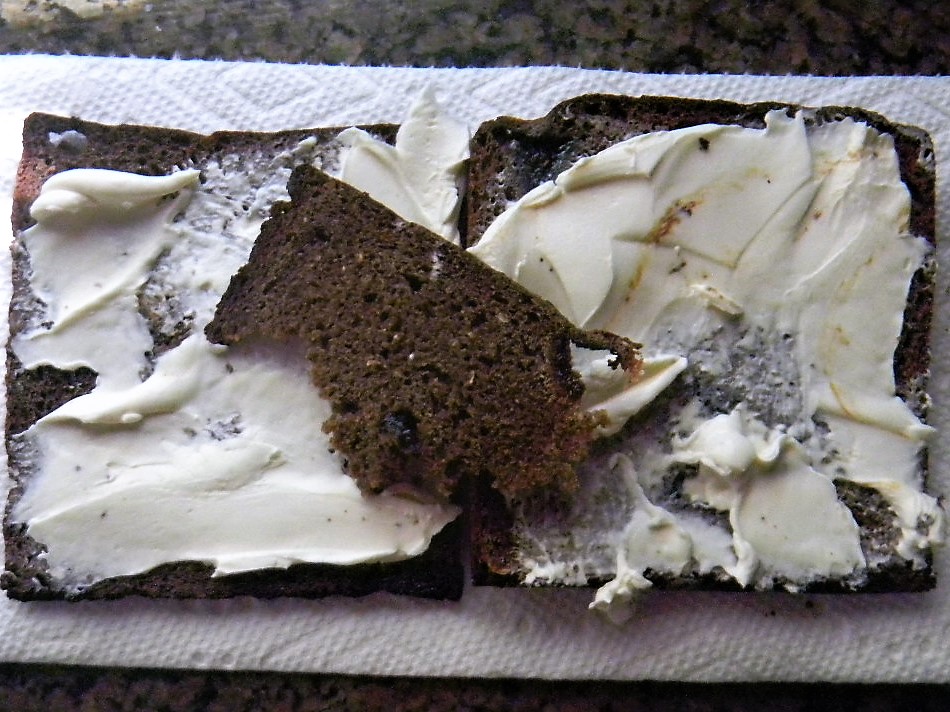 Breakfast was two slices toasted with a schmear and a tiny slive to taste all on its own untoasted.
Formula
17.6% preferment rye and wheat bran levain using 20 g of NMNF rye starter at 100% hydration.  This was a singe stage, non-retarded levain, that took 6 hours to double.
Dough
29.6% whole grain red and white wheat 50/50
49.5% whole grain rye
3.3% red rye malt
5% barley malt syrup
4% toasted and cracked seeds - half caraway and the other half anise, fennel and coriander in equal amounts
15% prunes – each one sliced into thirds
1.1% each cocoa and instant coffee
Enough water and 1 bottle of Deschuette's Black Porter to make the hydration 90% without taking into account the water in the barley malt syrup.  Overall hydration would be 92.5% with the BMS
2% pink Himalayan sea salt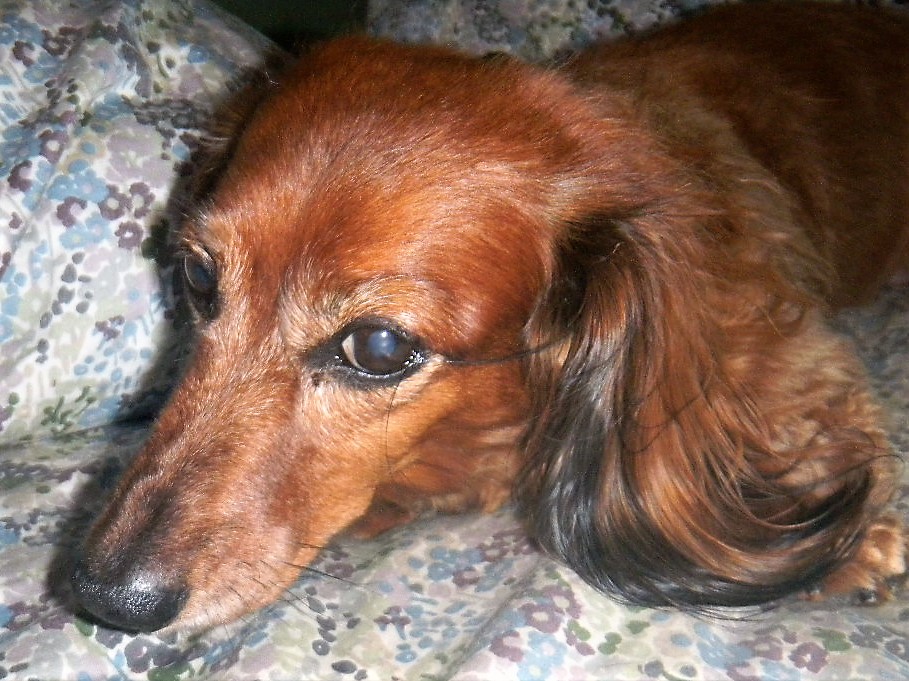 Here is the Girl Baby fresh from the salon and spa