Time flies --- but somehow bread still gets baked...
It's been a crazy month of chores at the farms, a couple of multi-day cross-country trips for family events, an unexpected minor surgery, and all of the usual stuff that we all deal with.  As we all know, there truly are not enough hours in the day, and sometimes something just has to be neglected...
Well - since home-baked sourdough breads have become a critical part of our nourishment for both body and mind, what had to go was internet time, along with posting and blogging, and even really keeping track of the bakes (other than the usual tracking of formulae and notes).  I managed to get at least one "daily bread" loaf made each week, with even some multiple bakes in there to bring to family events, and some successful and some not-pretty-but-still-tasty attempts at enriched / sweet style breads.
My NMNF rye starter has been charging happily along after the issues that apparently were caused by excessive minerals/chlorine in the water, I've got a durum version chugging along, too, and I've been starting / retarding / continuing / retarding the levains and the doughs quite randomly to fit in to what time I had at home.  It's been a bit of a revelation for me just how forgiving and accommodating our naturally leavened formulae can be, and how "successful" any number of mixed up techniques and timing will be (with "successful" being defined as "delicious and nutritious bread that I will go out of my way to eat" --- and doesn't necessarily include a pretty appearance or a photogenic wildly open crumb).
My "daily bread" right now is either a straight-forward 1-2-3 loaf at 50% or 60% whole grain (rye / spelt / random other grain), a Mini Oven's formula 100% rye, or a 100% whole grain porridge pan bread that I came up with that is a mix of different wheat types (hard red / soft white / red fife / durum / spelt / kamut) with a porridge of  wheat germ, oat bran, millet, rolled oats, rye flakes, and barley flakes that are toasted and then cooked in milk.  The levains end up built in one or two or three feeds (depending on what it looks like I can fit in) and are retarded in the fridge right after they double on the final feed (or sometimes in between feeds) and sit there until I'm ready.  I've had weeks where I've done everything from autolyse to baked in a day, and other times when it's taken 3 days to get from first mix to baked.  While there is a lot of science behind how things work, it's fascinating to me that so many variables can be successfully changed just by "watching the dough" and remembering that the fridge is your friend!
A few pics that did get snapped along the way, of starting the porridge and mixing the flours for the 100% whole wheat (love how all of the different strains have such different colours and textures!) and the 1-2-3 with kamut that got baked that same day: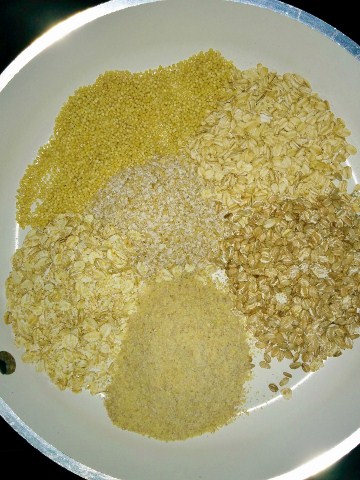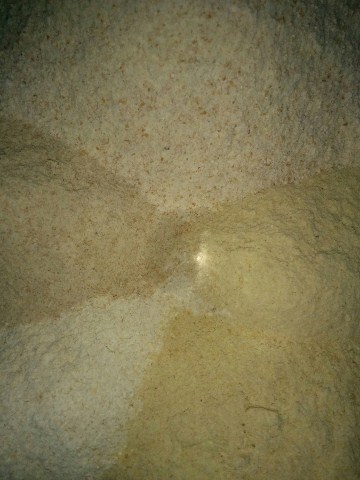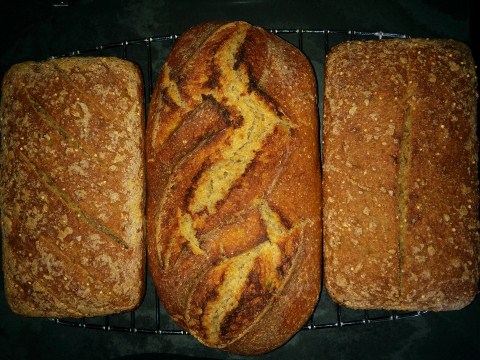 A pumpernickel that rose way more than I expected in the oven (causing it to be dented from the foil I had sealing it in) and that was so soft when it came out that the cooling rack dented it (but it still tasted wonderful):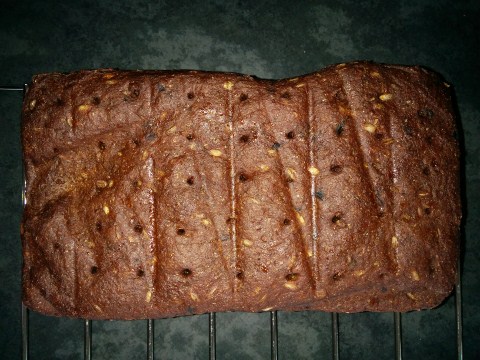 A busy bake day that all went out to my in-laws' place (enriched sourdough sweet dough made in to dinner rolls, cinnamon rolls, apricot / apple / almond rolls, and Earl-Grey-tea-steeped figs / apricots / prune rolls, along with a 60% whole grain 1-2-3 loaf that was insanely active and which I ended up stretching out and re-shaping twice before it hit the oven: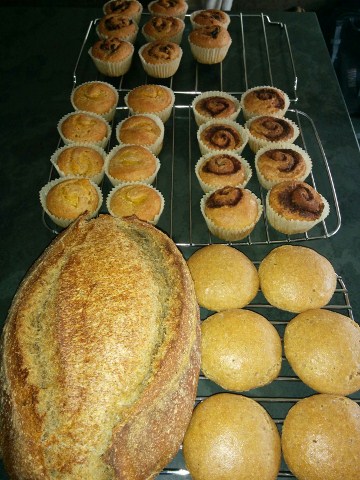 There was also a 100% rye and another of the 100% WW pan loaves that went with these, and I got a fine compliment from an ex-pat German lady who was there visiting --- who told me that the one thing she most missed from home was the good rye breads and that this one was the first one in over a decade that "tasted like home".
It's looking like things will hopefully be settling down for a bit, so I can catch up with all of the great stuff that you all have been doing.  I've got the levains already built and in the fridge for a few loaves this week, and am ridiculously full of confidence that the dough will forgive me spending a bit of time relaxing  on line...
Keep baking happy!