Sprouted 5 Grain Bran Levain Sourdough with Cranberries and Pistachios
Lucy was trying to get back to her bread roots with lots of add ins.  This is also the 5th year since we started sprouting our own grains and adding them into breads.  Originally we sprouted them and added them into the mix when the stretch and folds began and then later started drying them and grinding them into flour too.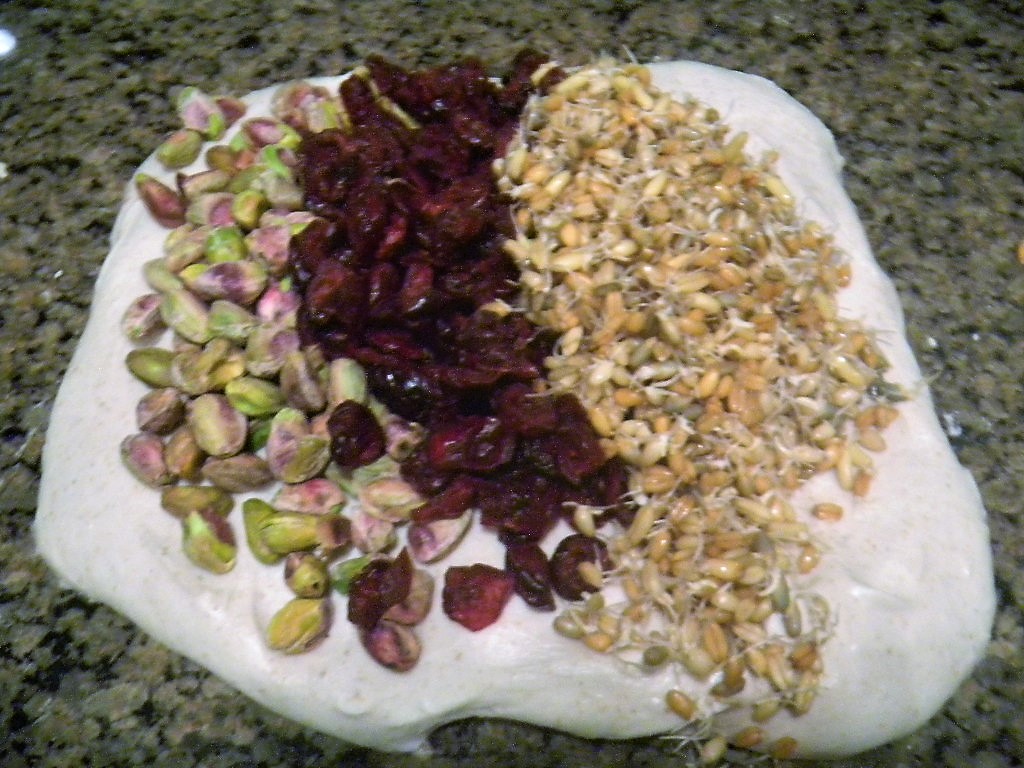 So Lucy went back to her roots and took half the sprouted grains for grinding and making the bran levain and left the other half to fold into the crumb like we did so long ago.  Then she decided to get some cranberries and pistachios in the mix too.  So this turned out to be an old school Lucy bread.
The 5 sprouted grains were: Kamut, red and white wheat, spelt and rye in equal amounts – half ground for the 9% pre-fermented flour, 100% hydration, single stage bran levain that took 8 hours to double. After stirring at the 4 hour mark.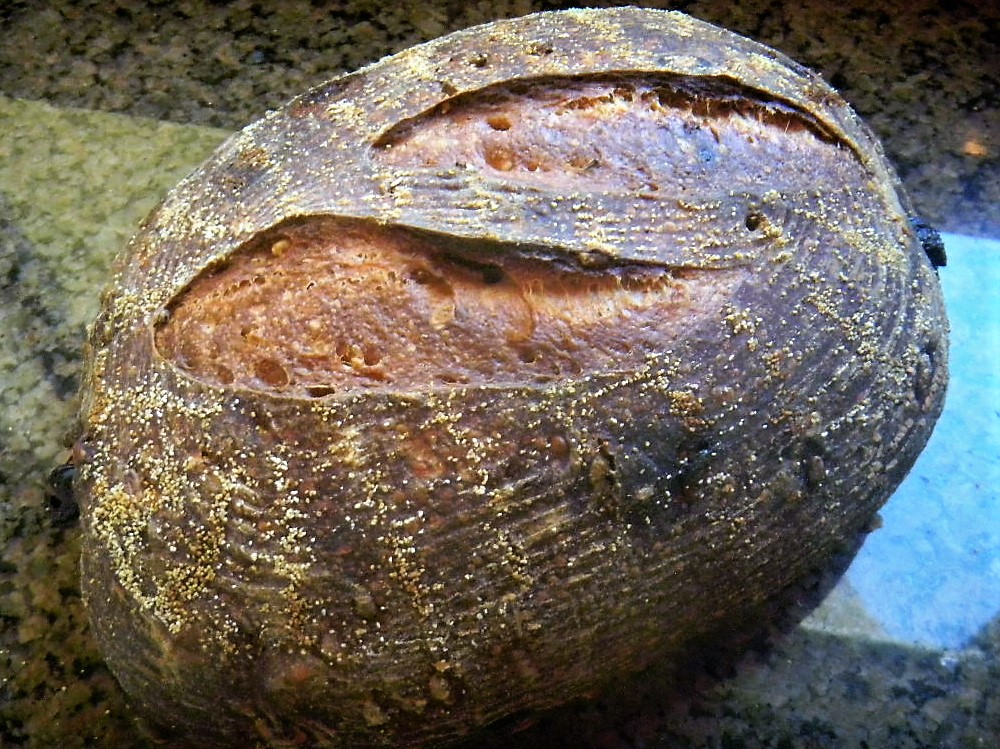 The dough flour and enough dough water to get to 85% hydration were autolyzed for 40 minutes with the Pink Himalayan sea salt sprinkled on top and an extra 3% water sprinkled on top of the salt for a double hydration that totaled 88%.  We did 3 sets of slap and folds of 50, 20 and 10 and then 3 sets of stretch and folds with the add ins going in on the first set.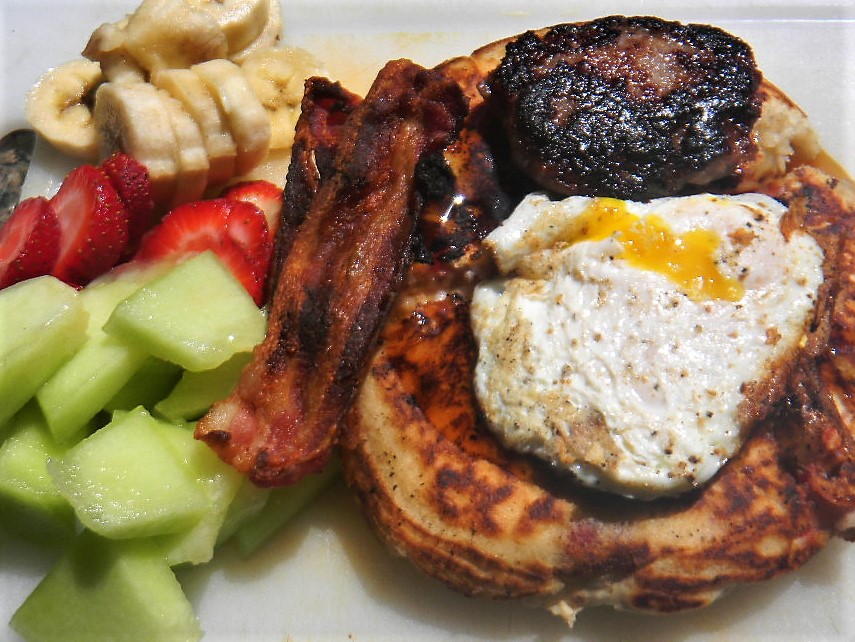 SD pancake breakfast
All the dough manipulations were done on 30 minute intervals.  After a quick pre-shape we shaped the dough in to a taunt, squat oval and plopped it into a rice floured oval basket that had some conn meal sprinkled into the bottom at the last minute.  It was then retarded for 13 hours.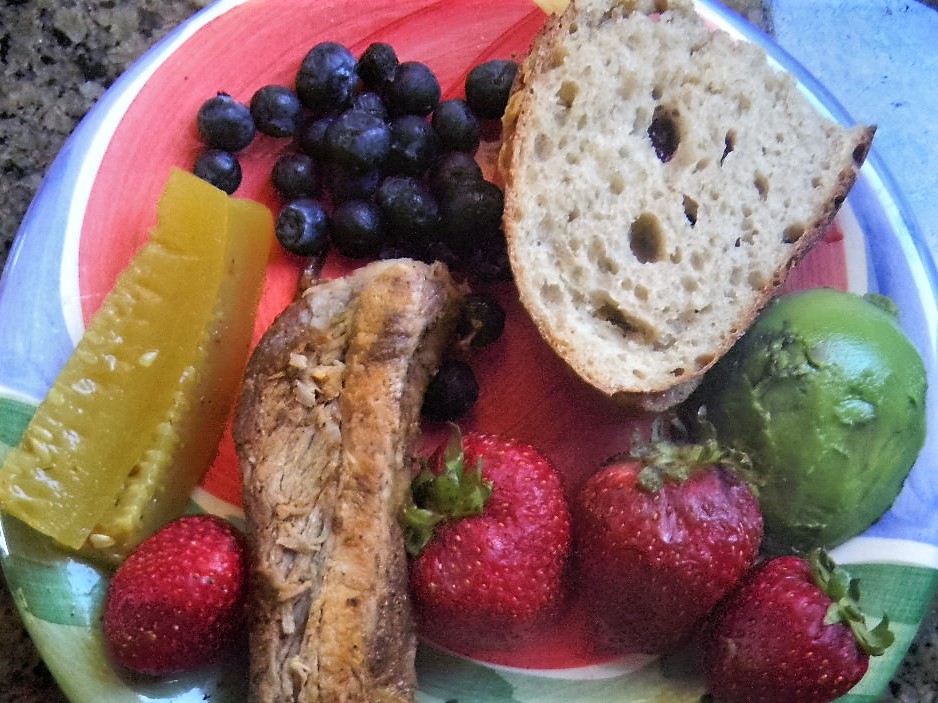 Light P&J Rib lunch
We let the dough warm up on the counter for an hour before firing up the big oven to 500 F.  When it hit temperature, we put the lave rocks half full of water; Mega Steam, in and let it really get going for 15 minutes before the bread was unmolded, slashed and slid onto the bottom stone for 16 minutes of steam.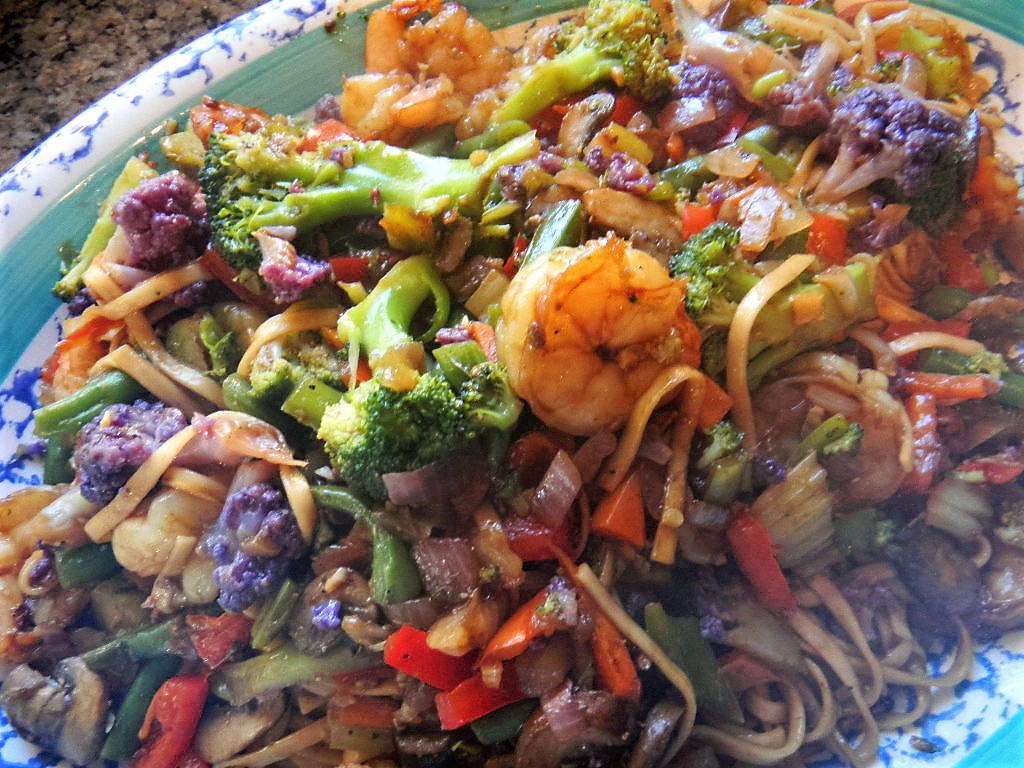 Shrimp Lo Mein Stir Fry with broccoli, purple cauliflower, green bean, squash, yellow & red pepper, Hatch green chili, 2 kinds of mushrooms, red. white & green onion with some chocolate graham cracker cheesecake with strawberries.
When the steam came out we turned the oven down to 425 F convection for another 28 minutes of dry heat.  When we took it out it read 208 F.   It had puffed itself up, bloomed and browned nicely as well.  We think the crumb should be fairly open, for a bread with so much stuff in it.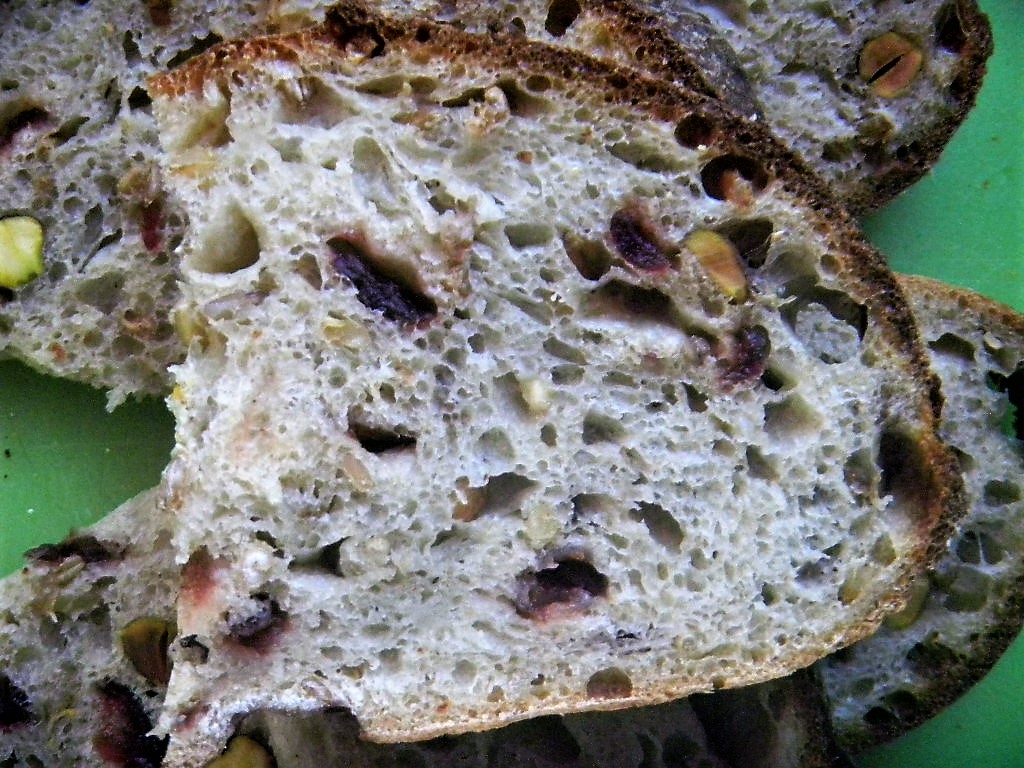 This bread is nice open, with a soft and moist crumb, that is tart and sweet due to the cranberries yet hearty healthy and nutty from the sprouts and pistachios.  It is one fine tasting bread for sure.  I will n=make some fine toast for sure.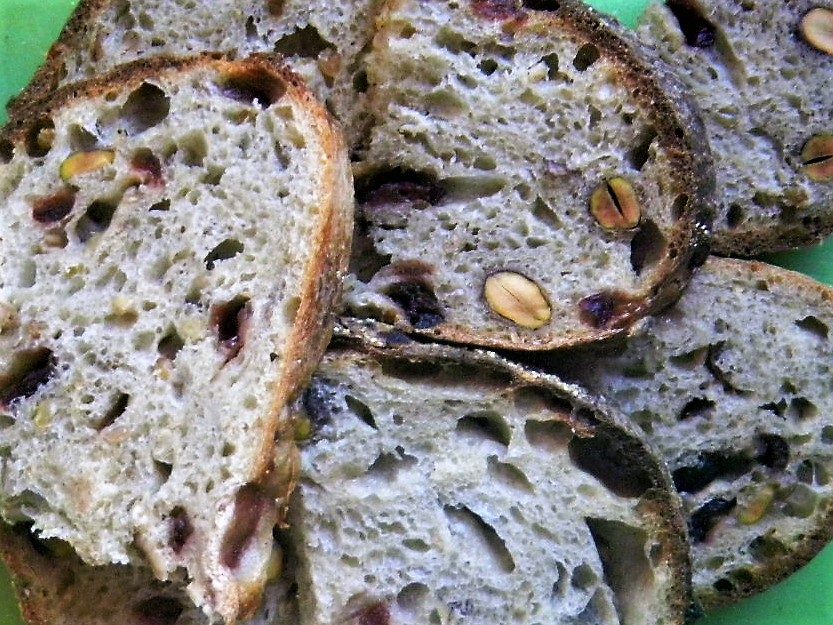 Formula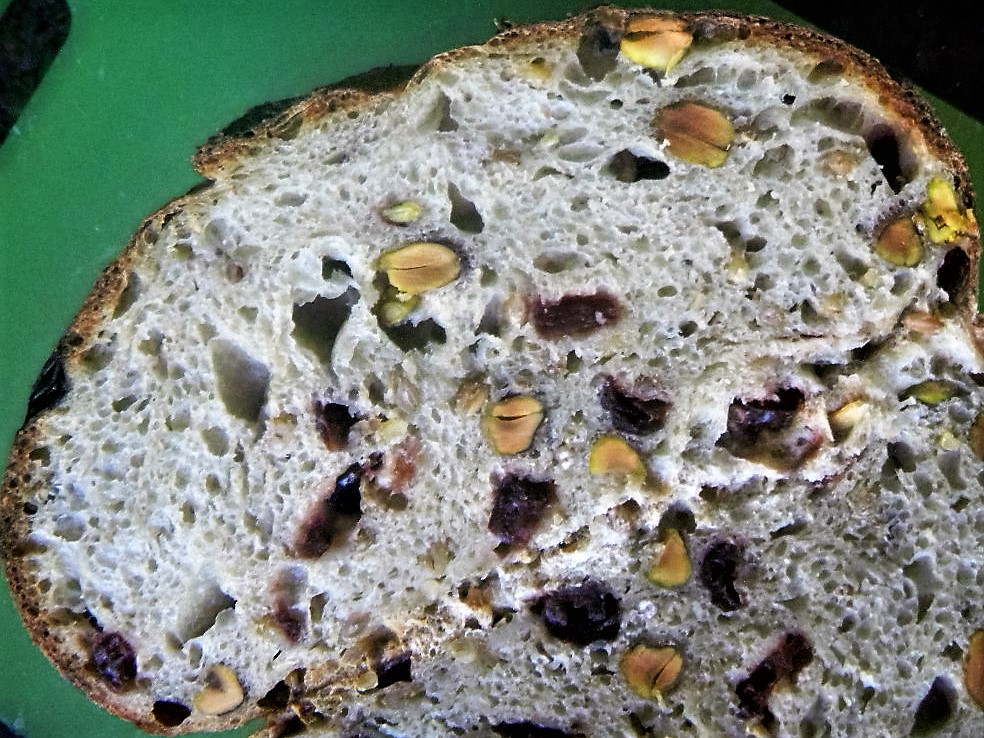 9% sprouted 5 grain bran and high extraction single stage, 100% hydration, 8 hour levain that was stirred at the 4 hour mark.
Dough
4% high extraction sprouted 5 grain
43% LaFama AP
44% Albertson's bread flour
2% PH sea salt
12% Sprouted 5 grains – whole
15% Dried cranberries
15% Pistachios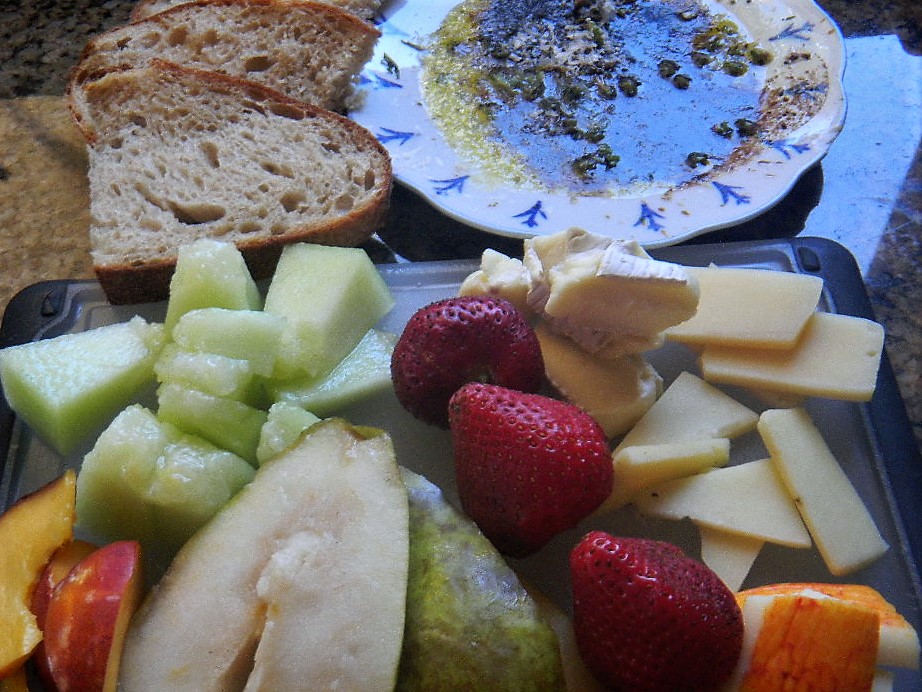 Have a salad after that appetizer dipping plate