Brewer's Bread with Spent Grains
When I heard about breads made with spent grains - leftovers from beer brewing - I was fascinated.
How interesting! But, where on earth, could you come by those mashed grains, unless you worked at a brewery? We have two micro-breweries in Bar Harbor, so I left a message, asking whether I could purchase a small amount of their spent grains.
The sobering answer: the mash goes to the (dogs) hogs. All sold to pig farms - sorry!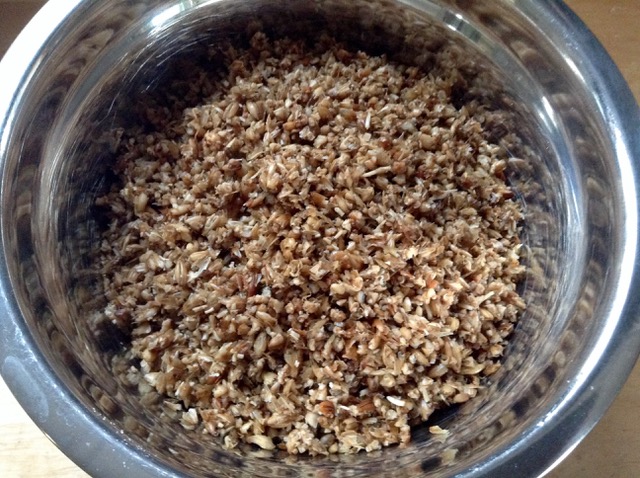 Spents grains, though cooked, retain some of their sweetness
So I gave up on the idea. Then, two years ago, I found a Groupon in my emails with a real bargain on a small brewing kit. A beer drinker, and always curious, I ordered it  - but then the bulky package ended up in the basement, with other rarely used kitchen equipment, like the lobster pot.
The best of all husbands needs some quality solitude now and then, playing his guitar and recording his music.
Left to my devices, I unearthed beer kit and lobster pot (just the right size for the mash!), and went around in the house with a thermometer.
Our guestroom closet proved to be the ideal environment for beer fermentation: cool, but not cold. And dark. 
Looking at the packages with malted barley, I realized: here was not only the base for my first (hopefully successful) stab at brewing, but, also, finally, the source for spent grain.
I visualized us drinking my very own Pale Ale, while enjoying a loaf made with the leftovers.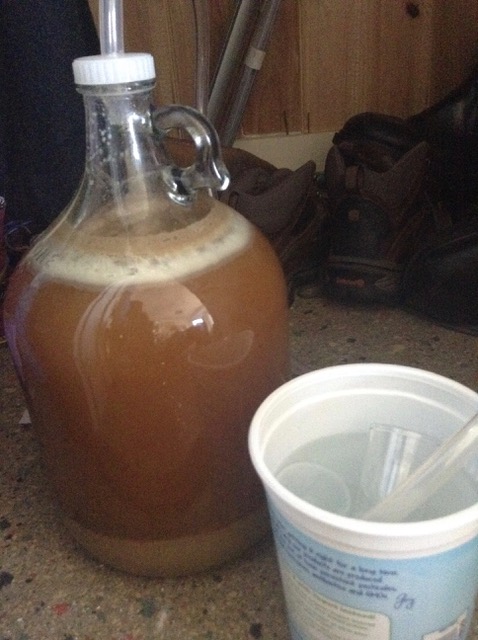 It's alive - my nascent beer is bubbling away in the guestroom closet
Whether the beer will be drinkable or not, I don't know, yet. Its precursor is foaming, happily bubbling away, next to our winter boots in the closet.
Many of my bread concoctions are based on porridge breads à la Tartine, tweaked to meet my needs (a bit tangier) and accommodating all kinds of grain/nut/seed combinations, like the squirrel-channeling Acorn Levain.
The bread I came up with contains a good measure of spent grains along with whole wheat. It turned out to be a very pleasing, hearty loaf - this newbie brewer was delighted! Definitely a keeper.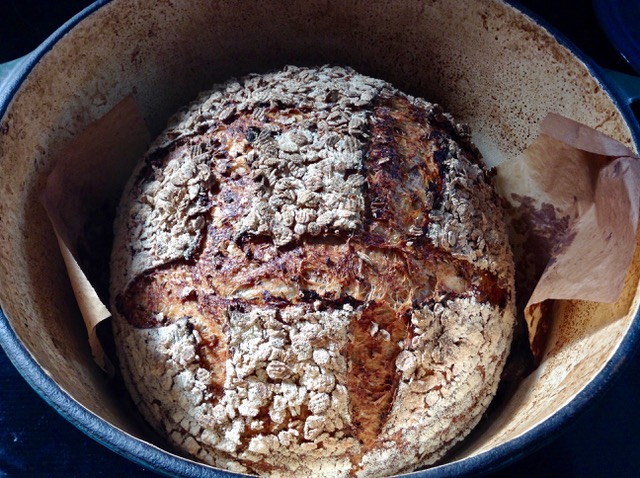 Freshly baked Brewer's Bread
And I still have a bag of barley mash stored in the freezer, for my next recycling adventures.
To see the recipe and procedure, including a downloadable BreadStorm formula, please, follow me to my blog "Brot & Bread".