November 26, 2016 - 12:34am
Turmeric, Cashews, and Carrot Sourdough (No-Knead version)
George Bernard Shaw once said "there is no love sincerer than the love of food;" I am re-writing that sentence: "there is no love more sincere than the love of bread."
Sourdough is one of life's simplest pleasures. How lucky I am to not have gluten intolerance.
It's been nearly four years since I last posted. Is anyone familiar with an Australian aborigines' rite called "walkabout"? I feel like I had gone on a long walkabout and have just found my way home. A lot had transpired in between, but at this very moment, I feel not much has changed between me and sourdough.
So, Hello friends, I see a few familiar faces but most I don't recognize. I guess that won't matter; bread is our common language.
I never thought I would lose it, but I did – a few times I tried to make bread during my time away but failed miserably and I never quite knew what went wrong. A year or 18 months ago, I bought my sister Orange Jim Layhey's famous No Knead bread book; secretly I wanted to learn it too as a way out of the mud, or quick sand, I was in with my formal way of sourdough making.
Scroll forward, a week ago, I came across a no-knead sourdough formula on Eric's BreadTopia, I thought it was amazing and decided to give it a try. The result was really pleasing, however I could never just follow a recipe; I needed to do my own thing. So after a few experiments, I did the following:
Turmeric, Cashews, and Carrot Sourdough (No-Knead version)
(adapted from BreadTopia's no-knead cranberry & pecan sourdough, thank you, Eric!)
430 g flour (consisting of 390 g bread flour, and 40 g wholemeal/spelt/rye flour mix)
60 g very young 100% hydration starter, diluted in 50 g water
300 g carrot juice (from 4 – 5 medium carrots)
100 g cashew nuts (lightly roasted and cooled)
70 g threaded carrot (from about one small carrot)
2.5 teaspoonful of turmeric powder
9 g salt
(Overall hydration about 81%)
Method
(1)   Mix everything up in one go, and just leave it.
If you are so inclined, give it a fold or two, or none, not straightaway, but perhaps a couple of hours later, or whenever.  (Being a sourdough baker, you would just be so tempted to fold it. It is not possible to not fold it; you cannot not do it.) In the 9 hours of bulk fermentation at room temp averaging 22-24C (72-75F), I did just one letter fold.
(2)   Just before shaping, I did another letter fold, and I let the dough rest for 15 minutes, then shaped it (very minimalist handling); final proof a little over 2 hours.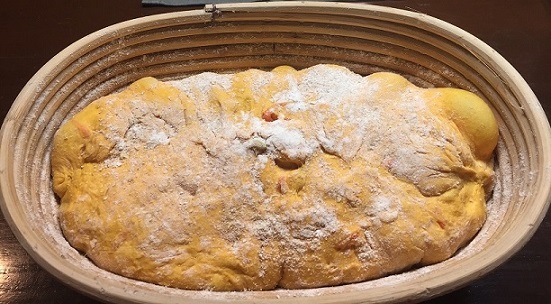 (3)   30 minutes before baking, pre-heat with a Dutch oven inside to 225C (450F). Bake it covered for 30 minutes (no need for steaming), then open the lid, and bake a further 10 minutes.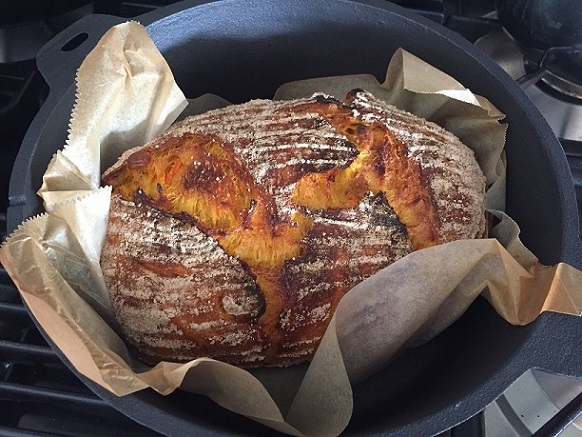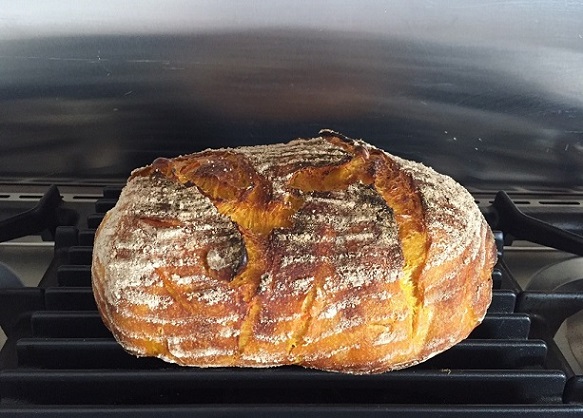 A few notes (these are to refresh my own memory:
Hydration – it is one thing to want to have large holes, and another to have too much hydration with the bread ending like a big pancake;
Fermentation – I have found most no-knead bread recipes asking for too long fermentation, with the end result of a pancake again; long fermentation is safer with lower hydration;
Temperature - an all important issue which bloggers or posters don't seem to spend time to talk about; temperature is key in deciding the length of time needed for fermentation;
Starter - a young starter is always my preference; unless I am making a German or Swiss style rye bread, in general, I do not like making sourdough with mature starter;
Total time from initial mixing to just before baking – this time figure is what I pay attention to; but at the end of the day …
When all is said and done, I am finding learning to "read" the dough is THE most important step of all steps, a step that can override all other steps!
Not sure how much I will be posting going forward, but glad to be back and say Hi.
Cheers to all!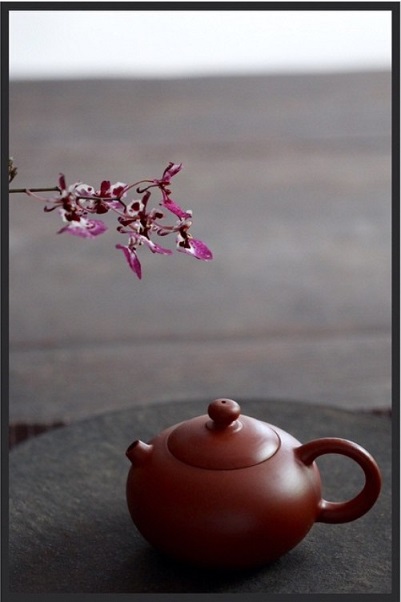 Shiao-Ping