October 25, 2016 - 1:19pm
SFBI style pain au levain at 80% hydration.
Not my style, and too lazy, I guess.  Earlier this week SteveB posted his magnificent 80% hydration pain au levain, which disappeared all too quickly from the current Bread Browser images.  I'd been making a few different versions, including my take on David Snyder's take on an SFBI pain au levain.
We are leaving for vacation tomorrow and on any flight day involving more than a few hours of travel I'll pack my usual favorite travel sandwich of PB&J.  We ran out of bread, oh the horror, and I was on the cusp of buying a bread when Steve posted his delight.  
I was intrigued by the usage of a drywall blade which he employed, in maintaining a mostly hands off approach while shaping and applying surface tension to the batard.  I had a shorter version of that type of blade in my tool kit, needed comestibles for the flights, and a bit of an urge to give it a go.  
I upped the hydration on the SFBI pain au levain from the formulated 68% to 80%, quite a leap.  And so I employed the drywall blade...
Gold Medal Bread Flour
my stock 75% mixed flour levain
Held back ~40 or so grams of water during the autolyse, then double hydrated when I added the salt.
300 French Folds with a 5m rest between
Letter Folds at 40, 80 and 120 minutes.
Retarded overnight, shaped at 7 AM, baked at 1 PM
Couche rather than a banneton (I was worried about the dough sticking, but this time sprinkled rice flour on the linen rather than nothing or AP flour.  Did not stick.)
~750g x 1 batard
460dF, 15m steam, another 20 m bake, 2m venting
And now - I don't have to go down to the market for a bread!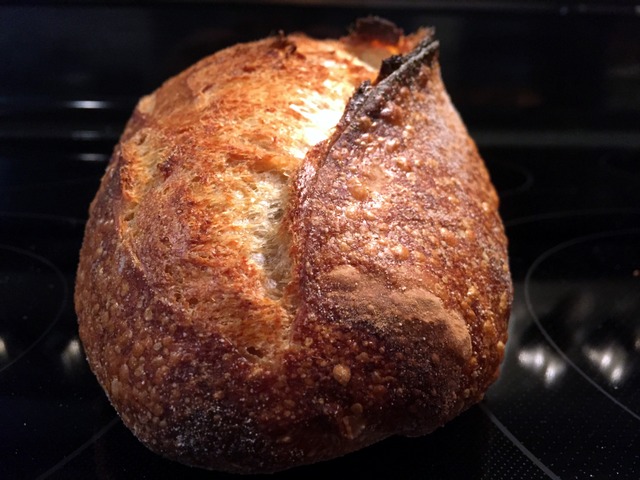 alan