Game Seven Gold and Purple Warrior Bread (with Curry Three-Point Hot Streak)
Sometimes I get nerdy with theme breads when trying to come up with new ideas, and yesterday was the final NBA game for the local boys (Warriors). I tried to follow the theme to the end. 

We just got back from travel, so my two starters (San and Fran) came out of the fridge on Saturday evening after 2 weeks of hibernation. They got only one good feeding after warming up, doubled overnight, and were added to this bread Sunday morning. We were in Pennsylvania, which is near Cleveland and just returned to the Bay area like the Warriors.
I did an autolyse overnight with the basic dough mix: 1 cup water, 2/3 cup semolina flour, 1/3 cup AP flour, ~1.5 cup bread flour (until dough had good texture), 1 heavy tbsp corn flour, 1 tbsp nutritional yeast powder, 7 shakes of old bay seasoning. The semolina, corn flour, and nutritional yeast flour are for the golden color of the home team, extra protein for warriors, and an earthy taste. The corn flour fits the theme of warrior bread as I'm guessing local warrior native Americans would have had some corn. 7 shakes of old bay for game 7 in the Bay area.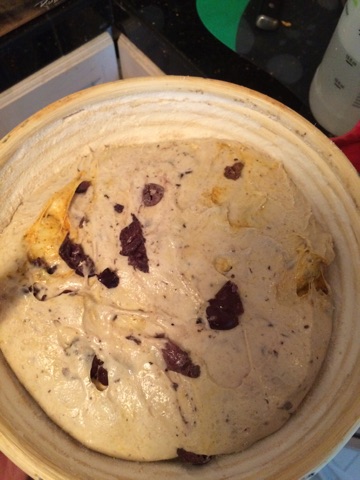 For flavor and color, I added kalamata olives for purple. To help the bread rise to the occasion like the Warriors didn't do, I figured they'd need the the Curry 3-Point Hot Streak (Curry is their best player who lives/dies by 3-pointers), which contained curry powder, more nutritional yeast, more old bay, horseradish, and 3 shakes each of 3 kinds of hot sauce (Franks, Tabasco, Sriracha). It created a golden, strong-smelling mixture that I let sit overnight in the fridge and added during the stretch and folds so it would produce a literal hot streak throughout the bread.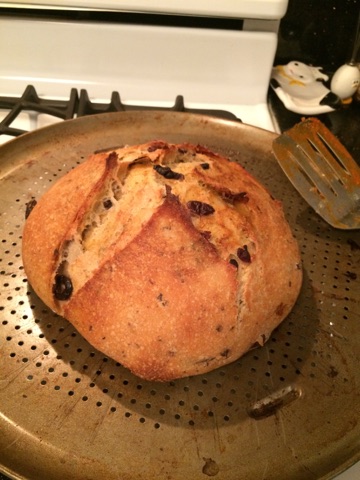 Starter, olives, 1 tsp salt, and hot streak were incorporated Sunday morning. I fidgeted a little with adding more flour to help with the wet starter and olives, then spraying more water as I thought the dough wasn't wet enough. That extra handling made me anticipate a tight crumb, with possible cake-like aspects from the semolina and corn flour. I baked in my preheated combo dutch oven for 20 mins at 450 and 20 mins at 350 using kosher salt on the bottom as is my habit.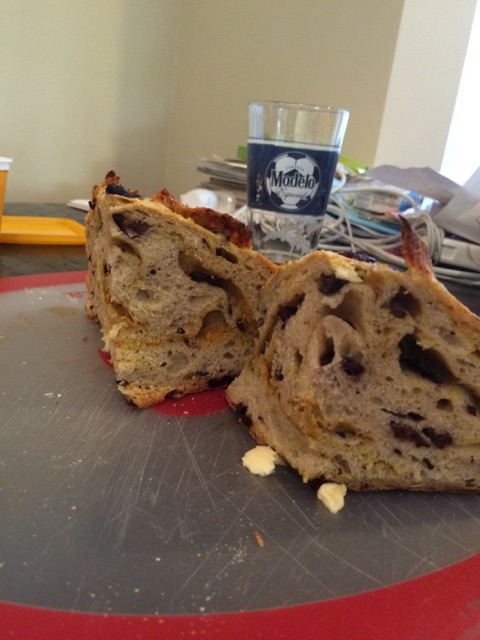 For hole fans, the bread ended up with an irregular crumb as a result of the olives and hot streak interrupting the internal structure. It had a nice soft chew and was earthy and spicy and delicious warm with butter. My wife did say it had a bit of cake-like texture while it was still hot.
Forgive the erratic placement/sizing of photos as I'm working on that particular skill. The bread achieved the gold and purple I was going for and was a nice bake on Father's Day to go with and stand up to some hot wings and oysters as well as plenty of liquid bread refreshment.