My second try at English Muffins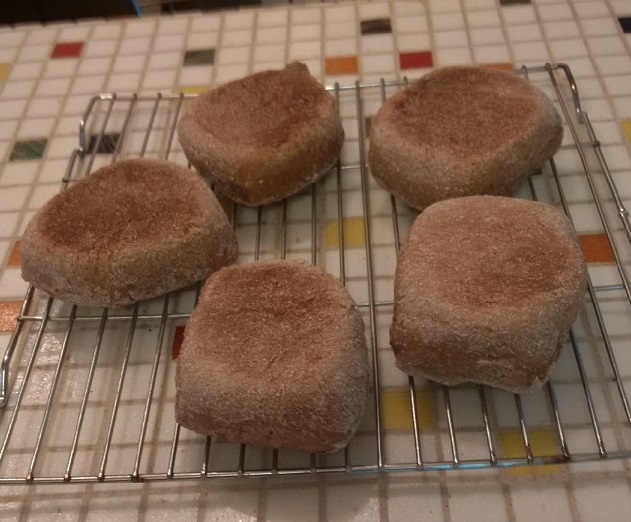 These came out so good! Unfortunately, I am not a scientific baker at all and bake/cook by looks/feels/smells/memory and whatever ingredients I have on hand, but I'm pretty sure I can recreate these and will do so.
I started with a big dollop of my always-handy in the fridge, home-ground wheat dough that's mixed with OJ, water, a sprinkle of yeast when needed, salt, and olive oil. To that I added more freshly-ground whole wheat (hard, red), plus some supermarket whole wheat flour, a T of sour cream, some water, an egg (!), baking powder, a T of brown sugar, and mixed it well. I wanted to get a stiffer dough than my pizza dough. I let it rest a while, then patted it out on top of a liberal sprinkling of corn meal (love that crunch!) and cut it into 6 pieces. (As you can see, I ate one.) I left them to rise for almost 2 hours, then cooked them on a non-stick skillet over low(ish) heat. 
Maybe it was the egg that made them better?.... anyway, these babies are so tender and tasty! Nom nom nom....