Gluten-Free Strawberry Glazed Donuts
I made this recipe today for the second time.  It is so good, and so light. It's probably more like cake than a donut as it is baked. I am always happy to find gluten-free recipes that are tasty and easy.  Jeanine Friesen has many wonderful recipes, and this is one of her best. If you are gluten-free and haven't found her Faithfully Gluten-free site, I highly recommend it. These donuts are so sweet and good!  I hope you like it....my husband and I love these donuts. I used fresh strawberries from our local farmer's market in the donuts and for the glaze. I had enough dough to do a couple of mini-loaves as well.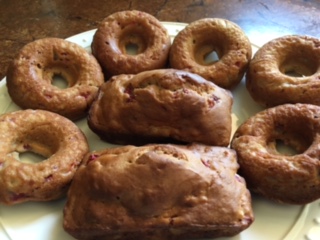 They looked pretty good before I put the glaze on.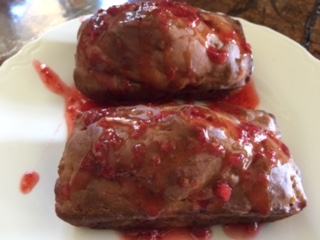 It was a bonus to have the mini-loaves, too. Hope you enjoy it.  Best,  Phyllis
Gluten Free Strawberry Donuts
Recipe by Jeanine Friesen
Faithfully Gluten Free
Ingredients
Strawberry Doughnuts:
•2/3 cup (107 g) white rice flour
•1/4 cup (31 g) tapioca starch
•1/3 cup (67 g) granulated sugar
•1/2 teaspoon (2 g) baking powder
•1/2 teaspoon (2.5 g) baking soda
•1/2 teaspoon (2 g) xanthan gum
•1/4 teaspoon (1.5 g) salt
•2 large eggs
•1/4 cup (60 ml) oil
•1/4 cup (60 ml) sour cream (or plain yogurt)
•1 teaspoon (5 ml) pure vanilla extract
•1/3 cup (80 ml) finely chopped strawberries
Strawberry Glaze:
•2 tablespoons (30 ml) mashed strawberries
•1 cup (125 g) Confectioners' sugar
Strawberry Doughnuts:
1Preheat the oven to 375 degrees F ( degrees C). Lightly grease a six cavity doughnut pan.
2Whisk together the rice flour, tapioca starch, sugar, baking powder, baking soda, xanthan gum, and salt.
3In a separate bowl, whisk together the eggs, oil, sour cream, and vanilla.
4Pour the wet ingredients over the dry, and stir to combine. Stir in the finely chopped strawberries.
5Scrape the batter into a large resealable plastic bag or piping bag. Cut off one corner, and pipe the batter into the prepared doughnut pan.
6Bake in the preheated oven for 10-12 minutes, or until the tops spring back when gently pressed.
7Allow the doughnuts to stay in the pan for about 5 minutes, before carefully removing them to a cooling rack. Allow the doughnuts to cool while you prepare the glaze.
Strawberry Glaze:
1Measure out 2 tablespoons of mashed strawberries. Stir this into the Confectioners' sugar so that no lumps remain. To get a nice consistency with the glaze, microwave it for about 30 seconds to heat it slightly before dipping the doughnuts into the glaze.