Experimenting on simplifying my classic sourdough recipe
I have been so boring in my baking and sorry I haven't posted in so long.  I keep making the same recipe and trying to eliminate steps as I go, to make it as easy as possible, including the clean-up.
For this loaf, I don't accurately measure the ingredients...I sort of do it by feel.  I use about one cup of really active starter (still on the rise); 1-1/2 cup of water; 1 cup whole wheat flour and 2 cups of bread flour. I generally use King Arthur Flour or Bob's Red Mill; you can't beat high quality flour.  
I mix all of the above together in a 12 cup mixing bowl and let it autolyze for 30 minutes to 1 hour.  After adding just under a tablespoon of salt, I add a tablespoon or two of olive oil and mix it up with a dough scraper and my hands.  I turn it with the scraper every 30 minutes for a couple of hours and then let it sit on the counter for 30-90 minutes.  I bulk retard the dough at least overnight in the same bowl I mixed it in (the olive oil really cleans the bowl up when you do the stretch-and-folds in the bowl) and then shape it and let it proof overnight to bake in the morning.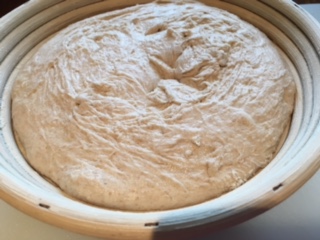 I preheat my covered baker to 500 and bake with the lid on for 33 minutes and then at convention 465 degrees for 14-15 minutes with the lid off.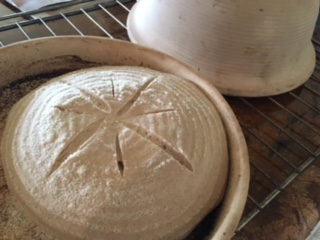 The dough stuck to the banneton a little bit, and it dropped too close to the edge, but came right out when it was finished baking.
I was really pleased with the crumb as well.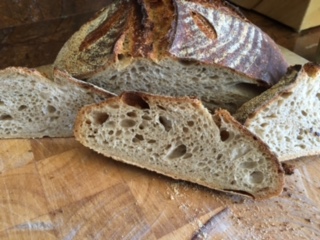 I will try to post again with much less of a gap.  Love to see everyone's bakes.  Best, Phyllis